What is so special about springtime in Sardinia?
For many people, springtime is the best time of year to visit Sardinia and a period in which the most enjoyable attractions can be experienced without the tourist crowds.
After all, the summer months are more popular, and it's common to find much larger crowds at the beaches and attractions during the peak holiday period.
Spring arrives in Sardinia on 20th March every year and comes to an end on 21st June. The weather is generally more and more pleasant as this time passes. Still, a much quieter experience can be found in April or May. More tourists tend to arrive in Sardinia as the summer months and the holiday season gets closer.
And that's just part of the story…
As the flowers and mother nature come into bloom, the scents and colors in Sardinia are impossible to ignore.
You can go hiking, biking, or driving without the tourist crowds, and there's no waiting around when it comes to tables at a local restaurant.
Sardinia beaches are also less busy during spring. Many popular events take place in the low season, such as the Porto Cervo Wine Festival.
Now, let's take a look at some photos of Sardinia at this time of year…
The Asinara Donkey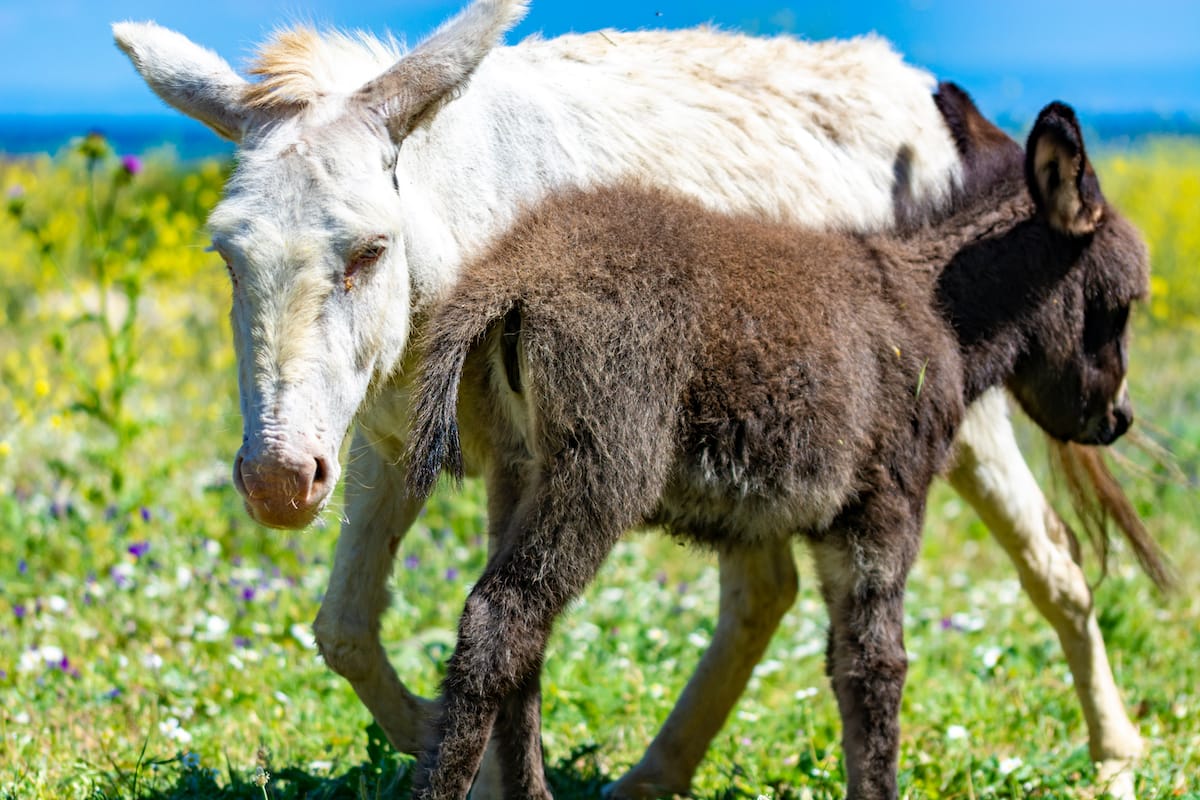 Asinara is located near Stintino, in the province of Sassari, just off the northwest coast of Sardinia. This island is known for having a breed of feral donkeys.
This white albino donkey ('Asino dell'Asinara') is actually indigenous to the island. It is a genuinely remarkable sight, given this is an unusual color for a donkey.
While they might be somewhat shy, the Asinara donkeys are very friendly. They are free to roam the entire island, which is a beautiful thing to see.
Alghero Coastline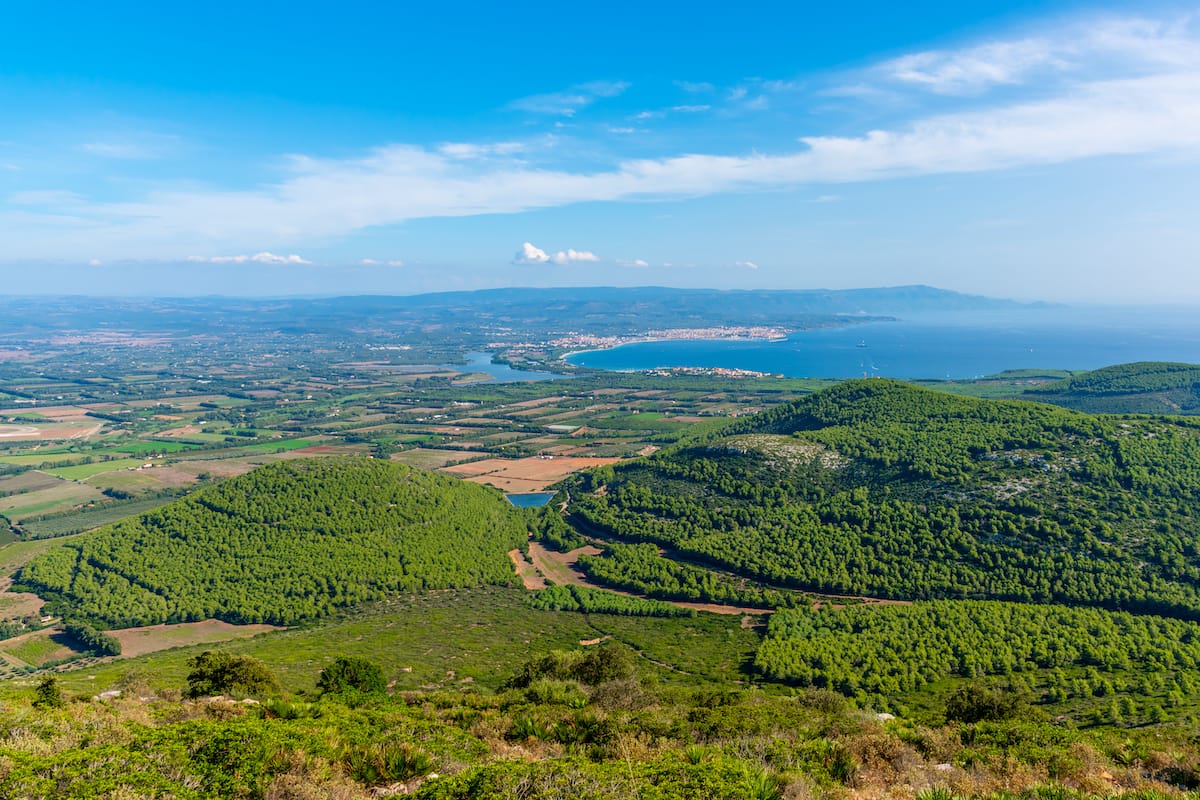 Alghero is a small medieval town in Sardinia and a lot less busy than the Costa Smeralda on the island's northeast coast.
This was also a small fishing village at one time and filled with lovely restaurants, bars, and local amenities.
However, the town is also nestled on a spectacular coastline and right next to sublime beaches and ample opportunities to go swimming, sailing, and diving.
Almond Trees in Sardinia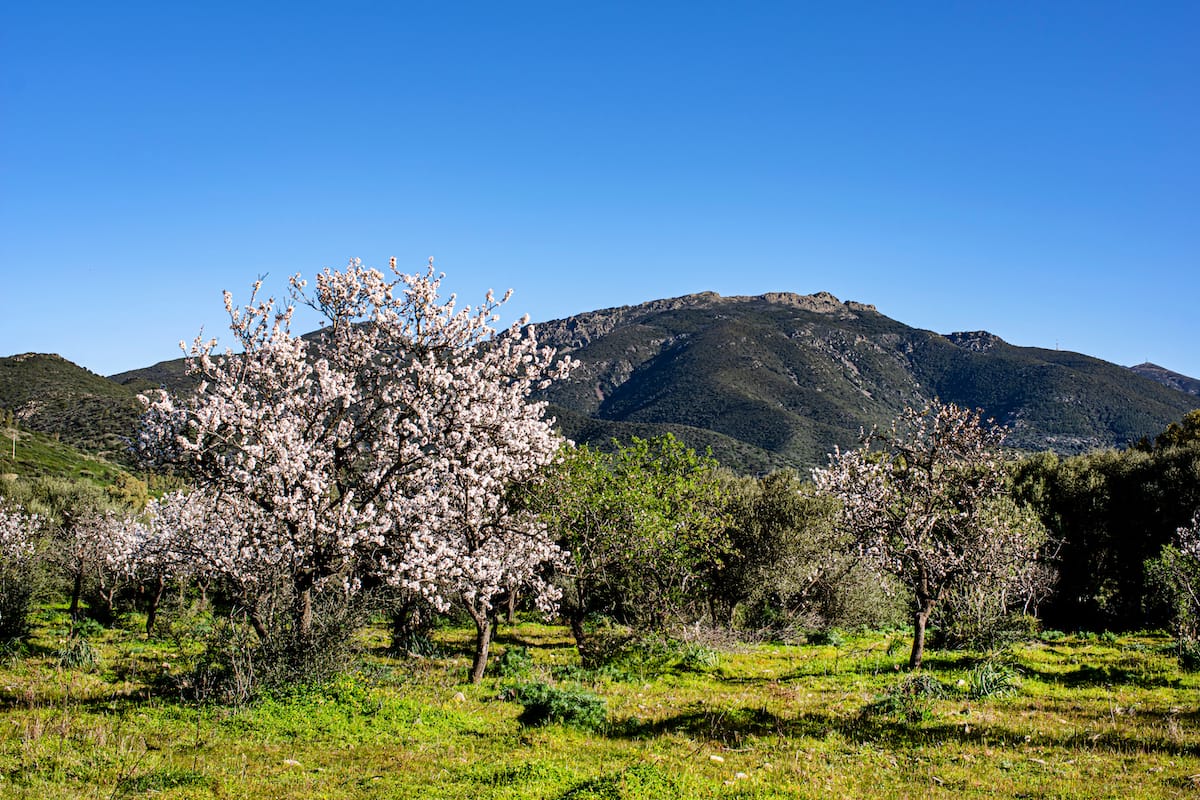 Almond trees are one of the first trees to blossom in spring, and you can see them dotted all around the Sardinian landscape at this time of year.
Almond blossoms are deciduous (shedding their leaves annually) and similar to cherry, peach, and apricot trees. They are also a symbol of new life in many parts of the world.
Even Vincent Van Gogh borrowed these beautiful tiny petals in some of his work.
Pigface Flowers in Villasimius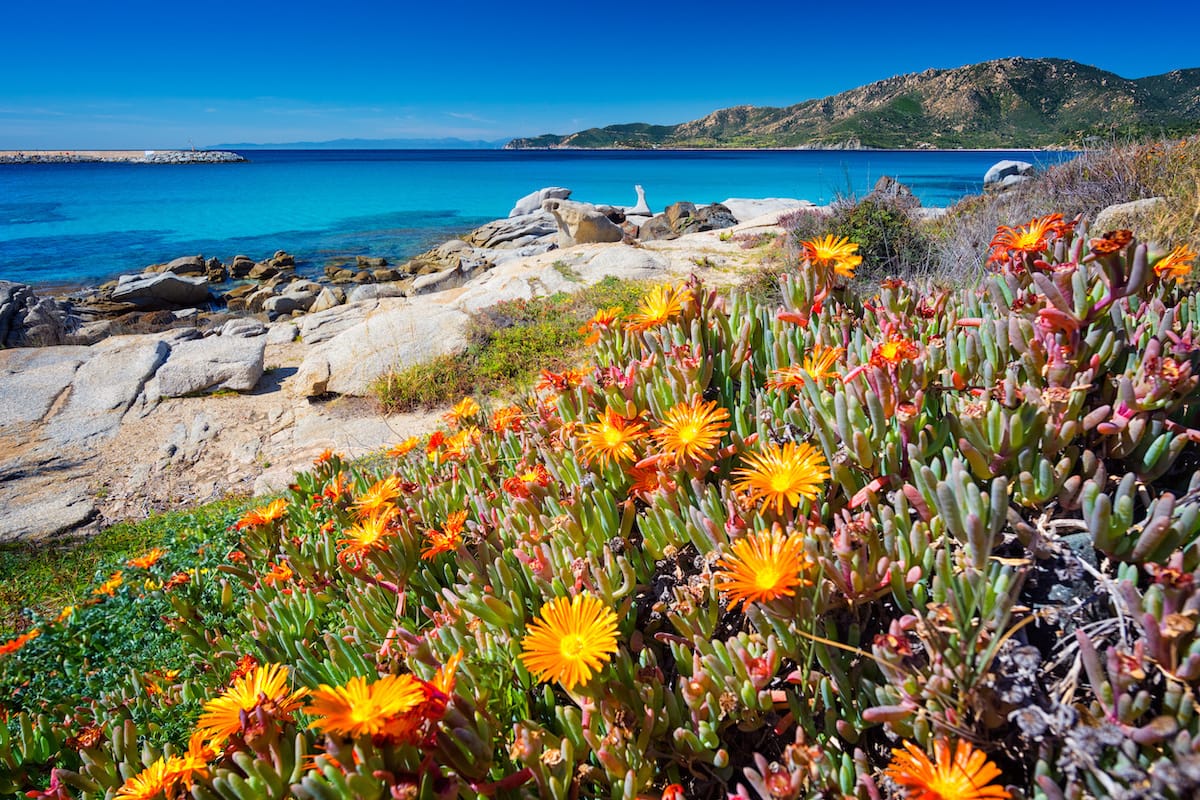 Forget about the unfortunate name of the "Pigface flowers." These gorgeous tiny plants are a beautiful sight during spring in Sardinia.
They tend to grow in rocky, dry, and sandy conditions, making Villasimius a famous home for the colorful flowers.
Villasimius is also a popular spot for tourists. This charming coastal town is situated next to some stunning stretches of white-powdered sands!
Blooming Pink Flowers on La Pelosa Beach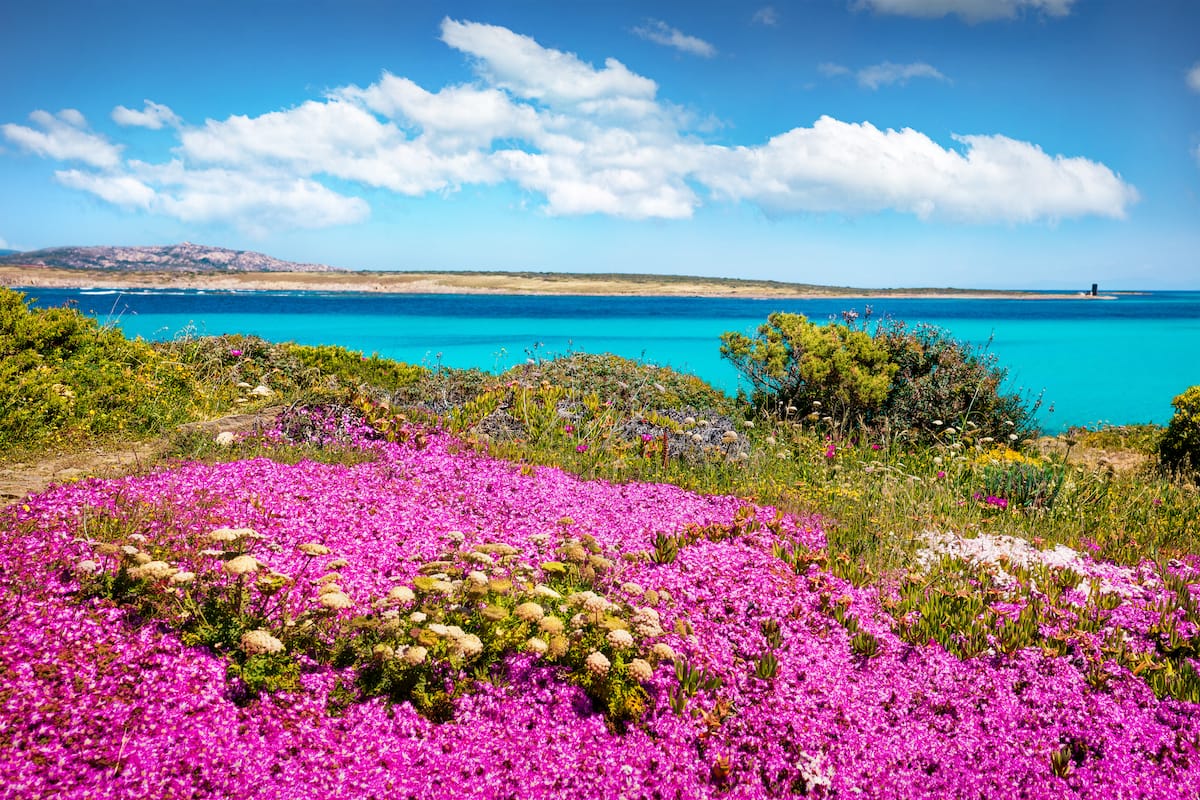 Spiaggia La Pelosa can get rather crowded in peak season. Still, you can expect more space and quiet during springtime in Sardinia.
Located in northwest Sardinia and just two kilometers north of Stintino, this is a beautiful beach with white sands, shallow waters, and many remarkable pink flowers!
Opuntia Flowers in Sardinia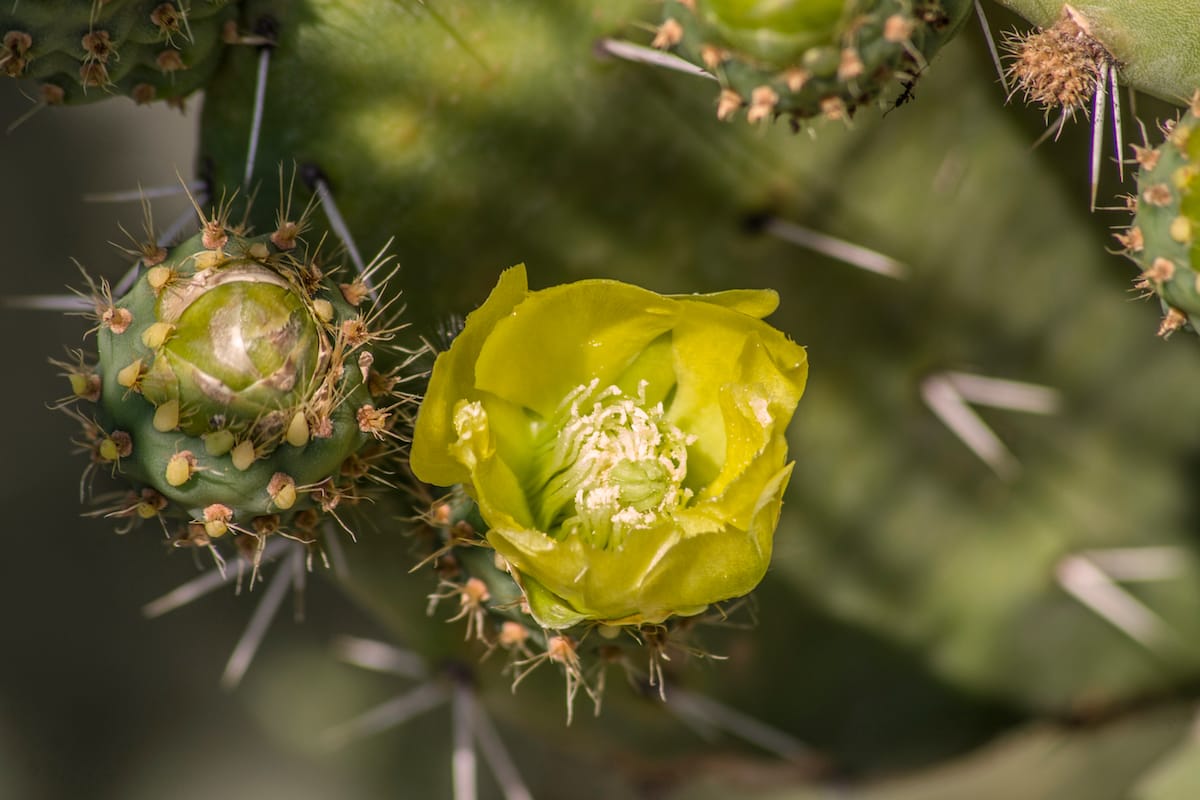 Opuntia flowers are found on small cactus trees, and they are also known as 'prickly pears.'
They grow nicely in warm, dry climates like the one you should find in Sardinia, and they look incredibly bright and cheerful in the spring.
While locals often grow these flowers in the garden, you can often find them across the wild and green landscapes of the island.
The Beach and Tower at Capo San Marco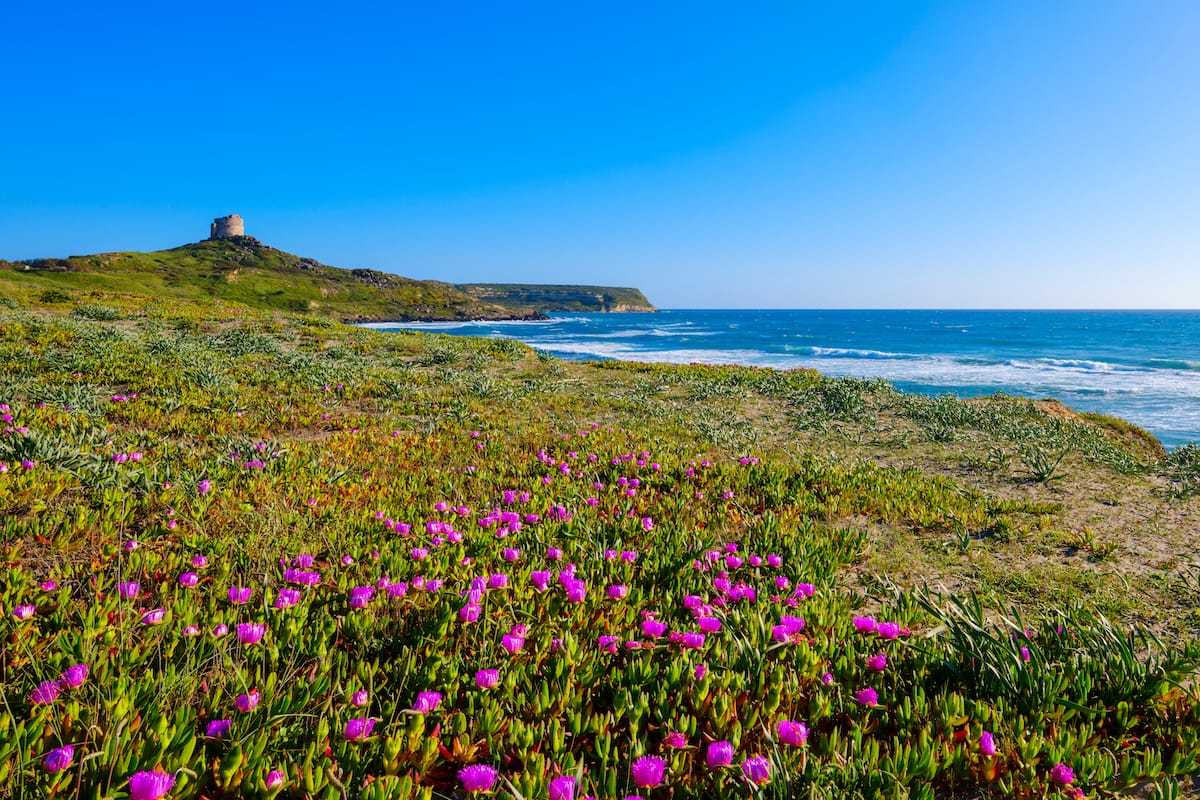 Capo San Marco is probably best known for the iconic tower and yellow cliffs. Still, there's also a pristine beach down below that never fails to impress.
Whether you enjoy swimming, snorkeling, or just lounging in the sun, this gorgeous beach has umbrellas and chairs and several local snack bars just a hop and skip away.
Sand, Sea and Granite Rock Formations in Costa Paradiso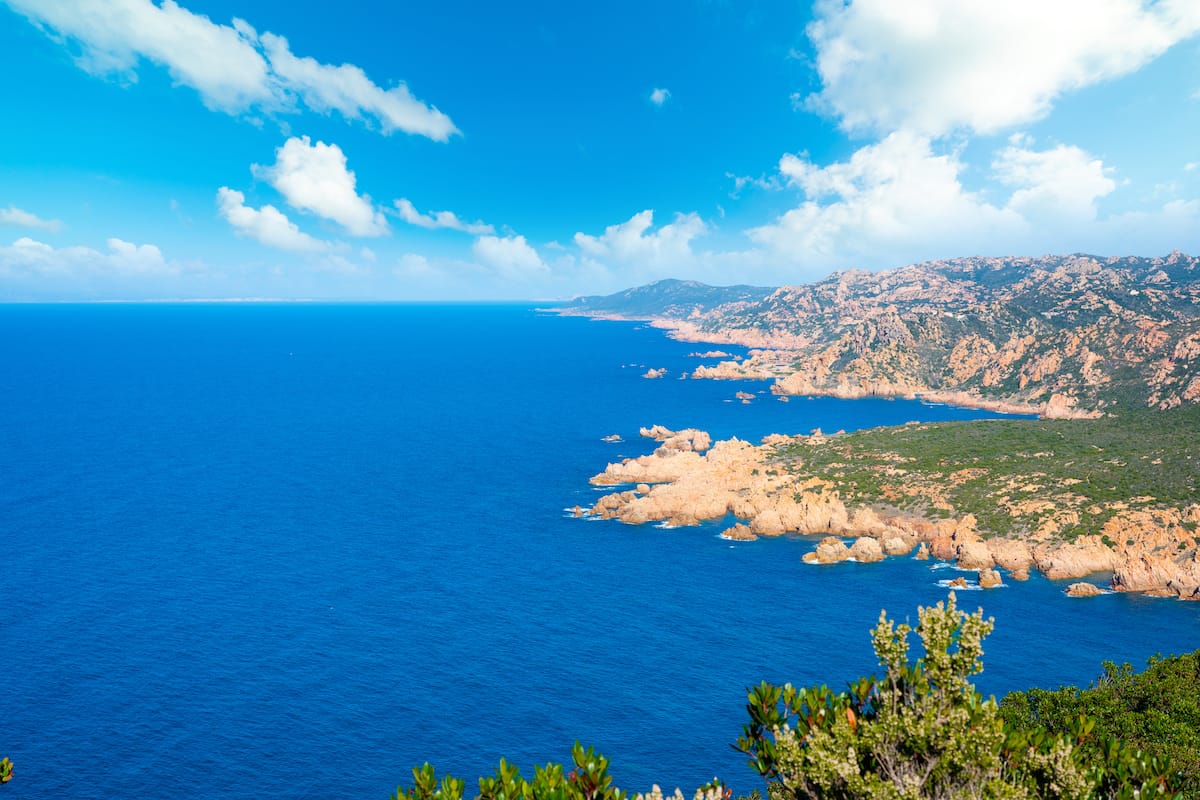 The sight of the giant granite rocks makes Costa Paradiso a must-visit for many tourists. Still, the warm waters and sandy beaches are what make travelers want to stay.
Stretching from Castelsardo to Santa Teresa di Gallura on the North coast, this area is one of Sardinia's most romantic and scenic parts.
Sheep Grazing in the Countryside near Bosa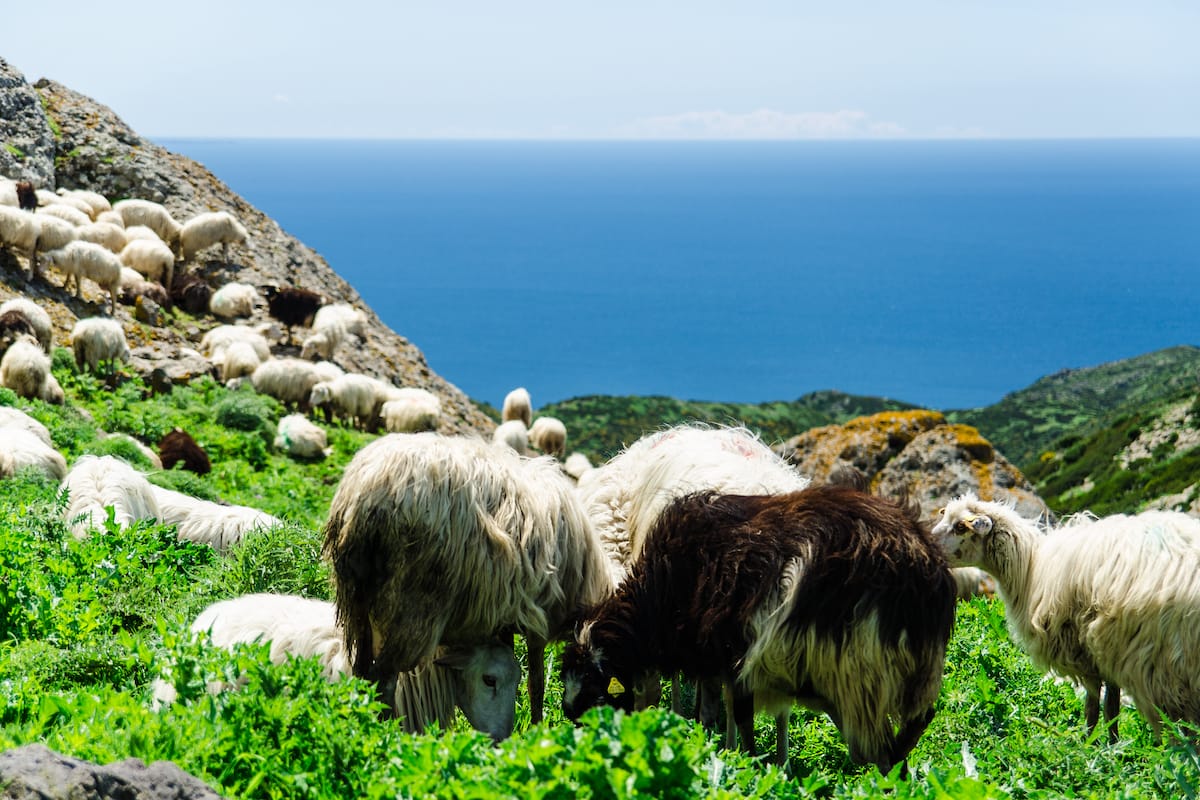 You might find sheep grazing in many other parts of the world but rarely do they look as relaxed as those you will find in Sardinia.
The woolly friends in this photo are grazing near Bosa, a charming village with colorful houses and lush surroundings.
The town is surrounded by green rolling landscapes and plenty of fauna in between – as is the same elsewhere on the island.
View of Isola Tavolara from Capo Coda Cavallo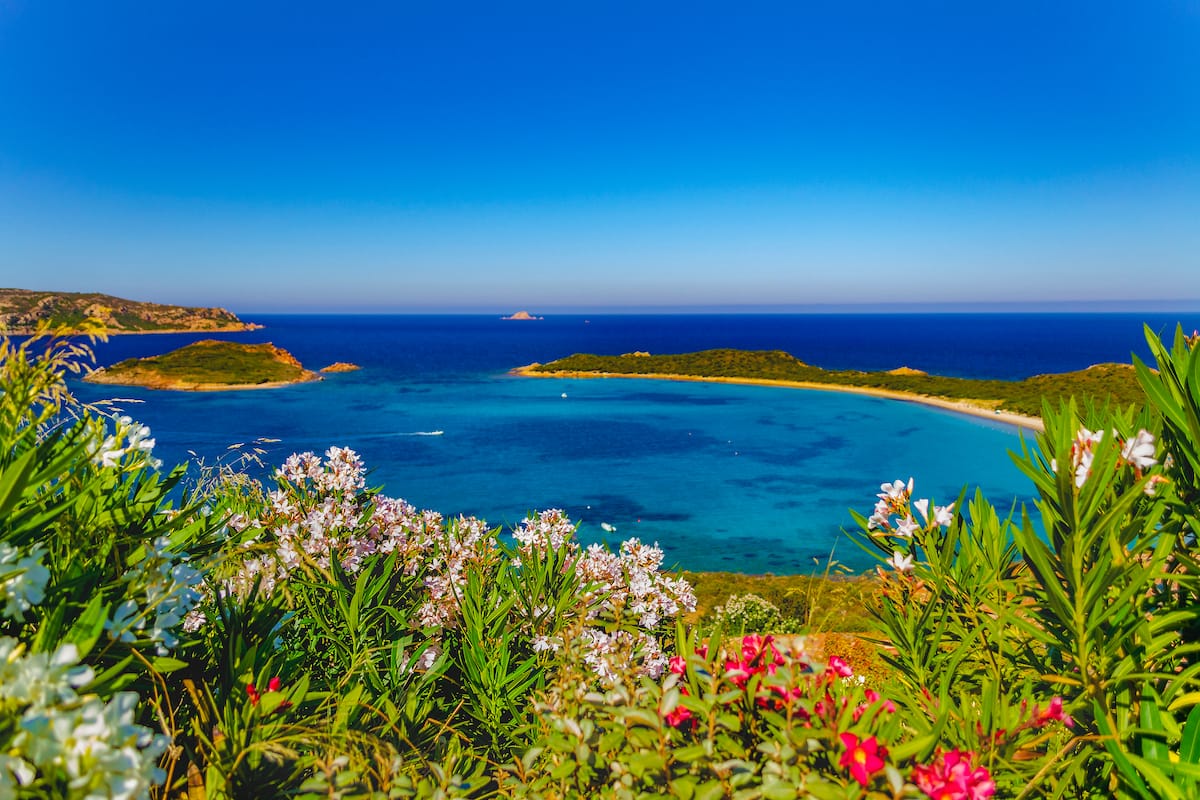 Capo Coda Cavallo is situated in the Gallura region and features more of the most beautiful rock formations and beaches in Sardinia.
This view reaches out to Isola Tavolora, a relatively small landmass off the coast of northeast Sardinia and features some incredibly steep cliffs.
Wild Yellow Daisies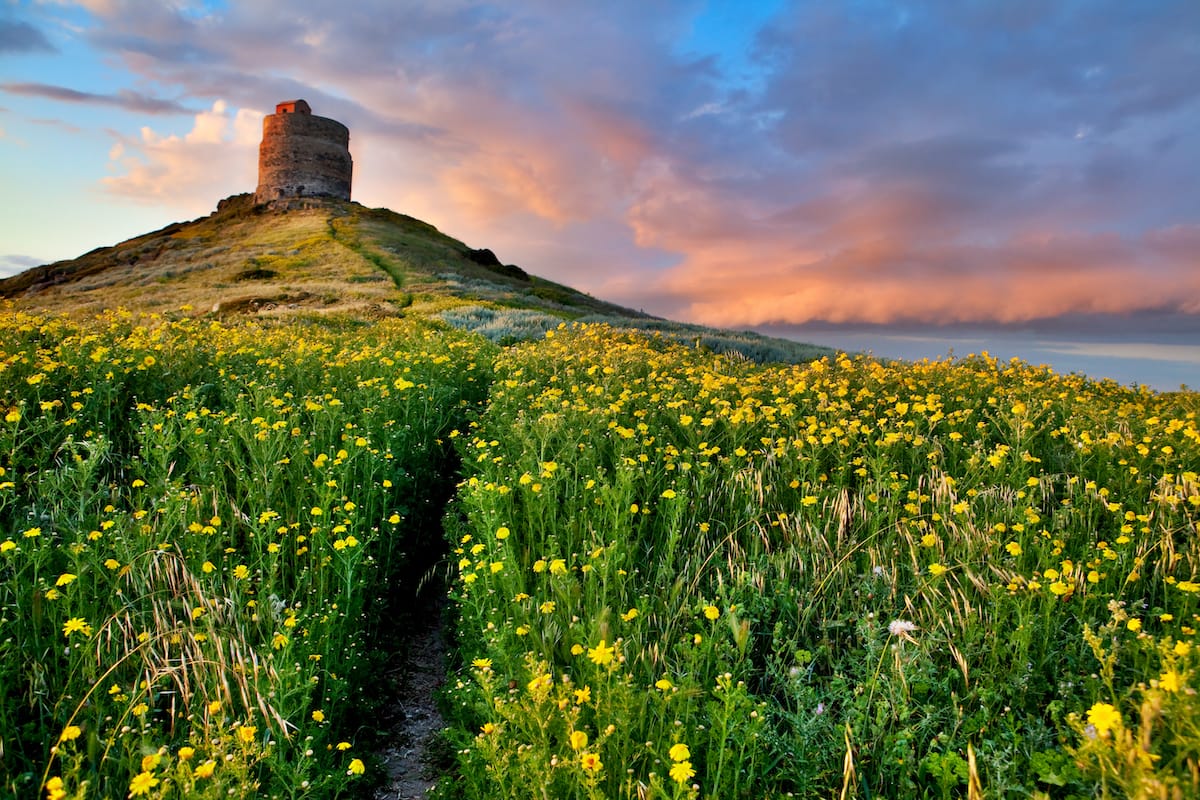 The wild yellow daisy is common throughout Sardinia in the spring and brings so much color to the luscious landscapes.
With the castle tower as a backdrop, you can see just how striking is the appearance of these daisies.
They are borne on strong stems and have yellow petals, which open up beautifully at this time of year and appear rather unexpectedly all around Sardinia.
Wild Flowers in Santa Margherita di Pula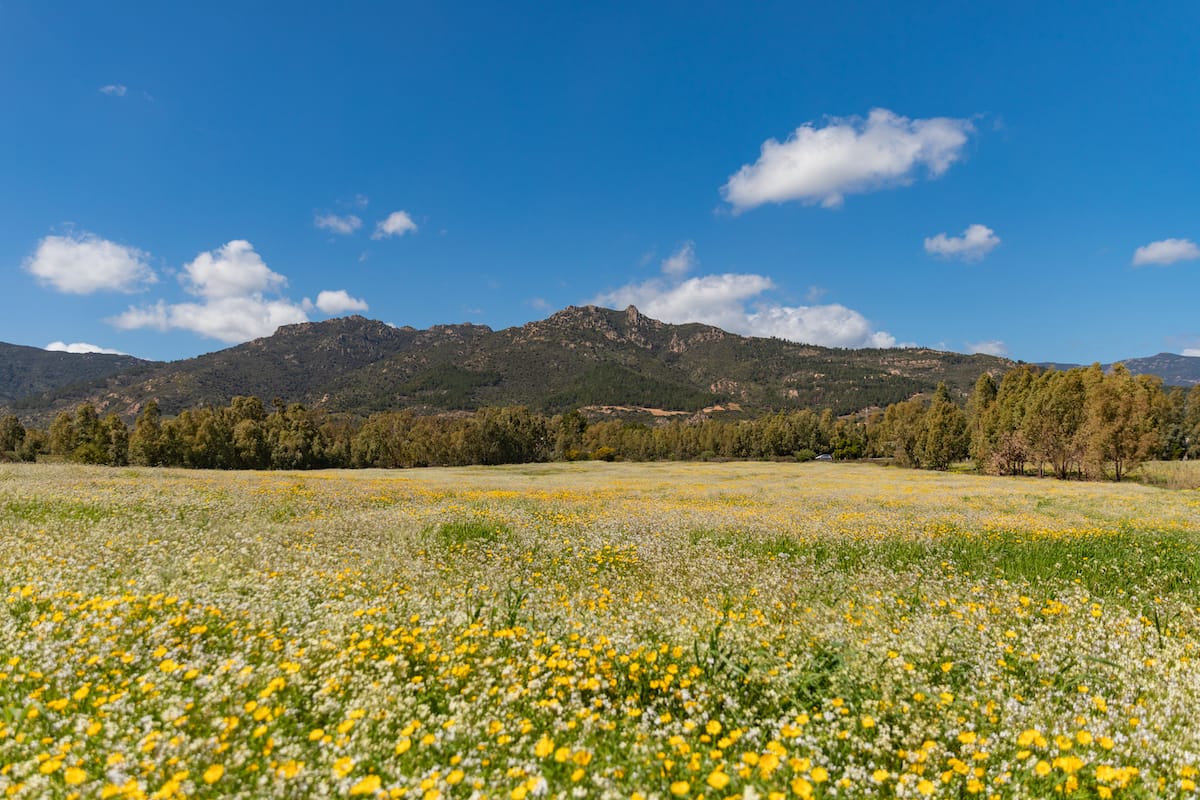 Santa Margherita di Pula is arguably one of the pearls of Sardinia and located near Pula.
This area features a series of bays and beaches with holiday homes in between and some genuinely wild and wonderful countryside not far from the coast.
It's home to plenty of birdlife and fauna but also a long line of plant species – some of which you can see in this photo.