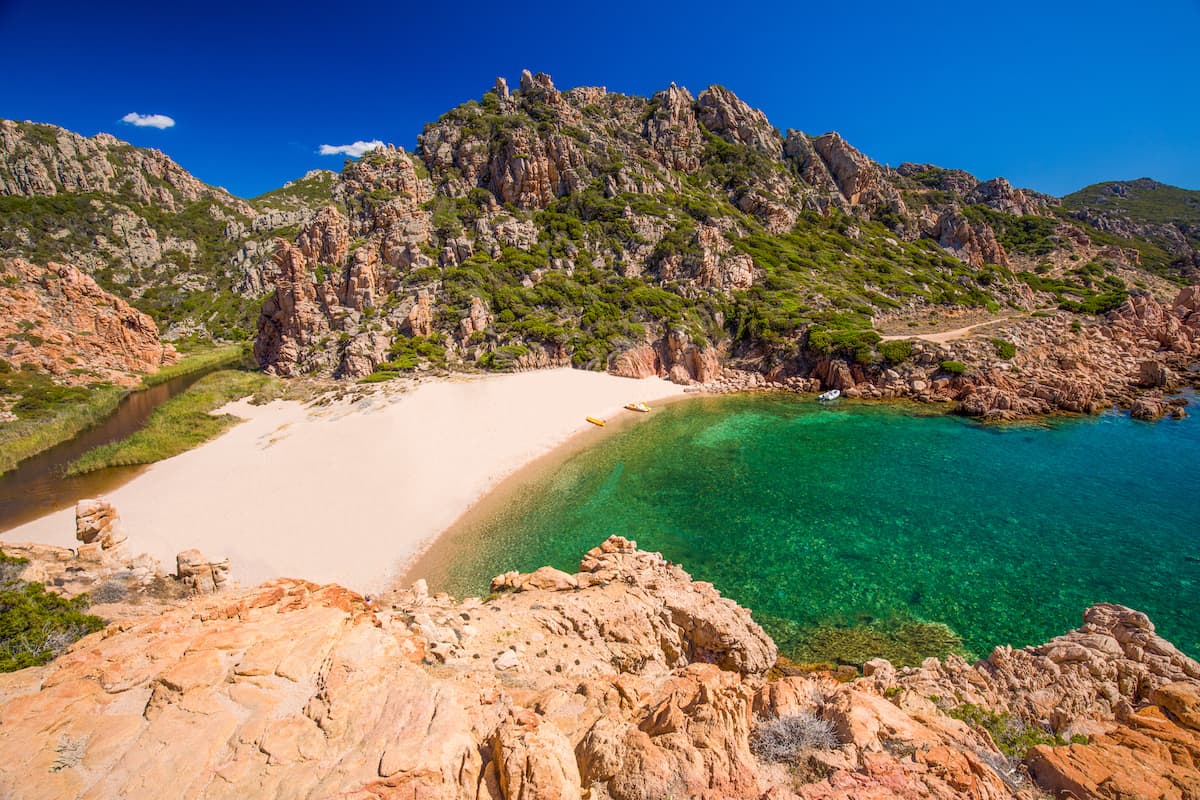 About Spiaggia di Li Cossi
near Trinità D'Agultu e Vignola, Province of Olbia-Tempio, North Sardinia, Italy.
parking, beach chairs, umbrellas, bar.
snorkelling, scuba diving.
18:40 PM
08:35 AM
80 meters.
suitable for families with children.
Li Cossi beach (Spiaggia di Li Cossi) is located 2 kilometers south-west of the village of Costa Paradiso, in Olbia-Tempio. Named after the Li Cossi river that runs behind it, Li Cossi beach belongs to some of the most famous beaches of north Sardinia. Enclosed in a natural amphitheater of granite rocks, the beach has a length of just 80 meters but can be up to 70 meters wide, reaching all the way back to the riverbed. It's a great spot for making pictures of the sunset as Li Cossi faces due west. Li Cossi beach is sheltered from the winds, and the shallow waters and gentle sea allow children to swim and play freely. With waters rich in all kinds of fish, Li Cossi beach is also a popular snorkelling and scuba diving spot.
"Li Cossi…..Bella spiaggia!"
Where to Stay near Li Cossi Beach
The nearest resort you'll find near Li Cossi beach is Villaggio Costa Paradiso. Located just 17 km from Trinità d'Agultu e Vignola, Villaggio Costa Paradiso's facilities include shops, a diving centre and 2 outdoor pools. Its Mediterranean-style apartments have verandas with panoramic sea or hill views. Located in the pretty fishing village of Isola Rossa, you'll find Hotel Corallo. This four-star family-run hotel offers an outdoor pool and an à la carte restaurant that hosts weekly Sardinian dinners. All rooms have air conditioning and different colour schemes, from coral to warm Mediterranean. Each room includes satellite TV and an en suite bathroom. Some rooms offer a private terrace or balcony with beautiful views of the sea. For a convenient overview of all hotels, villas, apartments and aparthotels in Costa Paradiso, click here.
How To Get To Spiaggia Di Li Cossi
Li Cossi beach can be reached on foot from the village of Costa Paradiso (from the car park located near the Hotel Li Rosi Marini) via a very scenic and panoramic walk of about 15 minutes that takes you along a stunning landscape. Entrance to the beach is via a characteristic staircase carved into the rock.
Map
Use the Google and Booking map below to explore the area.
Fill in your holiday dates to get an accurate view of available accommodations near Spiaggia Di Li Cossi.
Beaches Near Spiaggia Di Li Cossi