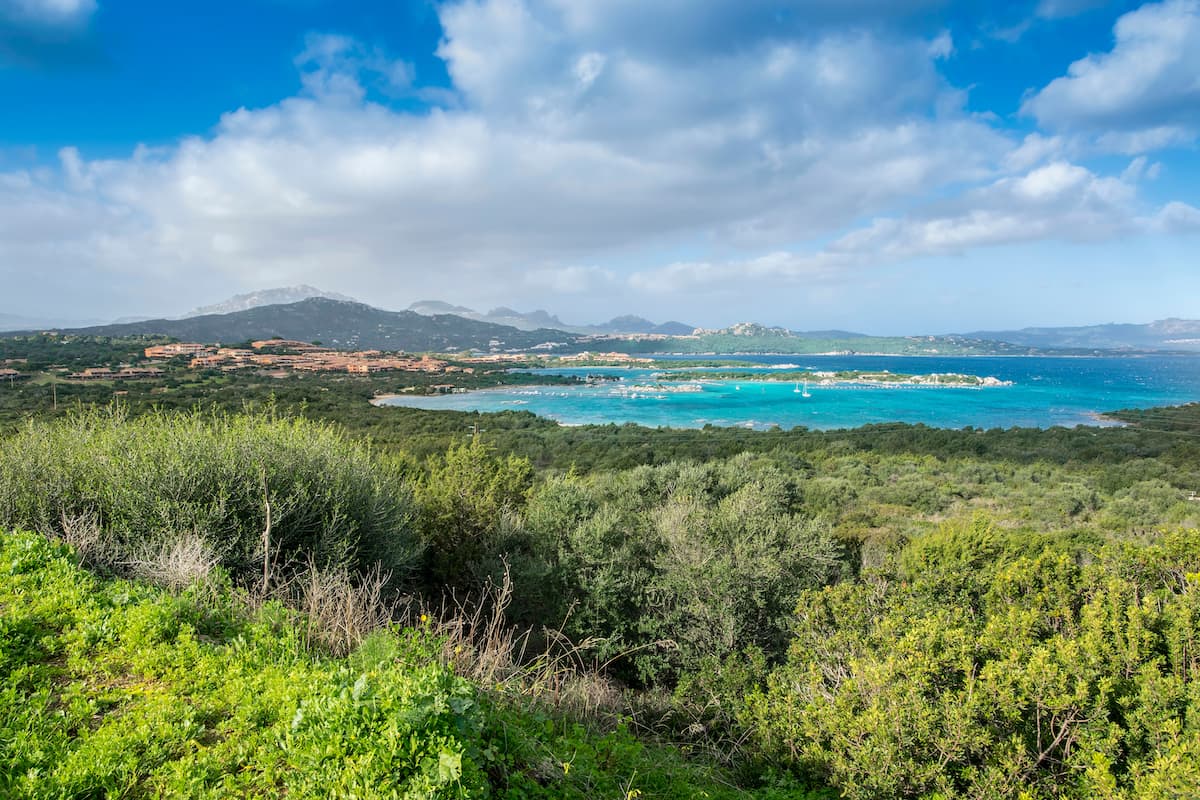 About Golfo di Marinella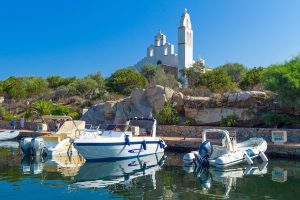 Situated just a short distance from Olbia, at the edge of the Costa Smeralda, Golfi di Marinella is a small seaside village in the very north-east of Sardinia.
Featuring an excellent infrastructure and stunning natural attractions, this is one of the most popular places to visit for tourists.
Golfo di Marinella is home to a variety of restaurants, hotels, café's and shops, while the local hospitality is just as good as you might expect in this part of Italy.
Local eateries specialize in seafood and local dishes, along with a variety of Mediterranean classics. The area surrounding Golfo di Marinella is also quite pleasing on the eye. With an excellent range of accommodations, there is usually something to match every preference and budget.
The incredible beaches are often the highlight for visitors, Spiaggia de Bahas is famous for water sports and diving in particular. Near Golfo Aranci you'll find Cala Sabina, a beautiful, remote stretch of sand and Cala Moresca is a small cove with fantastic views of Figarolo Island. Either way, with fine sand and crystallized waters, each of these beaches is worthy of the reputation and within easy access for both residents and tourists alike.
Aside from the beautiful scenery, you will also find many things to do in the area and excursions are available if you do not have access to a vehicle.
For example, you can join tours to explore the nearby countryside and visit various historical attractions such as "Milis" – a sacred well which was built by the Nuragic people. La Marinella Church is another impressive and ancient structure, but Madonna del Monte is arguably the most interesting due to the vantage point on which the church was built.
Golfo di Marinella is just a 25-minute drive away from Olbia Costa Smeralda airport. While it may not be the best-known destination of the Emerald Coast, there are plenty of things to do in this little seaside town and more than enough reasons to visit this idyllic pocket of Sardinia.
Golfo di Marinella Map
✔ Use the Google and Booking map below to explore the area.
✔ Fill in your holiday dates to get an accurate view of available accommodations near Golfo di Marinella.
Where to Stay in Golfo di Marinella - Our Top Picks
Hotel Abi D'Oru
A 5 star Hotel in Golfo di Marinella, 1.4 kilometers from the center of town (about 0.9 miles.)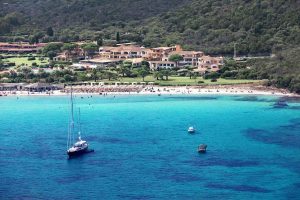 Located at the heart of the Emerald Coast in north-east Sardinia, Hotel Abi D'Oru is a newly renovated hotel in Marinella with a relaxing atmosphere, impressive rooms, and a stunning beach. What's more, you will find a fantastic breakfast, friendly staff and more than enough reasons to see that this hotel lives up to expectations. The rooms are bright, elegant and luxurious, and feature a mix of contemporary and old-fashioned furnishings. The attention to detail is most apparent in the overall design. You will also find various options for couples, families, and groups with the Junior Suites, Classic Suites and Deluxe Suites offering a slightly different size and style for every occasion. There are no less than four restaurants at this hotel in Marinella and a fantastic menu at each one. Whether you want seafood or traditional fare, the standard is world-class, and the setting in these restaurants is bright, fresh and modern. Meanwhile, three bars can also be found on location, and each bar has a full range of beers, cocktails and non-alcoholic drinks. Abi Spa is also on location so whether you need a massage or the sauna or even just an hour in the hot tub, this is a great place to relax and unwind. The beach location of this resort is one of the main reasons why visitors choose this Costa Smeralda hotel and with white powdered sands and near-perfect conditions for swimming, there are few hotels to compare with this fantastic five-star hotel in Marinella.
Hotel Marana
A 4 star Hotel in Golfo di Marinella, 1 kilometers from the center of town (about 0.6 miles.)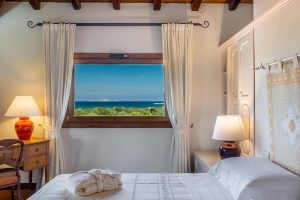 Hotel Marana is an impressive four-star hotel in Marinella with a stunning interior and some of the most luscious surroundings in all of Sardinia. The extensive gardens and beautiful pool are not only spacious but also immaculate and relaxing in every way. When it comes to choosing a hotel in Marinella, you will be hard pushed to find a better place to stay in north-east Sardinia. As you might expect for a four-star hotel, the rooms are equipped with all the modern conveniences, and the comfortable furnishings are further enhanced by a beautiful outdoor terrace. This terrace features relaxing sun-beds and lovely garden views. It is the perfect private hideaway or alternative to spending time in the garden. The surrounding gardens are often the highlight for many guests, and a vast pool never fails to disappoint. Meanwhile, you will find some of the best beaches in northeast Sardinia just 500 meters from the hotel which makes the location of this Costa Smeralda extremely favorable. As for the food, Hotel Marana provides a fantastic buffet breakfast, and a world-class restaurant offers the perfect setting for lunch or dinner with an excellent range of local and Mediterranean dishes. All considered, this is a beautiful hotel in Marinella with stunning gardens, excellent food and one of the best beach locations of any Costa Smeralda hotel in Sardinia.
More Places to Visit Near Golfo di Marinella
Golfo di Marinella Restaurants - Where to Eat
Oasi Marana Beach (Seafood)
🏠
Località Punta Marana
,
Marinella
,
Sardegna
,
07020
,
Italy
.
📱 Telephone:
+39 345 865 5598
Oasi Marana Beach is a restaurant in Golfo di Marinella which is just as well-known for its food, as the incredible beach location. This restaurant is literally on the beach in Punta Marana which is no real surprise given the restaurant is also known for having excellent seafood. The menu has much more than seafood on offer, and whether it's beef tagliatta, pesto pasta or potatoes, online reviews suggest the cuisine is just as impressive as the views. When it comes to the interior, Oasi Marana Beach features a rather modern design with bright furnishings and plenty of space. The outdoor area is definitely the place to be, and with comfortable seating, lots of shade and fresh air, this terrace has a warm and relaxing atmosphere which really completes the overall experience. With prompt and friendly service, excellent food and some of the best views in Sardinia, this restaurant in Golfo di Marinella is most certainly worth the visit!
Marinella Restaurant (Seafood, Italian Food)
🏠
Località di Marinella
,
Olbia
,
Sardegna
,
07026
,
Italy
.
📱 Telephone:
+39 078 9309019
Marinella Restaurant features a stunning location along with an impressive lineup of cuisine. As part of Hotel Abi d'Oru, this is also a favorite place to eat and yet another reason to stay in this stunning pocket of the island. This is quite an extravagant restaurant on the Emerald coast where a modern and luxurious interior provides the perfect place to relax after a day on the beach. What's more, the bright and airy nature of this eatery makes it the perfect lunch spot, while candlelight brings a whole new atmosphere to the occasion after dark. At the same time, the food is always the highlight, and Marinella Restaurant serves up a delightful range of seafood, along with grilled meats and various local dishes. Whether you want something light or filling, the menu never fails to disappoint, and online reviews are always quick to compliment the friendly staff. As for the location, this restaurant in Golfo di Marinella is situated right on the sand, and with a cheerful beach-like atmosphere, this is undoubtedly one of the best restaurants in Golfo di Marinella.
Beaches Near Golfo di Marinella