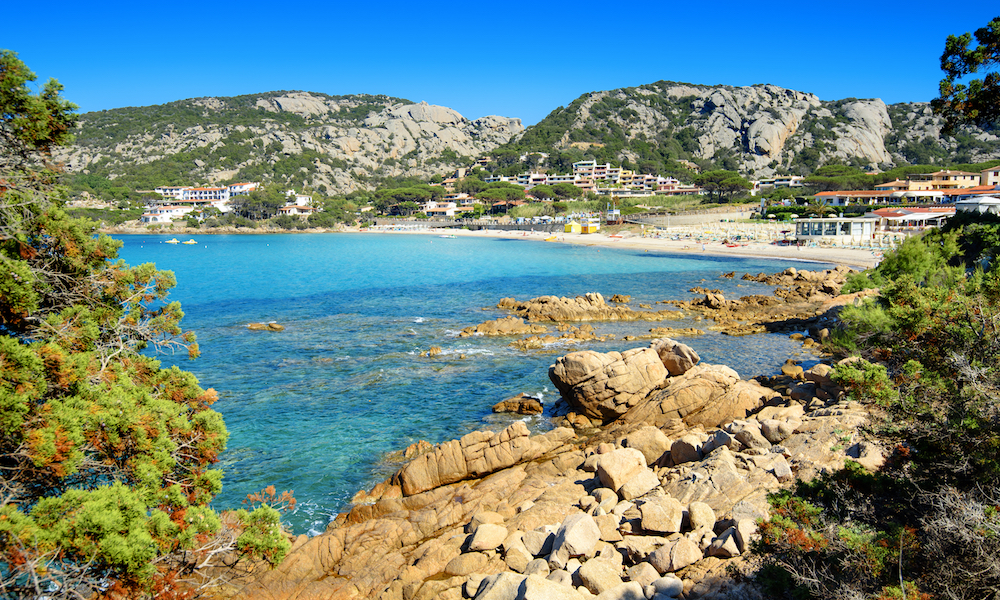 About Baia Sardinia Beach
Baia Sardinia beach (Spiaggia di Baia Sardinia), one of the northernmost beaches of the Costa Smeralda, is a very beautiful and renowned beach. It is located 3 kilometers west of Liscia di Vacca beach, and is 300 meters long. The beach faces north, with spectacular views on the Maddalena Archipelago, which can easily be reached by boat. Various daily trips can take you to the Maddalena Archipelago and the islands of Budelli, Caprera, Spergi, Santa Maria and Razzoli. Watersports such as surfing and windsurfing are very popular in this area, thanks to the perfect combination of the bay's location, the wind conditions and currents. White sands and a turquoise, crystal clear sea, what more could you wish for? The Baia Sardinia area is well known for its restaurants and nightlife. Several bars and clubs are waiting for those who'd like to enjoy their summer nights out. There are many wonderful places to visit in the vicinity, Porto Cervo is just 4 kilometers away.
Places to Stay near Baia Sardinia Beach
How To Get To Baia Sardinia Beach
From Arzachena
Coming from Arzachena by car, Baia Sardinia beach can easily be reached by taking the SP13 in the direction of Cannigione/Baja Sardinia. After 2 kilometers, turn right onto the SP162. Continue for 7 kilometers, then continue onto Via Baja Sardinia.
From Olbia
Coming from Olbia, take the SS125 in the direction of Arzachena. After 20 kilometers, take the first exit at the roundabout onto the SP59. Next, turn left after 2 kilometers. Keep left to continue on Località La Punga for the next 8 kilometers. Lastly, continue onto Via Baia Sardinia.
Map
Use the Google and Booking map below to explore the area.
Fill in your holiday dates to get an accurate view of available accommodations near Baia Sardinia Beach.
Beaches Near Baia Sardinia Beach