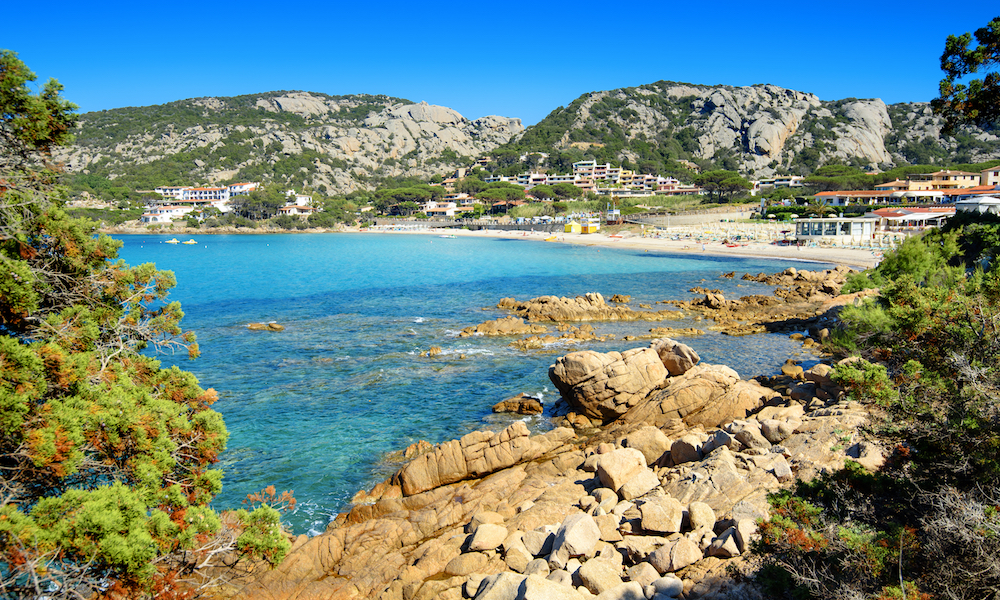 About Baia Sardinia
near Porto Cervo, Province of Olbia-Tempio, North-East Sardinia, Italy.
parking, beach chairs, umbrellas, bar.
snorkelling, windsurfing.
19:00 PM
07:22 AM
300 meters.
suitable for families with children.
Baia Sardinia beach (Spiaggia di Baia Sardinia), one of the northernmost beaches of the Costa Smeralda, is a very beautiful and renowned beach. It is located 3 kilometers west of Liscia di Vacca beach, and is 300 meters long. The beach faces north, with spectacular views on the Maddalena Archipelago, which can easily be reached by boat. Various daily trips can take you to the Maddalena Archipelago and the islands of Budelli, Caprera, Spergi, Santa Maria and Razzoli. Watersports such as surfing and windsurfing are very popular in this area, thanks to the perfect combination of the bay's location, the wind conditions and currents. White sands and a turquoise, crystal clear sea, what more could you wish for? The Baia Sardinia area is well known for its restaurants and nightlife. Several bars and clubs are waiting for those who'd like to enjoy their summer nights out. There are many wonderful places to visit in the vicinity, Porto Cervo is just 4 kilometers away.
Places to Stay near Baia Sardinia Beach
L'Ea Bianca Luxury Resort
A 5 star Resort 3.2 kilometers from Baia Sardinia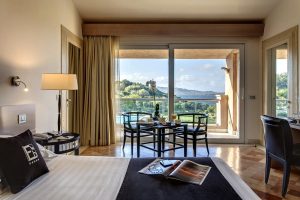 L'Ea Bianca luxury resort is a 5-star hotel in Baja Sardinia and a perfect base for your holiday in northeast Sardinia. The resort is overlooking the stunning view of Cala dei Ginepri and is only three kilometers away from the beaches of Baja Sardinia. It's right across the Archipelago of La Maddalena and only ten minutes drive to the Porto Cervo and Pevero Golf Club. L'Ea Bianca has 31 spacious rooms, and all rooms have fantastic views of the sea. Each room is painstakingly decorated with a traditional Sardinian style and furnished with modern technology, such as a color TV and Wi-Fi. There's also a spacious wellness center within the resort that's equipped with a hot tub, sauna, and gym. Treat yourself to a relaxing massage, or you can avail one of the spa treatment packages being offered. If you prefer to lounge at the private beach, you are free to use the sun loungers and parasol. Serving International and Mediterranean cuisines, the restaurant of L'Ea Bianca is located on a sea-view veranda that's surrounded by a beautiful garden. The hotel's in-house chefs use only the finest local ingredients in preparing delicious dishes. There's a maître who will be happy to guide you through the wine cellar to pair your meals with the most excellent international and local Italian wines. Aside from the wellness center and restaurant, there's also a luxury store and boutique within the resort. For corporate events, the resort has a conference room with a seating capacity of 70 and has direct access to the garden.
Hotel La Rocca Resort & Spa
A 5 star Hotel 2.6 kilometers from Baia Sardinia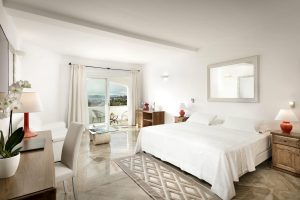 Hotel La Rocca Resort & Spa is an outstanding choice for your holiday in Costa Smeralda. Set in a park that's surrounded with bougainvillea and myrtle, the 5-star hotel is only a short distance away from Costa Smeralda's most beautiful beaches. The hotel has a Mediterranean style architecture featuring arched verandas that open to the panoramic views of the sea. All rooms at the La Rocca Resort are stylish and spacious and exude a very welcoming ambiance. Decorated in the Mediterranean style that consists of local textiles and handcrafted furniture, the rooms open to the scenic view of the hotel garden and the sea. To make your stay even more relaxing, the rooms are fitted with modern facilities, such as an air conditioning system, color TV, reliable Wi-Fi, and a mini bar. Wake-up to a delicious buffet breakfast served at the hotel's beautiful restaurant with a choice of savory and sweet pastries. Specialising in Mediterranean cuisine and some traditional Sardinian dishes, the restaurant at Hotel La Rocca Resort & Spa serves breakfast, lunch, and dinner meals. There's also a special menu for gluten-free and vegetarian dishes. The La Rocca Hotel & Spa is also known for having the most spacious and best-equipped spa in the entire Emerald Coast. Located just a few steps away from the resort's main building, the wellness center is set within a lush green Mediterranean garden and is equipped with a spa, sensory showers, Turkish bath facilities, a hot bench, and several other wellness facilities.
Hotel Grand Relais Dei Nuraghi
A 4 star Hotel 0.9 kilometers from Baia Sardinia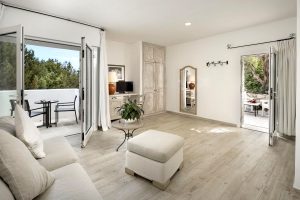 If you're vacationing in gorgeous Baja Sardinia, the charming Hotel Grand Relais Dei Nuraghi may just be the right place for you to stay. Situated on a natural rock formation that's only a few meters away from the beach, this lovely location offers breathtaking views of the Maddalena Archipelago. It's a gorgeous panorama that functions as the ideal backdrop for special and romantic moments (meaning the place has seen plenty of proposals!) The unique rooms have all been designed with exquisite attention to detail, and all the junior suites have access to a private pool as well as to garden views. Guests will also have access to the exclusive rooftop swimming pool, which makes for an excellent substitute to the private beach. Guests can comfortably relax on the sunbeds at their leisure. Breakfast is served in the panoramic terrace by the pool. You can choose from a variety of croissants, fruit, cakes and savory foods and wash it down with milk, coffee, cappuccinos or juice. The incredible sea views, a plethora of amenities and dedicated staff all combine to make the Hotel Grand Relais Dei Nuraghi your perfect hotel in Baja Sardinia.
Grand Hotel Smeraldo Beach
A 4 star Hotel 0.4 kilometers from Baia Sardinia
The Grand Hotel Smeraldo Beach is an exclusive 4-star hotel in Baja Sardinia, just a few hundred meters from the center of Baja Sardinia, and the beaches of Baja Battistoni, Spiaggia Tre Monti and Porto Piccolo. Extending along green and rich Mediterranean gardens, the gorgeous hotel is surrounded by rocks that have been modified by natural winds over the course of centuries to have unique and distinctive shapes. It's the ideal destination for anyone looking for a 4-star holiday in Northern Sardinia, as they relax in the presence of attentive service. Designed to look like mini villas, the suites are surrounded by greenery that allows for a feeling of total relaxation. All of the rooms are furnished in the traditionally tasteful Sardinian style, with Sardinian embroidery, wooden furniture, and pretty pastel colors. All of the rooms, including the standard ones, have a balcony or terrace, satellite TV, telephone, mini-bar, air-conditioning, and hairdryer, making the hotel a true home away from home! The Grand Hotel Smeraldo Beach offers its guests the opportunity to taste both local and national dishes, as well as international specialties created by adept chefs. With two restaurants and two bars, guests will be able to give their palates just what they need.
How To Get To Baia Sardinia Beach
From Arzachena
Coming from Arzachena by car, Baia Sardinia beach can easily be reached by taking the SP13 in the direction of Cannigione/Baja Sardinia. After 2 kilometers, turn right onto the SP162. Continue for 7 kilometers, then continue onto Via Baja Sardinia.
From Olbia
Coming from Olbia, take the SS125 in the direction of Arzachena. After 20 kilometers, take the first exit at the roundabout onto the SP59. Next, turn left after 2 kilometers. Keep left to continue on Località La Punga for the next 8 kilometers. Lastly, continue onto Via Baia Sardinia.
Map
Use the Google and Booking map below to explore the area.
Fill in your holiday dates to get an accurate view of available accommodations near Baia Sardinia Beach.
Beaches Near Baia Sardinia Beach