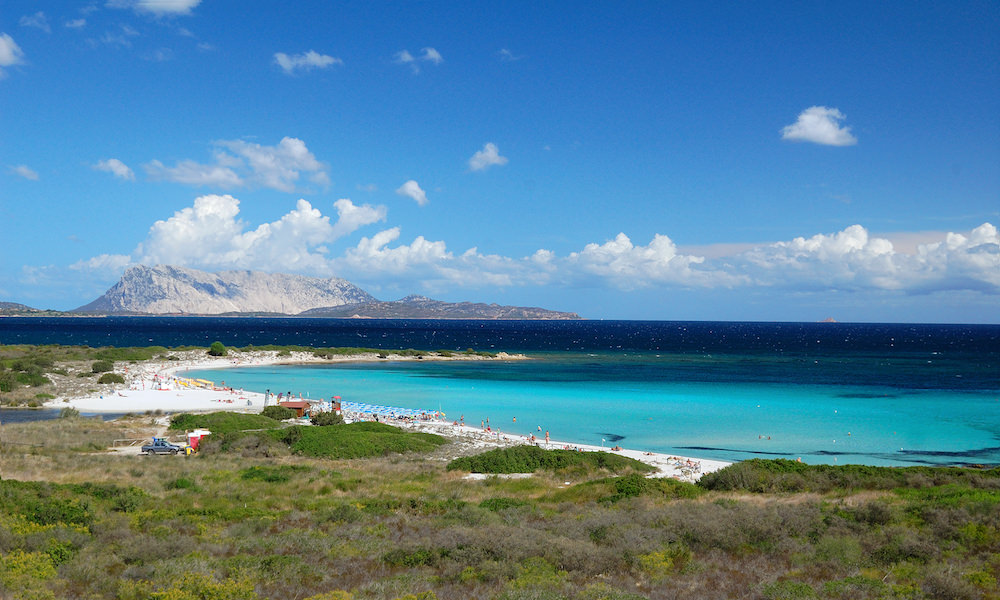 About Spiaggia dell'Isuledda
near San Teodoro, Province of Olbia-Tempio, North-East Sardinia, Italy.
beach chairs, umbrellas, bar.
snorkelling.
17:50 PM
08:32 AM
400 meters.
suitable for families with children.
Just a few hundred meters south-west of Cala d'Ambra you will find La Isuledda beach (Spiaggia dell'Isuledda). This is the southernmost beach in the vicinity of San Teodoro. Backed by a pond, La Isuledda faces east, and has a total length of 400 meters. With crystal clear waters and colorful light sands and small chips of pink coral, La Isuledda is often called La Cinta's twin sister. The beach features a beach bar that serves affordable food, and you can rent beach chairs and umbrellas. La Isuledda beach is suitable for families with children. It can get a little crowded during high season, though it tends to do less so in the month of September. It is a great beach to stay on until sunset and enjoy happy hour while you're there.
Places to Stay near Spiaggia dell'Isuledda
Due Lune Resort Golf and Spa
A 5 star Resort 5.8 kilometers from Spiaggia dell'Isuledda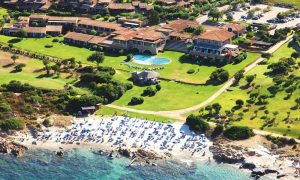 The Due Lune Resort Golf and Spa is a luxurious accommodation in the village of Puntaldia, less than 5 kilometers north of San Teodoro town. It offers an ideal position near the sea and the most beautiful beaches including Spiaggia La Cinta. The hotel is so lovely that it mixes harmoniously with the beautiful environment of Puntaldia. The Due Lune Resort Golf and Spa is also just a few minutes away from the beach on the north-east coast of Sardinia and gives panoramic views of a picture-perfect coastline. Located just thirty kilometers from Olbia Costa Smeralda Airport, the hotel is nicely situated concerning the connecting ports to Genoa and Civitavecchia. The resort features panoramic views of the coastline, numerous water sports, and leisure facilities. Home to more than sixty comfortable rooms, decorated in the typical style of Mediterranean regions, this beautiful accommodation is well equipped to provide the most comfortable lodging overlooking the sea and fragrant gardens. Guests can choose from standard, classic seaside, and deluxe seaside room types. The finest restaurant services are available in regional dishes, international, and national recipes. Activities such as diving, sailing, swimming, and tennis are also enjoyable within the area.
Terra Di Mare Resort & Spa
A 4 star Resort 2.9 kilometers from Spiaggia dell'Isuledda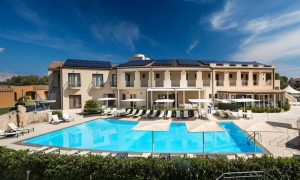 The four-star Terra Di Mare Resort & Spa lies at the heart of beautiful north-east Sardinia and thrives in the quiet district of San Teodoro, which is amongst the most favorite spots on the northeastern coast of Sardinia. This San Teodoro resort is situated just fifteen miles from Olbia Costa Smeralda airport making it very accessible and reachable. Taking a 10-minute stroll will bring you to the La Cinta Beach. The area is within the best places that offer protected forest paradise, vast marine and lagoon areas, luscious mountain trails, and archaeological sites. Vast choices of classic and junior rooms, as well as private apartments with self-catering packages, lie at the lush countryside. The Terra Di Mare Resort & Spa is perfect for couples who prefer sunbathing poolside, cocktails, and exploration during nighttime. Also, families with children will also enjoy the fantastic beaches of north-east Sardinia with its crystal clear waters. There is a free shuttle going to the nearby beaches and an exclusive spa. The Terra Di Mare Resort & Spa is one of those fabulous San Teodoro resorts that will deliver a perfect Sardinian holiday experience in a spectacular setting and provides a tranquil sanctuary for people tired in body and soul.
Hotel San Teodoro
A 4 star Boutique Hotel 3.4 kilometers from Spiaggia dell'Isuledda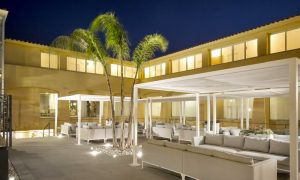 Located in the midst of the breathtaking coast of north-east Sardinia is Hotel San Teodoro. The proximity to the famous beach of La Cinta makes this accommodation fascinating. The hotel exudes elegance and a relaxing ambiance for your next holiday in north-east Sardinia. Hotel San Teodoro recently underwent a renovation to follow a new design concept with light colors and an architectural style to blend with the soothing environment, ultimately promoting wellness and harmony with nature. With the tranquility of the place, the four-star hotel provides the perfect spot for yoga enthusiasts. Hotel San Teodoro even offers a speedy check-in service as well as a free refill of the minibar for guests. Countless choices for room and lodgings are available and range from the most affordable Young, Elegant, Classic, to Family styles. A taste of San Teodoro nightlife is also just around the corner in the Mariposa Lounge. You can also find yourself enjoying the swimming pool and its picturesque views of the coast. Also, the private beach at La Cinta is something that you would not want to miss. You'll never get bored, as you can go diving, snorkeling, or just stroll around with the shuttle bus service.
Il Viandante
A 3 star Bed and Breakfast 2.1 kilometers from Spiaggia dell'Isuledda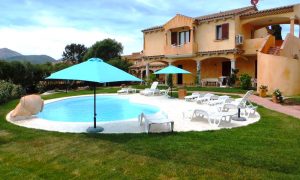 Known for its enchanting vibes, Il Viandante sits perfectly in the center of San Teodoro, just 23 kilometers south of Olbia Costa Smeralda Airport. Your stay will surely prove to be fun and enjoyable with retail shops, restaurants, pizzerias, and boutiques nearby. Go for a walk for about 800 meters, and you can visit the astonishing white sand beaches of La Cinta and Cala d'Ambra. Il Viandante provides a great stay for business, holiday, event, or a simple weekend break. The hotel guarantees high-quality service at the lowest price. There is a swimming pool that is heated during the low season, sun loungers, parasols, and showers. Each room comes with colorful furnishings and general equipment to ensure comfort and convenience. With its fine design and authentic Sardinian style, the accommodations take you closer to the general ambiance of the surroundings while the romantic atmosphere is also something you do not want to miss. With thirteen rooms available for guests, everyone can enjoy the panoramic view and visit the town center of San Teodoro with little effort.
Hotel Bonsai
A 4 star Hotel 2.5 kilometers from Spiaggia dell'Isuledda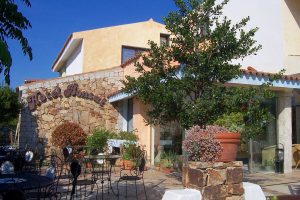 Located about 900 meters south of Spiaggia La Cinta, Hotel Bonsai is a charming four-star hotel in San Teodoro which combines luxury and relaxation with a truly magnificent location. You will find a wide variety of amenities on site to make the most of your holiday in San Teodoro. At the same time, the hotel is nicely located close to beautiful mountains and a range of day excursions should you choose to explore the region. The exterior of the hotel blends seamlessly with the rather luscious surroundings, and this unusual design extends to the interior of the rooms. In this sense, the rooms are incredibly bright and spacious with different colors in each room. Featuring a minibar, television, safe, and air conditioning, the general standard of amenities is more than above average whichever the facilities are equally impressive. Indeed, when it comes to the amenities mentioned above, you will find conference facilities next to a fitness room and then an excellent sauna with massage beds and even Turkish baths. The terrace at Hotel Bonsai offers unrivaled views of both the ocean and mountains which make this the perfect place to unwind after a day of exploration in the area. Finally, the friendly staff is one of the highlights of this hotel in San Teodoro, and when it comes to finding the ideal mix of relaxation and active pursuits, there are few accommodation options in this part of Sardinia which can live up to the lofty expectations of Hotel Bonsai.
Paradise Resort and Spa
A 5 star Resort 6.8 kilometers from Spiaggia dell'Isuledda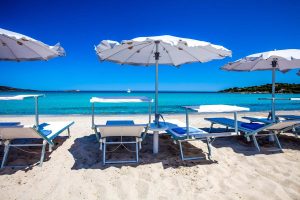 When it comes to idyllic hideaways in the region, the Paradise Resort and Spa is a splendid luxury resort for couples in San Teodoro. Featuring sublime food, incredible ocean vistas, a private beach, and a very secluded experience; this stunning location never fails to delight couples who arrive here in search of a romantic getaway. Situated in the Tavolara Marine Reserve, the five-star resort is home to spectacular beach views and a rugged coastline which makes this feel like a very secluded spot. The resort has everything you might need for a romantic stay, with a Spa treatment center being the focus for many guests. From sauna to massage rooms, the Spa is equipped with all the modern facilities you might expect while the resort's restaurant is equally impressive. Although there are western dishes and international surprises on the menu, the food experience is mostly local with a wide variety of authentic options on offer to excited guests. The Paradise Resort and Spa is located close to Spiaggia di Lu Impostu which enables guests to get outdoors without having to venture far. At the same time, there is really no need to leave this beautiful getaway, the resort is indeed a great base from which to feel rejuvenated and one of the best resorts in Sardinia.
How To Get To Spiaggia dell'Isuledda
To reach the beach coming from San Teodoro, just follow the signs to the village of Miriacheddu.
Map
Use the Google and Booking map below to explore the area.
Fill in your holiday dates to get an accurate view of available accommodations near Spiaggia dell'Isuledda.
Beaches Near Spiaggia dell'Isuledda