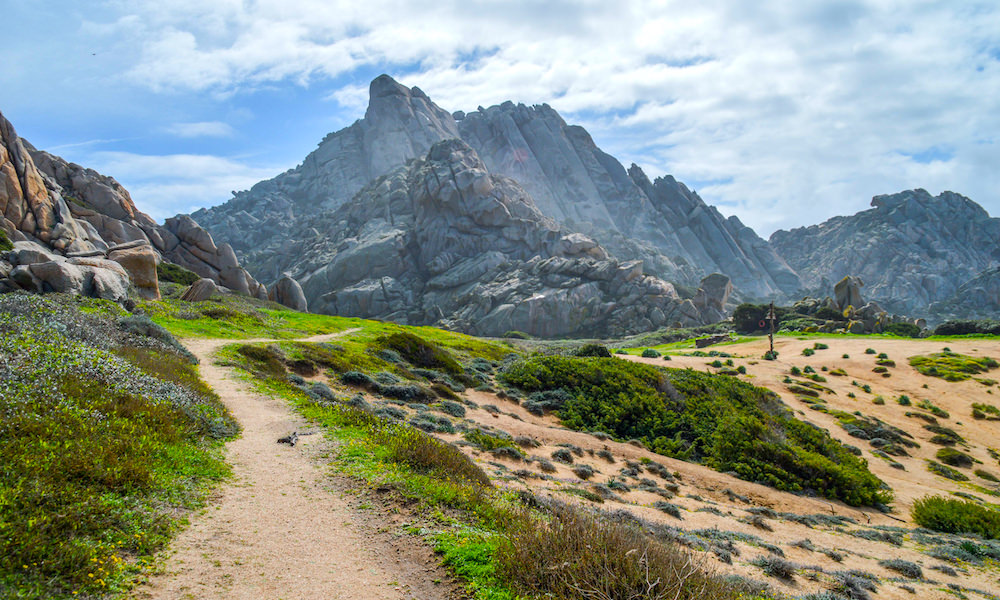 About Cala di l'Ea
near Santa Teresa di Gallura, Province of Olbia-Tempio, North Sardinia, Italy.
None. You'll want to bring some amenities.
hiking.
19:01 PM
07:24 AM
20 meters.
As intriguing as its name, Cala di l'Ea is often referred to as being a wild and lonely destination. Unsurprisingly, it served as a popular destination for hippies all over Europe way back in the sixties when very few people had even heard of the island of Sardinia itself. Cala di L'Ea is also characterized by the enormous white granite rocks which make up the surrounding landscape, and these are best known for their unusual shapes. For it is here, you can find the "Rock of Dinosaur" and many more strange names which derive from the form of each rock. The beach is connected to Ea bay which allows for an eye-popping delight next to the cliffs with colors of clear turquoise and green waters. Located in the municipality of Santa Teresa Gallura, Cala di L'Ea is situated on the promontory of Capo Testa in the Valley of Moon. The name Cala originated from a small stretch of beach a little further inland where an ancient granite quarry can be seen nearby, and this is active even in summer season. Cala di l'Ea is also called Lu Pultiddolu and tradition has it, the area was surrounded at one point by granite boulders from the quarry upstream. Reachable by trekking only, this mystical cove is worth the effort, as the path alone commands breathtaking views and occasional land tortoise sightings. Another feature of a visit to Cala di L'Ea is the many cottages in nearby Santa Reparata which make it easy to access. Ideal for nature lovers and anyone looking for a little more privacy, this is one of the best coves in Capo Testa and a hidden gem in Sardinia.
Places to Stay near Cala di l'Ea
Colonna Grand Hotel Capo Testa
A 5 star Hotel 2 kilometers from Cala di l'Ea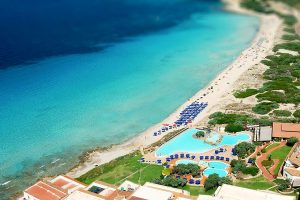 Few hotels are as luxurious and extravagant as the Colonna Grand Hotel. Located just a few minutes' walk from the beach, this five-star hotel in Capo Testa is accompanied by majestic panoramas and arguably the most impressive swimming pool on this side of the Italian island. Indeed, the location is unrivaled, but the sense of privacy throughout the resort and along the beach is a unique aspect of the hotel. Although refurbished in recent times, the hotel has a long-standing reputation for providing an ultra-comfortable and luxurious escape while the five-star rating is also evidenced in the friendly staff and high standard of service. Featuring a modern blend of facades and intricate architecture, the Colonna Grand Hotel is covered in bright colors and pastels which give off a real sense of calm. Meanwhile, the stunning infinity pool is the perfect place to enjoy a morning swim, right next to the glistening ocean. As for the rooms, the Colonna Grand Hotel pulls out all the stops with ample space and unobstructed ocean views from the balcony. With air conditioning, TV, a minibar and more; these rooms are fully equipped but most importantly, they consist of a quality which is not often seen in this region of Sardinia. Finally, the sumptuous restaurants and vibrant bars are one of the genuine highlights of a stay, and while the resort comes with a price tag, there is more than enough value on offer to justify the cost of this summer escapade.
Residence Il Faro
A 4 star Apartment 1.3 kilometers from Cala di l'Ea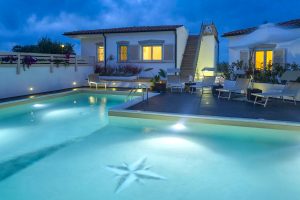 Residence Il Faro is quite a modest place to stay in Capo Testa with a variety of rooms to suit every occasion. This charming residence is a lot more private than most accommodations in the region which is often the reason why many visitors choose to stay here. There is still the option to get out and explore, for Residence Il Faro is ideally located close to the beach and bay area which has many shops, restaurants and coffee shops. Featuring a pristine pool and a well maintained outdoor terrace, this is also a great place to unwind away from the crowds. There is a barbecue and sun loungers on this terrace which makes for a fine place to spend an afternoon should you decide to enjoy a quiet lunch on your doorstep. In each apartment, you will find free Wi-Fi, television, air conditioning and a fantastic seating area. Families and those who like to cook will also be delighted with the fully equipped kitchenette. As for the décor, each room is designed with a slightly different theme, but in every instance, the rooms are comfortable, clean and wonderfully bright. Indeed, Residence Il Faro may be a far cry from the nearby four or five-star holiday resorts, but for everything it lacks in size, the apartments certainly make up for it with privacy. From the beautiful pool and outdoor terrace to the comfortable rooms and an ideal location; it is easy to see that this is not just an affordable option but also one of the more popular places to stay in Capo Testa.
Maison Sara
A 3 star Bed and Breakfast 1.1 kilometers from Cala di l'Ea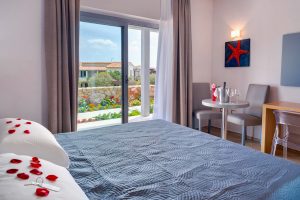 Situated on a rocky peninsula next to the Strait of Bonifacio, Maison Sara is a trendy family-owned bed & breakfast in Capo Testa. Its location is perfect for escaping the crowds but also ideal for visiting some of Sardinia's beaches in the north and venturing into the cafés in town. While hotels are probably the most popular type of accommodation in Sardinia, Maison Sara is a bed and breakfast which goes ever so slightly against the grain. In this respect, the accommodation is very much focused on providing a more localized experience for the visiting tourist. The sea views are impressive, and the rooms are fully equipped for a comfortable stay. Featuring a small swimming pool and a lovely leafy garden in which to relax, the accommodation is rather quaint. However, the bright rooms and modern fixtures will ensure a comfortable stay at a much lower cost than the five-star hotels up the road. All considered Maison Sara is a wonderful place to escape the noise and relax in comfortable surroundings. If you wish to visit the surroundings, everything is nearby, and when it comes to hospitality, you can be sure that this family-owned B & B in Capo Testa will make its guests feel right at home.
Le Villette di Capo Testa
A 3 star Apartment 1.2 kilometers from Cala di l'Ea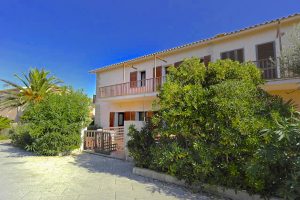 Le Villette di Capo Testa is unique in a sense that the property consists of a house with two floors and apartments with two bedrooms along with everything you might expect in a home of this size. While the town of Santa Teresa Gallura just a short distance away, the house is nicely situated to enjoy the local attractions. However, the standard of amenities is impressive with a full kitchenette, air conditioning, private bathrooms and private lounge areas. Meanwhile, out in the garden, you will find a terrace with deck chairs, tables, and a barbecue. While this area is admittedly small, each terrace is sectioned off for added privacy meaning it almost acts as a second balcony. Simply put, this apartment in Capo Testa is all you need regarding a home away from home. As for the bedrooms, they tie in beautifully with the rest of the house, for the bright and vibrant colors create a warm ambiance. Each room features a small yet charming balcony, and when it comes to furnishings, the style is modern and chic at the same time. Overall, Le Villette di Capo Testa has quite a rustic feel in spite of its modern design, and this immaculately clean house is perfect for any occasion. From family vacations in north Sardinia to romantic getaways, there is plenty of space in each apartment in which to appreciate some privacy and given its central location; this is one of the most enticing places to stay in Capo Testa.
Map
Use the Google and Booking map below to explore the area.
Fill in your holiday dates to get an accurate view of available accommodations near Cala di l'Ea.
Beaches Near Cala di l'Ea