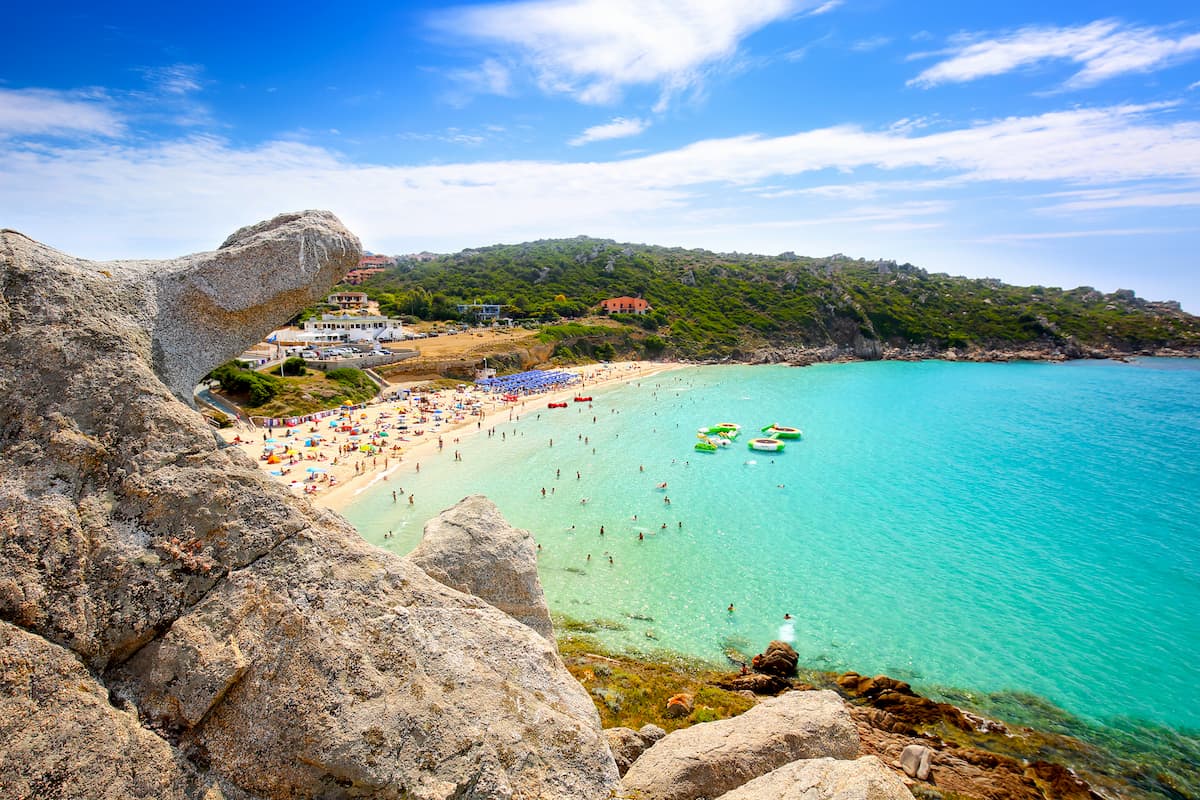 About Spiaggia Rena Bianca
near Santa Teresa di Gallura, Province of Olbia-Tempio, North Sardinia, Italy.
parking, beach chairs, umbrellas, bar, restaurant.
snorkelling, scuba diving, pedal boating, kayaking.
17:50 PM
08:36 AM
200 meters.
suitable for families with children.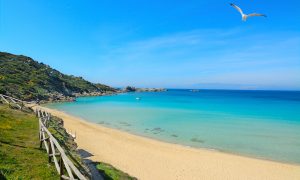 Rena Bianca beach (Spiaggia Rena Bianca) is the main beach of Santa Teresa Gallura. It is situated just a few hundred meters north of the center of the ancient village. It has a length of about 200 meters and faces north, offering views of the tiny Isola Municca to the north-west, the white cliffs on the coast of Corsica to the north, and la Torre di Longonsardo to the east. In 2018, Rena Bianca received a 'blue flag' award, meaning it has excellent bathing water, high-quality tourism facilities and a strong focus on environmental sustainability. For these reasons the beach is on our list of Best Beaches in North Sardinia. It's also well equipped: plenty of sun loungers and umbrellas, pedal boats, and canoes are available for rent. There's a bar nearby on the hill that serves snacks and drinks. It's a very good beach for families with children, as the water here remains shallow for several meters, and the beach is sheltered from the Mistral winds. You'll find some good snorkelling spots around the rocks. For some great holiday pictures, don't forget to climb the hill of la Torre di Longonsardo and admire the amazing views and the colors of the sea, they are simply fantastic! As Santa Teresa is such a popular destination, Rena Bianca can get quite busy, especially in August when the Italians are on vacation.
Spiaggia bellissima!
Places to Stay near Spiaggia Rena Bianca
Hotel Corallaro
A 4 star Hotel near Spiaggia Rena Bianca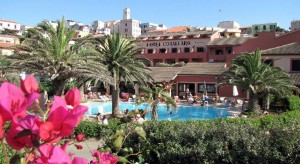 Just 160 meters behind Rena Bianca beach you'll find Hotel Corallaro, a four-star hotel with 83 spacious rooms. Most rooms have been recently renovated and have a marine style. Some of the rooms offer views of the sea and the coastline of Corsica. During the summer season, the hotel's restaurant is open for lunch and dinner and serves Sardinian specialities and international cuisine. In summer, you can sit by the palmtree-fringed outdoor pool and dine by candlelight. For guests of the hotel, fishing trips and excursions to the Maddalena islands on the property's own boat can be arranged.
Grindi Suite
A 5 star Boutique Hotel near Spiaggia Rena Bianca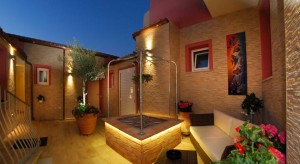 Move towards Piazza San Vittorio in the center of Santa Teresa Gallura and you'll find Grindi Suite, on Via Amsicora. It's a fabulous little hotel that offers 6 elegant rooms with high ceilings, large draped windows, and luxurious bathrooms with free toiletries. A continental breakfast is served every morning, and during the summer season guests can enjoy special prices at the nearby spa, La Perla del Porto. Guests of the highly rated hotel can park their car for free at the exclusive beach parking area near Rena di Ponente, with direct access to the beach.
Colonna Grand Hotel Capo Testa
A 5 star Hotel near Spiaggia Rena Bianca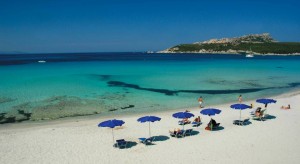 The most luxurious place to stay near Santa Teresa is located 2.5 kilometers south-west of the village. Set right on the southernmost part of Spiaggia Rena Di Ponente, you'll find the Colonna Grand Hotel Capo Testa, a five-star Mediterranean-style beachfront resort with spa that offers 125 rooms. They are all decorated in a Sardinian style, some rooms offer views of the surrounding greeneries, and some offer views of the Gulf of Capo Testa. The Colonna Grand Hotel has its own private beach on Spiaggia Rena Di Ponente where guests will enjoy sun loungers, sun umbrellas and beach towels.
La Coluccia Beach Club and Spa
A 5 star Boutique Hotel near Spiaggia Rena Bianca
La Coluccia Beach Club and Spa is situated in the stunning bay of Conca Verde near Santa Teresa Gallura. This secluded area with serene surroundings and ocean views highlights some of the best natural scenery in all of Sardinia. The complex itself is the true highlight for each room/villa is coveted in style and luxury. With this in mind, La Coluccia Beach Club is an excellent hideaway for couples who want a relaxing vacation in a most beautiful setting. This is also a boutique hotel in Sardinia and one of the first in the North East. The interior design is contemporary, to say the least, and equipped with modern furnishings and facilities. Each of the 43 rooms has a private bathroom, modern furnishings, a minibar, and cable television. The rooms also have a veranda or terrace with ocean views and more than enough space to relax and unwind. You also have full access to the Spa center, one of the best in Sardinia, and a stunning beach just 50 meters away with sunbeds, umbrellas, and beach towels for hotel guests. For food and drink, you can drop down to Caffè La Coluccia for coffee, and the Beach Club restaurant has an a-la-carte menu for meals and snacks until late evening. With private parking, complimentary breakfast, grand tours, and things to do, this is a boutique hotel that offers the perfect mix of activity and relaxation.
How To Get To Spiaggia Rena Bianca
On foot, Rena Bianca beach can be easily reached from Piazza San Vittorio in Santa Teresa Gallura, by following Via Verdi. The beach is also reachable by car, there's a car parking area right behind the beach.
Map
Use the Google and Booking map below to explore the area.
Fill in your holiday dates to get an accurate view of available accommodations near Spiaggia Rena Bianca.
Beaches Near Spiaggia Rena Bianca