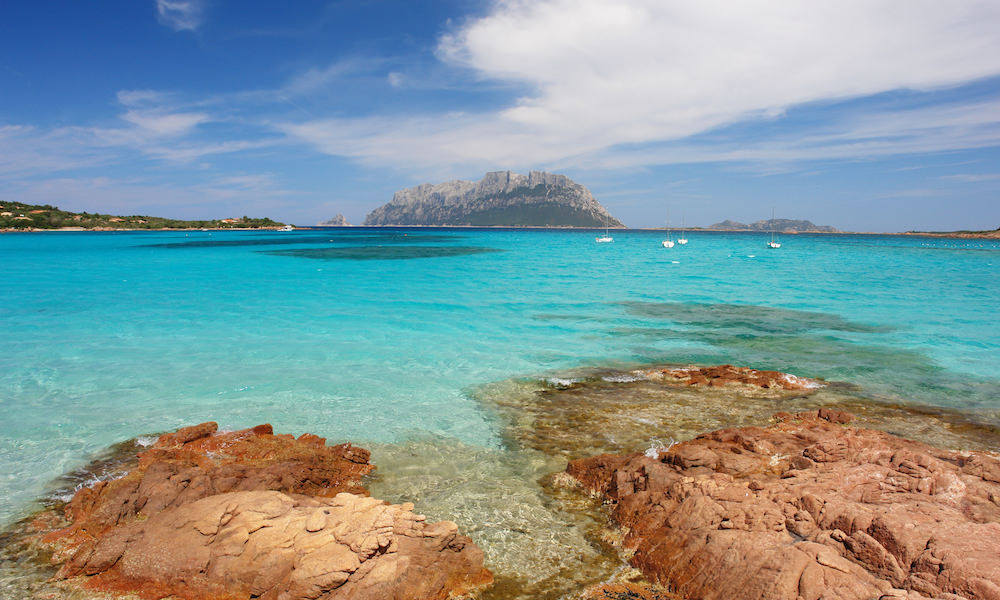 About Spiaggia di Porto Istana
near Porto Istana, Province of Olbia-Tempio, North-East Sardinia, Italy.
parking, beach chairs, umbrellas, bar.
snorkelling, scuba diving, windsurfing.
18:59 PM
07:21 AM
200 meters.
suitable for families with children.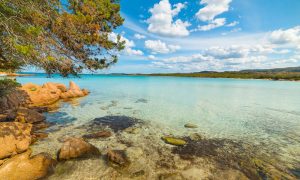 Porto Istana beach (Spiaggia di Porto Istana) is scattered with short rocky beds intermittently placed between stretches of white sand. Directly in front of the beach is Isolo Tavolara (Tavolara Island) which is an awe-inspiring sight while you are relaxing on the sand or walking out into the ocean. Apart from the island, you are also surrounded by beautiful scenery with a stretch of white sand and green vegetation which accompanies the turquoise shore – you may even be lucky enough to spot a pod of dolphins along the way. Popular activities at this beach include windsurfing, jet skiing, diving, canoeing, sailing, and snorkeling. Many tourists love having these daily sports available at their fingertips, and if you just click your fingers, a local vendor will be offer before you know it. Local hotels can also pre-book these activities before you arrive and the beach also provides a sailboat/rubber dinghy hire if you wish to take an adventure to the marine park or even up to Isola Tavolara. For those of you who want just to relax and bronze under the golden sun with a good book, there is a bar and restaurant for you to quench your thirst or get a quick bite in between body turns. If your hotel is not on the beach, you can also pay to use the facilities of the hotel available. This includes the sunbeds, restaurant, bar and waiter service which is a lovely touch when you just want to laze with a cocktail in one hand and your kindle in the other.
Places to Stay near Spiaggia di Porto Istana
B&B Villa Smeralda
A 3 star Bed and Breakfast 1 kilometers from Spiaggia di Porto Istana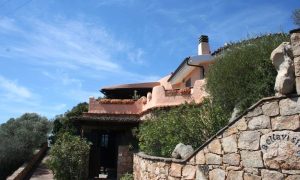 In Murta Maria, less than 2 kilometers from Porto Istana and only 10 minutes away from Aeroporto di Olbia-Costa Smeralda, you'll find B&B Villa Smeralda, a picturesque bed and breakfast with a modern interior design. It is the perfect place to explore the wonderful region of Porto Istana, popular for snorkeling and horseback riding. Villa Smeralda is nestled on a green hillside and offers magnificent views of the sea and Isola di Tavolara. Surrounded by a manicured garden, Villa Smeralda offers terraces, areas to relax, and a barbecue area. Your hosts, Carine and Dominique, will do everything they can to make your stay at their bed and breakfast as enjoyable as possible. B&B Villa Smeralda accommodates adults only.
Casa Marida
A 3 star Holiday Home 0.1 kilometers from Spiaggia di Porto Istana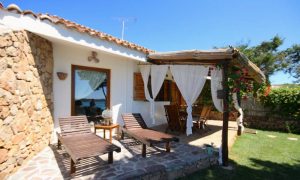 Just a few steps away from Porto Istana beach, there's a new vacation home available for rent. It can accommodate up to 6 persons. The vacation home features two double bedrooms, one with a bathroom en suite. There's a living room and a dining room with a kitchenette. The house has a garden with beautiful views of the sea and the islands in the protected marine reserve of Area Marina Protetta di Tavolara. A private gate offers direct access to Spiaggia di Porto Istana. This vacation home is perfect for families with children and offers excellent privacy.
Hotel Cala Cuncheddi
A 4 star Hotel 1.9 kilometers from Spiaggia di Porto Istana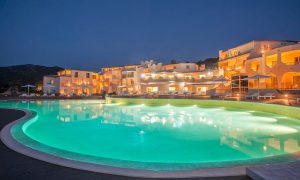 Hotel Cala Cuncheddi is a family-friendly luxury escape that exudes a contemporary Italian style, decorated in pastel colors which blend seamlessly with the natural surroundings. Nestled beautifully on the promontory of Porto Istana, the interior is extremely impressive, but this also extends to the location of the hotel as it sits overlooking the white sands and turquoise waters of northeast Sardinia. Few swimming pools around the world can offer the same awe-inspiring view of the Mediterranean sea, and less can claim ownership to their very own private beach where guests can snorkel in the crystal clear waters. In the evening, there is an option to indulge in an authentic Sardinian culinary experience at Hotel Cala Cuncheddi's Asumari restaurant while the lounge bar is the perfect place to unwind with a drink afterward. Each of the rooms offers breath-taking views which can be enjoyed on private balconies. The rooms feature a stylish bathroom with Bvlgari toiletries and modern amenities such as air conditioning and complimentary WiFi. Fully equipped for business meetings and group events, Cala Cuncheddi also provides an easy airport transfer to and from the hotel. Hotel Cala Cuncheddi offers wellness facilities such as a spa, sauna, and fitness. Activities include surfing, diving, sailing, horse riding, golf, and biking.
Villa Rita Li Cuncheddi
A 4 star Villa 1.7 kilometers from Spiaggia di Porto Istana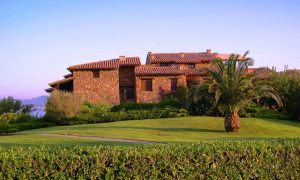 Villa Rita Li Cuncheddi is located just two minutes from the beach of Li Cuncheddi, and nine kilometers from Olbia. This rental villa features typical Sardinian style décor which consists of authentic Sardinian granite, juniper wood, and ceramics. Offering two apartments with capacity for up to eleven guests, the villa is also home to a garden of many luscious plants and flowers of the Mediterranean scrub. Constructed in the same style as a semi-detached house, the villa is also very pleasing on the eye from the moment you encounter the beautiful porch which reaches around the building with stunning views of the landscape. The ground floor features two double bedrooms, two bathrooms with showers, and a kitchen while the basement has a private entrance, two double bedrooms, two bathrooms and a large living room with sofa beds, kitchen, and a small single room. Every room is accompanied by ceiling fans, free Wi-Fi, and a flat-screen television while the garden has a beautiful gazebo with stone barbecue and solarium terrace where you can enjoy incredible sunsets over the ocean. Surrounded by luscious scenery and a full range of local activities including surfing, fishing, and snorkeling, this beautiful rental villa in Sardinia is a small island escape which offers a huge return on investment.
How To Get To Spiaggia di Porto Istana
To get to Spiaggia di Porto Istana, follow the road labeled Viale Porto Istana and continue for 2 kilometers until you reach the labeled car park. It is just a few minutes' walk from there. The beach also has wheelchair access facilities and medical assistance available.
Map
Use the Google and Booking map below to explore the area.
Fill in your holiday dates to get an accurate view of available accommodations near Spiaggia di Porto Istana.
Beaches Near Spiaggia di Porto Istana