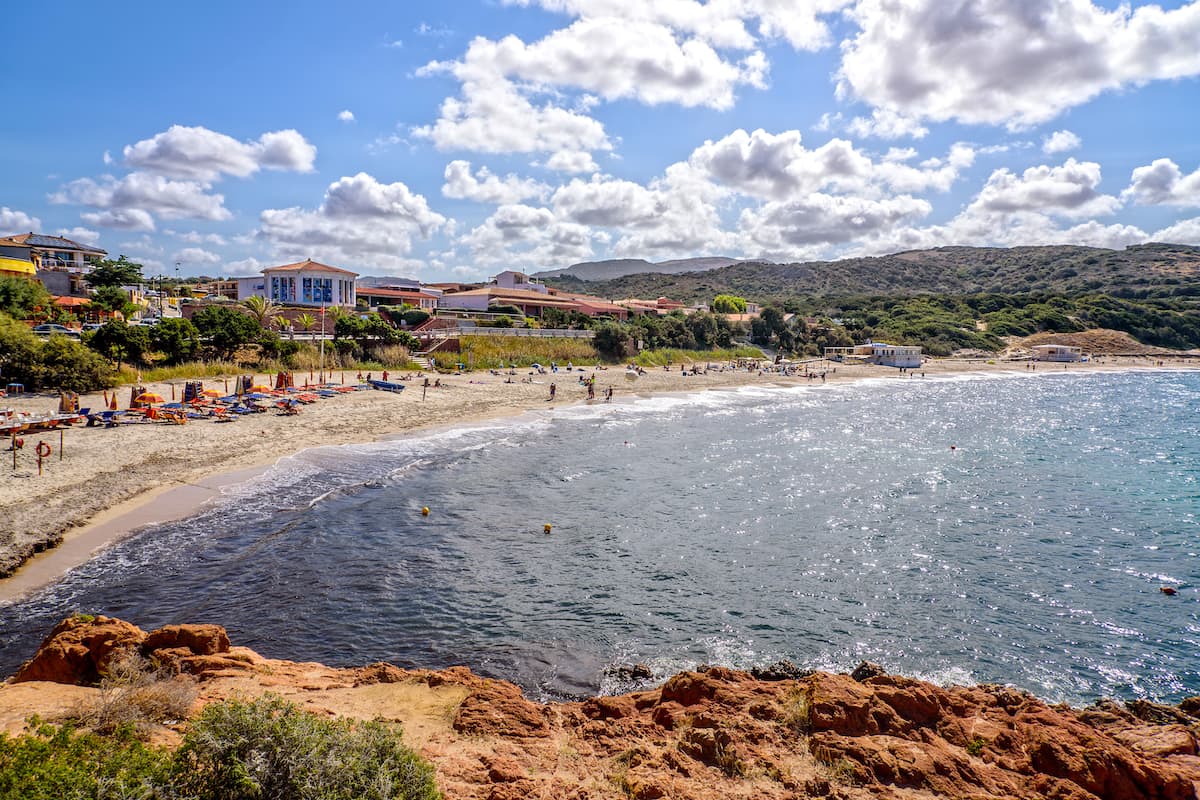 About Spiaggia Longa
Travel 4 kilometers north-west from Trinità D'Agultu, and you'll find a beach named (Spiaggia Longa). It is the main beach of the pretty fishing village called Isola Rossa. The village is situated on a small promontory – characterized by red rocks – that stretches in a northwesterly direction between Costa Paradiso and Castelsardo. Spiaggia Longa has a length of nearly 500 meters and faces south-west, featuring views of the small marina north of the beach, and Isola Rossa, a small island that lies a few hundred meters off the coast. It's a nice beach for families with children. Beach chairs and umbrellas are available, and the beach offers plenty of activities. At the nearby diving center, you can rent pedal boats, canoes and inflatables. The diving center also organizes guided excursions along the coast, and it offers a taxi service to the other beaches and coves in this area.
Places to Stay near Spiaggia Longa
Hotel Corallo
A 4 star Hotel, 1.3 kilometers from Spiaggia Longa (about 0.81 miles.)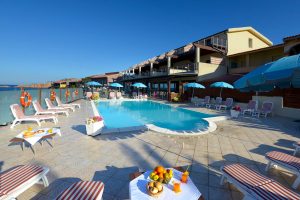 Hotel Corallo is a charming four-star hotel in Isola Rossa, in north Sardinia. Situated next to the sea in the authentic fishing village, Hotel Corallo is an ideal base for a vacation in Sardinia. Built in 1964 as a restaurant, this establishment has been welcoming guests for more than 40 years and was run by three generations of family. In 2007, the hotel underwent a major renovation and was developed and modernized to meet the four-star standards. Hotel Corallo has 35 guest rooms and suites, which includes Superior, Deluxe, and Junior Suite rooms. Some rooms come with their own private terrace that opens to the breathtaking views of the sea. There are also several rooms with a balcony that overlooks the stunning sixteenth-century Spanish Tower nearby. Each room is furnished in a Mediterranean and contemporary style and fitted with modern facilities, such as air conditioning, Wi-Fi, and satellite TV. Furthermore, each room has an en-suite bathroom that comes with free toiletries, and in the morning, a delightful Italian breakfast is served up to the guests. Hotel Corallo offers an outdoor pool which is set amidst a beautifully landscaped garden with sun decks and areas to relax. There is also a poolside bar serving refreshing drinks and food while the friendly staff is always quick to provide service to guests at the poolside. With a strategic location on the Costa Rossa, the hotel is only a few minutes away from the beautiful sandy beaches of Isola Rossa and the very best local restaurants. All in all, this is a truly memorable hotel in Sardinia with friendly staff, beautiful décor and a reputation for living up to the expectations of its guests.
Hotel Gabbiano
A 3 star Hotel, 1.3 kilometers from Spiaggia Longa (about 0.81 miles.)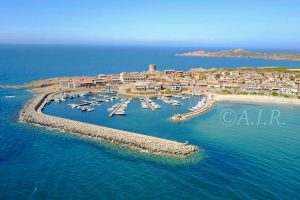 Hotel Gabbiano is a three-star hotel located just one hundred meters away from the marina and town center while the stunning beaches of Isola Rossa are just a stone's throw away. The hotel is situated halfway between Santa Teresa Gallura and Alghero, and provides the perfect starting point for a vacation in north Sardinia. The family-run hotel is decorated in a traditional Mediterranean style with pastel interiors and classic style furniture that live up to the three stars above the door. There are 17 private rooms , and each room is furnished with air conditioning, TV, telephone, safe, and a minibar with fridge. Each room also has a private bathroom with free toiletries. Moreover, some of the rooms come with their own balcony that opens to the lovely views of the surrounding area. Meanwhile, you will find a TV lounge next to reception and Wi-Fi access is available for all guests to use free of charge. Run by locals and a team of friendly staff, Hotel Gabbiano is one of the highly rated hotels in Isola Rossa regarding customer service. You can rest assured that the knowledgeable staff is always happy to provide assistance on how to get to the nearby beaches or other tourist attractions and excursions in Isola Rossa. With this in mind, if you need help in booking guided tours and boat rentals, the concierge is often the subject of five-star reviews, and with its central location, the hotel is arguably the perfect base for day trips to the beautiful island of La Maddalena.
Map
Use the Google and Booking map below to explore the area.
Fill in your holiday dates to get an accurate view of available accommodations near Spiaggia Longa.
Beaches Near Spiaggia Longa
La Marinedda
Length:

600 meters.

Things to do:

snorkelling, windsurfing, surfing, kitesurfing, pedal boating, kayaking.

Facilities:

parking, beach chairs, umbrellas, bar.
✓ Suitable for families with children.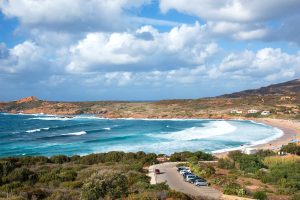 La Marinedda beach (Spiaggia la Marinedda) is located 1.2 kilometers north-east of Isola Rossa, in Comune di Trinità D'Agultu e Vignola, Olbia-Tempio. This beach faces north-west, and has a length of 600 meters. This is an excellent place for swimming and snorkelling as the bay is quite calm and the water is beautifully clean. This beach is recommended for families with young children, as the water at La Marinedda beach remains shallow for quite a distance. Many locals consider this beach to be one of the most beautiful beaches between Santa Teresa di Gallura and Castelsardo. La Marinedda is a surfer's paradise, every year in August this beach is host to the Frozen Open Surf Contest attracting surf enthousiasts from around the world.
Learn more about La Marinedda, how to get there, and where to stay.