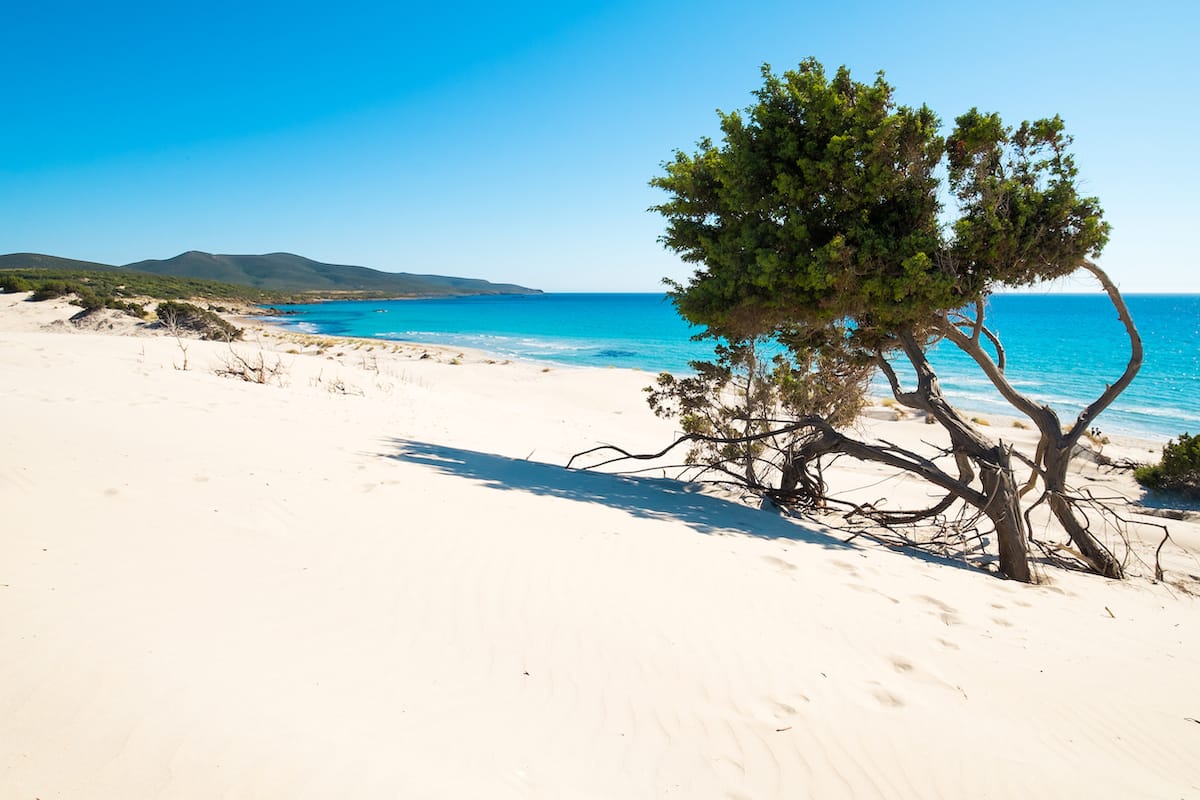 About Porto Pino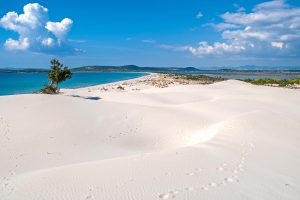 Located on the tip of south Sardinia, Porto Pino is a beautiful little seaside town in the province of Carbonia-Iglesias. The area is named as Porto Pino as there are an enormous pine forest and a stunningly beautiful bay with a long beach stretching for more than four kilometers. It is also here you will find colorful flamingos on expanses of water in between imposing sand dunes which bring a romantic touch to this enchanting destination. The town itself appears a little lonely upon first sight with only villas and bungalows all around, but this hidden gem on the island of Sardinia certainly does come to life during the summer months. Porto Pino is widely regarded as one of the most beautiful and best beaches of south Sardinia. It is more than four kilometers long and faces in the south-west direction thereby affording majestic views of Isola della Vacca which is located at around 15 kilometers off the coast. The beach of Porto Pino is characterized by beautiful white sands and divided in two by a large cluster of rocks. The surroundings are then further enriched by the presence of the Mediterranean vegetation along with the pinewood of Aleppo Pine which is exceedingly rare. As per local legend, the Aleppo Pine was the preferred wood of the Phoenicians as they used it for the construction of their boats. The beach of Porto Pino is known for its magnificent sand dunes and is surrounded by a heap of ponds where one can spot the majestic pink flamingos; a beautiful sight and a great opportunity for photography enthusiasts to click some great snaps. The sea at the beach is crystal clear and is shallow in nature making perfect for families with little children. You can also take a stroll along the long shore with your loved one and view the sun setting on the distant horizon. It should be noted here that if you have come here by car, then the beach is a 5-minute walk from the parking lot (the charge is EUR 5 for one full day). There are two main beaches in Porto Pino with a jetty separates Prima Spiaggia and Seconda Spiaggia. The Seconda Spiaggia is a much larger beach and slightly more attractive too. Both of these beaches enjoy spectacular white sands next to the calm of a turquoise sea. Importantly, Spiaggia di Porto Pino is quite crowded during the high season; so if you prefer a bit of serenity and exclusiveness, you can head south to Spiaggia delle Dune.
Porto Pino Map
✔ Use the Google and Booking map below to explore the area.
✔ Fill in your holiday dates to get an accurate view of available accommodations near Porto Pino.
Where to Stay in Porto Pino - Our Top Picks
Villa Nereida
A 4 star Villa in Porto Pino, 1.2 kilometers from the center of town (about 0.7 miles.)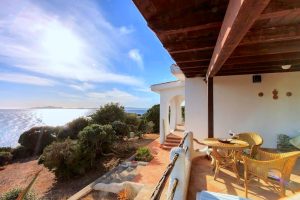 Villa Nereida is one of the most attractive beachfront villas in south Sardinia. Located in the midst of lagoons, mangroves and genuinely beautiful scenery, this is quite a discreet hideaway which is often the subject of interest for couples in particular. The accommodation has enough space for families and more than enough luxury to exceed even the highest expectations. Featuring stunning white walls and a spacious terrace, the exterior of Villa Nereida is a sign of things to come. After all, this incredible brightness extends all the way to the common areas and bedrooms inside the villa. When the weather is nice, guests will often choose to stay outside, and the luscious gardens and patio is arguably the finest you will find on this part of the island. As for the sleeping quarters, the bedrooms never fail to impress visitors and again, these are brightly decorated and especially inviting. Featuring a fresh and immaculately tiled bathroom, there is a distinct modernity about the villa which gives off a luxurious feel. You can sense this in the cleanliness of each room but also the furnishing, for every piece seems to have a purpose. In most cases, these rooms also have access to a terrace and other facilities including free Wi-Fi and Satellite Television. Concerning capacity, Villa Nereida has two bedrooms which can cater for two couples of a small group, and as you might expect, the villa is within steps of the nearby beach. Finally, if guests want to get out and explore the local area, the nearby town has some excellent restaurants and café's to grab an afternoon coffee.


Villa Eliana sul Mare 

A 3 star Villa in Porto Pino, 1.3 kilometers from the center of town (about 0.8 miles.)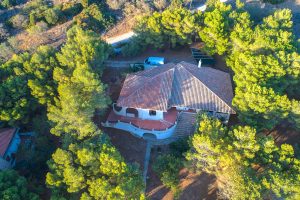 Villa Eliana sul Mare is a stunning beachfront villa which is most often favored by families looking for a comfortable stay in the south of Sardinia. Enclosed within a hugely charming pinewood forest, the location of the house is incredibly interesting and just a few steps from spectacular views on the island. This stunning villa is just steps away from a rugged shoreline where small coves and crystallized waters lay waiting to be explored. Although the exterior of Villa Eliana soul Mare can seem rather dark at first, this is mostly due to the forested location and the house, in fact, offers a very warm atmosphere. Surrounded by beautiful gardens, the terraces provide the perfect place to sit back and relax while the incredible space in these areas makes it ideal for the children. Meanwhile, the antiquated interior never fails to surprise guests with many remnants of the previous owners. In this respect, you will find memorabilia at every turn, and this does convey a sense of homestay to the visitors. At the same time, age is but a number, and the furnishings are incredibly comfortable in every room. As you will see in the online reviews, this striking interior is often the highlight for most people who stay here. As you might expect for a property of this size, there are five bedrooms in total, and while the size varies a great deal, each one is decorated to perfection. Featuring clean bathrooms and all the modern conveniences you could hope for, this is also a home away from home and spacious enough to host quite a large family or group. Finally, the extravagant living area is also accompanied by a large dining room table and a fully equipped kitchen so eating in is always a pleasure.
More Places to Visit Near Porto Pino
Porto Pino Restaurants - Where to Eat
Gilbert (Seafood)
🏠
3
,
Via del Porticciolo
,
Porto Pino
,
Sardegna
,
09010
,
Italy
.
📱 Telephone:
+39 389 655 8906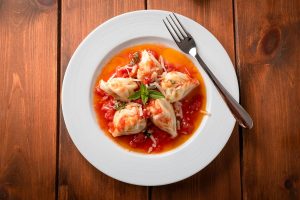 Gilbert is a popular seafood restaurant in Porto Pino that rates high when it comes to service and presentation. The bi-lingual staff is often the subject of glowing reviews, and the presentation of the spaghetti, fish and other seafood dishes always makes the food look especially enticing. The variety is also notable, and Gilbert serves up everything from mussels, prawns, and cuttlefish to spaghetti vongole, ravioloni and frozen vermintino. A selection of cordial and local wine is available, and the overall menu is exactly as you would like in a south Sardinian seafood restaurant. Local products and ingredients are consistent throughout the menu, and you can taste the difference. The attention to detail also makes the receptive staff popular because they speak perfect English and make every effort to ensure guests are comfortable. As for the venue itself, the interior is beautifully fitted with light-colored furnishings, which helps lighten the atmosphere. The outdoor terrace provides the perfect setting to drink in the surroundings with fresh sea air. 

La Peschiera
 (Seafood)
🏠
Sant'Anna Arresi
,
Sardegna
,
09010
,
Italy
.
📱 Telephone:
+39 339 345 8146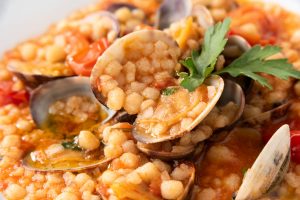 Located in Sant'Anna Arresi, La Peschiera is a seafood restaurant that features an especially rustic setting and some of the best seafood in this pocket of south Sardinia. Despite the central location near the port, the simplistic and authentic design of La Peschiera will help you feel a long way from the busier towns. You can choose to sit outside or inside, offering a similar experience. But what about the food? You will find an impressive selection of seafood dishes here. Mussels, prawns, and other seafood delicacies are also on the menu, and the presentation is near perfect. The tiramisu is another hit for dessert; almost everything is cooked and baked on location for added authenticity. While prices might not be the lowest at La Peschiera, the high-quality ingredients and capable staff offer excellent value for money. A lovely wine, marsala, or cordial can help wash it all down, and most guests leave this place to eat with nothing but good things to say about the menu, staff, and overall experience.
How To Get To Porto Pino
Have you thought about arranging a rental car in Sardinia?
For some great deals, check out our Sardinia Car Hire page!
This majestic Sardinian oasis is located exactly at the border between the provinces of Carbonia-Iglesias & Cagliari. On a local map, you will find Porto Pino beach located just southeast of the villages of Porto Pinetto and Porto Pino. To make it even more straightforward, it is just a 10 minute drive from Sant Antioco, and you will arrive at one of the most beautiful beaches of Sardinia.