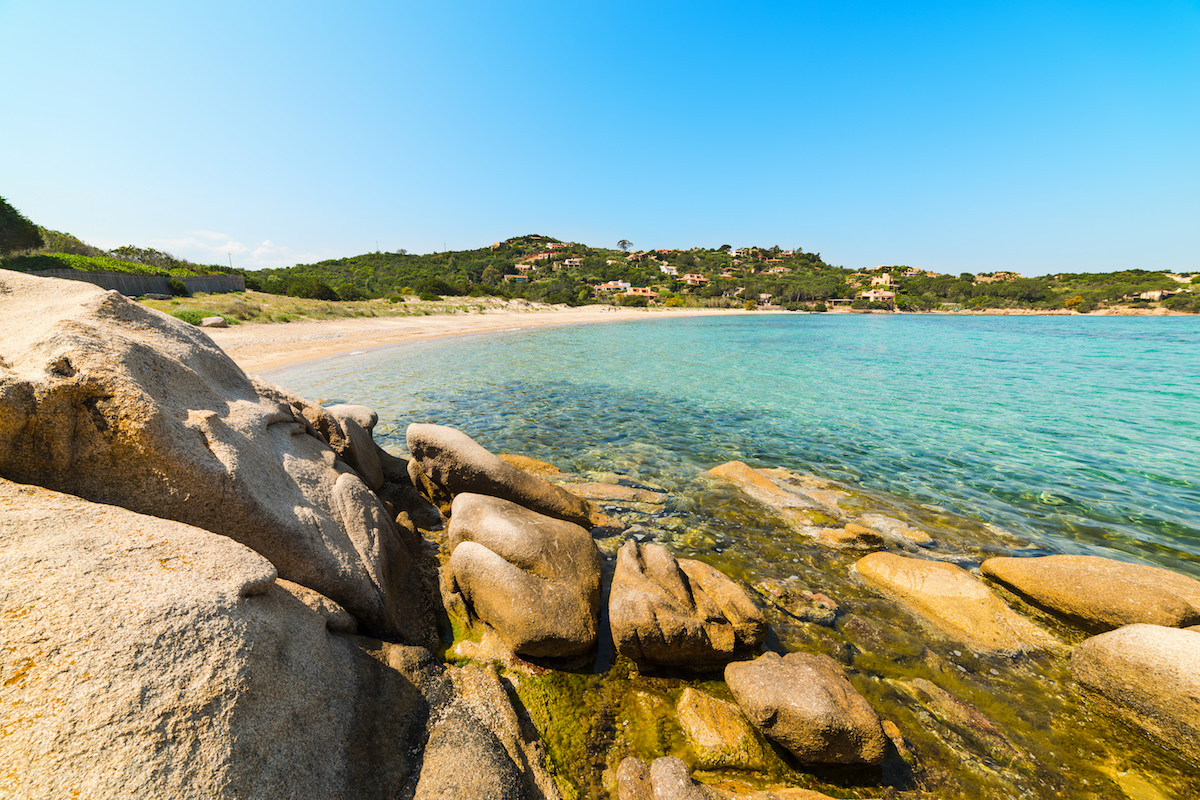 About Cala Girgolu
near Porto San Paolo, Province of Olbia-Tempio, North-East Sardinia, Italy.
parking, beach chairs, umbrellas.
snorkelling, pedal boating, kayaking, birdwatching.
18:59 PM
07:21 AM
250 meters.
suitable for families with children.
The beach of Cala Girgolu (Spiaggia di Cala Girgolu) is indeed a beautiful place to visit if you find yourself in the area of Porto San Paolo or San Teodoro. As with so many beaches on the coast of the Gallura, its sands are entirely white, a bit pebbly here and there, and its waters are turquoise. Cala Girgolu has a length of roughly 250 meters and faces due north, featuring a beautiful view of the south side of Isola Tavolara, with the tiny island of Isolotto Rosso in front of it. The beach is tucked between the residential areas of Aldia Bianca and Domos de Rocca. Its sands are about 45 meters wide at most, and at the back of the beach, you'll find some sandy patches peppered with a few pines and juniper trees. You'll find plenty of shade there. There's a small pond behind the beach with an outlet of water that joins the sea. You'll likely spot a few birds there, as it is the natural habitat of several species. You'll also find a small creek on the left side of the beach, where you can cool down a bit while you rinse the sand off your feet. It's a perfect place for children to play. If you want to go snorkeling, on the right side of the beach, you'll find a small group of granite rocks near the water's edge. Most fish will be hiding there. Concerning beach facilities, beach beds and umbrellas are available to rent. If you rent a pedal boat, there are a few smaller coves to explore around the right side of the beach in the direction of Spiaggia della Tartaruga and Spiaggia delle Vacche (which are great coves to explore if you have the time.) Note that it will take quite a walk to reach Cala Girgolu, as the paid car parking is located 300 meters behind the beach. For this reason, it never gets too crowded here, even during high season.
Highly recommended!
Places to Stay near Spiaggia di Cala Girgolu
Hotel Ollastu
A 4 star Hotel 5.2 kilometers from Cala Girgolu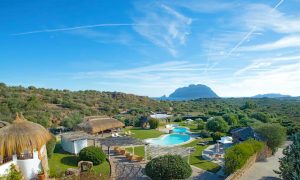 Hotel Ollastu is located on four hectares in the midst of some stunning scenery and landscapes next to the promontory of Costa Corallina. One of the highlights of the hotel is the architecture and earth-like elements, which blend seamlessly amongst the natural attractions. In this sense, a sublime mix of light colors also adorns the interior of the hotel while the old culture of Gallura can still be seen in the megalithic pillars and wooden arches outside. Featuring a modern artistic style, pure comfort, and warm ambiance, Hotel Ollastu is known for its contemporary style but just as famous for the old-fashioned feel which is most often complimented by impressed visitors. Add all of this together, and you are guaranteed a memorable experience in the charming village of Porto San Paolo. Hotel Ollastu features restaurants, bars, a parking area, a lounge with television, and free Wi-Fi, the hotel is more than equipped to satisfy even the highest expectations. The central common area is followed by a reception hall, breakfast room, TV room, indoor bar, outdoor bar, two dining rooms, conference room, and two fantastic swimming pools with Jacuzzi. And then there are the majestic and panoramic garden, gazebos, solarium, and outdoor areas which can be used for entertaining activities. The rooms are also distinct from each other, and the style of the building itself is very typical of the Gallura, but it also offers the most modern comfort. Even the cuisine is top of the line, and from the hotel, it is also possible to explore the neighboring islands.
Villa Bianca
A 4 star Villa 4.6 kilometers from Cala Girgolu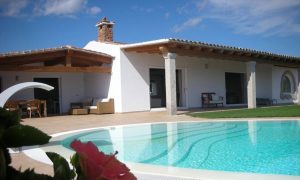 Villa Bianca is renowned for both of its location and spectacular design. Located just 700 meters from Porto San Paolo, this is a perfect accommodation for those yearning for freedom and fresh air. The villa exudes luxury and privacy while the five bedrooms ensure there is ample space for guests to enjoy. Villa Bianca is also very close to the Porto Istana, Isola di Tavolara, Cala Brandinchi Beach, and the Isola Bianca Harbor. On the other hand, Olbia Costa Smeralda Airport is also just nine kilometers from the villa while numerous markets and restaurants are located close to the villa, including a true local favorite, the Veliero. Villa Bianca consists of bedrooms with large double beds, which are both spacious and comfortable. The ceilings feature wood beams, and the living room opens out into a beautiful garden with fantastic views. There is also a huge infinity pool with whirlpools, and a hydrotherapy garden, as well as unrivaled views of the pristine Sardinian sea. The kitchen is surprisingly modern and offers convenience for intimate dining while the main veranda is also ideal for eating outdoors. Satellite television, dishwasher, washing machine, espresso coffee machine, and Wi-Fi internet connection are available and just to round off the experience, the bathrooms are exceptionally luxurious. Featuring a fitness center and many family amenities, the villa is well equipped for groups and families while there are also many activities to enjoy nearby such as snorkeling, horse riding, diving, and hiking. Amazingly, Villa Bianca welcomes guests of various languages including Russian, Italian, French, Spanish, and English. The villa's proximity to Porto San Paolo also makes it very easy for guests to enjoy the beautiful region nearby.
Hotel Residence Porto San Paolo
A 3 star Hotel 4 kilometers from Cala Girgolu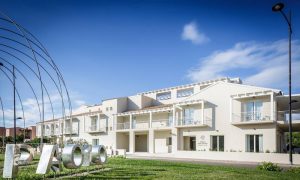 The Residence Hotel is located in the peaceful village of Porto San Paolo which is just a few minutes away from Porto Taverna Beach and Porto Istana Beach. Interestingly, it is also very close to the National Archaeological Museum of Olbia, and Basilica of San Simplicio. In fact, this proximity to local attractions ensures the Residence Hotel is ideally located for things to do, just as much as panoramic views. Featuring a charming terrace with swimming pool and majestic views over the Mediterranean Sea, the Residence Hotel is the perfect haven for either a holiday or a quiet business trip in Sardinia. The apartments in the Residence Hotel are home to a bright and elegant design which blends seamlessly with the local area. The rooms also have either terraces or gardens, which allow guests to enjoy the summer breeze and warm sun, while Wi-Fi and cable internet are also on site should you feel isolated in this heavenly escape. Each room features air conditioning units, hair dryers, free toiletries, and infant beds while there is also a particularly luxurious bathroom with shower. Providing a smoke-free environment, the Residence Hotel Porto San Paolo is the epitome of cleanliness and friendliness, which is evident throughout the hotel. Guests receive access to Automated Teller Machines and other banking services which emphasize the convenience of a stay in this part of Sardinia and day tours are also easily organized in the reception. Aside from the multilingual staff, the front desk is available for 24 hours but make no mistake, this is truly a world class hotel with spectacular views, in one of the most idyllic destinations on the island of Sardinia.
Map
Use the Google and Booking map below to explore the area.
Fill in your holiday dates to get an accurate view of available accommodations near Spiaggia di Cala Girgolu.
Beaches Near Spiaggia di Cala Girgolu