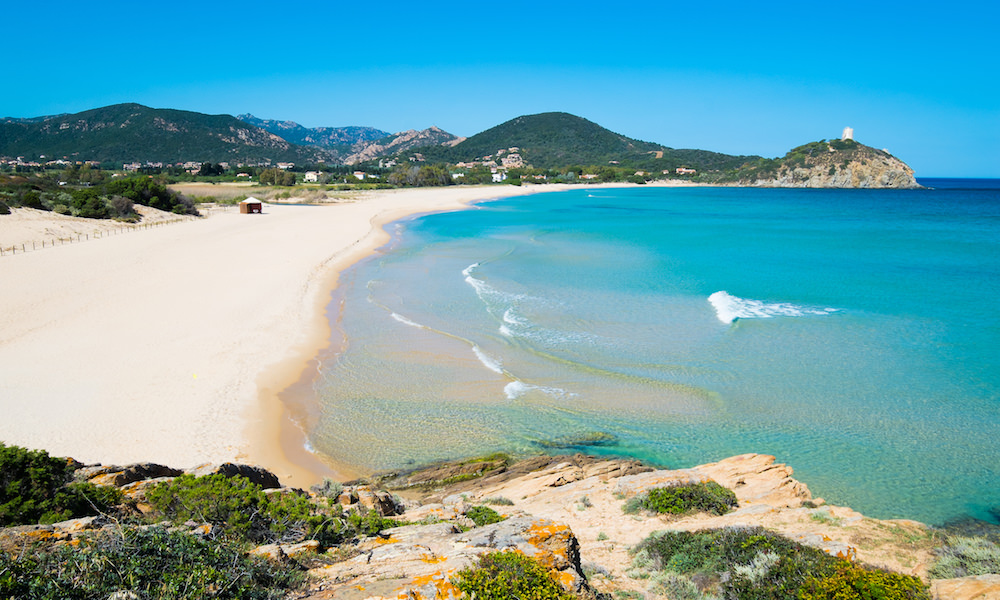 About Spiaggia di Monte Cogoni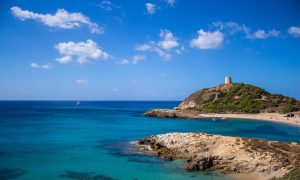 Monte Cogoni Beach (Spiaggia di Monte Cogoni), located in Chia, Domus de Maria, belongs to the best beaches of South Sardinia. It has a length of approximately 200 meters. The total length of this stretch of sand, including that of Spiaggia di Sa Colonia and Spiaggia di Chia, is nearly 800 meters. Monte Cogoni Beach faces southwest, offering beautiful views over the deep blue waters of Chia Bay. La Torre di Chia, a sixteenth-century watchtower, compliments the scenery on the north side of the beach. At the base of the tower are ruins of the ancient Phoenician city of Bithia. The beach is backed by a few low dunes and a pond, where birdwatchers will find great satisfaction admiring the elegant pink flamingos and other migratory birds. Shallow waters and a gentle slope make Monte Cogoni Beach suitable for families with children. Wind conditions at this beach are ideal for surfing, and it's also a favorite spot in Chia for scuba diving. Snorkeling enthusiasts can explore the colorful waters that are rich in fish. You'll find plenty of services including a lovely bar for lunches and a restaurant. Keep in mind that this beach area has no natural shadow zones, so bring sun protection and something for shade. Monte Cogoni Beach is accessible for the disabled.
Places to Stay near Monte Cogoni Beach
Chia Laguna - Hotel Village
A 4 star Resort near Monte Cogoni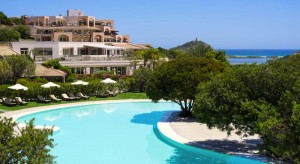 Just a few hundred meters from the beach you'll find the recently completely renovated Chia Village - Chia Laguna Resort, an excellent four-star beach resort featuring an infinity pool, private beaches, a tennis club and a golf club. Its restaurants serve Sardinian dishes both indoors and outdoors. Rooms include air conditioning, internet access and garden views. The Chia Laguna Resort offers a shuttle service that takes you to the beach.
Chia Laguna - Hotel Laguna
A 5 star Hotel near Monte Cogoni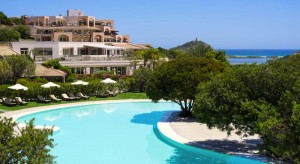 Set on the Chia promontory near the flamingo lagoon, you'll find the highly rated five-star Chia Laguna - Hotel Laguna. This luxurious child-friendly beach hotel is part of the larger Chia Laguna Resort and offers an excellent hotel experience near the sea, as well as access to a large variety of facilities and activities. All 72 spacious rooms and suites offer stunning sea views and have their own lounges. Bikes can be rented at the hotel, and jeeps, quads and horse-riding excursions can be arranged. Hotel Laguna has its own private beach.
Hotel Aquadulci
A 4 star Hotel near Monte Cogoni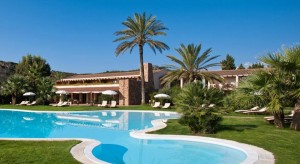 A little further south in Spartivento and directly behind Su Giudeu beach, you'll find Hotel Aquadulci. This four-star hotel offers 40 air conditioned rooms, a swimming pool and a fine restaurant overlooking a palm tree garden. Hotel Aquadulci offers free parking, a bike rental and sailboat rental service. From the hotel, it's easy to reach Cala Cipolla beach and Cala Zafferano, or go on a hiking trip in the green Cannoneris forest - one of the richest forests of Sardinia.
Hotel Su Giudeu
A 2 star Hotel near Monte Cogoni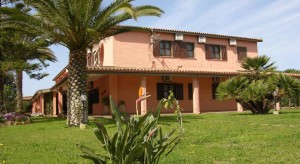 600 meters north-west of Campana beach, on Viale Spartivento, you'll find Hotel Su Giudeu. It's a cozy two-star family-run hotel that offers just 19 rooms, with views of the nearby beaches and the lagoon (Stagno de su Sali). All rooms are air-conditioned, and decorated in a simple Sardinian style. For guests, a buffet-style breakfast is served daily. The restaurant near the hotel serves traditional Sardinian dishes - often based on fresh fish and local products. Hotel Su Giudeu is an adult-only hotel, and its location makes it very suitable for an affordable seaside holiday in southern Sardinia, even if only for just one night.
How To Get To Monte Cogoni Beach
You can reach (Spiaggia di Monte Cogoni) from Cagliari. It will be about a one hour drive. Take the Strada Statale 195 Sulcitana in the direction of Teulada. Once you've passed Santa Margherita di Pula after about 31 kilometers, take the Viale Chia/SP71 to Viale Spartivento. After a few kilometers you will reach the small village of Setti Ballas. The parking area will be on your left.
Map
Use the Google and Booking map below to explore the area.
Fill in your holiday dates to get an accurate view of available accommodations near Monte Cogoni Beach.
Beaches Near Monte Cogoni Beach