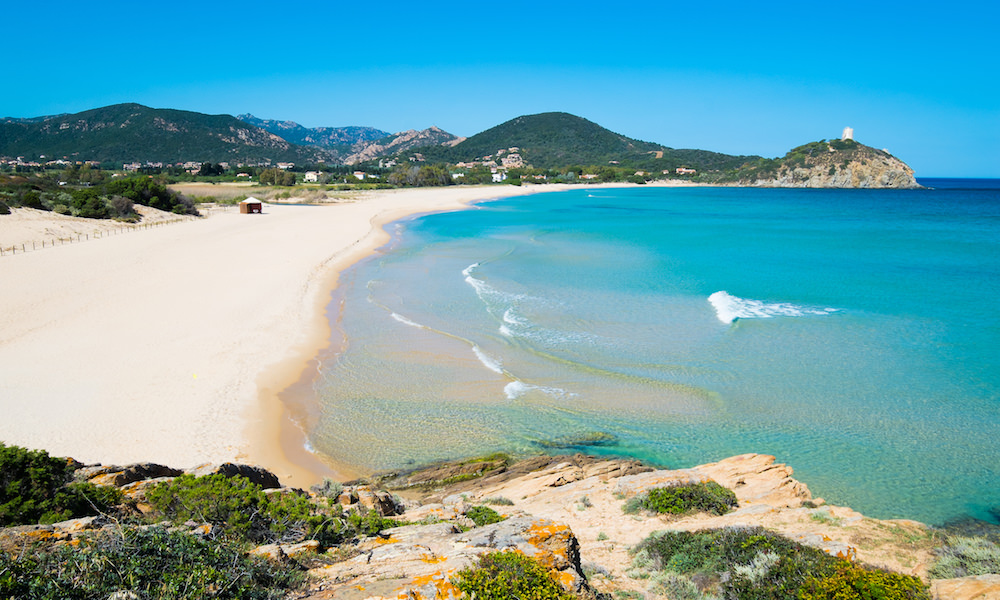 About Spiaggia di Monte Cogoni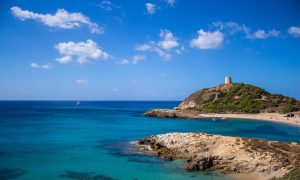 Monte Cogoni Beach (Spiaggia di Monte Cogoni), located in Chia, Domus de Maria, belongs to the best beaches of South Sardinia. It has a length of approximately 200 meters. The total length of this stretch of sand, including that of Spiaggia di Sa Colonia and Spiaggia di Chia, is nearly 800 meters. Monte Cogoni Beach faces southwest, offering beautiful views over the deep blue waters of Chia Bay. La Torre di Chia, a sixteenth-century watchtower, compliments the scenery on the north side of the beach. At the base of the tower are ruins of the ancient Phoenician city of Bithia. The beach is backed by a few low dunes and a pond, where birdwatchers will find great satisfaction admiring the elegant pink flamingos and other migratory birds. Shallow waters and a gentle slope make Monte Cogoni Beach suitable for families with children. Wind conditions at this beach are ideal for surfing, and it's also a favorite spot in Chia for scuba diving. Snorkeling enthusiasts can explore the colorful waters that are rich in fish. You'll find plenty of services including a lovely bar for lunches and a restaurant. Keep in mind that this beach area has no natural shadow zones, so bring sun protection and something for shade. Monte Cogoni Beach is accessible for the disabled.
Places to Stay near Monte Cogoni Beach
Chia Laguna - Hotel Laguna
A 5 star Hotel near Monte Cogoni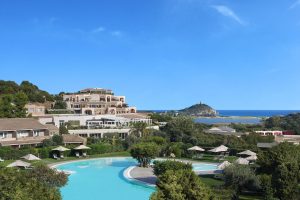 You will find many quality hotels in Chia, but the truth is, few offer the same hospitality and local touch as Hotel Laguna. Situated on the doorstep of a stunning lagoon and featuring breathtaking views, this four-star hotel is one of the most sought-after places to stay in south Sardinia and home to an impressive lineup of rooms. The immediate surroundings are equally impressive with scintillating gardens and a pristine pool. Furthermore, the Chia Natural Spa is always open to guests while La Terrazza restaurant is the perfect place to unwind in the evening. Guests receive a complimentary visit to the spa during their stay, and the above-mentioned restaurant has one of the most exceptional reputations in town. Featuring a beautiful interior and a wide range of traditional Sardinian dishes along with international cuisine, expectations are most often surpassed in La Terrazza. As for the rooms, there are many options from which to choose and some of these will suit group bookings. For example, both the family and garden rooms are spacious and very accessible given that they are on the ground floor. On the other hand, the classic and superior rooms will suit couples and include great balcony views. As you might expect, for a five-star hotel, Hotel Laguna goes above and beyond at every turn in these rooms, from the bed sheets and modern furnishings to the immaculate cleanliness and luxurious bathrooms. Indeed, the décor is elegant, and with attention to detail in every way, something the staff is quick to replicate to guests. Car hire is available and so too is a free shuttle service to Le Dune Di Campana Beach. However, there is rarely any need to leave this fantastic resorts such is the comfort and excellent array of facilities.
Hotel Village
A 4 star Hotel near Monte Cogoni
Hotel Village is one of the most popular hotels for families in Chia and a large resort with everything you could want on vacation in Sardinia. Take the location, for example, Hotel Village is situated right on the doorstep of a stunning beach with nature all around. At the same time, you will also find this nature within the grounds of the hotel, for they are extremely leafy and a luscious place to unwind. In this sense, you really could consider this a village rather than a hotel as evidenced in the sense of community throughout. With this in mind, Hotel Village is a great place for families to meet and spend time while the kids club never fails to delight the little ones. Although Bouganville is often attributed as being a good restaurant, there are many to choose from nearby, and each offers a slightly different take on the local cuisine. There is a spectacular beach nearby and a shuttle train to transport guests at regular intervals. Regarding the sleeping quarters, the rooms at Hotel Village more than live up to the expectations of a four-star hotel and you should find they are extremely luxurious. Featuring large beds, tiled floors, television, air conditioning and bright colors, they are both relaxing and well equipped while the generously sized windows ensure there is always natural light. All considered Hotel Village is one of the finest hotels in Chia and an alternative to those wanting to take advantage of nearby amenities without having to cover the slightly higher price of other nearby hotels.
Hotel Aquadulci
A 4 star Boutique Hotel near Monte Cogoni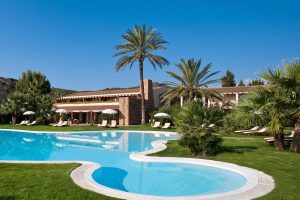 A perfectly situated boutique hotel in Chia is Hotel Aquadulci which is widely regarded as one of the finest places to stay in the area. Featuring elegant rooms, friendly staff, and excellent amenities, there is more than enough here to write home about, but instead, guests often write this in their online reviews. In many ways, the overall character and décor of the hotel are a reflection of the surrounding area, for they are both natural and unobtrusive. You can see this in the rooms, for they consist of bright hues and wooden furnishings while the walls are covered in a stunning collection of art. Furthermore, you will find such caring for detail in the fabrics of the bed linen, the spacious bathroom and the gentle approach by the staff. Food at Hotel Aquadulci is another art which guests are quick to compliment. While some of the international dishes are sumptuous, the local cuisine is particularly wholesome which makes it a clear highlight and the atmosphere in the dining areas is both warm and inviting. Whether you decide to spend time lounging in the beautiful pool area or take a stroll on the beach, this is an ideal getaway for people yearning for a quiet stay in south Sardinia. That being said, you will also find a range of things to do in the area with many coves to explore and horse riding should you feel a little more active. With an intimate atmosphere, excellent food, impressive rooms, and a beachfront location; Hotel Aquadulci is a safe bet when it comes to choosing a hotel in Chia.
Forte Village Resort - Bouganville
A 4 star Resort near Monte Cogoni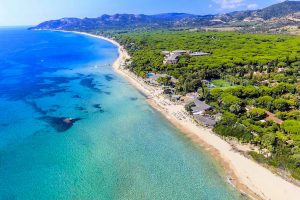 The Forte Village Resort is arguably one of the most enticing beachfront resorts near Chia and for some very good reasons. After all, you will not find many hotel grounds as lush and tropical with endless arrangements of plants and flowers. This is a particularly favorable beach resort for families in Chia with a stunning private swimming pool and excellent sports facilities. In fact, when it comes to entertainment, Forte Village Resort also has a kids club and an academy to keep everyone entertained. Guests can also avail of the many restaurants in the Forte Village Resort, for there are more than twenty to choose from in high season and most of these receive nothing but five-star reviews. As for the rooms, each one is bright and clean with a large patio and all the modern conveniences you might expect in a resort of this standard. Indeed, every room is equipped with air conditioning, LCD television, and minibar, not to mention the spacious bathroom. Guests can venture out of the many other restaurants in the resort, but breakfast at the Forte Village Resort is served on a wonderful terrace, and this is included in many of the hotel packages. Although Forte Village Resort consists of many top hotels, Bougainville is a reliable choice where the children can find endless entertainment while the parents can relax and unwind.
How To Get To Monte Cogoni Beach
You can reach (Spiaggia di Monte Cogoni) from Cagliari. It will be about a one hour drive. Take the Strada Statale 195 Sulcitana in the direction of Teulada. Once you've passed Santa Margherita di Pula after about 31 kilometers, take the Viale Chia/SP71 to Viale Spartivento. After a few kilometers you will reach the small village of Setti Ballas. The parking area will be on your left.
Map
Use the Google and Booking map below to explore the area.
Fill in your holiday dates to get an accurate view of available accommodations near Monte Cogoni Beach.
Beaches Near Monte Cogoni Beach