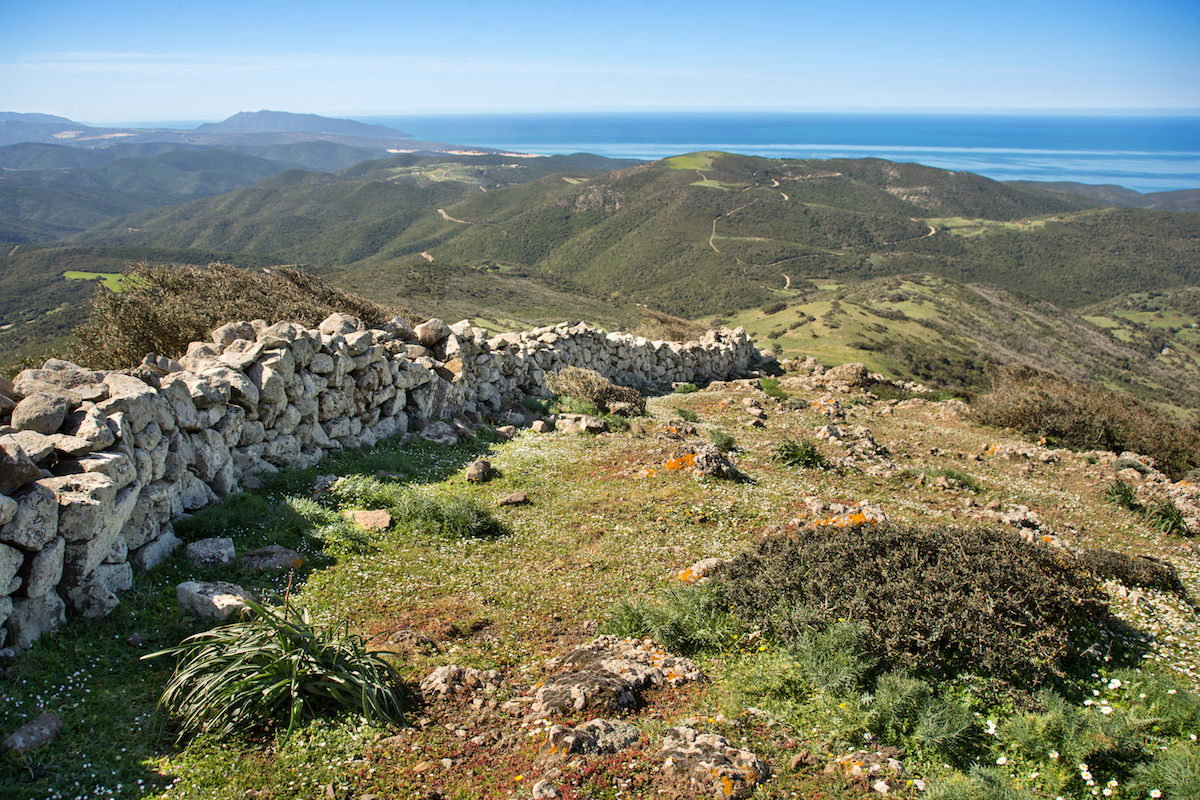 About Guspini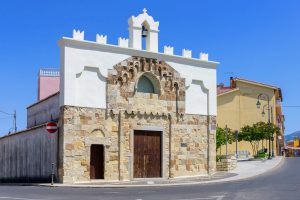 Located in south-west Sardinia, Guspini is situated in the midst of stunning countryside and panoramic ocean views. Known as the "Green Coast", this stretch is overflowing with beaches, caves, and cliffs while the town itself is a wonderful encounter with old town Sardinia. Whether you decide to be active or take to life in the slow lane, Guspini in Sardinia is a charming town with an opportunity to do both. In fact, this is one of the oldest towns on the island with a very silent nature and magical aura to the place. From the quiet coastal paths and beautiful beaches to the limestone cliffs and ancient buildings in between, indeed, Guspini is unforgettable. In case you might be asking yourself, this is often true about most towns in remote parts of Sardinia, but the truth is, Guspini seems to amplify these characteristics a little more than usual. In the center of town, you will find a piazza with friendly faces and surrounded by old stone buildings. In many ways, this is the ancient side of the island which most travelers fail to see, and with San Nicolo in the middle, this is also an opportunity to see a living part of the local history. Indeed, the church of San Nicolo dates back to 1600 and features beautiful Gothic windows and ancient stone walls. Leading around this structure, tight alleyways move in all directions with small houses, cafés and craft shops in between. As with the surrounding area, this town is full of ancient remnants and was a settlement in the Bronze Age. In this sense, you can almost feel the history as you navigate the streets. It is also here, in the center of Guspini, you will find many restaurants. Regarding the eateries, the food is typically Sardinian with a wide range of dishes from Gallura soup and bream to pasta a pizza. Next door to these restaurants there are often café's and this is another quintessential thing to do in Guspini – to sit back with a coffee and watch the world moving past. As for the hotels and guesthouses, there are several in Guspini, but if the town is a little bit too central, there are many options which feel a million miles from any civilization. Whether you choose to be near the ocean or deep in the countryside, these are usually within reach of the town and in the midst of luscious countryside. In fact, this is sometimes a better option for couples wanting to escape the crowds or visitors wanting to make the most of a car rental. Either way, the location is never so remote that you will feel isolated and the scenery is always enough to have made the trip worthwhile. While Guspini may not be the most famous town in Sardinia, this is certainly one of the most authentic. With excellent accommodation, fine food, friendly locals and ancient history; there is also enough variety and reasons to keep everyone entertained.
Guspini Map
✔ Use the Google and Booking map below to explore the area.
✔ Fill in your holiday dates to get an accurate view of available accommodations near Guspini.
Where to Stay in Guspini - Our Top Picks
Tartheshotel
A 4 star Hotel in Guspini, 1.4 kilometers from the center of town (about 0.9 miles.)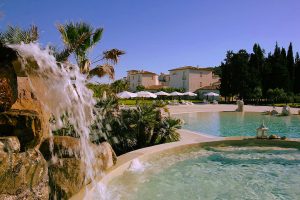 In case you might be wondering where to stay in Guspini, Tartheshotel is situated in the midst of nature and offers the perfect solution just a short distance from spectacular ocean views. At the same time, this Guspini hotel is also accompanied by luscious gardens and one of the most alluring swimming pools in Sardinia which never fails to impress visitors. As you might expect for a four-star hotel, the staff are renowned for being courteous, and the styling of décor is to the highest standard. That is to say; the interior features antique furnishings, vibrant colors and a typical Sardinian style throughout. As for the rooms, you will find clean linen and embroidery at every turn while the bright and spacious bathroom is a highlight, most especially the basalt stone shower. Regarding size, this varies depending on the room with various types from which to choose including the classic, suites and dream suites. Each room is also equipped with a balcony and most of these face out into the green and leafy gardens below. When it comes to food, guests are also in the right place too, for the restaurant at this Guspini hotel is one of the most romantic in the region. Indeed, it may not be a romantic occasion, but the candlelit dinners and idyllic setting of this eatery is nothing short of impressive. And then there is the food, whether you opt for seafood or pasta, soup, salad or pizza; the options are varied and almost as varied as the wine list. Finally, when you set foot in the gardens of Tarthehotel, the manicured lawns are quite obvious, but then nothing can overshadow the large pristine pool in the middle. Simply put, there is not a hotel in Guspini which can boast such an impressive and enticing body of water.
Hotel Sa Rocca
A 4 star Hotel in Guspini, 2 kilometers from the center of town (about 1.2 miles.)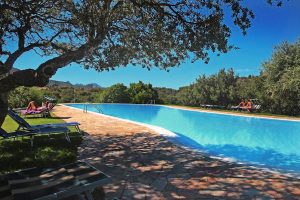 Nestled in the hills of Medio Campidano, Hotel Sa Rocca is blessed with some of the most beautiful surroundings out of all the hotels in Guspini. In many cases, guests come here to escape the busy world, and Hotel Sa Rocca is more than happy to meet these needs. However, the facilities in this Guspini Hotel are so vast that this is often the choice for businesses and group gatherings. After all, you can find a conference center for special events and an outside terrace for when the weather is not too warm. Either way, the hotel is set up beautifully to cater for any gathering, large or small. With this in mind, guests also have access to a health and wellness center where treatment rooms and a fully equipped gym can be used free of charge. Furthermore, you will find a football pitch, volleyball courts, dance studio, and a stunning panoramic swimming pool. And then there is the Billiard Room and Bowling. Indeed, the range of facilities is staggering. Hotel Sa Rocca is also an excellent hotel in Guspini when it comes to entertainment, for the restaurant is often the subject of online reviews, and an inviting cocktail bar is available for afterward. Meanwhile, outside, guests can also avail of the nearby park which also makes this a suitable option for families with active children. In terms of the rooms, the styling is quite simplistic, and the size is moderate rather than spacious. However, the attention to detail is evident, and this simplicity or size is certainly not a disadvantage of any kind. Although the classic rooms are some way behind, both the superior and deluxe rooms are an encounter with old style Sardinia and gorgeous furnishings. Some of these rooms have access to a terrace or balcony, but the overall experience will often result in the same five-star rating.
Things to Do in Guspini
Explore the Miniera di Montevecchio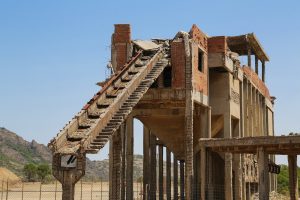 Montevecchio is an ancient mining site in south-west Sardinia and home to one of the most exciting things to do in Guspini. These mines date back to Roman and Phoenician times, but industrial activity picked up around 1842, at which point two famous entrepreneurs arrived in the area - Sanna and Pischedda. What's more, a company called Montecatini began extracting enormous quantities of minerals here, which had a very prosperous outcome for the nearby village. Although mining ceased in 1991, the Montevecchio mines are now the subject of much archaeological interest, while continuing to live on in the pages of history. Today, tourists can also check out the beautiful visitor center, which explains the vast and fascinating history behind the mines. This is often a highlight of a trip to Montevecchio mines, for the center was built for Giovanni Antonio Sanna and features a beautiful recreation of life in the late 1800s. You can step inside the living quarters of the servants and workers who once lived in this area. There are many sides to this building, and visitors are often surprised by the extent of detail in the museum. As if that's not enough, organized tours will take these visitors deep into the rich history of the mines so they can truly appreciate the life and conditions in which many thousands of locals worked for many centuries.
Explore the Museo del Coltello Sardo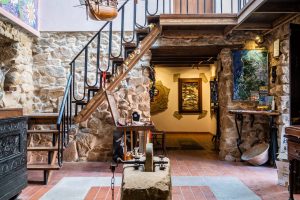 Located in Arbus in south-west Sardinia, Museo del Coltello Sardo is a knife museum with many claims to fame. For instance, this museum is home to the largest pocket knife in the world (Guinness Book of Records) and features an equally impressive history. Back in the 1970s, Mario Pusceddu began learning about the art of making jackknives and produced a beautiful set of cutlery that was known as Coltelleria Arburesa. With a unique horn handle and blade in the shape of a leaf, the initial jackknife was an innovation at the time and focal point for local fairs or exhibitions. Many years later, Paulo Pusceddu decided to follow in his fathers' footsteps and took over the family business. During this time, Paulo went about restoring the old rooms of the family business workshop and setting up a museum, which is what we see today. The inside consists of three halls with a lineup of old knives in the first, a tribute to contemporary knives in the second and an old laboratory in the last room where the anvil, flywheel, and many tools can be found. Needless to say, many of these knives are collectors' items, but fancy souvenirs can also be picked up, while learning about the long and esteemed tradition behind this family museum.
More Places to Visit Near Guspini
Guspini Restaurants - Where to Eat
Ristorante Tre Botti (Italian Food)
🏠
94
,
Via Tolemaide
,
Rimini
,
Emilia-Romagna
,
47922
,
Italy
.
📱 Telephone:
+39 333 260 2130
As the only restaurant in Guspini to open on Sunday, Ristorante Tre Botti is a popular eatery on weekends with both locals and visitors to the region. That being said, this is certainly not the main reason for the excellent reviews and such a consistent reputation. Located in the southwest of Sardinia, Guspini is quite a charming town with a local and friendly atmosphere. Ristorante Tre Botti seems to aspire to this general theme, or maybe it's the other way around. After all, you will find a very distinct sense of tradition inside and friendly staff who love nothing more than to welcome guests. At the same time, the food is undoubtedly the main highlight here, and it comes with some of the most reasonable prices you could expect in Sardinia. Take the antipasti for example, at less than 13 euro; this flavor-filled starter offers incredible value and a typical Italian starter. And this is common throughout the menu, for the sublime mix of tradition and wholesome ingredients never fail to delight visitors at every turn. As for the décor and design, many guests find that the exterior of this Guspini restaurant is unassuming. That is to say, it looks somewhat posh or plush and bears little resemblance to that of a restaurant. However, once inside, the layout it much more like a café with homely furnishings and attentive staff. All considered Ristorante Tre Botti is one of the more affordable places to eat in Guspini with hearty food, friendly staff, and suitability for every occasion.
Hotel Ristorante Santa Maria (Italian Food, Traditional Sardinian Food)
🏠
46
,
Via Santa Maria
,
Guspini
,
Sardegna
,
09036
,
Italy
.
📱 Telephone:
+39 070 978 3033
When it comes to cuisine, few restraints in Guspini offer the same variety as Hotel Ristorante Santa Maria. In fact, the range of local wines is equally impressive and so too are the prices. Located in a tiny traditional village on the southwest of Sardinia, this delightful eatery has incredibly low rates than most alternatives in the region. In fact, this is often the subject of online reviews in which guests are both amazed and incredibly satisfied having received some genuine value in the Lombardia region at such a low cost. At the same time, this is also a small restaurant with limited space, and for weekends, in particular, booking is necessary. Featuring two rooms, the restaurant is not the most contemporary regarding décor and is divided into a socializing and dining area. However, the staff is renowned for their friendly approach, and the small nature of these rooms is partly the reason for such a warm ambiance. As for the food, you will find endless choices regarding seafood, from delicate octopus and shrimp to fried actinias which are essentially sea anemones. On the other hand, pasta, risotto, and tiramisu ensure some memorable surprises right the way through to dessert. And then there are the wines, for this Guspini restaurant features some beautiful wines with each one produced in the local area. In short, Hotel Ristorante Santa Maria is a charming local restaurant in the heart of town, and while the décor may seem a little underwhelming at times, the food experience is quite the opposite.