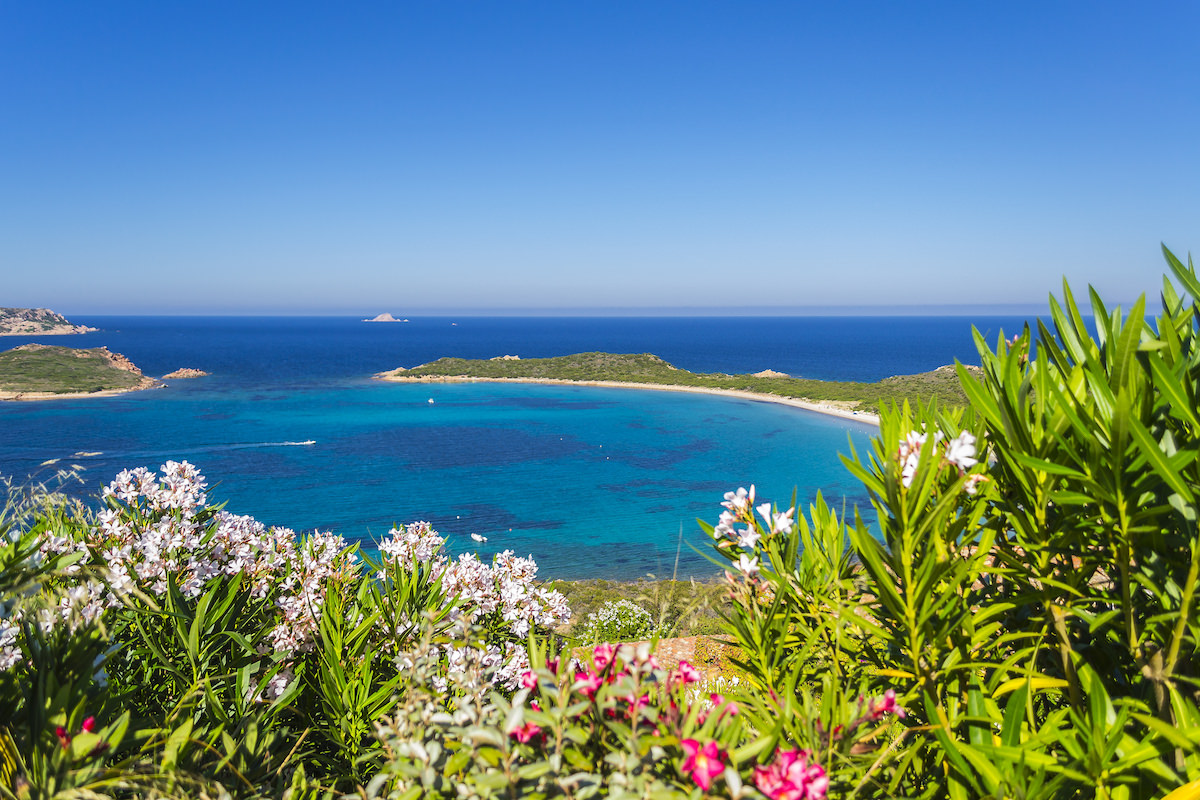 About Capo Coda Cavallo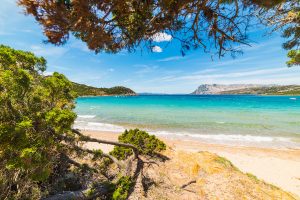 Capo Coda Cavallo is a charming village next to the historical region of Gallura on the island of Sardinia. In fact, this particular area is often hailed as a symbol of Sardinia such is the beautiful nature of the surroundings. Sheltered by the beautiful landmass of Tavolara Island, you will find a very idyllic stretch of ocean in Capo Coda Cavallo, while the smooth rocks of the Molara offer a perfect place to enjoy the stunning backdrop of Proratora islet. Consisting of more than 15,000 hectares, Capo Coda Cavallo is a protected land area that also includes coves and crystal clear water, from Capo Ceraso all the way to the Punta s'Isuledda. Simply put, this is one of the most iconic coastal landscapes in the Mediterranean and further complimented by sandy beaches, Lagunas, and a sublime mix of color. Interestingly, the appearance of this part of the world is so consistent that regardless of wind, you will still find an ocean of calmness. As for activities, there is much to discover amidst the beautiful waters of Tavolara Island and Capo Coda Cavallo. In fact, the marine conditions are perfect for diving, with a rich biodiversity and a healthy population of fish including the yellow gorgonians, and red starfish. At Villaggio Porto Coda Cavallo, you will also find the Blu Infinito Diving Center where the multilingual crew is always on hand to teach visitors the basics of diving or even facilitate a more advanced scuba diving experience. While many of the best areas for diving are somewhat close to the shore, there are still options which can take visitors further out, and this particular dive center can also organize other day excursions, such as snorkeling. Just a few kilometers away from Capo Coda Cavallo is Puntaldia, where a beautiful golf course is popular with locals and tourists alike. Located right beside the Due Lune Resort Golf & Spa, the golf club is overflowing with majestic greenery and consists of a nine-hole course with a driving range. Whether you need lessons or time to advance your skills, the course is an excellent place for both beginners and experienced golfers. Traveling along the peninsula, visitors can find sandy islets covered in lush Mediterranean vegetation, from junipers and arbutus to mastic, tamarisks, and myrtle. Capo Coda Cavallo is also enclosed within a marine protected area and features a succession of coves and cliffs above golden stretches of sand. Similarly, the limestone cliffs on nearby islands such as Molara, Tavolara, and Proratora offer panoramic views and exceptional beauty. As you can see, there are many fascinating sights and experiences to encounter in Capo Coda Cavallo, not least of which is an opportunity to walk the ancient trails filled with junipers. And then there is La Cinta and the Laguna di San Teodoro, which establish Capo Coda Cavallo as an incredibly scenic part of the island to visit and one of the most authentic symbols of Sardinia.
Things To Do in Capo Coda Cavallo
Scuba Diving
With all those gorgeous beaches in this area, scuba diving is one of the most fun things to do in Capo Coda Cavallo. In Villaggio Porto Coda Cavallo, near Porto Coda Cavallo, you'll find the Blu Infinito Diving Center. Here, a friendly and multilingual crew can teach you the basics, and after a short briefing on safety and security take you out for a first scuba diving experience, either directly from the shore or from a boat. With their boat it only takes a few minutes to reach even the farthest of diving locations. The Blu Infinito Diving Center also organizes snorkeling excursions by boat. Single dives start at 45 Euros.
Play Golf in Puntaldia
Just 3.5 kilometers south of Capo Coda Cavallo, in Puntaldia, there's a chance to play a nice game of golf at the Puntaldia Golf Club. It is located right by the Due Lune Resort Golf & Spa. The golf course is a true oasis surrounded by lush greenery, that will definitely make your game a memorable one. The golf course has 9 holes, and also features a driving range. Private lessons are available.
Go To the Beach
The beaches in the area of Capo Coda Cavallo are the perfect alternative to the far busier beaches of the Costa Smeralda. The area features extraordinary white beaches and crystal clear water, perfect for a peaceful Sardinian holiday at sea. The Ministry of Environment has made Cape Coda Cavallo a Marine Protected Area with the aim to preserve one of the true natural symbols of Sardinia. Some of the most popular beaches of east and north-east Sardinia are just a short drive away, and the high-quality hotels and residences will make visitors to the peninsula feel right at home.
Capo Coda Cavallo Map
✔ Use the Google and Booking map below to explore the area.
✔ Fill in your holiday dates to get an accurate view of available accommodations near Capo Coda Cavallo.
Where to Stay in Capo Coda Cavallo - Our Top Picks
Villa Capo Coda Cavallo
A 5 star Villa in Capo Coda Cavallo, 0.2 kilometers from the center of town (about 0.1 miles.)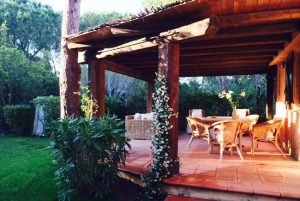 Located in San Teodoro, Villa Capo Coda Cavallo is a stunning villa with ocean views and a distinct sense of privacy in one of the most beautiful regions in Sardinia. That being said, the property itself is the main attraction and consists of comfortable seating areas, a cozy dining room, and a fully equipped kitchen with all modern appliances. At the same time, the interior design of this villa is arguably the unique selling point with the bright living room being a particular highlight as it opens up to a beautiful terrace and stunning private garden. With this in mind, the garden itself is a perfect place for an outdoor barbecue with breathtaking seaside views. Furthermore, there is also a seasonal outdoor pool where you can soak and relax after a whole day of sightseeing. As for the sleeping quarters, these consist of a spacious master bedroom with an en-suite bathroom opening up to a stunning view of the sea. However, there is also a double room with bunk bed, which also has a separate bathroom. All in all, the 2-bedroom villa could accommodate up to six guests. Regarding activities, there is an onsite tennis court and even a golf course nearby while the beautiful beach which is just three hundred meters from the front doorstep of the villa. The nearby beach is also popular for diving and snorkeling. If you feel like walking, you can also explore the nearby village (Villaggio East) which overlooks Capo Coda Cavallo and features a small square with cafes, cocktail bars, and restaurants.
Resort Grande Baia
A 4 star Resort in Capo Coda Cavallo, 2.6 kilometers from the center of town (about 1.6 miles.)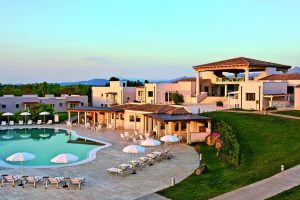 Resort Grande Baia is situated in a scenic location in northeast Sardinia. Furthermore, the resort is also blessed with a location close to Baia di Capo Coda Cavallo and facing onto the protected marine areas of Molara, Tavolara and Molarotto Islands. Furthermore, this charming resort is also surrounded by an eighty-hectare park which includes an in-house fitness center as well as a mini club for the kids to enjoy while you go sunbathing at the pool. As mentioned, the resort features modern spa facilities and a spacious pool which is nicely decked with a sun terrace. Here, you can avail of spa packages from the Thalasso Spa which include body treatments under the care of the friendly staff. As you might expect, this wellness center is also equipped with a hot tub, sauna and even facilities for a relaxing Turkish bath. However, if you prefer to soak in the sea, the Resort Grande Baia is just a few minutes' walk from the beach. As for the accommodation interior, you should find a mixture of rooms, including suites and apartments. All rooms have air conditioning and feature a contemporary interior design. Of course, it also has all the amenities you need for a comfortable holiday, such as a flat-screen TV, wired internet and a private patio on some rooms that open up to the beautiful outdoor views. If you prefer to prepare your own food, you can do so at the shared kitchen area but keep in mind; there is always the option of waking up to a delicious American style breakfast served at one of the two world-class restaurants at the resort.
Villa Rubia
A 4 star Villa in Capo Coda Cavallo, 3 kilometers from the center of town (about 1.9 miles.)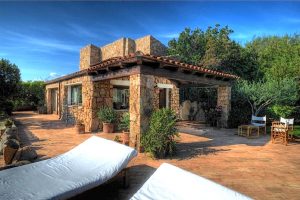 Villa Rubia is a luxurious Mediterranean style beachfront house located in Monte Petrosu in Sardinia. Featuring a terrace and glorious views of crystal clear waters, the villa is spacious enough to accommodate up to twelve guests and is suitably spacious to enjoy a comfortable group or family vacation. Fully furnished and decorated in a distinctly Mediterranean style, the villa houses all the modern amenities necessary for a convenient stay. Aside from a flat-screen TV with satellite channels, you will encounter a fully equipped kitchen with a dining table, stovetop, oven, kitchenware, dishwasher, coffee machine and even a high chair for children. And then there is also the outdoor dining area for those who prefer to enjoy a delicious meal with beautiful seaside views. The entrance of this villa leads to a car park that can accommodate up to three cars and this area features double glass doors, which open out to the beautiful panoramic views. On the right side of this property is the patio while on the left is the above-mentioned dining room. After a short flight of steps, the sleeping quarters of Villa Rubia consists of a total of four bedrooms, with two bathrooms equipped with modern toiletries. The en-suite bathroom has a tub and has access to a beautiful shaded patio that leads to a carefully tended garden. Beyond the kitchen and the dining room is another bedroom that also comes equipped with an en-suite shower. For those who want to take part in some outdoor activities, there is a tennis court and a golf course, which is just three kilometers from the property. However, for those who want to go swimming, there is also a private beach nearby, and some of the most beautiful stretched of sand in Sardinia. With a stunning location and excellent facilities, it is no wonder why Villa Rubia is one of the best-rated properties in Monte Petrosu and you can be sure of receiving value in every regard in this stunning pocket of Sardinia.
More Places to Visit Near Capo Coda Cavallo
Capo Coda Cavallo Restaurants - Where to Eat
Ristorante Punta Est (Seafood, Pizza)
🏠
Capo Coda Cavallo
,
Sardegna
,
07026
,
Italy
.
📱 Telephone:
+39 784 834218
Featuring one of the most impressive outdoor terraces in Sardinia and equally scintillating views, Ristorante Punta Est is one of the best restaurants in Capo Coda Cavallo. Located at the very end of the town, this vantage point is the perfect spot to take in views of Molara and Tavolara islands, and if you can make it for sunset, there is no better place to be. Indeed, the name of the restaurant is more than a tongue twister but the food is sure to have a similar effect on guests, for the range and standard of cuisine is up there with the best. Sitting outside on the piazza, guests can enjoy an aperitivo before dinner with many delightful options on the menu. Quite often, the antipasto misto di mare is the subject of online reviews which consists of linguine with squid and some succulent scampi. The main course is undoubtedly the highlight, and the mixed grilled seafood is arguably the most popular dish on the menu. As you might expect, octopus and tuna often feature while a side of spaghetti Vongole is not a bad option to have close at hand. Pizza is also popular, and the restaurant has a wide variety of wine to accompany either a light lunch or a fulfilling evening meal. With bright décor and friendly staff, this restaurant is also renowned for a certain ambiance which is often absent in some of the quieter places to eat. Featuring white linen tablecloths and modern furnishings, this is also a comfortable option for both romantic meals and family get-togethers. Ristorante Punta Est offers a VIP service in which guests are provided with the best seats in the house but really, any table in this Capo Coda Cavallo restaurant is worth the wait.
Ristorante Baia Salinedda (Seafood, Traditional Sardinian Food)
🏠
San Teodoro
,
Sardegna
,
08020
,
Italy
.
📱 Telephone:
+39 347 6560586
Located right next to Salinedda Beach, Ristorante Baia Salinedda is a restaurant in northeast Sardinia with a fine reputation. In fact, many visitors first come to this restaurant when they avail of the adjoining seaside kiosk which offers small snacks and cocktails during the day. In the evening, the restaurant opens, and whether you arrive in time for a bright Sardinia summer or wait until the lights go down, this excellent eatery never fails to delight. Restaurant Baia Salinedda has one of the more memorable panoramas in the region with the coastline stretching out in full view. For this reason, sunsets are a great time to enjoy some wine and prepare for the feast ahead. While elegant and charming in every way, the functionality of the restaurant is evident with a huge outdoor terrace accompanied by a playground for the children. In this sense, this is an excellent restaurant in Capo Coda Cavallo for group occasions when all ages are involved. As for the food, this is meticulously prepared by a famous chef, Alessandro Piredda, who uses only homegrown ingredients to produce local and Mediterranean dishes. On occasion, you will also find international cuisine on the menu, but in most instances, visitors wish to try something local. Vegetarian and gluten-free options are available which is increasingly useful, but seafood and local meats are more commonly chosen to accompany a side dish of pasta. It must be said that presentation is immaculate in this Capo Coda Cavallo restaurant and online reviews are certainly accurate about the warm atmosphere. The friendly staff is always on hand, and while the food is the highlight, breathtaking views are always welcomed. Either way, you could do a lot worse than enjoying an evening meal at Restaurant Baia Salinedda, and reasonable prices should ensure this is one restaurant in northeast Sardinia that you are unlikely to forget anytime soon.
How To Get To Capo Coda Cavallo
Have you thought about arranging a rental car in Sardinia?
For some great deals, check out our Sardinia Car Hire page!
The nearest airport to Capo Coda Cavallo is Olbia Costa Smeralda Airport, at a driving distance of just 23 kilometers. To get to the village via the fastest route, just follow the Strada Statale 125 Orientale Sarda in the direction of San Teodoro once you've left the airport. It's a scenic drive that will lead you along the coastal villages of Murta Maria, Porto San Paolo, and Porto Taverna. The trip shouldn't take longer than 30 minutes.
Beaches Near Capo Coda Cavallo