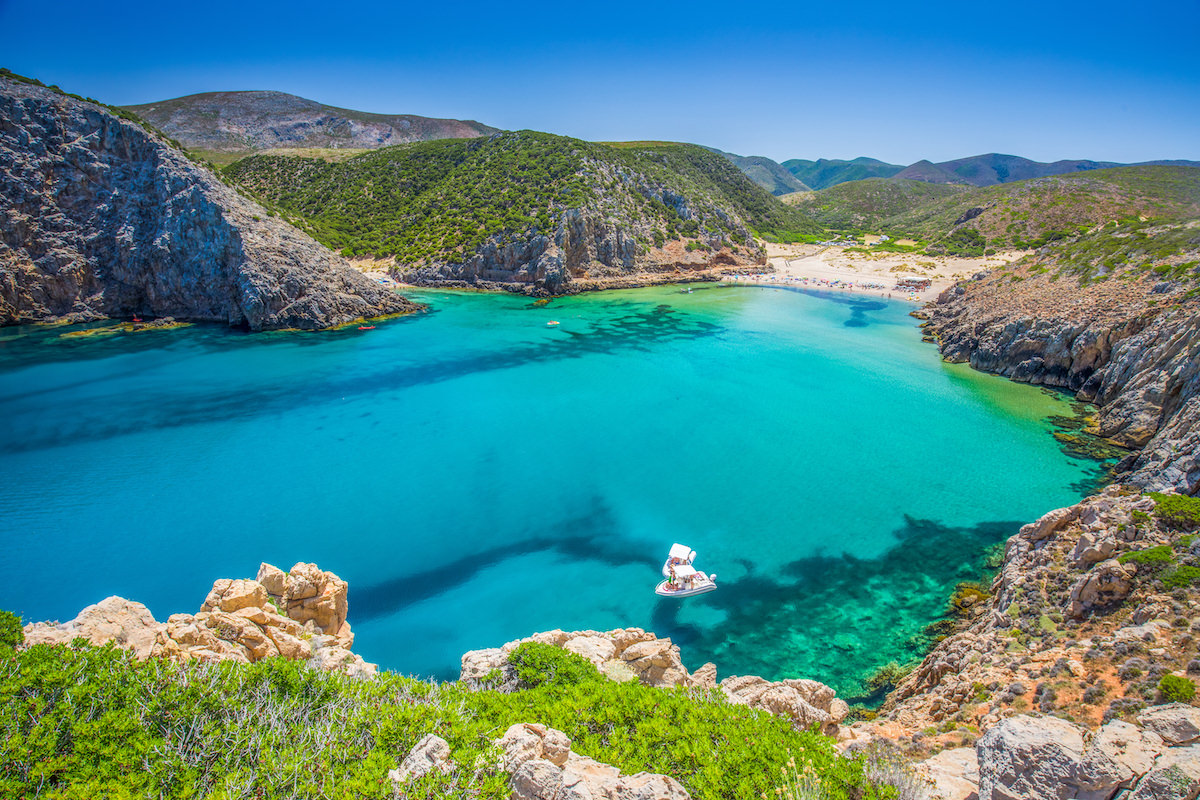 About Cala Domestica
near Buggeru, Province of Carbonia-Iglesias, South-West Sardinia, Italy.
parking, beach chairs, umbrellas, bar.
snorkelling, scuba diving, walking, pedal boating, hiking, climbing.
19:05 PM
07:26 AM
60 meters.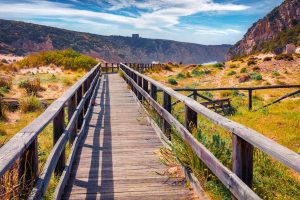 The beach of Cala Domestica (Spiaggia di Cala Domestica) is located on the diverse south-western coast of Sardinia, 3 kilometers south-west of Buggeru, one of the mining sites on the south-west coast. As you can tell by looking at pictures of this hidden gem, this is one of the best beaches of south Sardinia. The beach is just 60 meters long, and nearly 260 meters at its widest. It's surrounded by limestone cliffs and low sand dunes that carry the ubiquitous Mediterranean vegetation. Cala Domestica is situated in what used to be a mining area, and some ruins of the mining buildings are still visible. The beach of Cala Domestica faces northwest. To the south, it offers a wonderful view of Torre di Cala Domestica – an old Spanish watchtower that makes for a nice landmark to explore. It is worth taking the path up to the tower to enjoy the splendid panorama. There's a second more intimate cove called Cala Lunga that's worth exploring as well. Among locals, it's better known as "La Caletta." This small beach is just 20 meters wide at the waterfront, you can reach it if you go past a cave-like hole in the rocks on the right-hand side of the main beach. Note that it's quite difficult to reach on foot, so bring proper footwear. Once you've reached it, you'll notice it's a lot less windy there, and a lot more private. Cala Domestica is particularly popular with visitors who come here for some light snorkeling or wish to practice scuba diving or scuba fishing. There's plenty of fish if you dive a bit around the rocks at the border of the crescent bay. Since the beach is not that big, on summer weekends it can fill up quickly in the early hours of the morning.
A must-see beach if you're in the area!
Cala Domestica Boat Tour
If you'd like to explore the area by boat, you can do so at Oasis Beach Tours. They are located at the right side of Cala Domestica. The 2-hour dinghy tour starts from Cala Domestica and arrives at Porto Flavia. Along the boat trip, you can swim in the wonderful waters of the area and do some snorkeling. You'll see wonderful caves, imposing stacks of rocks, crystalline seabeds and a thousand shades of blue water.
Highly recommended!
Places to Stay near Cala Domestica
Rifugio sotto le stelle Portixeddu
A 4 star Villa 8.7 kilometers from Cala Domestica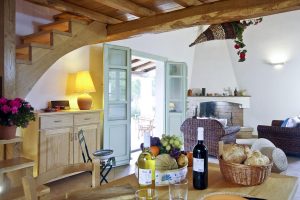 Rifugio sotto le stelle ("refuge under the stars") is an authentic villa in Buggerru located in a beautiful place that's sheltered among the junipers of Portixeddu. Surrounded by the lovely views of nature, this villa is definitely the perfect place to stay for a relaxing holiday in South-west Sardinia. An architect who has a fondness for the countryside was the brain behind the beautiful villa. It comprises of two double bedrooms, and one room has a loft in it. Thus, the entire villa is capable of accommodating up to 5 guests. Aside from the two bedrooms, the air-conditioned house also comes with a living room and a fully equipped kitchen. The villa has one spacious bathroom, which comes with a bathtub. Furthermore, the home offers access to a beautiful veranda that's facing the sea, and with a few deck chairs arranged in it, you can enjoy the Perseid meteor shower that will burst into light in August, while you enjoy a glass of wine. There's also an indoor fireplace to keep the place warm and cozy in winter. The charming villa is set in a one-hectare land area, and you have everything available on site for a relaxing holiday experience. The holiday home is 58 kilometers away from Cagliari Elmas Airport, in the locality of Piscina Suigas, and there is free parking available on site, perfect for those who are taking their car for their vacation in south-west Sardinia.
La Rosa Dei Venti
A 4 star Hotel 3.4 kilometers from Cala Domestica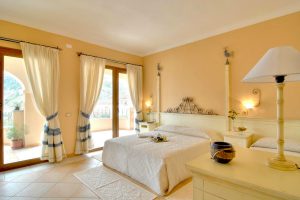 La Rosa Dei Venti is a 4-star hotel in Buggerru located just across the harbor and only a few minutes walk away from the beach. Its strategic location makes it an ideal starting point for your holiday in southwest Sardinia. As for the rooms at Hotel La Rosa Dei Venti, they open up to the gulf and to some of the scenic views of the mining town of Buggerru. From the balcony of your room, you can admire the splendid panorama of the sea and soak up the enchanting Mediterranean views. All rooms are furnished with utmost attention to detail. They are decorated in a traditional Sardinian style and furnished with elegant wooden furniture and fixtures. The rooms are equipped with modern amenities such as air conditioning system and Wi-Fi, and offer comfort and relaxation for all guests. Each private bathroom is equipped with free toiletries and a hairdryer. A sweet and a savory breakfast buffet is served on the spacious terrace on the third floor of the hotel, which opens to the panoramic view of the Gulf of Buggerru. Guests can also choose to enjoy their meals on the balcony of their room. La Rosa Dei Venti has its own in-house restaurant serving traditional Mediterranean cuisine in a setting that's surrounded by the striking scenery of the former mining village.
How To Get To Cala Domestica
Cala Domestica can easily be reached by car following the Strada Provinciale 83 provincial road. Just before reaching the small village of Buggerru, follow the signposts that will guide you to the beach. Note that the beach is a bit difficult to reach by car due to the road with steep slopes and many bends, so pay attention and take your time. The car parking costs about 4 or 5 Euros a day. To get to the beach you have to walk for about 200 meters from the parking lot on a wooden walkway. If you're traveling southwest Sardinia by camper, you can spend the night at the "Camper Cala Domestica" parking spot and explore the area from there.
Map
Use the Google and Booking map below to explore the area.
Fill in your holiday dates to get an accurate view of available accommodations near Cala Domestica.
Beaches Near Cala Domestica