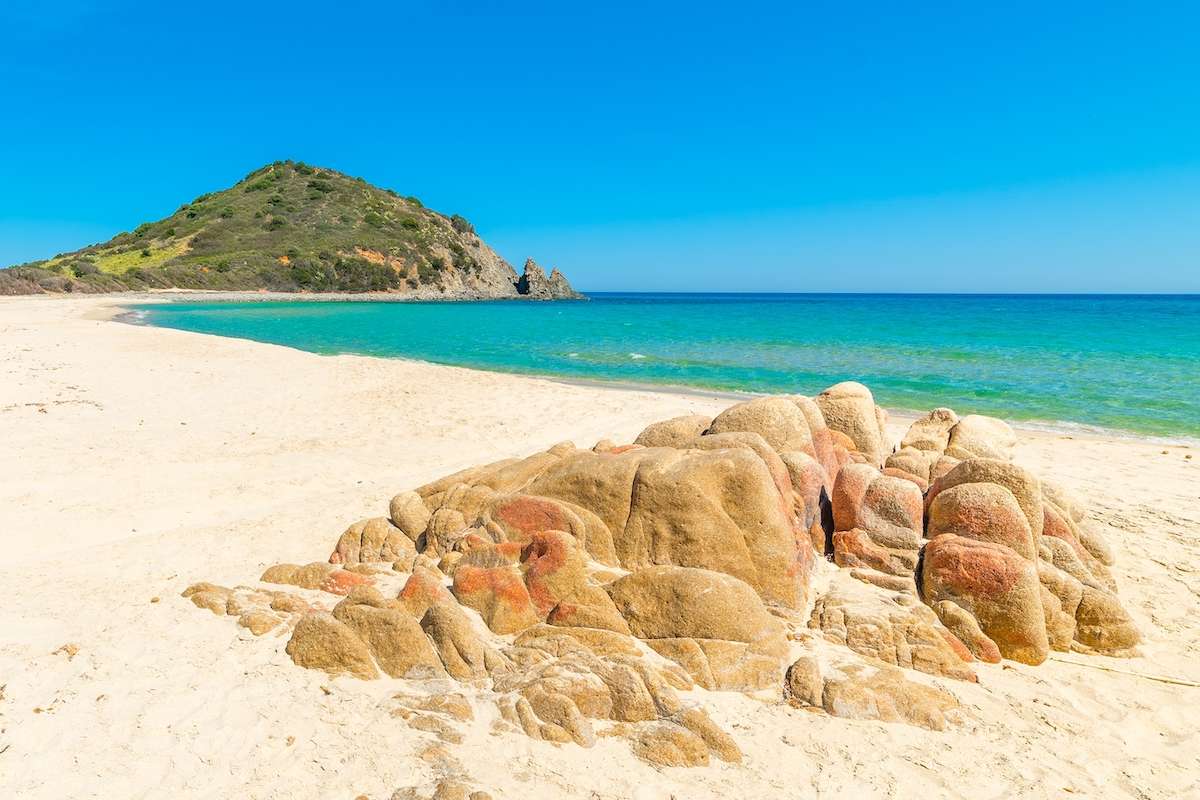 About Sant'Elmo
Located just an hour's drive from Cagliari in south Sardinia, Sant'Elmo is a charming seaside village that offers a tranquil retreat and stunning natural beauty. Leaving behind the bustling city of Cagliari, the road winds along the coastal routes, offering glimpses of the azure sea on one side and the rolling hills on the other. Coming from the north, as you drive south from Costa Rei along the coastal roads, you'll discover this hidden gem on a plain at the base of Mt. Turno. In this serene atmosphere, as you shift down gears, you can let go of your worries and stresses of everyday life and fully embrace the concept of dolce far niente, the sweetness of doing absolutely nothing. Welcome to Sant'Elmo! The village enjoys a privileged position along Sardinia's curving coastline, where lush hills gracefully meet the vibrant azure waters of the Tyrrhenian. From the village, you can relish breathtaking views of Scoglio di Sant'Elmo, a rocky outcrop that adds to the area's allure. The region is renowned for its picturesque and often quiet beaches, and Sant'Elmo is certainly no exception! Among the must-visit stretches of coastline are Spiaggia di Santa Giusta, Spiaggia Sant'Elmo, Spiaggia di Cala Monte Turno, Spiaggia di Marina di San Pietro, and Cala Pira. These pristine beaches boast soft sands and crystalline waters, as advertised. Here, you will find a sense of tranquility, inviting you to relax, swim, and soak up the sun's warm rays. The village's proximity to Cagliari makes it an accessible destination for a day trip or a weekend stay. However, with so many enchanting beaches at your disposal, it's easy to see why the area surrounding Sant'Elmo can effortlessly captivate visitors for a week or more. For a luxury stay, Sant'Elmo is home to La Villa del Re, one of the best adult-only hotels in Sardinia and a proud member of Small Luxury Hotels of the World (SLH). This exquisite retreat offers a sanctuary of tranquility with a wooden path to a private beach, ensuring an unforgettable experience for discerning travelers. In Sant'Elmo, nature's splendor, the art of doing nothing, and hospitality converge, offering a true escape in south Sardinia. Discover the allure of this coastal haven, where time slows down to a more natural rhythm, worries fade away, and the sheer beauty of south Sardinia takes center stage!
Sant'Elmo Map
✔ Use the Google and Booking map below to explore the area.
✔ Fill in your holiday dates to get an accurate view of available accommodations near Sant'Elmo.
Where to Stay in Sant'Elmo - Our Top Picks
La Villa del Re
A 5 star Hotel in Sant'Elmo, 1.1 kilometers from the center of town (about 0.7 miles.)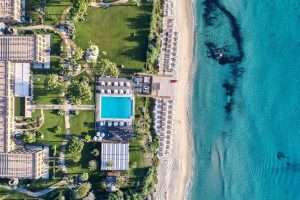 La Villa del Re, vetted by Small Luxury Hotels of the World, is a hidden oasis nestled along the curving coastline of southeast Sardinia. Surrounded by lush hills and overlooking the vibrant azure waters, this small luxury retreat offers unparalleled pampering and pleasure. The emphasis here is on the art of doing nothing, where lazy mornings and romantic evenings set the pace for a heavenly getaway dedicated to peace of mind and soul. The adults-only hotel embraces idleness as an integral part of its philosophy. Still, for those seeking more adventure, the hotel also offers a range of fascinating tours and active experiences, allowing you to mix relaxation on the beach with exciting exploration. The beachfront area, reserved exclusively for guests, is fully equipped with all the amenities needed for a comfortable day by the sea. Every detail is taken care of, from changing rooms to showers, toilets, and comfortable sunbeds. Guests can choose their preferred sun umbrella position, ensuring a peaceful atmosphere throughout the day. When it comes to dining, La Villa del Re offers a delightful culinary experience. During the day, the Bella Vista restaurant provides a casual ambiance where guests can savor the flavors of contemporary Italian cuisine while enjoying the views. In the evenings, the Bella Vista Grill takes dining to new heights, serving the best cuts of meat and fish expertly grilled to perfection. This culinary journey is complemented by a carefully selected wine list, creating a harmonious symphony of flavors that will tantalize your taste buds. With its idyllic location, impeccable service, and attention to detail, this exquisite retreat promises an unforgettable experience on the southern coast of Sardinia!
Things to Do in Sant'Elmo
Costa Rei Boat Trip with Snorkeling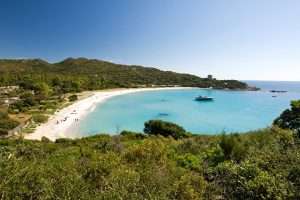 Setting off from the Villasimius harbor on a rubber boat, your excursion begins along the waters of Costa Rei. The first stop on this adventure is the breathtaking beach of Cala Pira. This enchanting shoreline is renowned for its sunlit sands sprinkled with tiny coral fragments that give it a delicate pink hue. The turquoise sea, embraced by ancient juniper vegetation, adds to the beach's heavenly charm. Continuing along the coastline, you'll reach the furthest point of the journey, where the famous Scoglio di Peppino awaits. This remarkable white granite rock, with a touch of imagination, resembles a beached whale. Take a moment to admire this natural masterpiece before the boat heads back to the harbor. But the adventure doesn't end there; two more marvelous places await your visit. First is the iconic Monte Turno beach, featuring soft sand and a picturesque bay. And last but not least, you'll discover the hidden gem Le Piscine, or "The Pools." These crystal-clear, uncontaminated waters can only be accessed by sea, preserving their pristine beauty and uniqueness. Prepare for a day filled with stunning coastal landscapes, remarkable rock formations, and the joy of exploring these hidden treasures by boat!
More Places to Visit Near Sant'Elmo
How To Get To Sant'Elmo
Have you thought about arranging a rental car in Sardinia?
For some great deals, check out our Sardinia Car Hire page!
From Cagliari
Head east on the SS554 road, also known as Via San Giusto, and continue for approximately 4 kilometers. Take the exit toward SS125/SS554/Muravera/Villasimius and merge onto the SS554. Continue on the SS554 for about 35 kilometers until you reach the town of Quartu Sant'Elena. Stay on the SS554 as it merges with the SS125. Follow the SS125 for approximately 50 kilometers, passing through towns like Maracalagonis, Sinnai, and Muravera. Stay on the main road, following signs for Villasimius. After passing through Muravera, you will continue on the SS125 for about 25 kilometers until you reach the turnoff for Sant'Elmo.