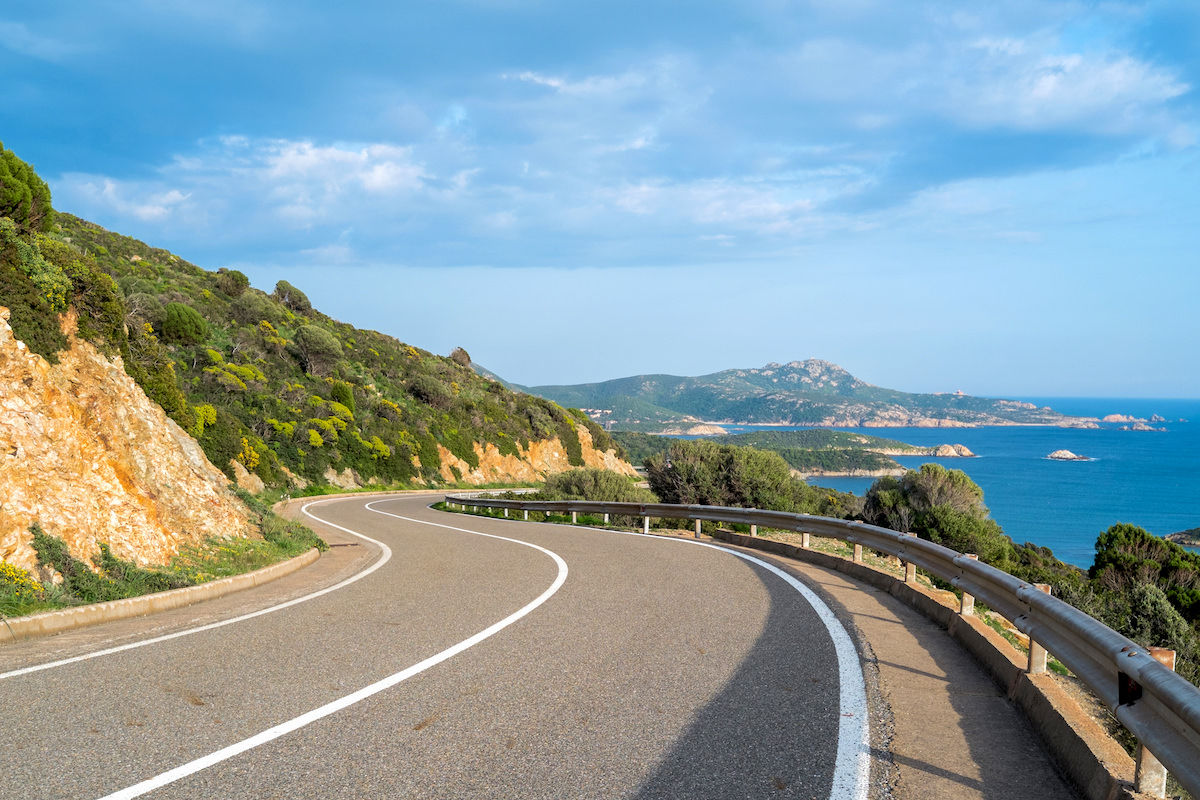 Using Sardinia's public transport system, it can be quite challenging to visit the off-the-beaten-path villages and areas that make the second-largest island in the Mediterranean Sea so authentic. To explore Sardinia on your own terms, you'll need a rental car to get easy access to some of Europe's most spectacular beaches, beautiful scenery, countless archeological sites, small towns and seaside villages.
We've teamed up with rentalcars.com to be able to offer you the best car hire deals.
When it comes to choice, ease of use, price comparison, savings, and speed, their website's search engine is second to none.
Furthermore, they offer a unique mobile app for both Android and iPhone so you can pick up your rental car with your phone. All you have to do is download the app, book your car, and save the EVoucher to your phone. The days of having to print your voucher out on paper are over!
Plus, you can cancel your booking online up to 48 hours before your pick-up, in case you change your mind later or find a better deal. Cancellation is usually free, depending on what company you will be hiring your car from.
Car Hire Companies in Sardinia
Rentalcars.com offers all car types from all major car hire companies including:
Hertz
Sixt
Avis
Europcar
Budget
Alamo
Use the form above to select and book your rental car. Don't wait until it's too late! Book now so you don't miss out on a good price. Don't forget: the earlier you make a reservation, the more money you'll save.
Pro Tip: Small rental cars aren't always the cheapest. You might find a real bargain if you check out the larger vehicles too.
Buon viaggio!
Where to Rent a Car in Sardinia?
The most practical place to rent a car in Sardinia is at the airport you're flying to. This is what most people do year in year out. When it comes to convenience, you simply can't beat an 'on-airport' pick-up. Besides, it is always cheaper to arrange car hire before you arrive in Sardinia.
As you may already know, Sardinia has three major airports, which keep the island well connected to the European mainland all year for tourists:
Cagliari Elmas Airport (CAG), located in the south, in the province of Cagliari.
Olbia Costa Smeralda Airport (OLB), located in the north-east, in the province of Olbia-Tempio.
Alghero Fertilia Airport (AHO), in the north-west, in the province of Sassari.
Olbia Airport Car Hire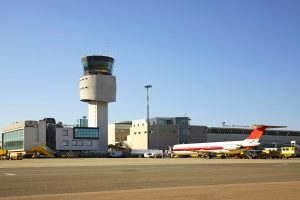 Olbia Costa Smeralda Airport is the second largest airport in Sardinia. It's a modern airport with 40 check-in desks and 10 boarding gates. It offers a broad range of services including a large parking area right in front of the terminal with a section for the disabled, a luggage storage service, a VIP Lounge, a Meeting & Business Centre, ticketing services, ATM's, 10 Mbps WiFi coverage throughout the airport, a shopping mall, and free charging points for smartphones and tablets. A direct flight to Olbia Airport from London, United Kingdom, will take about 2 hours and 20 minutes. From Olbia Costa Smeralda Airport you'll get easy access to the Costa Smeralda, the area that Sardinia is most famous for. For example, if you're willing to drive for half an hour or so after your flight, seaside villages such as Porto Cervo, Porto Rotondo, Golfo Aranci, and San Teodoro are within easy reach. All these places are located within a 30 kilometer range from the airport. The car rental terminal at Olbia Costa Smeralda Airport is easily accessible on foot. It is located near the arrivals building, just outside the terminal at a distance of about 50 meters.
Rent your car at Olbia Airport
Cagliari Airport Car Rental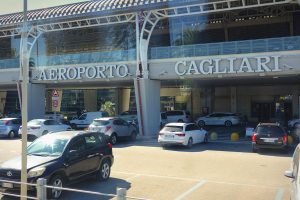 Located approximately, 5 kilometers away from the city center, Cagliari Elmas Airport is the largest airport on the island. It is possibly the favorite airport for international flights due to its hospitality and modern facilities. Both foreign and domestic flights can be boarded from here. Moreover, the airport stays well-connected with the rest of the island via land transport too. All you have to do is step outside and pick your mode of public transportation (train, taxi or car rentals) to enjoy south Sardinia's hot spots. Airport services you'll receive are an Information Desk, a VIP Lounge & Fast Track Service for VIPs, Assisted Travelling for PRM (Passengers with Reduced Mobility), Luggage Storage, and a Cashpoint. Within a 70 kilometer radius from the airport (about an hour's drive), you'll have easy access to famous villages such as Costa Rei, Villasimius, Torre Delle Stelle, Pula, Chia, and Teulada.
Rent your car at Cagliari Airport
Alghero Airport Car Hire
Last up is the Alghero/ Fertilia Airport. The smallest airport in Sardinia is located a throwaway from the town's center. It is easily accessible via car, bus, and train. Additionally, the airport offers a few shuttle buses to take passengers to the city. But the route is limited. Here's a glance at the services it provides: Information Desk & Assistance Request Points, Travelling Support for PRM (Passengers with Reduced Mobility), Luggage Storage & Lost and Found, Cashpoint & Currency Exchange, and Free Wi-Fi. There's also a Fast Track Service for VIPs, a Conference Rooms & meeting rooms for corporate travelers, Eateries (cafes, snack bars and restaurants), a Duty-Free Shop & other shops, Parking spaces within airport premises, Rentals for bikes, scooters & cars and plenty of Taxi Stands.
Rent your car at Alghero Airport
Off-airport Rental Car Pick-up
If you're on a budget this holiday season, an 'off-airport' pick-up with a shuttle bus or taxi can be much cheaper. Airport car rental costs, on average, are higher than what you'll find away from the airport property.
Depending on the time of year and the length of your holiday in Sardinia, the price differences can be quite significant. Some reasons for the higher costs are that airport car rentals involve a variety of fees that off-airport rental facilities don't pass along to their customers.
One major cause, unfortunately, is taxes. As you can imagine, airport taxes are often higher (sometimes even twice as much) as the taxes off-airport. This is because the costs of doing business in and around an international airport can be higher than at a location elsewhere, where parking lots and office space cost much less to rent.
Things to Consider Before Renting a Car
Before you decide to rent a car in Sardinia, there are a few things to consider.
Will you be driving in the mountains?
If you're travelling to east Sardinia, you'll be dealing with quite a few mountainous roads. Perhaps you'll want to consider renting a car with a bit more 'teeth' when it comes to horsepower. Popular compact cars, such as a Fiat Panda or a Citroën C1, may lack that little extra power that you'll be thankful for while passing another car going uphill. If you'd rather choose to hire a budget car, think twice before you pass another car, or just stick to the right side of the road.
Are you planning on visiting any beaches?
Of course you are!
Perhaps you'll want to consider renting an SUV. Most of Sardinia's beaches have a parking space (some are free, some are paid), but these are often unpaved and get quite dusty, rocky and bumpy.
The same often goes for the roads that lead to these parking lots. These are often just dirt tracks. It'd be a shame and a dent in your holiday budget if you'd end up damaging your vehicle.
How much luggage will you be bringing?
The luggage compartment of a small 4-door car, such as a Ford Fiesta, Citroën C1 or similar, usually has room for either one large bag or suitcase or two smaller bags. If you're bringing hand luggage as well, you could use the backseat of the car. When choosing a rental car, take note of the car's storage facilities. They are clearly indicated on the rentalcars.com website.
Small Sized Rental Car Luggage Capacity
Regarding the luggage you will be taking with you, we've made the table below to help you decide which compact car to hire for your trip to Sardinia. By clicking on the column's arrows, you can sort the table by car brand, type, size, and luggage capacity.
| | Car Brand | Type | Car Size | Suitcase/Large Bag | Small Bag |
| --- | --- | --- | --- | --- | --- |
| | Citroen | C1 | Small | 0 | 2 |
| | Citroen | C3 | Small | 1 | 1 |
| | Fiat | 500 | Small | 0 | 2 |
| | Fiat | Panda | Small | 0 | 2 |
| | Ford | Fiesta | Small | 1 | 1 |
| | Ford | Ka | Small | 0 | 2 |
| | Opel | Corsa | Small | 1 | 1 |
| | Smart | ForFour | Small | 0 | 2 |
| | Toyota | Aygo | Small | 0 | 2 |
| | Volkswagen | Polo | Small | 1 | 1 |
Manual gearbox or automatic transmission?
Watch yourself here.
Most car hire companies in Sardinia offer rental cars with either manual or automatic transmission. Quite surprisingly, the majority of cars in Italy are stick-shift. If you're used to driving a stick shift car, switching to a car with automatic transmission could be quite easy. The other way around however, not so much. Our advice: Stick to what you know best. If you've decided to rent a car with manual transmission anyway, here's a video that shows how to drive a stick-shift car that will help you out.
Tips for Renting a Car in Sardinia
Before you hit the road…
Check your Rental Car for Damage
Before you start driving to your accommodation, and this is quite crucial, walk around your rental car and make a video or take pictures of any damage the vehicle may have already. If you find any damage that hasn't been indicated on the rental agreement by an employee of the company, do so yourself. After you've done this, have someone from the car rental agency sign the agreement. By doing so, any disputes about the car's pre-existing damage are ruled out.
Get to Know your Vehicle
Once you've picked up your rental car, take some time to get to know its essential features. At least take some time to go through the basics such as:
how to turn the headlights on,
how the air conditioning works (you'll need it in summer),
where the fuel cap is located and how to open it,
how to operate the car's cruise control features, if available.
Furthermore, don't forget to:
adjust the rear-view mirrors before you start driving,
See if there's a first-aid kit, a spare-bulb kit,
Check if there's an emergency triangle, and perhaps a fire extinguisher,
If the car comes with GPS, set it to your native language.
Just take a few minutes, there's no need to hurry. It's your holiday after all!
Diesel or Regular Fuel?
Diesel fuel ("gasolio" in Italian) and unleaded fuel ("benzina senza piombo" in Italian) don't mix!
If your rental car runs on regular unleaded fuel, filling it up with diesel can cause severe damage to the engine's internals. Take note what fuel your car uses before you start driving. Usually, this is indicated either on the car's key label, or on the inside of the fuel tank's cover.
Get some Rest after a Red Eye
If you're coming from Australia or New Zealand (respect…), we strongly recommend considering staying overnight in the city you've arrived in, or taking a bus or taxi to your final destination and arrange the car rental there the next morning. Chances are the concierge at your hotel, resort or apartment complex will gladly arrange this for you.
Prepare your Road Trip at Home
You can prepare your road trips using Google Maps, Google Maps Street View, and other tools on the internet before you travel to Sardinia. Did you know that Google Maps recently introduced the option to download (part of) a map of your holiday destination for later offline use?
Tips for Driving in Sardinia
Drive on the Right Side
For readers from the United Kingdom, Ireland, Australia and New Zealand: In Sardinia, you'll have to drive on the right side of the road, not the left! The driver sits on the left hand side of the car. If you've never travelled to Europe before, this may be confusing at first, and potentially dangerous, especially after a long flight. In Sardinia, you'll be dealing with quite a few roundabouts. To brush up on your roundabout skills, this video gives a good overview of how to drive a roundabout in Europe. If thinking about parallel parking in Europe makes you nervous, this video explains it step by step.
Right of Way
At crossings, vehicles approaching from the right have right of way. This applies to trams and trains as well.
Drive as Sardinians Drive
Overall, driving in Sardinia is safe. Regarding driving behaviour, just remember the saying: do as the Romans do. Watch how the locals drive, try to get to know their habits so that you can go with the traffic flow rather than against it. Just be confident and decisive , but watch your speed.
Stay Focused
It's easy to take your eyes off the road, to allow your thoughts to drift and admire Sardinia's beauty. Always stay concentrated, stay sober and arrive alive.
Watch those Curves
The majority of Sardinia's roads date back years and started off as simple dirt tracks winding their way through the mountains. With the age of the combustion engine they were upgraded with tarmac and spruced up with road signs and seemingly random indications. Note that some curves of the main roads can be quite sharp, and should be taken with sufficient precaution. Sardinians grew up on these roads, and know how far they can challenge physics. Take extra care, especially when it's dark, as you never know what you might find after one of those hairpin bends. It could be a herd of sheep, someone on a mountainbike or a local on a Vespa driving in the middle of the road.
The Law
– While driving, keep your headlights switched on (dimmed) during the day. It's the law on two-lane motorways. This does not apply to motorcyclists.
– Do not drink and drive. The blood-alcohol limit in Sardinia is 0.05%, which is in line with the European average. Random breath tests do occur, and penalties tend to be severe when you're caught with too high a blood-alcohol level (BAC). As a general rule of thumb, 2 standard drinks in the first hour will raise your BAC to 0.05%. Keep in mind that beer, wine, and stronger spirits have varying concentrations of alcohol. Also note that you may still be over the legal alcohol limit the morning after you've indulged in Sardinian wine… So, to repeat: Do not drink and drive.
– Think before you honk. Don't use your car horn when you don't need to. When driving through towns and villages, honk solely in the event of a true emergency (do as Sardinians do doesn't apply here!).
– Always wear a seatbelt, even for short trips. Seatbelts must be fastened both in the front and the rear (provided that your vehicle is fitted with them).
Speed Limits
– Speed limits on Sardinia's main highways (with road signs SS, for Strada Statale) are 110 kilometers an hour. On secondary highways (with road signs SP, for Strada Provinciale) 90 kilometers an hour. In residential areas, the speed limit is 50 kilometers an hour. In residential areas and smaller villages in general, you may want to drive even slower than that.
Your Health
– During the summer months, keep a keen eye on your water intake when driving long distances, especially when you use the car's air-conditioning a lot. Air conditioning systems have a dehydrating effect on the human body, and will deprive your skin from its essential oils and water.
– Use sunscreen, headwear, and UV-blocking sunglasses when driving around the island in a convertible. This is especially important during the first week of your holiday in Sardinia, when your skin is still adjusting to the weather conditions. During both shoulder and peak season, the UV Index for the entire island can reach hazardous levels, resulting in a very high risk of harm from unprotected sun exposure. The wind blowing in your face while you're driving only makes things worse.