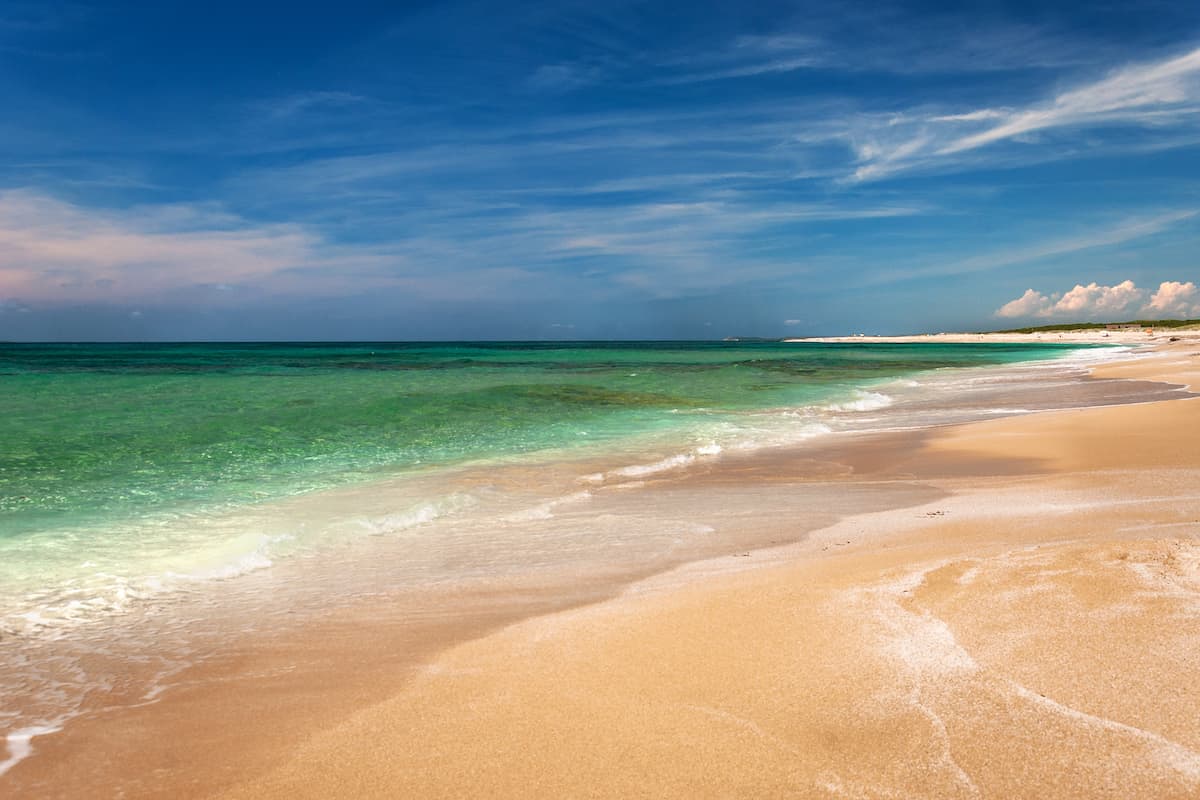 About Spiaggia di Maimoni
If you're staying in the area of Oristano or Cabras this holiday, do yourself a favour and drive west for about half an hour. It's a scenic drive, which takes you along the lagoons named Stagno di Mistras and Stagno di Cabras. Sardinia has 77 lagoons in total, and Stagno di Cabras is the largest. Near the two ponds you can see many species of birds, including pink flamingos – "Sa Genti Arrubia", as they are called by the Campidano locals.
Unless you're driving a Jeep or Landrover, your car will probably get a little dusty on the dirt road – but the reward is priceless!
After about 20 kilometers, you'll find the beach of Maimomi Spiaggia di Maimoni, a 1200 meter long stretch of white sand that faces west. It's a gorgeous beach with very light sand made of small quartz beads that shine in the sun. Backed by low sand dunes, it's truly one of the most beautiful and wild beaches of west Sardinia. Spiaggia di Maimoni faces west, overlooking the gorgeous waters of the Marine Protected Area of the Peninsula of Sinis – Isola di Mal di Ventre. The marine reserve features miles of rugged coastline with basalt cliffs & breathtaking beaches. Its waters are lush, exceptionally clean and not rocky at all. Go deep enough, and you'll immediately spot sea life.
If you'd like to snorkel here, check out the southern tip of the beach, in the direction of Spiaggia di Caogheddas. You'll find a few rocky patches there. Don't be surprised to spot a few sea turtles. Before you go, do check the weather before leaving. Whether it's the Mistral blowing from the North West, the Libeccio from the South West, or the Sirocco from the South East, the wind is a well-known and frequent guest here, and can make the sea a little rough. That's good news if you're into windsurfing or kiting. There's enough parking space behind the beach, and access is facilitated by a convenient wooden walkway.
Stay until sunset if you can, you won't regret it.
(Spiaggia di Maimoni is on the list of Best Sunset Beaches of Sardinia for a reason.)
How To Get To Spiaggia di Maimoni
To reach Spiaggia di Maimoni from Oristano, take the Strada Provinciale 6 in a western direction. It'll be a 20 kilometer drive. Note that the last part of the trip will be on a dirt road, so things will get a little bumpy and dusty. The car parking area is right behind the beach, near Ristorante S'Acqua Mala.
Map
Use the Google and Booking map below to explore the area.
Fill in your holiday dates to get an accurate view of available accommodations near Spiaggia di Maimoni.
Beaches Near Spiaggia di Maimoni