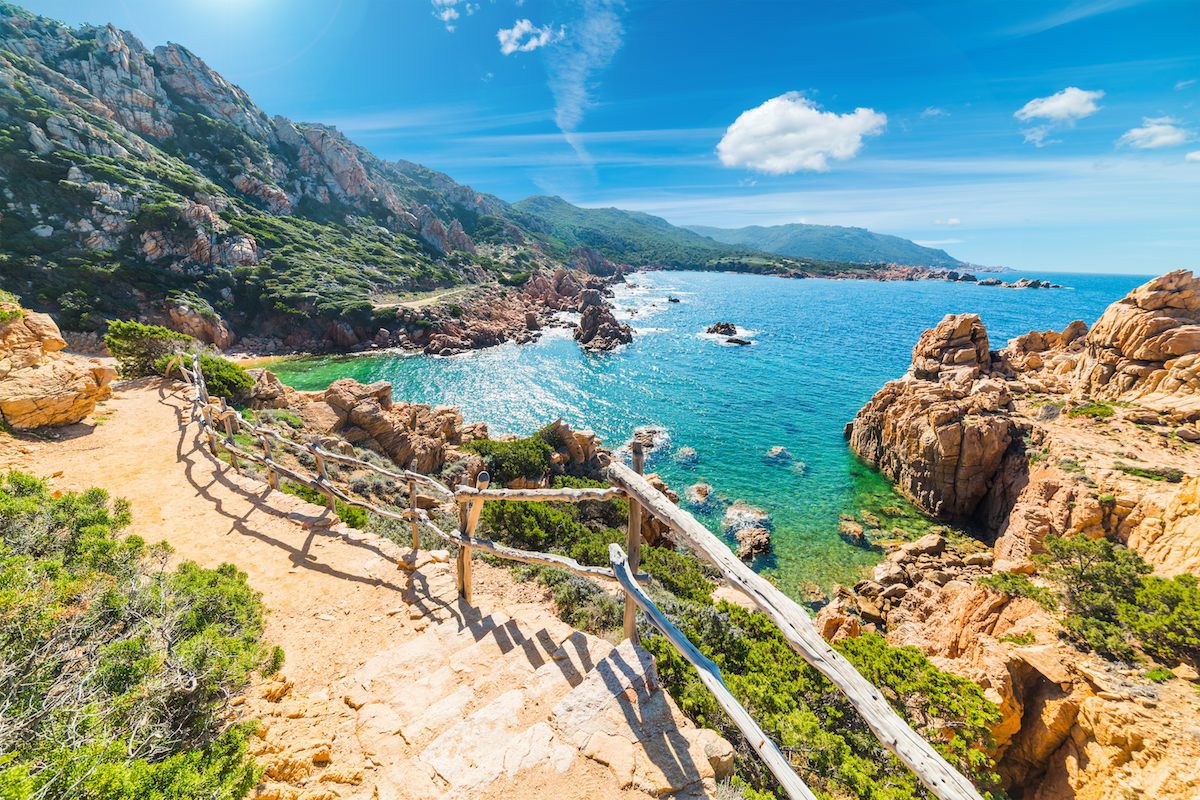 About Costa Paradiso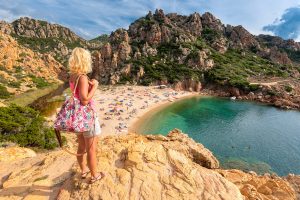 They call Costa Paradiso heaven on earth and its coastline and scenery are worth a journey to experience. In this part of the Sardinian coastline you'll find sandy beaches, a sea that glistens in the sun, and some wonderfully secluded places to relax. Sardinia is a beautiful island but head to the Costa Paradiso and you'll be in heaven. The Costa Paradiso is located on the North Coast of Sardinia and is perfect for a chilled out break in the sun. This area stretches from Santa Teresa di Gallura to the small town of Castelsardo. The sea is a big attraction with beautiful beaches and spectacular granite rocks shaped by the sands. Off shore the deep waters are a big draw for scuba divers with many interesting and scenic dives from Santa Teresa di Gallura. There is sailing too, and windsurfing. For most people the distinctive inlets along the coast are one of the features of Costa Paradiso and why it is a popular destination. They run for 8 kilometers along the coastline from Monte Tinnari to Punta Cruzitta and are a delight to discover. These inlets have small secluded beaches that are scenic, romantic and ideal for those wanting to escape the crowds. In Costa Paradiso it really is possible to have a beach all to yourself. The inlets are often considered the hidden treasures of Costa Paradiso with all of them different from the other. Some have natural swimming pools whilst others are characterised by the dramatic granite rocks. The pink cliffs of granite make this a spectacular coastline to explore, especially viewing the sunset. Of course Costa Paradiso has larger beaches to enjoy such as Spiaggia di Li Cossi which is just 10 minutes from the port. You'll find many more to explore that are within a 40 minute drive of the main resort. Try Cala Spinosa or Rene Bianca for a lovely day by the sea. And the main airport at Alghero is just 100 kilometers away. For visitors to Costa Paradiso the ferry and airport at Olbia are a lot closer and more practical. Costa Paradiso is a privately run resort where the owners maintain the area including the roads. It means that as a visitor you'll have a level of exclusivity when using some of the beaches and the area around the resort. Even though Sardinia is a busy and popular holiday destination you'll find peace and solitude in Costa Paradiso. Guests can choose from beautiful villas to rent when coming to Costa Paradiso and many are just a few minutes from the sea. The resort has some good restaurants, shops and even a disco and sports centre. You can literally stay in the resort for your entire vacation with everything you need to hand. Or, you can head to the neighbouring towns and countryside to see even more of Sardinia. The 18th century town of Santa Teresa di Gallura was further developed in the 1960s and has some great bars and restaurants. You'll find coastal boat trips here too and you can even see the tip of Corsica from the town. Close by the Bronze Age settlement of Complesso nuragico di Lu Brandali is an interesting place to visit. Costa Paradiso is famed for its Mediterranean vegetation as well as the pink granite coastline. There are lots of beautiful walks in the area and you can also rent bicycles to explore the countryside. Photographers will delight at the sunsets and the distinctive rock formations that define the coastline. For many people coming to Sardinia, the food is a big attraction and Costa Paradiso is no exception. Whilst the villas have self-catering facilities you'll find fabulous seafood in the restaurants and local markets for regional specialties. Santa Teresa di Gallura has one of the best markets around where you can stock up on local cheeses and fruits. For a relaxing holiday in a welcoming and magnificent setting head to Costa Paradiso where you will very quickly discover why it is simply called heaven.
Costa Paradiso Map
✔ Use the Google and Booking map below to explore the area.
✔ Fill in your holiday dates to get an accurate view of available accommodations near Costa Paradiso.
Where to Stay in Costa Paradiso - Our Top Picks
Hotel Costa Paradiso
A 4 star Hotel in Costa Paradiso, 1.3 kilometers from the center of town (about 0.8 miles.)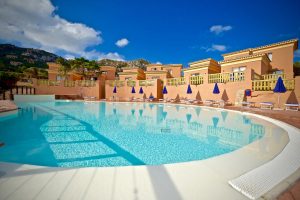 Located in Trinità d'Agultu e Vignola, Hotel Costa Paradiso is a popular accommodation in the northern part of Sardinia. The hotel is within easy reach of Costa Smeralda Airport while the beautiful beaches of Costa Paradiso are just a few minutes' walk away. Hotel Costa Paradiso was also recently renovated and offers many upgraded facilities with extra comfort for a more enjoyable stay. Featuring a large swimming pool and a Jacuzzi with a lovely view of the sea, the outdoor area is perfect for unwinding and is surrounded with sun beds for those who want to soak up some sun. At the same time, there is also a fitness center, and gym facilities for the more active traveler and these are available at no extra cost. Located a few steps away from the hotel, the restaurant serves the most delectable Italian and International cuisines. Interestingly, this restaurant is situated in a beautiful environment with panoramic sea views, and guests can also avail of meal services with the hotel, either half board or full board. As for the rooms at Hotel Costa Paradiso, these are comfortable, spacious and bright. Some rooms have windows that open to the stunning views of the sea. You can choose from the Classic rooms, Deluxe and Junior Suites. All rooms are equipped with a private bathroom with toiletries, safety deposit box, desk, air conditioning system, telephone, satellite TV, Wi-Fi and a mini bar. Another popular option is the Classic room which can accommodate two to three people. Featuring a simple design, the bedroom is cozy and comfortable while the furniture and furnishings consist of bright colors, a typical Sardinian style. And then there are the deluxe rooms which are harmonious and relaxing. They have a much bigger dimension compared to the Classic rooms and capable of accommodating up to three people. It is equipped with two beds, and a third bed can fit comfortably if requested. Lastly, the Junior Suite is the most spacious of all rooms and ideal for the whole family with kids. It is also great for longer stays since it is fully furnished. Capable of accommodating up to four people, this suite is also equipped with a king size bed and a smaller bed where a couple of kids can sleep comfortably. Overall, this is an excellent hotel in Costa Paradiso which is comfortable, luxurious and within reach of the main attractions in the area.
Villetta Sara
A 4 star Villa in Costa Paradiso, 0.9 kilometers from the center of town (about 0.6 miles.)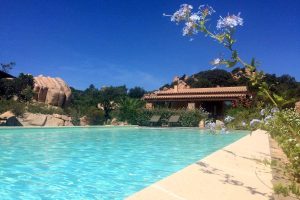 Villetta Sara is a beautiful vacation home in Costa Paradiso. Surrounded by the magnificent landscapes of Santa Teresa di Gallura and Porto Torres, the holiday home is ideally situated and just forty kilometers from Olbia Costa Smeralda Airport. Furthermore, the beautiful Li Cossi Beach and Costa Paradiso Diving Centre are just a few kilometers away. Although there is free parking within the property, there is also a car rental facility nearby. Villetta Sara is home to a very spacious outdoor pool with lush greenery and a garden which sets the scene perfectly for evening barbecues. In fact, this stunning backyard opens up to magnificent views of the island. From here, you can take a dip in the pool and take full advantage of the outdoor terrace. Many online reviews compliment the breakfast at Villetta Sasa, and you can even arrange for this on the sun terrace where tables and chairs are arranged. Overall, this holiday home in Sardinia has everything that you need for a relaxing getaway, and this can also be said about the interior which features a spacious dining area inside with flat screen television and a fully equipped kitchen. As for the two bedrooms in the house, these comfortable spaces are capable of accommodating up to five guests. The rooms have two bunk beds, one king size bed, and a twin bed. All rooms are fully air-conditioned, and there are also two private bathrooms which are both equipped with a shower, hairdryer and a bidet. Bed linens and towels are not provided, but you can request same for a minimal fee. While very different to any other villa in Costa Paradiso, it must be said that this is for a good reason. After all, Villetta Sara is your perfect hideaway in this secluded pocket of Sardinia.
Nuvola Bianca
A 4 star Villa in Costa Paradiso, 0.9 kilometers from the center of town (about 0.6 miles.)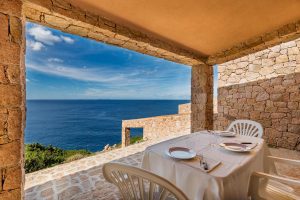 Nuvola Bianca is a beautiful semi-detached villa in Costa Paradiso, Sardinia. Featuring a lovely terrace that overlooks the majestic views of the sea, this is another private hideaway which feels so much more personal than other hotels in Costa Paradiso. Tucked away on a beautiful hillside, the location is possible the real highlight as you can feel immersed in nature and even explore a nearby path which leads to the small rocky coves. However, if you prefer to swim at the beach, the beautiful Li Cossi beach is just a five-minute drive from the villa. As you might expect, this luxurious semi-detached villa is equipped with a fully fitted kitchen and ample cooking facilities which enable guests to prepare their meals at the villa. At this point, the dining room area is ideal for enjoying an evening meal, but then there is also an outdoor terrace overlooking spectacular views of the sea. In this regard, the outdoor patio has table and chairs, which is also the ideal place for breakfast and lunch. As for the sleeping area, the accommodation consists of two bedrooms that are fully furnished and decorated in an authentic Sardinian style. Each bedroom is fully equipped with a full-size bed, and there is an overall capacity for four people, two in each room. Next, to these rooms, there are two bathrooms with shower, and the spacious living room has a sofa bed which could accommodate two more people should the need arise. Nuvola Bianca has Wi-Fi upon request, but aside from this service, the villa can feel like a welcome break from the increasingly busy and digital world on the other side of the hill. Either way, most guests will find that this is a very comfortable, clean and secluded hideaway in Costa Paradiso.
Things to Do in Costa Paradiso
Go Scuba Diving and Snorkeling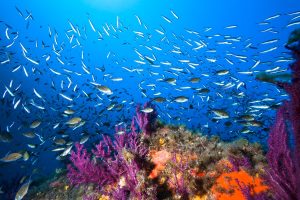 Scuba diving is one of the most exciting things to do in Costa Paradiso. Equipped with a full range of diving equipment, the center itself is professional and home to some of the best diving instructors in Sardinia. Located within a short distance of the mainland, the dive sites are teeming with colorful marine life and beautiful coral which is quite typical in the Mediterranean. Featuring pristine waters and enchanting rock formations, this is also a great place to drink in some local scenery. Whether you travel alone or with family and friends, there are daily departures to these sites, and while the price will change accordingly, the sites can be specified, and every itinerary can be customized. In short, scuba diving is arguably the most exciting attraction away from the mainland and one of the most worthwhile things to do in Costa Paradiso for those who love the ocean. Both scuba diving and snorkeling can be organized at the ASD Costa Paradiso Diving Center.
Visit the Aquafantasy Waterpark (with the Kids)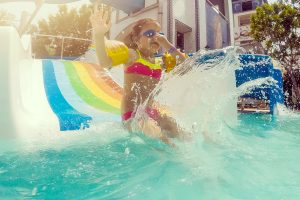 The Aquafantasy waterpark is quite possibly the most fun thing to do in Costa Paradiso, and this is certainly true in most cases when it comes to families. Furthermore, the cost of entry seems rather low for such a popular attraction in Sardinia and a family pass can be picked up for as little as sixty euros. However, you should find ample entertainment regardless of price, and although the park is relatively small, there are six excellent slides. Many of these slides are fast which never fails to delight the children while the swimming pools and lazy river offer a much slower pace to those seeking a brief respite from the action. In the afternoon, there is also a "color party," and while this is optional, the exceptional feedback is usually enough to convince visitors to take part. As for food, visitors are free to bring their own but there is also a restaurant for lunch or drinks, and in spite of the crowds, this is often rather empty. Featuring several more pools, manicured lawns and fun at every turn, indeed, the Aquafantasy waterpark is a great way to spend the day in Costa Paradiso.
Go Kayaking in Costa Paradiso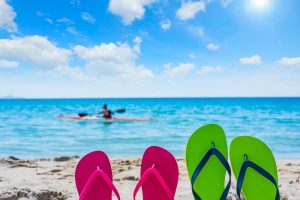 While some travelers are not quite comfortable with snorkeling or scuba diving, the option to go kayaking in Costa Paradiso is almost irresistible. In fact, this is possibly even more exciting than the option of diving in a sense that the kayaking tours take place on the Coghinas River. Interestingly, each trip has a slightly different itinerary, but visitors can expect to get up close to some luscious Mediterranean vegetation and a plethora of birdlife. Among these birds include hawks, kingfishers, ducks and even herons while the beautiful ginepros trees line the banks of the river. At certain points on these tours, visitors can explore and marvel at Roman ruins while the journey to Coghinas or Temo Lake offers a more immersive encounter with the interior of this beautiful island. As you might expect, the kayak tour is a favorite thing to do in Costa Paradiso and requires a reservation which can be made at New Kayak Sardinia just a short distance from town.
More Places to Visit Near Costa Paradiso
Costa Paradiso Restaurants - Where to Eat
Antica Osteria (Seafood, Italian Food)
🏠
Via La Ghiaza
,
Costa Paradiso
,
Sardegna
,
07038
,
Italy
.
📱 Telephone:
+39 079 688034
While many restaurants in Costa Paradiso focus on a range of dishes, Antica Osteria is primarily concentrated on traditional food. There is a real sense of culture in this particular eatery which can feel more like a family homestay rather than a restaurant. Perched up over the ocean, the views are sensational and even more so when you get to dine on the outdoor terrace. Many guests attribute this terrace as being the highlight of the restaurant, but the friendly staff and excellent food might have something to say about that. In this sense, Antica Osteria goes the extra mile when welcoming guests and ensuring that they can make an informed decision for their choice of meal. As for the food, the menu is quite varied with many seafood dishes and fresh pasta featuring alongside bream, potatoes, gnocchi and suckling pig. Regarding presentation, the expectations of guests are usually surpassed while the owner's mother is sometimes on had to present the food in person. Finally, aside from the family-run theme, the interior of Antica Osteria is very natural and extremely suitable for group dining. While warm and friendly, the atmosphere is replicated in the decoration which is bright and vibrant in every direction. In conclusion, you will find many restaurants in Costa Paradiso slightly lack when it comes to the "full package," but with excellent food, friendly staff, beautiful decoration and a favorable setting, Antica Osteria is one of the most pleasant experiences in the region.
Agriturismo Gallura (Seafood, Traditional Sardinian Food)
🏠
Strada Provinciale 90 km 35
,
Trinità d'Agultu e Vignola
,
Sardegna
,
07038
,
Italy
.
📱 Telephone:
+39 339 413 5616
Nestled deep in the beautiful countryside, this simplistic style of this restaurant in Costa Paradiso is arguably one of the most appealing things about it. In fact, this favorable setting is often the first mention of feedback and most especially in the case of guests who stay overnights. That is to say, there is an apartment just up the hill, but Agriturismo Gallura di Pieruccio itself is the main attraction. As you might expect in a restaurant surrounded by so much rural landscape, the food is wholesome and homegrown which most certainly shows in the taste. From local pastries and barbecued meat to traditional pasta and delicate seafood, the variety of food is also evident and a delight for groups who seek variety to suit everyone's taste. As already mentioned, the setting is extremely basic and quite primitive in design. Although this may sound unappealing at first, this minimalist nature is what can make the experience more authentic. Indeed, you will not find a contemporary design or modern furnishings in this Costa Paradiso restaurant, but it would also feel out of place should they exist. Whether you prefer steak and vegetable or pasta with cheese, the man courses which are part of the price are full of surprises and indeed offer something for every taste. As for the wine, this is also locally produced and an excellent addition to sublime food, a pleasant setting, and the superb staff who do everything to make the guests feel at home. Simply put, Agriturismo Gallura da Pieruccio is out of the way and worth the effort.
How To Get To Costa Paradiso
Have you thought about arranging a rental car in Sardinia?
For some great deals, check out our Sardinia Car Hire page!
The nearest airport to Costa Paradiso is Olbia Costa Smeralda Airport, at a driving distance of about 87 kilometers. To get to Costa Paradiso by car, first head north by following the Strada Statale 125 in the direction of Arzachena. Once you're in the area of Arzachena, head west by following the Strada Provinciale 14 in the direction of Logusantu, and then Aglientu. Keep following the Strada Provinciale 5 towards Vignola Mare. Lastly, continue south on the Strada Provinciale 90 to Costa Paradiso. The trip will take about 90 minutes.
Beaches Near Costa Paradiso