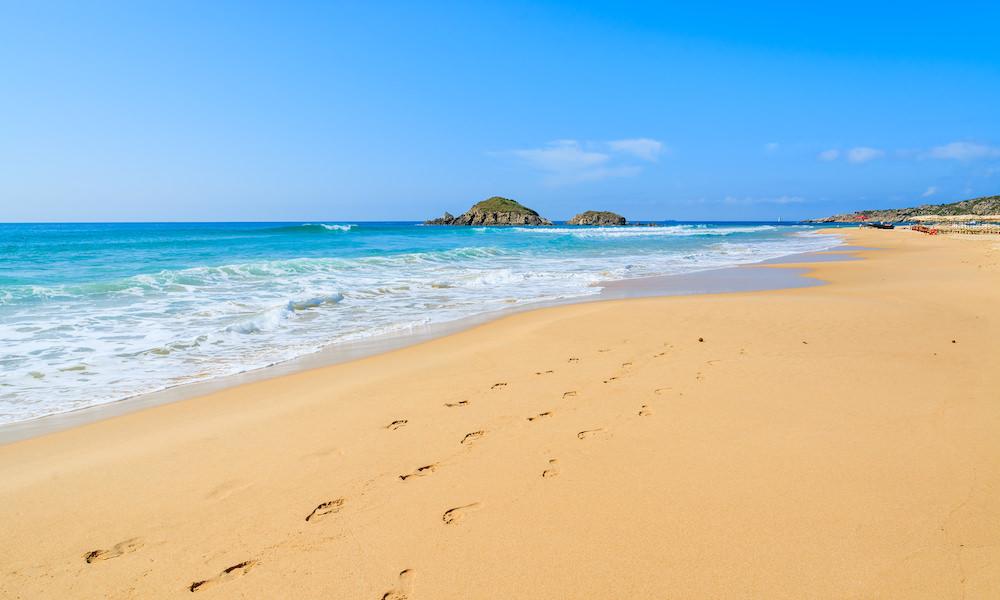 About Spiaggia di Chia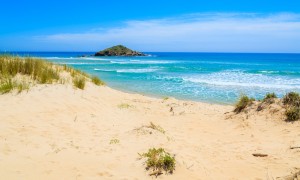 Chia Beach (Spiaggia di Chia or Spiaggia della Baia di Chia) is located in one of the most pristine bays that the Costa del Sud area in the province of Cagliari has to offer. With its sands' colours reminiscent of small peaches, dunes covered with juniper trees and turquoise waves gently rolling towards the coastline, it should come as absolutely no surprise that Chia beach is one of the best beaches of south Sardinia. Chia beach is 750 meters long and up to 90 meters wide, and lies 500 meters north-east of Su Giudeu, another beach in the area that is definitely worth a visit. The lagoon behind Chia beach is an important flamingo breeding ground, and if you're very lucky, you might spot some dolphins swimming in the sea. Located at the foot of a promontory you'll find the local place of interest named Torre di Chia, offering impressive views of the local surroundings and good opportunities to take some pictures. Torre di Chia can be reached on foot from the beach, from the car parking it will be about a 400 meter walk. During July and August the beaches in this area can get very crowded, but in the months of June and September you should be able to find more solitude. Chia beach is one of the best kitesurfing beaches of Sardinia, it is where the Chia Classic takes place, a windsurfing, kitesurfing and surfing event held each year between April and June.
Places to Stay near Spiaggia di Chia sa Colonia
Chia Laguna - Hotel Village
A 4 star Resort near Spiaggia di Chia sa Colonia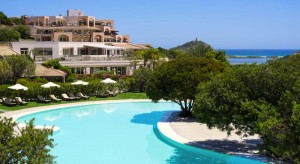 Just a few hundred meters from the beach you'll find the recently completely renovated Chia Village - Chia Laguna Resort, an excellent four-star beach resort featuring an infinity pool, private beaches, a tennis club and a golf club. Its restaurants serve Sardinian dishes both indoors and outdoors. Rooms include air conditioning, internet access and garden views. The Chia Laguna Resort offers a shuttle service that takes you to the beach.
Chia Laguna - Hotel Laguna
A 5 star Hotel near Spiaggia di Chia sa Colonia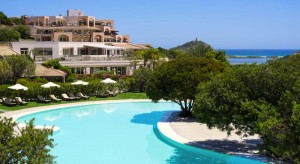 Set on the Chia promontory near the flamingo lagoon, you'll find the highly rated five-star Chia Laguna - Hotel Laguna. This luxurious child-friendly beach hotel is part of the larger Chia Laguna Resort and offers an excellent hotel experience near the sea, as well as access to a large variety of facilities and activities. All 72 spacious rooms and suites offer stunning sea views and have their own lounges. Bikes can be rented at the hotel, and jeeps, quads and horse-riding excursions can be arranged. Hotel Laguna has its own private beach.
Hotel Aquadulci
A 4 star Hotel near Spiaggia di Chia sa Colonia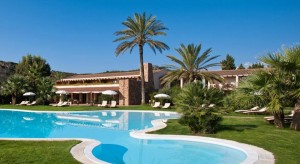 A little further south in Spartivento and directly behind Su Giudeu beach, you'll find Hotel Aquadulci. This four-star hotel offers 40 air conditioned rooms, a swimming pool and a fine restaurant overlooking a palm tree garden. Hotel Aquadulci offers free parking, a bike rental and sailboat rental service. From the hotel, it's easy to reach Cala Cipolla beach and Cala Zafferano, or go on a hiking trip in the green Cannoneris forest - one of the richest forests of Sardinia.
Hotel Su Giudeu
A 2 star Hotel near Spiaggia di Chia sa Colonia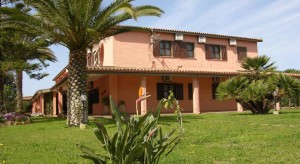 600 meters north-west of Campana beach, on Viale Spartivento, you'll find Hotel Su Giudeu. It's a cozy two-star family-run hotel that offers just 19 rooms, with views of the nearby beaches and the lagoon (Stagno de su Sali). All rooms are air-conditioned, and decorated in a simple Sardinian style. For guests, a buffet-style breakfast is served daily. The restaurant near the hotel serves traditional Sardinian dishes - often based on fresh fish and local products. Hotel Su Giudeu is an adult-only hotel, and its location makes it very suitable for an affordable seaside holiday in southern Sardinia, even if only for just one night.
How To Get To Spiaggia di Chia sa Colonia
Coming From Cagliari
To reach Chia beach from Cagliari by car, take the SS 195 in the direction of Chia. It will be a 50 kilometer drive. Once you've reached Chia, turn left on Viale del Porto in the direction of "Campeggio Torre Chia" (a camping). The beach parking will be on your right after 500 meters.
Map
Use the Google and Booking map below to explore the area.
Fill in your holiday dates to get an accurate view of available accommodations near Spiaggia di Chia sa Colonia.
Beaches Near Spiaggia di Chia sa Colonia