With a staggering 2000 kilometers of coastline, Sardinia is one of the windier regions of Italy and a true mecca for windsurfing and kitesurfing enthusiasts, both beginner and advanced. As Sardinia has four main winds depending on the time of year, the best kitesurfing beaches are scattered around the island. Here's our overview of some of the best kitesurfing beaches of Sardinia.
Best Kitesurfing Beaches of Sardinia – Porto Pollo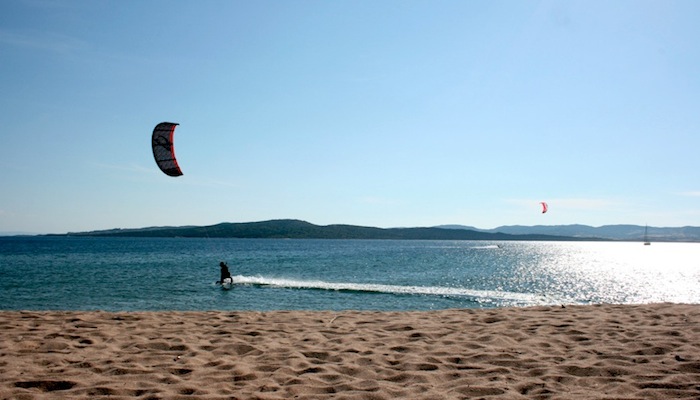 Porto Pollo beach, located in the comune of Palau in north Sardinia, offers some of the best kitesurfing opportunities Sardinia has to offer. This long beach with a length of over 3 kilometers is located in one of the windiest spots in Sardinia thanks to the proximity of Corsica. Porto Pollo beach consists of a windsurfing and a kitesurfing zone seperated by a sandy beach where you can choose to surf in safer conditions or be more adventurous and surf on wilder waves. Overall, the waters are warm here, so you might not even need a wetsuit. According to wind statistics, the best months to go are June, July and August when chances of kitable winds are approximately 70%. Porto Pollo beach features several kitesurfing schools where windsurfing and kitesurfing lessons can be arranged. For more information, visit the Sporting Club Sardinia Porto Pollo website or the North Sardinia Kite School website.
Read more: Porto Pollo Beach
Best Kitesurfing Beaches of Sardinia – Badesi
Badesi is a small municipality in the province of Olbia-Tempio in Sardinia, located about 200 kilometres north of Cagliari and about 50 kilometres west of Olbia. The beaches of Badesi are breathtakingly beautiful. They are all located on a very long white beach that stretches for several kilometers, intersected by the River Coghinas, one of the most important in Sardinia. Being exposed to the Mistral wind, the splendid beaches of Badesi are a great place for windsurfing, kitesurfing and stand up paddling fans all year round. Their place on our list of Best Kitesurfing Beaches of Sardinia is well-deserved! All of the beaches of Badesi face north-west, overlooking the bright blue waters of the Golfo dell'Asinara and on clear days you can even see Corsica in the far distance to the north.
Read more: Beaches of Badesi
Best Kitesurfing Beaches of Sardinia – La Cinta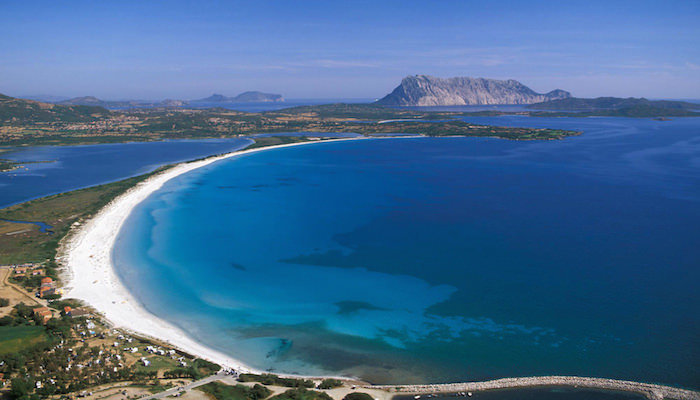 Drive to San Teodoro, just 30 minutes from Olbia, and you'll likely see some kites up on La Cinta beach, another popular water sports beach. It's a lovely long and white sandy beach with a length of over 3 kilometers. This is usually a good location for winds blowing in a north or south-west direction. The village of San Teodoro is very nice and offers several good restaurants and pubs. In the center of the village you'll find the Hard Core Surf Shop & Kite School where kitesurfing and sup lessons can be arranged and equipment can be rented. La Cinta beach faces east, offering stunning views of the Capo Coda Cavallo promontory to the north and Isola Tavolara rising behind it.
Read more: La Cinta Beach
Best Kitesurfing Beaches of Sardinia – Poetto Beach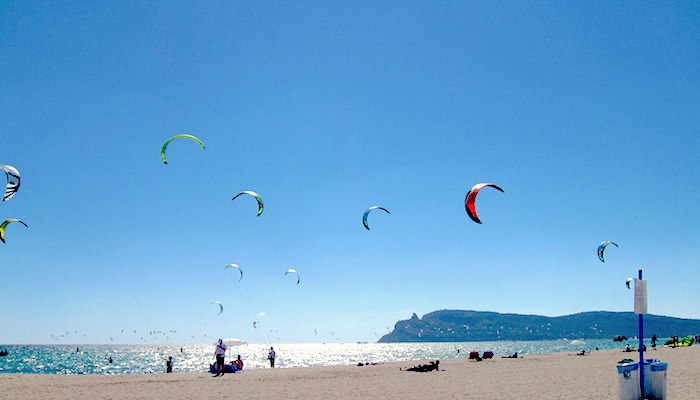 Poetto Beach (Spiaggia il Poetto) is located in between Comune di Quartu Sant Elena and Comune di Cagliari, in south Sardinia. It is the main beach of Cagliari. Being one of the longest beach in this area with a length of 8 kilometers, it faces south-east, overlooking the waters of the Golfo di Quartu. The beach is marked by beautiful views of the hills of the Sella del Diavolo to the south. The beach has a full range of facilities: you'll find kiosks, bars with beach beds, restaurants, discos, plenty of water sports facilities, a marina, and a fair. Poetto Beach belongs to one of the most windy spots in Sardinia and for this reason a great spot for kitesurfing, windsurfing and sailing. Many kitesurfing enthusiasts consider Poetto to be one of the best kitesurfing beaches of Sardinia. International kitesurfing and windsurfing championships frequently take place on Poetto beach.
Read more: Poetto Beach
La Maddalena Spiaggia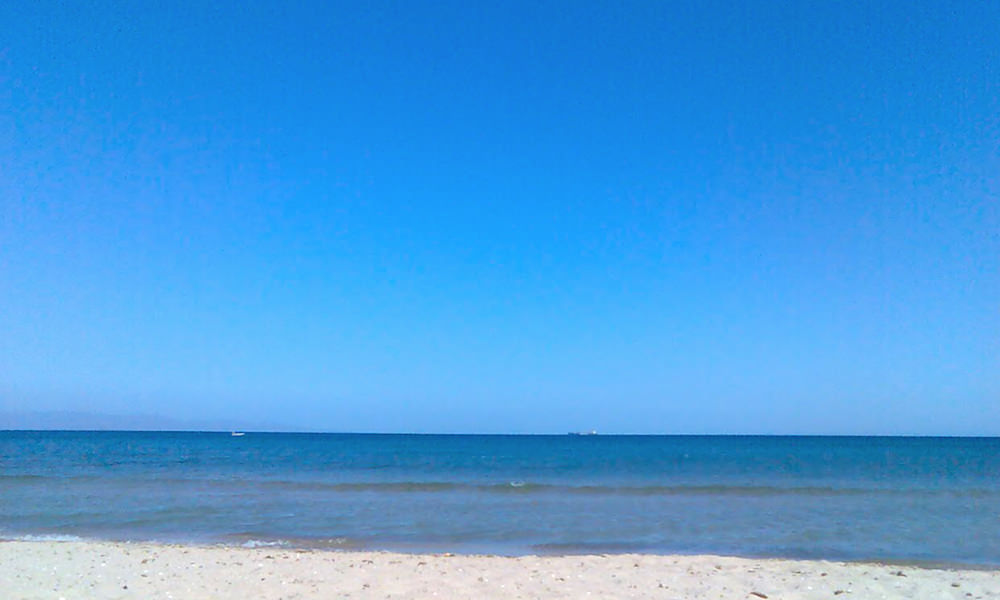 Also known as Petrol Beach, La Maddalena Spiaggia is another favorite spot among kitesurfing enthousiasts. It is located 15 kilometers south-west of Poetto. From May through September, there's nearly always more than enough wind to go kitesurfing here. Near the southern edge of La Maddalena, you'll find Kitezone Cagliari, where kitesurfing equipment can be rented and lessons can be taken – also for groups.
Read more: La Maddalena
Best Kitesurfing Beaches of Sardinia – Santa Margherita di Pula Beach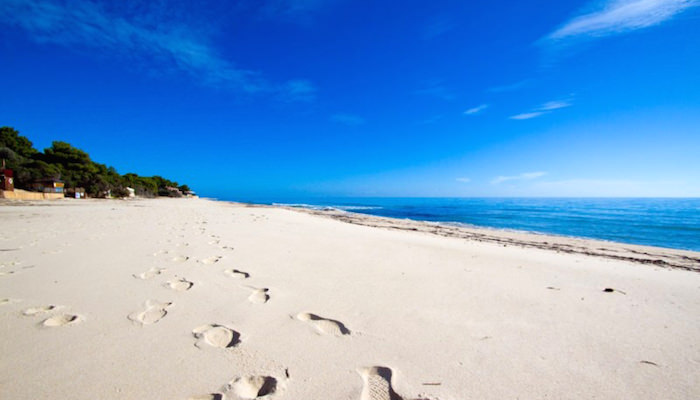 The south of Sardinia features several fantastic kitesurfing spots. Santa Margherita di Pula beach is located in front of the village with the same name, just 5 kilometers east of the community of Domus de Maria. Here too you'll enjoy riding the waves, thanks to the exposure to the Grecale winds. With a length of 2600 meters, this beach is the longest stretch of sand you'll find in this part of Cagliari.
Read more: Santa Margherita di Pula Beach
Best Kitesurfing Beaches of Sardinia – Chia Beach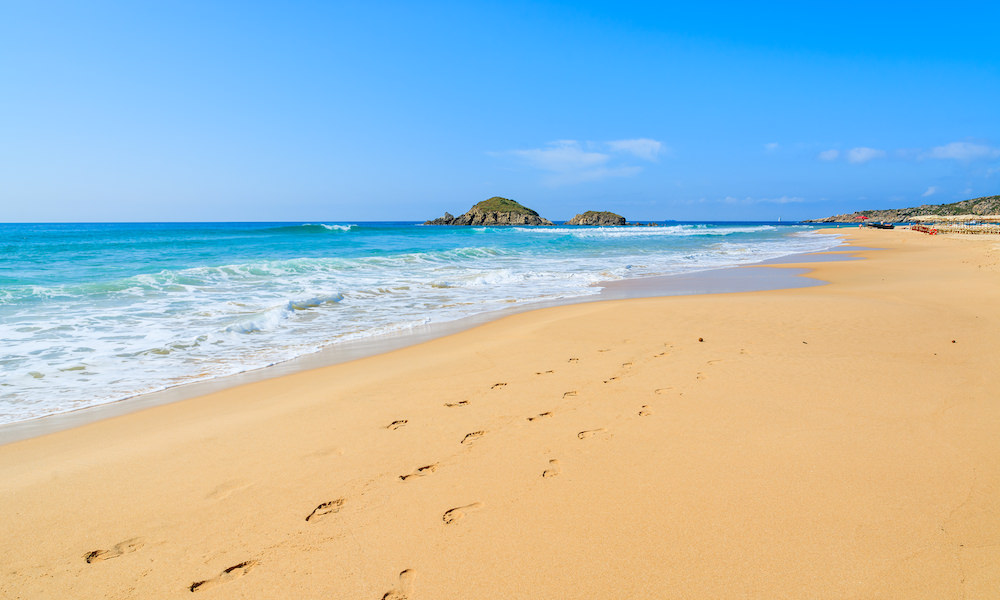 Chia beach is located in one of the most pristine bays that the Costa del Sud has to offer. This beach is 750 meters long, and lies 500 meters north-east of Su Giudeu, another beach in the area that is definitely worth a visit. During summer, water temperatures here reach a comfortable 25 degrees Celsius. The beaches near Chia statistically have a very high number of windy days. The Grecale, Levante and Scirocco winds all create good waves, but can get quite gusty off the coast. Chia beach is the place where the Chia Classic takes place, a windsurfing, kitesurfing and surfing event held each year between April and June.
Read more: Chia Beach