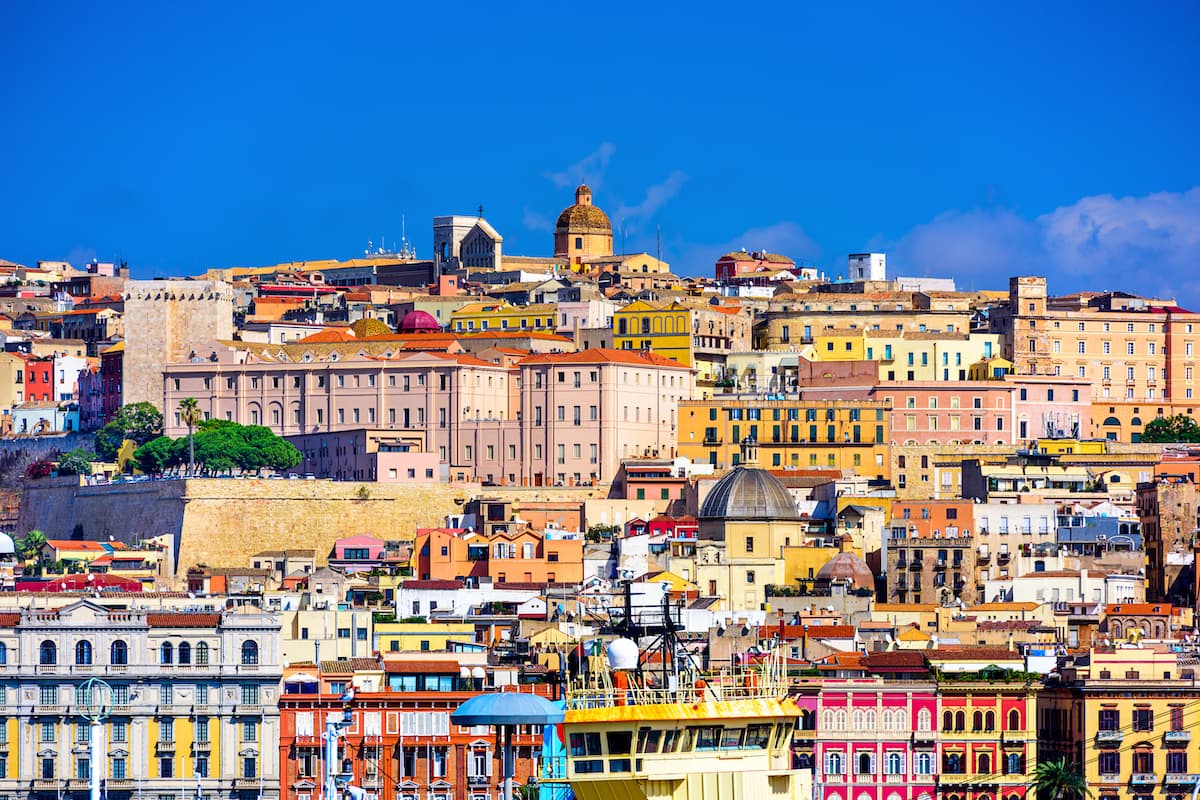 About Cagliari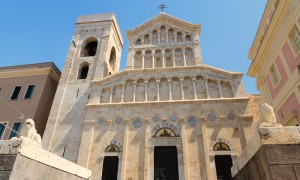 Charming, elegant, and rising from the sea like a wave of colorful facades, Cagliari is the capital of Sardinia best known for being a stunning city infused with ancient history, from the Neo-Romanesque Cattedrale di Santa Maria del Castello and viewpoints overlooking a stunning seascape, to the peaceful Piazza Palazzo and the old fortifications of the Castello quarter. Cagliari (pronounced as ka·glee·aa·ree in British English) is generally considered to be walkable, especially in its historic center. The old town, Castello, is located on a hill and features narrow streets and alleys that are best explored on foot. A series of winding streets make their way through the Old Quarter, akin to an old town rather than the Capital of a famous province, with quaint cafes serving rich coffee and beautiful churches providing the scenery. The Piazza Palazzo is symbolic of the warm atmosphere awaiting visitors, while the spectacular Cattedrale di Santa Maria del Castello is a majestic sight; a Cathedral which has changed in appearance through the centuries and was initially inspired on the famous Pisa Cathedral. Ancient fortifications accompany any walk through this romantic town. Unrivaled views await at the top of the Bastione di San Remy, where the magnitude of this enormous port comes into perspective, and an endless blue ocean stretches before the horizon. Although there are many vantage points around the city, this particular terrace is one of the most unique places in Cagliari to drink in the scenery.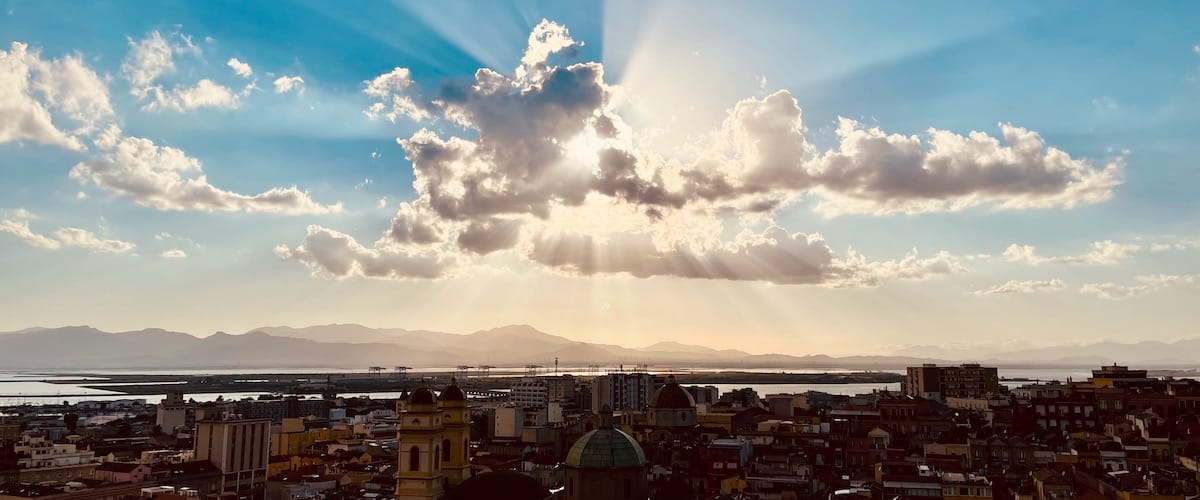 Once the Capital of the Kingdom of Sardinia, the ancient history and culture of Cagliari are evident at every turn, from the Roman Amphitheatre to the haunting ruins of Necropoli of Tuvixeddu, the striking Royal Palace, to the delightful architecture which intercepts each attraction; exploring the interior of Cagliari evokes images of horse-drawn carts, primitive people and the charming atmosphere which lies beneath the exterior facades. Pisan, Aragonese, Catalan, and Byzantine heritage can still be found amongst these enchanting streets, and modern elegance is now overflowing, making it one of the most enjoyable places for an extended stay. So, is Cagliari worth visiting? Cagliari is a delightful city with endless appeal, for it is here where you can find fine foods dominating the restaurant scene and quaint cafes on every corner. Local culture is colorful yet unassuming, and the town is overflowing with fine architecture and many ancient remnants to explore. Stunning scenery awaits at numerous viewpoints, and nearby beaches offer the perfect place to unwind in idyllic surroundings. Cagliari is a stunning destination and a memory that will outlive your visit to this gem on the Island of Sardinia. And then there are the beaches! Poetto is an eight-kilometer stretch of white sands where locals relax during the day and enjoy nighttime entertainment. Few European places can offer such a luxurious stretch of beach, where pristine blue waters form a backdrop for the many fine restaurants and bars along the waterfront. However, there are many more beaches within easy reach of the city. The Mari Pintau is an example of the numerous bays offering fine, secluded beaches along the coast and endless opportunities to adventure!
Cagliari Map
✔ Use the Google and Booking map below to explore the area.
✔ Fill in your holiday dates to get an accurate view of available accommodations near Cagliari.
Where to Stay in Cagliari - Our Top Picks
More Places to Visit Near Cagliari
Cagliari Restaurants - Where to Eat
Locanda dei Buoni e Cattivi (Seafood, Italian Food, Traditional Sardinian Food, Pizza)
🏠
96
,
Via Vittorio Veneto
,
Cagliari
,
Sardegna
,
09123
,
Italy
.
📱 Telephone:
+39 070 734 5223
► Watch Video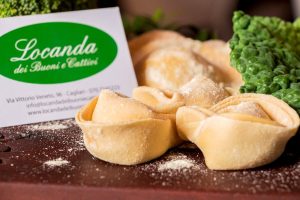 Situated in the very center of town, Locanda dei Buoni e Cattivi is a decadent restaurant which is part of a highly rated B&B with the same name. Featuring a wide range of traditional and Mediterranean dishes, the menu is varied while the chefs are renowned for upholding the Michelin star rating of the restaurant. As mentioned, these recipes are mostly traditional and consist of the most exquisite local produce available. From fresh herbs and succulent meats, Locanda dei Buoni e Cattivi keeps a careful focus on every aspect of these meals to ensure they are authentic and unique in every instance. From fresh ravioli and antipasti to seafood and pizza, the variety of food is apparent, but the smart presentation and ample Sardinian flavors are what make them stand out. Although the interior of the restaurant is rather beautiful, the opportunity to dine under the stars is worth noting. After all, Locanda has a memorable outdoor area which is situated next to a beautiful garden with colorful murals decorating the walls and luscious leafs in between. All considered, this is quite a local and authentic experience with delicious meals which are indeed worthy of the Michelin star rating.
Luigi Pomata (Seafood, Sushi)
🏠
18
,
Viale Regina Margherita
,
Cagliari
,
Sardegna
,
09124
,
Italy
.
📱 Telephone:
+39 070 672 058
► Watch Video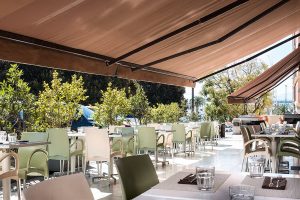 Luigi Pomata is one of the largest and most spacious restaurants in Cagliari with a stunning array of main courses and a particularly impressive reputation for presentation. Located in the center of town, on Viale Regina Margherita 18, it can be quite a busy venue, but generously sized rooms ensure this is by no means a downside. This Cagliari restaurant specializes in tuna dishes and this extends across all four courses including dessert. From seared red tuna from Carloforte and aubergines and tuna themed pasta, the selection is more than creative and infused with flavor in every instance. Fresh seafood and immaculate presentation are a focus for the restaurant and arguably a reason as for the mention in the Michelin Guide 2019, but at the same time, even the freshly baked bread leaves a lasting impression with diners. Interestingly, the resident chef has trained with the infamous Marco Pierre White who is a local expert when it comes to tuna in particular, so rest assured this is an experience unlike any other in the region. Featuring a long line of local wines, this unique nature is also evident at every turn. And then there is the waiting staff, the warm atmosphere, and the stylish yet minimalistic design; this stunning restaurant is worthy of the reputation and certainly a contender for being the best restaurant in Cagliari. As you might expect, this reputation comes with a price, but more importantly, such popularity usually requires booking beforehand. This is one experience you do not want to miss.
Da Cesare (Traditional Sardinian Food)
🏠
2
,
Via Charles Darwin
,
Cagliari
,
Sardegna
,
09126
,
Italy
.
📱 Telephone:
+39 070 304 768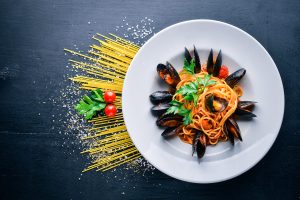 Da Cesare is certainly the only restaurant in Cagliari which overlooks a wildlife oasis, but as with some of the most impressive eateries in the area, the food experience transcends even such an incredible location. Featuring a complimentary glass of wine, the welcome to Da Cesare is typical of the rest of the experience, for every aspect is sure to leave guests wanting more. With local Italian meats and vegetables, this is also an encounter with extremely fresh food while the style is typically Sardinian which is naturally full of flavor. Whether you choose a fillet of beef or delicate lobster, each dish is beautifully presented, and this is something which extends to the interior decoration in the restaurant. While it may not be the brightest or most spacious restaurant in Cagliari, the intriguing design at De Cesare perfectly suits the atmosphere and provides a unique and memorable setting for some equally memorable meals. Indeed, the Stagno di Molentargius is a beautiful wildlife oasis, and Da Cesare is also part of an impressive hotel which adds to the popularity of this restaurant. However, the fine cuisine, warm ambiance and reasonably low prices at Da Cesare have ensured it's placed among the best restaurants in Cagliari.
Cagliari Nightlife
Muzak Cagliari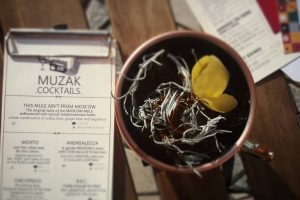 Muzak is a small cafe bar in the middle of the city where local street food and cocktails are the day's order. You will find wine and craft beer on the menu, and live music is a major draw for both locals and tourists alike. Overlooking the Piazzetta, Musak features a lovely terrace where guests can sit during the day. A woody interior helps create an exceptionally comfortable setting. Prices are reasonable despite its growing popularity. As for the food, you should find everything on the menu consisting of fresh ingredients. We'd recommend ordering a juicy Italian Salsiccia burger, made with authentic Italian sausage, ciabatta, pancetta, and mozzarella. Try pairing it with your favorite bottle of red Italian wine. And then there are the drinks! Muzak offers a delightfully colorful list of cocktails. Still, beer lovers and wine connoisseurs will be equally impressed by the wide variety on offer. Either way, Musak is a popular hotspot for nightlife in Cagliari, as evidenced by this quaint cafe bar's busy and bustling nature.
B Flat Jazz Club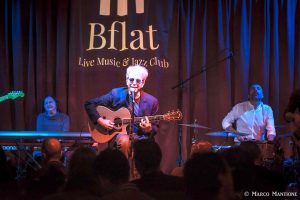 The B Flat is a jazz club with a wide variety of drinks and a warm atmosphere. Known as one of Cagliari's best music venues and places for nightlife, B Flat features a live stage and more than enough space to enjoy the entertainment. There are at least four live performances each week, and some of the country's best musicians have graced the stage. In terms of drinks, you will find everything from cocktails and beers to spirits and wine. The service is friendly, and live music never looked or sounded this good in Cagliari. Some of Italy's best musicians often play live music on stage, including Mario Venuti, Antonio Farao, Chiara Civello, Vanessa Haynes, and Ray Gellato. Whether you come for the music or just the vibrant atmosphere, the B Flat Jazz Club is one of the real highlights of Cagliari nightlife. The shows are scheduled four times a week, running from Thursday to Sunday, starting at 21:30.
Sphera Locura
Sphera Locura is famous for having a long list of chupitos (a chupito is a small serving of spirits or a mixed drink, typically consumed quickly like a shot.) The pretty interior and warm atmosphere ensure this is one of the best places for nightlife in Cagliari, regardless of the drinks. Sphera Locura can be quite a loud bar on weekends, and the locals love this spot just as much as the visitors. To understand the appeal of Sphera Locura, we do need to remind you of the chupitos again. There are more than 200 kinds on the drink menu, and each shot is quite different from the next. Drinks are organized into different categories, meaning that some chupitos are more extreme than others. Whether you want something sweet or sour, the friendly staff are quick to make suggestions. The medium-low content of alcohol ensures things are kept responsible. As far as Cagliari nightlife is concerned, Sphera Locura is one of the most exciting hotspots.
How To Get To Cagliari
Have you thought about arranging a rental car in Sardinia?
For some great deals, check out our Sardinia Car Hire page!
Cagliari Airport
The airport of Cagliari is named Cagliari Elmas Airport, also known as Mario Mameli Airport (IATA code: CAG). It is the primary international gateway to south Sardinia. Cagliari Airport is situated approximately 7 kilometers northwest of the city center. It is located in Elmas, hence the name Elmas Airport. The airport has a modern and well-equipped terminal building. It offers a range of facilities and services to accommodate passengers, including check-in counters, baggage handling services, customs and immigration facilities, currency exchange, ATMs, and car rental desks. Cagliari Airport is well-connected to the city and surrounding areas. Ground transportation options include taxis, car rentals, and a train station adjacent to the airport, providing convenient access to the city center.