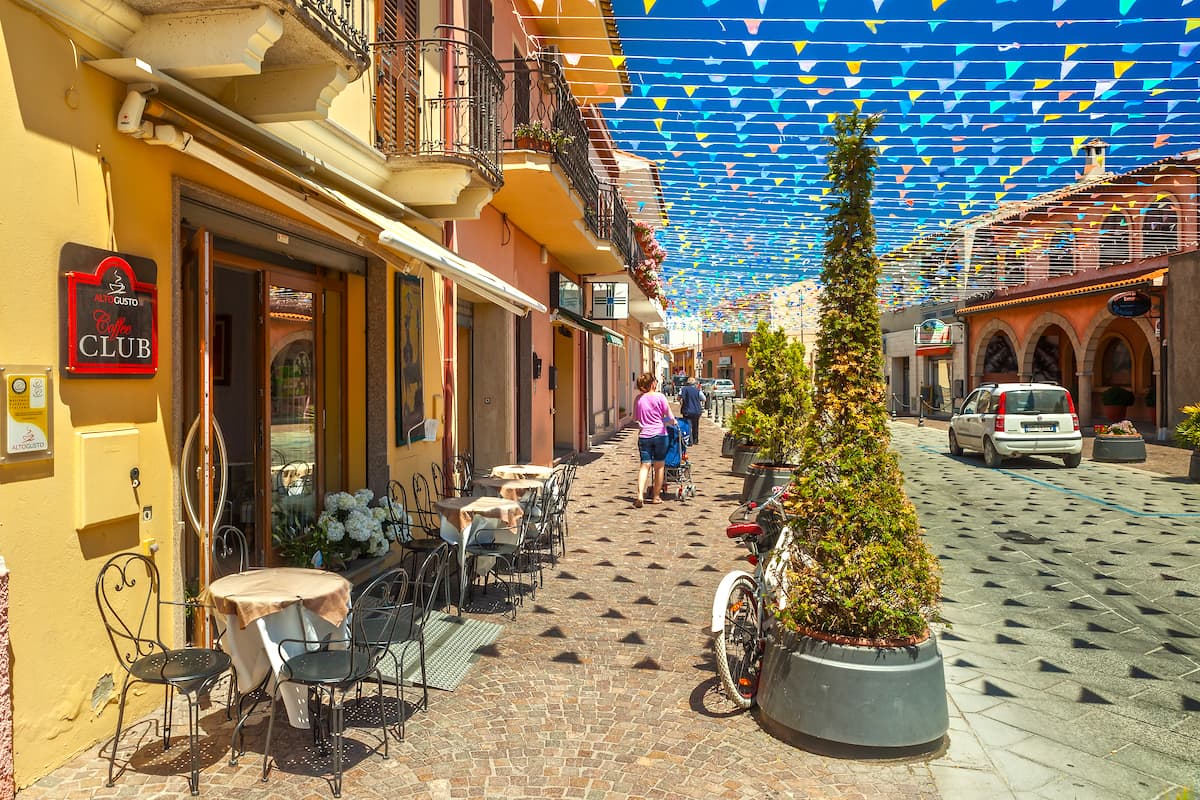 About Pula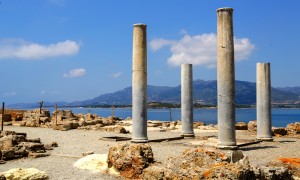 Pula is a seaside village in south Sardinia to which many tourists return year after year. At the same time, it's also rather quiet with just seven thousand locals and more than 35 kilometers of road until the next major city – Cagliari. But what exactly makes Pula such an exciting village in Sardinia?
Pula is a place of great variety, from the idyllic bay and iconic landmarks to the tree-lined streets and historical nature of the village. The ancient town has plenty of reminders of Roman Times, but many monuments date back to Phoenecian times (8th Century BC). You will find old forums and temples at every turn, while the many Punic dwellings bring a great sense of atmosphere to the streets. While you can explore the history behind such facades or relics at the Giovanni Patroni Museum in Cagliari, nothing compares to walking through a living piece of history.
When it comes to nightlife, Pula is also a hive of activity. In particular, summer months are incredibly vibrant, and the town features a nice mix of cafes, bars, and restaurants. As you might expect, seafood is exceptional, and eating is one way to explore the rich history of the town. Events and activities are also common in the squares around town, but even the locals agree the simple act of walking around town is the most enjoyable way to spend time in Pula.
One of Pula's real highlights is the beach of Nora, which has beautiful golden sands and an iconic tower at one end of the stretch. The Tower of Coltellazzo stands out on the bay, and Sant'Efisio Church strikes an equally exciting sight. This church is a commemoration of a warrior saint to which the locals are entirely devoted. In case you might book a trip for the first week of May, there is also a festival on May 3, which is dedicated to Sant'Efisio.
Beyond the bay, you will also find a stunning blue lagoon which is home to a plethora of birdlife. Su Guventeddu beach is also nearby, and you'll discover a beautiful series of sandy coves as you move further along the coastline. Meanwhile, Nora's archaeological park is just a short skip from town, and this was the origin of the name – Pula. In this park, you can enjoy the hiking trails and spend time amidst the most truly relaxing atmosphere. This lush forest is overflowing with many tree species and plants, and some fascinating rock formations. It's true, whether you come for the food, the sand, sea, or the scenery, Pula has everything and more for a memorable trip to South Sardinia.
Pula Map
✔ Use the Google and Booking map below to explore the area.
✔ Fill in your holiday dates to get an accurate view of available accommodations near Pula.
Where to Stay in Pula - Our Top Picks
Lantana Resort Hotel & Apartments
A 4 star Apartment in Pula, 1.2 kilometers from the center of town (about 0.7 miles.)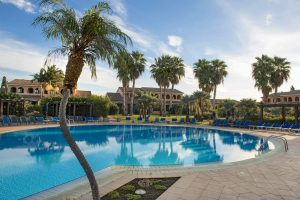 The Lantana Resort Hotel is a four-star accommodation in Pula where luscious surroundings are a prelude to one of the most delightful places to vacation in South Sardinia. Featuring beautiful gardens, excellent amenities, and a stunning design, this charming hotel is ideal for couples, groups, and families. When you take the surroundings into account, Lantana Resort Hotel is undoubtedly one of the most privileged regarding location but then the town is also nearby, and this is where guests can venture when feeling restless. Although there are shops and restaurants, it must be said that most guests tend to dine on the premises, for the restaurant is nothing less than world class. As for the sleeping quarters, the rooms at Lantana Resort are brightly decorated, and the double room is unusually spacious. At the same time, families can avail of the apartment option, and in most cases, these rooms include a balcony. Comfortable beds guarantee a good night sleep while the immaculate bathrooms and modern conveniences ensure a pleasant stay at the very least. Meanwhile, back outside you will find an extremely large and inviting swimming pool with ample space to relax. Furthermore, the outdoor terrace is enormous and a great place to drink in the scenery from a shaded deckchair. Nearby, guests can play mini golf or ping pong while the beach is mere footsteps from the back of the hotel. Either way, this is a wonderful hotel in Pula, and the perfect place to escape the noise and experience the best Sardinia has to offer.
Nora Club Hotel
A 4 star Boutique Hotel in Pula, 1.3 kilometers from the center of town (about 0.8 miles.)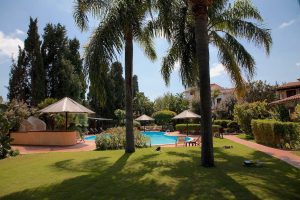 The Nora Club Hotel in Pula is an excellent choice for couples with luscious gardens and ample opportunities to enjoy some quiet. At the same time, the standard of amenities and comfort is the real highlight, for Nora Club leaves no stone unturned when it comes to impressing the guests. Although the hotel conveys a somewhat isolated atmosphere, the beach is within walking distance, and the friendly staff is always on hand to assist. Furthermore, the spa center is a welcome addition, and a stunning pool means that a relaxing swim is never far away. As already mentioned, the property is particularly luscious even by the standards of Sardinia hotels while plants and trees on the exterior of the building help it to blend seamlessly with these surroundings. Interestingly, each room at the hotel is graced with a private patio which leads directly into the gardens. Meanwhile, the interior is especially elegant with wooden furnishings and bright colors bringing a typically Sardinian touch to the design. That being said, there is also a minimalistic essence to this design and the focus is most certainly on quality and comfort. Featuring twin room, double room, and triples room; there are also options but as mentioned above, the hotel is favored by couples, and in which case, the double rooms are usually most popular. Along with the spa center, you can find a fitness center, hot tub and even Turkish baths at the hotel while the massage area is in prime position at the center of the gardens. Breakfast is served daily, and an onsite restaurant is often the subject of excellent reviews online, but all considered this is possibly the best-equipped hotel in Pula and an excellent choice for a vacation in South Sardinia.
NOHA Lifestyle Hotel - Adults Only
A 4 star Hotel in Pula, 2.1 kilometers from the center of town (about 1.3 miles.)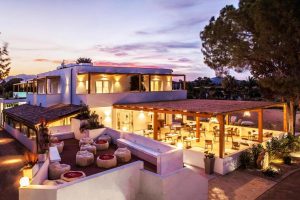 Located less than 2 kilometers from the center of Pula, the NOHA Lifestyle Hotel is a stylish adults-only hotel with a modern yet minimalist interior that never fails to impress. The furnishings and style make this feel like a typical Sardinian hotel, but this accommodation has a contemporary look and feel. There are 69 rooms, and each one is both spacious and luxurious. These rooms are beautifully designed, and you will find all the usual modern conveniences, including Wi-Fi, television, and air conditioning. Each room is also complimented with a stunning view of either the blue waters of Spiaggia di Su Cuventeddu or the hills surrounding the seaside town of Nora. The NOHA Lifestyle Hotel also features a large outdoor swimming pool and a fitness center with state-of-the-art equipment. There is a rooftop terrace to drink in the surrounding scenery and a luxury spa with treatments, therapies, and all-day access to a Turkish bath and sauna. As for food and drink, the bar serves a wide range of local dishes and provides a pleasant place for couples to relax and unwind. All considered, NOHA Lifestyle Hotel is a luxurious place to stay and one of the best hotels for couples in south Sardinia.
Things to Do in Pula
Visit the Chiesa di Sant'Efisio di Nora
Chiesa di Sant'Efisio di Nora is a Catholic church located at the beach of Spiaggia di Nora. Situated near the center of Pula, this is also an impressive sight to see in the middle of a rather quiet town. The rich history of Chiesa di Sant'Efisio di Nora is the real attraction and reason why this is one of the best things to do in Pula. The church is closely tied to St Ephisius, the patron saint of Cagliari. Hundreds of years ago, this Roman soldier was beheaded for converting to Christianity. Every year on May 1st, the patron saint is celebrated in Pula, and so the church is just as popular to visit for locals as it is with tourists. In the centuries that have passed, Chiesa di Sant'Efisio di Nora has remained relatively intact. It even stood strong through a great attack by Napoleon and is home to a crypt where St Ephisius was held before his execution. As you can see, the history is deep, and the church is a genuinely fascinating place to visit in Pula.
Visit the Area Archeologica di Nora
Sitting on the edge of a peninsula next to the Gulf of Cagliari, the Area Archeologica di Nora is an archaeological site of great importance in Pula. Needless to say, regarding attractions, this rich history makes a visit to the area one of the most popular things to do in Pula. The Area Archeologica di Nora is also a particularly beautiful region with a variety of landscapes and biodiversity. However, there are archaeological reasons as to why so many visitors and locals visit the area so often. After all, the archaeological evidence here dates way back to the Romans and even the Phoenicians. From mosaics and Roman baths to temples and an enchanting forum, the church is full of surprises. As you might expect, this is among the most cultural activities in Pula, and the Tower of Coltellazzo is especially striking. Indeed, the structure and sight of this attraction are memorable, but in truth, the rich and fascinating history of Chiesa di Sant'Efisio di Nora makes it rather unforgettable.
Play Golf at the Is Molas Golf Club
Sardinia may not be world famous for golf, but the Is Molas Golf Club is undoubtedly one of the most popular things to do in Pula. In fact, the golf course is also one of the most famous in Italy and is by far the most impressive golf course in Sardinia. Featuring immaculate fairways with near-perfect greens, the course is in great shape and often the subject of high praise. That being said, the rough is quite the challenge and ensures that players are always kept on their toes. Overall, the course is beautifully designed and well maintained with stunning vistas everywhere in between. And then there are the facilities, for Is Molas Golf Club also provides everything the golfer could need for eighteen holes. Interestingly, this was also the venue for several famous competitions, including a European Volvo Masters and four Italian Opens. The surroundings on the golf course are a large part of the reason it has become so famous. Featuring a variety of native flora and ocean views, there are few golf courses this scenic. Also, with a pro shop, stunning terrace and it's very own restaurant, Is Molas Golf Club is undoubtedly one of the most sought-after activities in Pula for a good reason.
More Places to Visit Near Pula
Pula Restaurants - Where to Eat
Cucina Machri (Seafood, Vegan)
🏠
53
,
Via Alfonso Lamarmora
,
Pula
,
Sardegna
,
09010
,
Italy
.
📱 Telephone:
+39 070 9209205
When looking for a place to eat in Pula, Cucina Machri seems to tick all the boxes for past guests – not to mention the fact that this is a Michelin Star restaurant. As you may know, Pula is quite a tourist orientated town, so this most often means that the restaurant is frequented by travelers. However, this eatery is just as popular with locals which is mainly due to the sublime variety of food on offer. Cucina Machri features a long lineup of local and Mediterranean dishes. Interestingly, the kitchen is open which can make this feel like the home of a friend. Also, the appearance is bright and cheerful which nurtures an extraordinarily vibrant and warm atmosphere inside. That being said, the restaurant is furnished with air conditioning and comfortable seating while the waiting staff has a reputation for their friendliness. Seafood is the specialty at Cucina Machri, and there are excellent options for vegetarians. However, there are many more highlights in this restaurant in Pula which put it right at the top of the to-do list for many visitors when they reach the town.
Su Furruadroxu (Traditional Sardinian Food)
🏠
11
,
Via XXIV Maggio
,
Pula
,
Sardegna
,
09010
,
Italy
.
📱 Telephone:
+39 070 9246148
Traditional food is favorite for anyone taking a holiday in south Sardinia, and local experiences are highly sought after in this respect. For this reason, Su Furruadroxu is an especially exciting restaurant in Pula which offers up the perfect local experience in a very cozy environment. With this in mind, the design and décor inside Su Furradroxu are somewhat simple. That is to say, it can feel like stepping back in time as opposed to a modern environment you might find elsewhere. Either way, it seems to work, and visitors are always endeared by this appearance. Su Furruadroxi is a favorite restaurant in Pula so booking ahead is usually necessary. At the same time, this is a testament to the sublime food and enjoyable atmosphere. The interior is quite antiquated yet charming in such a way that it feels homely. As for the food, the delicious meats and fresh roasted vegetables make this a particularly popular place to eat in Pula. At the same time, you will still find all the usual local dishes including pasta and pizza and if you need a recommendation, try out the garlic potatoes. On a sunny day or a warm summer evening, there is a beautiful courtyard out back where guests can dine and when it comes to service, the waiting staff is charming, to say the least. As a whole, this is one of the authentic local food experiences and a delightful restaurant in Pula.
Fradis Minoris (Seafood)
🏠
Viale Nora
,
Pula
,
Sardegna
,
09010
,
Italy
.
📱 Telephone:
+39 333 186 4668
Fradis Minoris is an excellent seafood restaurant near Pula with a prime location and an especially impressive reputation for service. Featuring a long lineup of seafood dishes and a view to die for, this is also one of the more popular restaurants in town. In fact, Fradis Minoris is probably the most romantic restaurant you are likely to encounter in this area. While the atmosphere is suitably relaxed, the balcony offers an absolutely spectacular view. Whether you opt for a meal at sunset or a quick stop for lunch, this is also a very inexpensive restaurant in comparison with many other eateries in the same area. Squid and prawns are familiar dishes, but the menu also has a wide variety of other seafood to choose from. And then there are the desserts, for these wonderful creations look like something an artist might create, rather than an incredibly talented chef. Overall, Fradis Minoris is a beautifully designed restaurant with excellent food, stunning views and enough reasons to warrant such an impeccable reputation.
How To Get To Pula
Have you thought about arranging a rental car in Sardinia?
For some great deals, check out our Sardinia Car Hire page!
The nearest airport to Pula is Cagliari Elmas Airport, located at a driving distance of about 40 kilometers north-east of the village. To get to Pula via the fastest route, just head south on the Strada Statale 195 Sulcitana (SS195) after you've left the airport. This road will take you all the way to the village, and the first half of the trip will be a nice drive along the coast. Once you've passed the villages of Sarroch and Villa San Pietro, you're almost there. The total trip shouldn't be longer than 40 minutes.