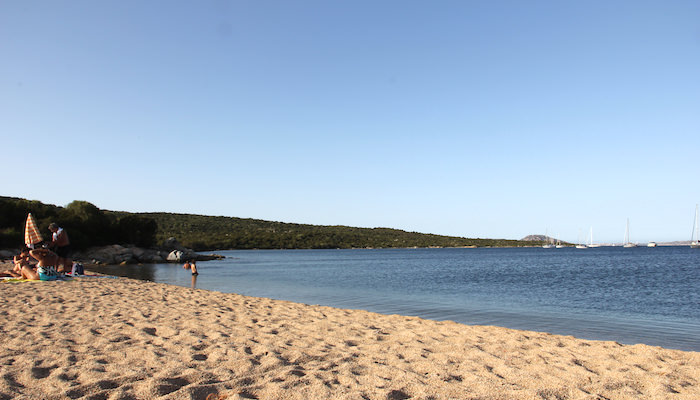 About Spiaggia di Porto Pozzo
near Porto Pozzo, Province of Olbia-Tempio, North Sardinia, Italy.
parking, bar, restaurant.
snorkelling.
20:56 PM
05:56 AM
330 meters.
suitable for families with children.
Porto Pozzo beach (Spiaggia di Porto Pozzo), in the municipality of Santa Teresa di Gallura, lies directly in front of a small village with the same name, and is located roughly 4 kilometers south of La Licciola. It has a length of 330 meters, and the beach faces north-east, offering views of a small harbour to the north. The area around Porto Pozzo is marked by evergreen shrubs and small trees, characteristic of Mediterranean coastal regions. To the east, the beach is bounded by the peninsula of Coluccia. Porto Pozzo beach offers a parking, several restaurants and bars and there is a campground nearby. As its waters are quie shallow, it is an ideal beach for families with small children.
Places to Stay near Spiaggia di Porto Pozzo
Hotel Frassetto
A 3 star Hotel near Spiaggia di Porto Pozzo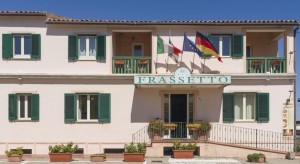 Hotel Frassetto is a three-star hotel in Porto Pozzo that is ideal for couples looking for a romantic hideaway for a holiday in north Sardinia. Regarding location, this small family-run hotel is eleven kilometers away from Santa Teresa and Palau. Built in 1964 in a small fishing village, Hotel Frassetto is also just a two-minute walk away from the beach and some truly spectacular scenery. With a pleasant atmosphere and personalized services from the friendly staff, Hotel Frassetto is like a home away from home. The rooms are very comfortable and furnished with modern amenities, such as satellite TV and an air conditioning system. Other facilities in the rooms are a fridge, safe, telephone, and hairdryer. All rooms have private bathrooms with shower featuring beautiful parquet floors. Some rooms also come with their own balcony that opens to the magnificent views of the sea. Delicious breakfast meals are served at the hotel's spacious outdoor terrace, allowing guests to enjoy sumptuous breakfast surrounded by the gorgeous nature views. Right across the hotel is the Sea Ray Coffee, which is also run by the owners of the hotel. The cafe serves a wide variety of lunch specialties, including salads and sandwiches. They also sell homemade desserts, such as apple pies, muffins, and chocolate, depending on the availability of local ingredients. Their bread is freshly baked from the nearby San Pasquale bakery. You can have your food delivered at your hotel room or enjoy it within the comfort of the cafe's cozy atmosphere.
Villa Nicoletta
A 3 star Bed and Breakfast near Spiaggia di Porto Pozzo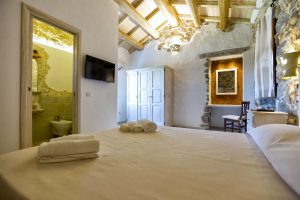 Villa Nicoletta is a nicely decorated B&B and an ideal small hotel for couples in Porto Pozzo. This B&B was a renovated structure from a building that dates back to 1800. Located in the municipality of Santa Teresa di Gallura in Porto Pozzo, this building is set in a four-hectare private property. Boasting a spacious veranda where guests can have breakfast every morning, Villa Nicoletta is indeed a relaxing place to stay for your holiday in north Sardinia. You can enjoy a cup of tea at the veranda while gazing out to the sea. The rooms are all fitted with a private bathroom and shower, and furnished with modern amenities, such as Wi-Fi, an air conditioning system, minibar, safe and satellite TV. Free toiletries are also provided. Decorated in a true Sardinian style, some rooms open up to a beautiful view of the garden and the sea. With its strategic location, Villa Nicoletta is just a few minutes away from the beautiful beaches of Porto Pozzo. It's located in a village that's surrounded by natural fjords, numerous restaurants, local markets, and a marina. In fact, the beautiful marine park of La Maddalena can be easily accessed from this place by boat. The port town of Porto-Vecchio is only 45 km away from the hotel and Olbia is 50 km away. If you're arriving at the Olbia Costa Smeralda Airport, the hotel is only less than an hour drive away. For those who are taking their rental car, they can take advantage of the free parking within the property.
How To Get To Spiaggia di Porto Pozzo
To reach Porto Pozzo beach by car, take the road for approximately 18 kilometers from Santa Teresa to Palau, then just follow the signs for the village of Porto Pozzo. Once you've reached Porto Pozzo, turn in the direction of the harbor and continue straight to the car parking.
Map
Use the Google and Booking map below to explore the area.
Fill in your holiday dates to get an accurate view of available accommodations near Spiaggia di Porto Pozzo.
Beaches Near Spiaggia di Porto Pozzo