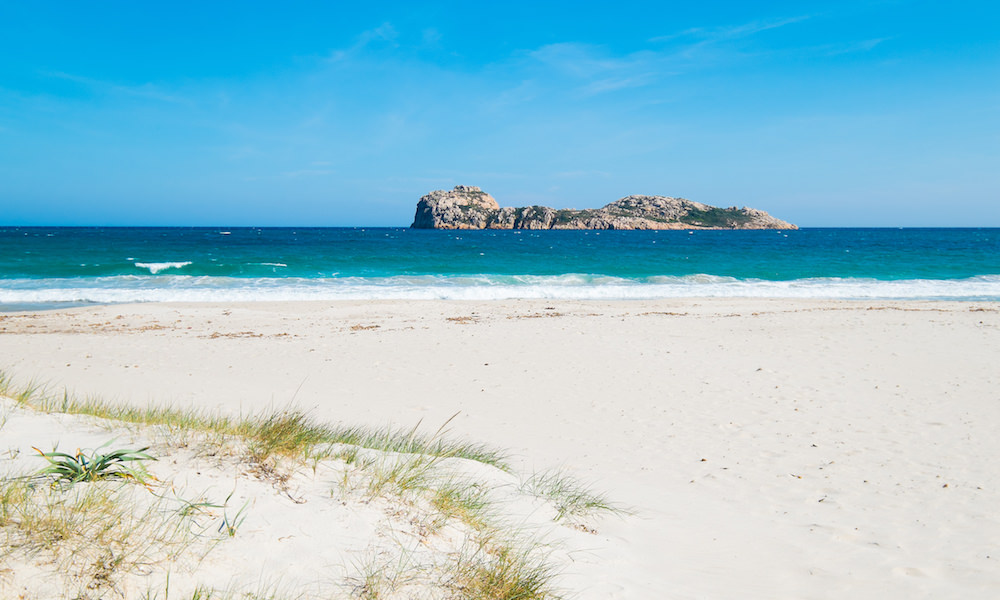 About Teulada
On the edge of the breathtaking Costa del Sud lies the charming village of Teulada, in the south-western part of Sardinia. The landscape of this area lies mostly untouched, giving Teulada a distinctly wild and natural feel to it. In addition to the stunning natural beauty of this place, tradition is still strongly a part of life in this small Sardinian village, with festivals, parades and major religious events occurring year round. It is not uncommon to see men walking Teulada's narrow streets wearing their traditional dress or women practicing their famous embroidery craft outside small shops.
Things To Do in Teulada
Gutturu Mannu Forest
For those wanting a break from the beach, head north to Gutturu Mannu Forest for beautiful, unadulterated forest nestled in between two impressive mountains. The hundreds of plants that call this forest home give a striking display of their colors, while several hiking trails allow you to explore the forest in serenity.
Porto Budello
Porto Budello is the oldest port in Teulada and offers visitors the chance to dive into Sardinia's history as well as explore more of the island's stunning coastline. Typical fishermen's boats line the harbor as Budello tower looms overhead. Tourists can hike the coastal path to the port and, to explore even more of the area, can even rent boats once they arrive.
Area Archeologica di Nora
In the nearby village of Nora lies a beautiful open-air museum which allows visitors to explore Sardinia's extensive history. Explore Roman, Punic and Phoenician ruins as well as intricate mosaics and a Roman theater. The stunning ocean views and nearby sandy beach make this a pleasant day out from Teulada.
Where to Stay in Teulada
S'Acqua Sassa Resort
A 3 star Resort with 14 rooms, 4.12 kilometers from Spiaggia di Porto Tramatzu (about 2.56 miles.)
In the unspoiled hills of Teulada, just a few kilometers north-east of Spiaggia di Porto Tramatzu, you'll find the three star S'Acqua Sassa Resort. This unique family-friendly resort includes independent accommodations grouped around a piazza and is surrounded by lovely flower gardens and olive trees. All 14 rooms are decorated in a traditional southern Sardinian style and feature a private garden and a patio. A large outdoor pool will keep you cool throughout the summer. The Ziri Ziri restaurant serves Mediterranean and International cuisine à la carte and is open daily. The S'Acqua Sassa Resort is an excellent location for those who want to travel along the entire coastline and discover all the splendid beaches of South Sardinia.
Hotel Belvedere
A 3 star Hotel with 20 rooms, 5.82 kilometers from Spiaggia di Porto Tramatzu (about 3.61 miles.)
From the beach of Porto Tramatzu, head north-east for about 11 kilometers, and you'll find the three-star Hotel Belvedere. Set on a hilltop covered with juniper trees, Hotel Belvedere features panoramic views of the Tyrrhenian Sea and is surrounded by the wild nature of South Sardinia. It's located only three kilometers from the centre of Teulada. All double and single rooms are air conditioned and have a patio or a terrace, and have been furnished in a traditional southern Sardinian country style. The restaurant serves traditional Sardinian dishes for dinner, and there's a pizzeria with an outside patio and an ice cream parlour. Hotel Belvedere is family-friendly, and features a seasonal outdoor pool with sundeck.
Best Time to Travel
The most popular time to travel to the Costa del Sud region is within the months of June and July. Teulada and its nearby villages are teeming with life at these times, and advanced planning when it comes to accommodations and activities is necessary. Although August is typically more subdued than the previous summer months, a host of local events tends to draw crowds. There is the celebration of the feast day of Sant'Isidoro, the Patron Saint of Farmers, where villagers from all around the island, dressed in their traditional costumes, parade a statue of the saint around the town's streets. Also in August, and not to be missed, is the Bread and Cheese Festival where the women of the village spend days preparing the bread and cheeses and eager visitors wait for a taste.
How To Get To Teulada
Out of Sardinia's three major airports – Olbio, Cagliaria, and Alghero, Cagliaria serves the southern part of the island and is the closest and most convenient for getting to Teulada. A little over one hour's drive from the airport, follow Via Ottone Bacaredda and Via Sidney Sonnino to Viale Cristoforo Colombo. From there, continue to Capoterra for about 20 kilometers. At the roundabout, take the second exit to stay on Strada Statale 195 Sulcitana towards Teulada. You should arrive in the area within an hour!
Teulada Map
Beaches Near Teulada