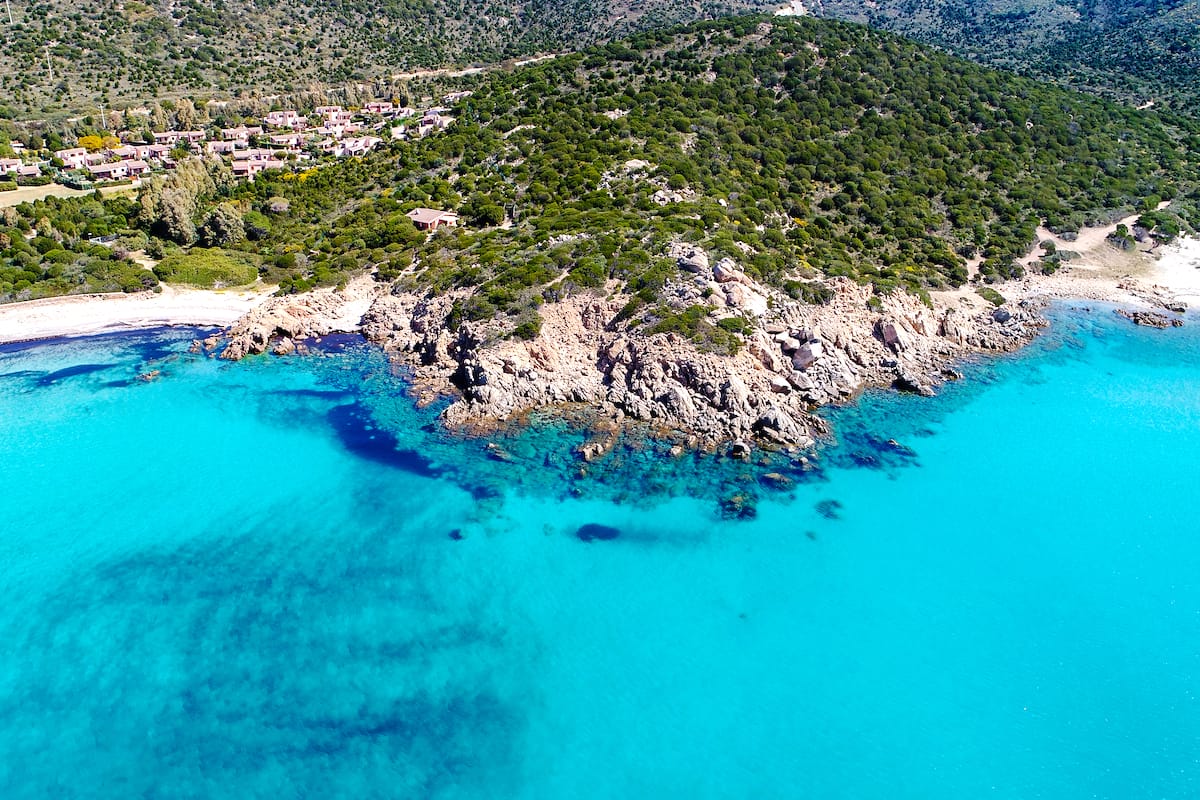 About Teulada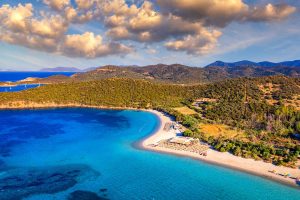 On the edge of the breathtaking coastal stretch of Costa del Sud, you'll find the charming village of Teulada, in south Sardinia. The landscape of this area lies mostly untouched, giving Teulada a distinctly wild and natural feel. In addition to the stunning natural beauty of this place, tradition is still strongly a part of life in this small Sardinian village, with festivals, parades and major religious events occurring year round. It is not uncommon to see men walking Teulada's narrow streets wearing their traditional dress or women practicing their famous embroidery craft outside small shops. The most popular time to travel to the Costa del Sud region is within the months of June and July. Teulada and its nearby villages are teeming with life at these times, and advanced planning when it comes to accommodations and activities is necessary. Although August is typically more subdued than the previous summer months, a host of local events tends to draw crowds. There is the celebration of the feast day of Sant'Isidoro, the Patron Saint of Farmers, where villagers from all around the island, dressed in their traditional costumes, parade a statue of the saint around the town's streets. Also in August, and not to be missed, is the Bread and Cheese Festival where the women of the village spend days preparing the bread and cheeses and eager visitors wait for a taste.
Teulada Map
✔ Use the Google and Booking map below to explore the area.
✔ Fill in your holiday dates to get an accurate view of available accommodations near Teulada.
Where to Stay in Teulada - Our Top Picks
S'Acqua Sassa Resort
A 4 star Resort in Teulada, 2.6 kilometers from the center of town (about 1.6 miles.)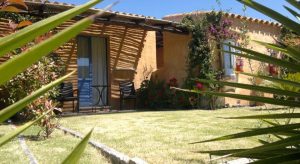 In the unspoiled hills of Teulada, just a few kilometers north-east of Spiaggia di Porto Tramatzu, you'll find the three star S'Acqua Sassa Resort. This unique family-friendly resort includes independent accommodations grouped around a piazza and is surrounded by lovely flower gardens and olive trees. All 14 rooms are decorated in a traditional southern Sardinian style and feature a private garden and a patio. A large outdoor pool will keep you cool throughout the summer. The Ziri Ziri restaurant serves Mediterranean and International cuisine à la carte and is open daily. The S'Acqua Sassa Resort is an excellent location for those who want to travel along the entire coastline and discover all the splendid beaches of South Sardinia.
Hotel Belvedere
A 3 star Hotel in Teulada, 2.5 kilometers from the center of town (about 1.6 miles.)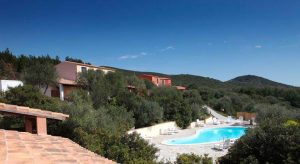 From the beach of Porto Tramatzu, head north-east for about 11 kilometers, and you'll find the three-star Hotel Belvedere. Set on a hilltop covered with juniper trees, Hotel Belvedere features panoramic views of the Tyrrhenian Sea and is surrounded by the wild nature of South Sardinia. It's located only three kilometers from the centre of Teulada. All double and single rooms are air conditioned and have a patio or a terrace, and have been furnished in a traditional southern Sardinian country style. The restaurant serves traditional Sardinian dishes for dinner, and there's a pizzeria with an outside patio and an ice cream parlour. Hotel Belvedere is family-friendly, and features a seasonal outdoor pool with sundeck.
Things to Do in Teulada
Group Boat Tour from Chia to Teulada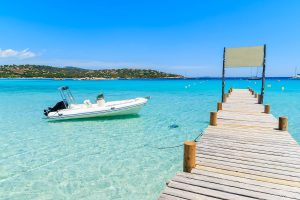 Taking a boat tour of the southern coast and hidden inlets is one of the best things to do near Teulada. This boat tour makes several stops which allow passengers to snorkel, explore and relax on the white sandy beaches. For instance, there is a stop at a small cove called Cala Cipolla in mid-morning, which features stunning views of the Capo Spartivento Lighthouse. The water in this cove is exceptionally calm and clear and a haven for wildlife. You will find colorful fish and coral as you snorkel but then also flamingos, cormorants, and colonies of seagulls above the water. Meanwhile, the dunes and lush juniper trees at Cala Zafferano and Cape Teulada showcase the variety of landscapes along the southern coast. You will also have a tour guide on this trip which will help explain the history, features, and stories behind the landscapes. With this in mind, taking a boat tour is not only a fun thing to do in Teulada but also a way to gain a new perspective on the southern coast of Sardinia.
Group Boat Tour from Chia to Cala Zafferano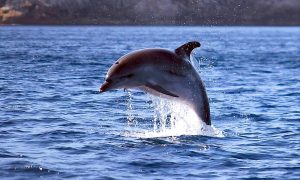 This guided boat tour from Chia to Cala Zafferano is another perfect way to experience the southern coast. You can witness the many aquatic birds such as cormorants and seagulls which inhabit the area and maybe even some more exotic marine life, including dolphins, along the way. This part of the coast is known as a haven for sea turtles which lay their eggs in the many quiet coves. Passengers have time to explore these coves on foot and swim in the pristine waters at Porto Scudo, Perdalonga, and Capo Malfatano. The seabed is just as fascinating as exploring the coral and colorful marine life while snorkeling. This group tour is also guided, which means you will have a knowledgeable guide to describe every aspect of the coastline along the way. You can also learn about the history of the villages and stories which helped shape the landscapes. Overall, this boat tour to Cala Zafferano is one of the best things to do in Teulada and not to be missed!
Day Tour of Ancient Tombs and Sites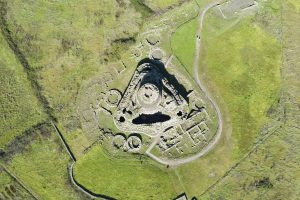 Have you ever wanted to know more about the history of Sardinia? This full-day tour takes in ancient tombs and sites that showcase the stories behind the landscapes of south Sardinia. You will travel the same roads as the Romans and Carthaginians on this trip from Chia to Teulada. The first prehistoric necropolis consists of two areas which include ancient graves and over 40 different tombs. Some of these tombs contain important Neolithic symbols and often represent a passage to the "Otherworldly." Pottery, tools, and other ancient relics are also available to view, and then there's the giant Tomb which strikes a truly awe-inspiring sight. Tracing back to 730 B.C., the nuraghe also illustrate the region's incredible history and a reason why the culture in Sardinia is so deep and complex. Aside from visiting these tombs and ancient landmarks, you will have the opportunity to enjoy a typical Sardinian meal. Your tour guide will also be there with you every step of the way to explain everything you see, hear and encounter. Are you ready to experience a new perspective of Sardinia?
More Places to Visit Near Teulada
How To Get To Teulada
Have you thought about arranging a rental car in Sardinia?
For some great deals, check out our Sardinia Car Hire page!
Of Sardinia's three major airports – Olbio, Cagliaria, and Alghero, Cagliaria serves the southern part of the island and is the closest and most convenient for getting to Teulada. A little over one hour's drive from the airport, follow Via Ottone Bacaredda and Via Sidney Sonnino to Viale Cristoforo Colombo. From there, continue to Capoterra for about 20 kilometers. At the roundabout, take the second exit to stay on Strada Statale 195 Sulcitana towards Teulada. You should arrive in the area within an hour!