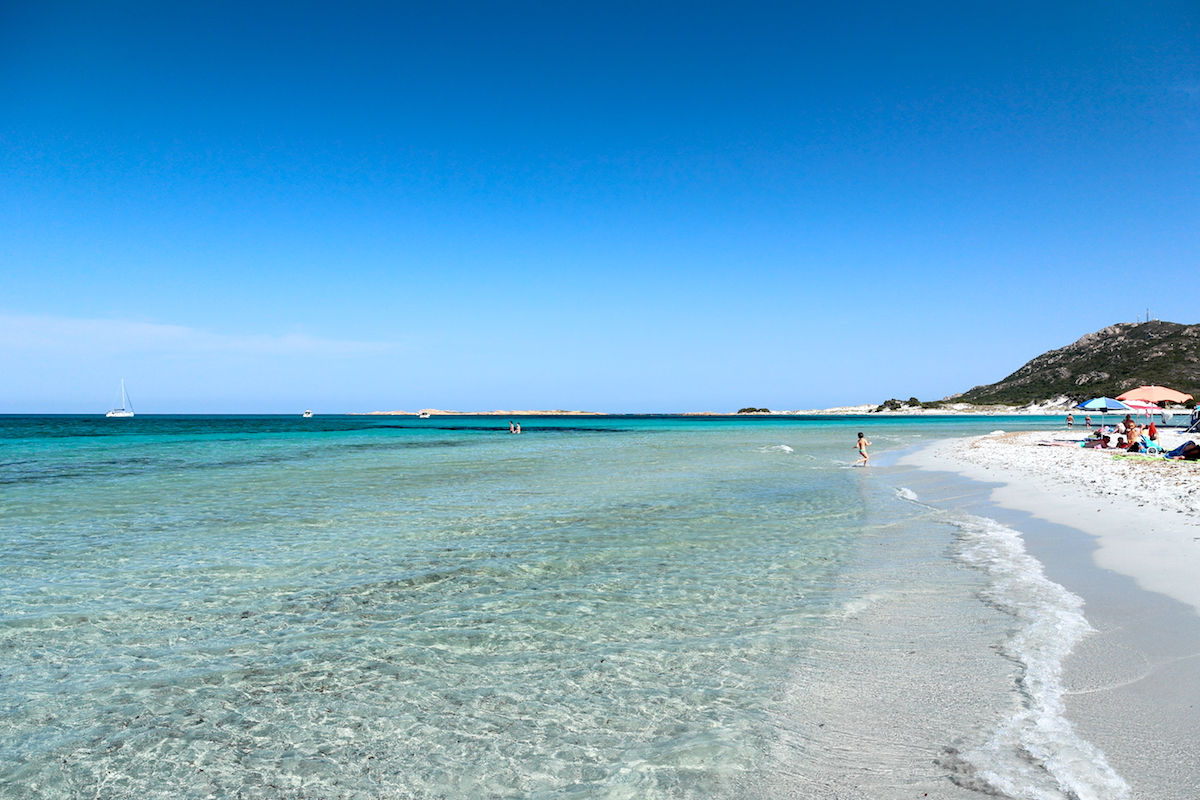 About Spiaggia di Capo Comino
From Orosei, head north on the Strada Statale 125 Orientale Sarda for about 25 kilometers, and you'll get to explore the beach of Capo Comino (Spiaggia di Capo Comino). It's another Sardinian gem that certainly deserves a top spot on the list of beaches to visit during your holiday in east Sardinia. Located near the small seaside village of S'Ena e Sa Chitta, the beach is about 2500 meters long, making it one of the most extended stretches of fine sand you'll find in this area. Capo Comino faces north-east, offering beautiful views of the deep blue Tyrrhenian Sea and the small island of Isola Rossa located on the south side of the beach. What makes Capo Comino quite a unique area is what lies behind the beach. On the north side, a small pond where herons and pink flamingos come to rest serves as a backdrop. The middle of the beach is a lot wider, up to 400 meters! That's where you'll find white dunes covered with junipers and other Mediterranean flora. They make Capo Comino such an enjoyable place to spend the day. Unroll your towels there, if you're in search of some shade. The south side of the beach is also characterized by dunes and pine forests, enhanced by a lovely view of Isola Rossa, situated 150 meters off the coast. If you'd like to go snorkeling, your best bet would be to do it near the scattered rocks in the water. This part of the beach is known to be very rich in fish and sea urchins. Spiaggia di Capo Comino is an ideal destination for water sports enthusiasts as well. As the winds here are practically constant, it's also a good spot for windsurfing. Furthermore, the translucent waters and the abundance of marine fauna make it a scuba diver's paradise. You can explore magnificent backdrops and fish of all shapes and colors. A few hundred meters from the beach you can explore the remains of a Roman fleet that was struck by a storm. And then there are the ship Comandante Bafile which was sunk in 1942, and a small French fighter plane which crashed in 1963, all waiting to be explored. If you'd like to stay at Spiaggia di Capo Comino for lunch, do yourself a big favor and head over to the south side of the beach. Here you'll find the highly regarded Il Moletto Ostricheria Grill. They serve delicious varieties of fish from local waters, such as cuttlefish, fregolas, octopus, mussels, shrimps, and sea bass.
How To Get To Spiaggia di Capo Comino
To reach Spiaggia di Capo Comino coming from Siniscola, head towards the southern coast of the municipality, by taking the Strada Statale 125 for about 9 kilometers. Continue past the junction heading towards Saint Lucia, pass the village of S'Ena & Sa Chitta. Once you've reached the village of Capo Comino, turn towards the paved path, turn left after about 700 meters turn left again. Continue north for about 600 meters until you've reached the beach.
Map
Use the Google and Booking map below to explore the area.
Fill in your holiday dates to get an accurate view of available accommodations near Spiaggia di Capo Comino.
Beaches Near Spiaggia di Capo Comino