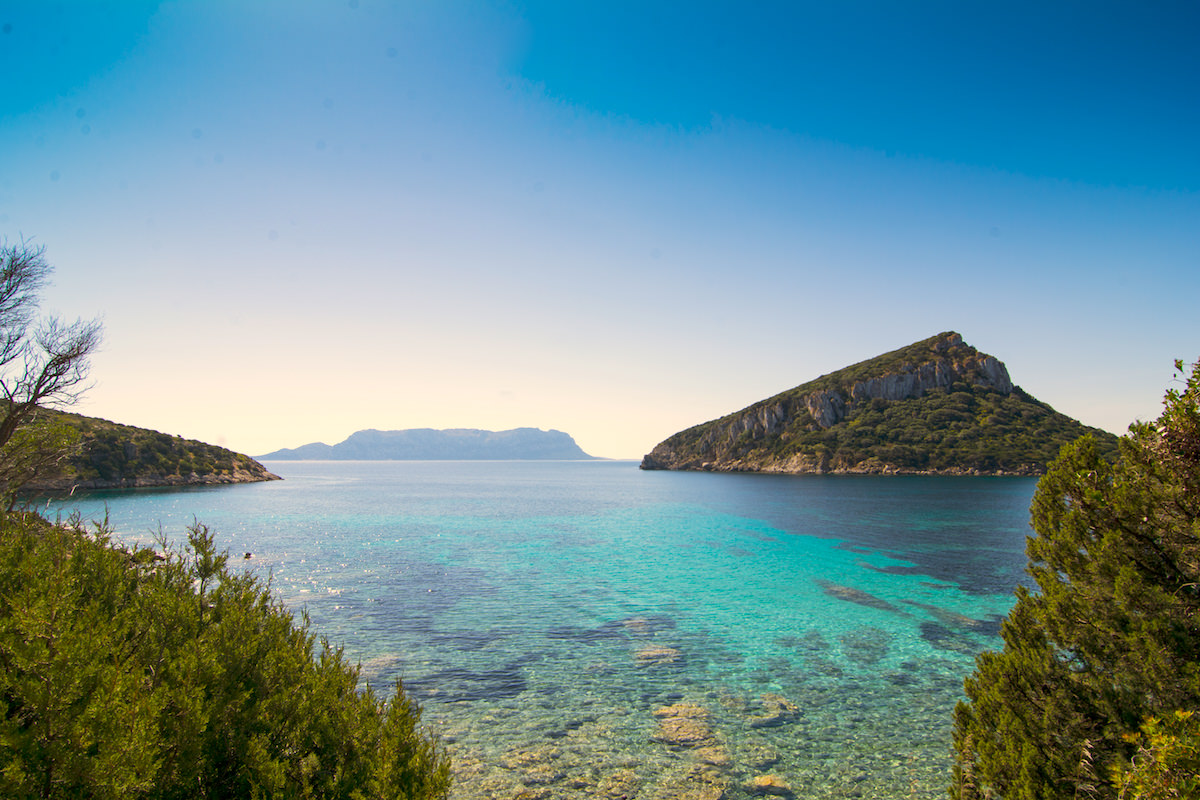 About Golfo Aranci, the Orange Gulf
Just a few kilometers south-east from the most famous and luxurious beach hotels in Costa Smeralda – in Porto Cervo and Porto Rotondo – you'll find Golfo Aranci (The Orange Gulf). Golfo Aranci is a great and much cheaper alternative to experience all the goodness that the north-east of Sardinia has on offer, especially if you're into fishing, scuba diving and spotting dolphins instead of celebrities.
Originally, Golfo Aranci used to be a village of fishermen, but with the rise of popularity of the Costa Smeralda tourism has flourished here too, albeit on a much smaller scale. Originally named Figari – given the abundance of fig trees in this area – Golfo Aranci offers a wide variety of ways to spend your Sardinian vacation: apartments, hotels, and beach resorts in all price ranges are available. Many seafood restaurants and shops offering local products and coral souvenirs are also to be found here. The recently opened "La Dolce Vita" shopping promenade features cozy boutiques.
Getting to Golfo Aranci from Olbia takes a short 18 kilometer drive. The ride is a lifetime experience in itself, as the road leading to Golfo Aranci is very scenic, offering panoramic views of the Gulf of Olbia and its sun-streaked aquamarine waters, with enchanting beaches such as Cala di Sassari, Cala Sabina and Spiaggia Bianca acting as mere teasers to a magnificent Sardinian holiday.
Golfo Aranci Hotels
Hotel Villa Margherita – a Family-run Boutique Hotel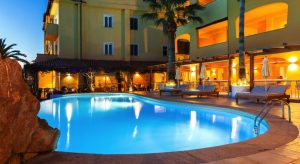 South of Prima Spiaggia, near the port, you'll find Hotel Villa Margherita, one of the nicest four-star Golfo Aranci hotels. It offers 44 well-decorated rooms, all with air conditioning, and remodeled in a typical Sardinian style. Most rooms look out across the bay, with wonderful views of the topaz blue waters of Golfo Aranci and distant mountains. There are a beautiful well-kept garden and a large outdoor swimming pool. Situated near the waterfront, Villa Margherita is a family-run hotel in a boutique style, where guests can enjoy fresh seafood and regional Sardinian specialties at the hotel's excellent restaurant. Just beside the hotel you'll find Prima Spiaggia, with its thin white sand and all kinds of water sports. Other beaches such as Terza Spiaggia and Quarta Spiaggia are just a few minutes away. Several restaurants, shops, bars and a market are nearby as well. Just a few hundred meters south of the hotel on Via Libertà, you'll find restaurant L'Ostrica Ubriaca (The Drunk Oyster), a highly rated seafood restaurant with a fine selection of the best Italian wines along with breathtaking sea views.
Hotel Baia Caddinas – a Beachfront Hotel for Couples and Families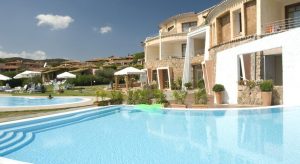 Hotel Baia Caddinas can be found at the family-friendly beach of Spiaggia Baia Caddinas. It is a four-star seaside hotel for both couples and families. This 105-room hotel features 2 outdoor pools and a wide private beach with fine white sand. Rooms, suites, and apartments are built in a typical Sardinian style and come in a variety of choices. At the on-site restaurant, you can enjoy the chef's delicious meals – often based on fresh fish caught daily in the transparent waters of Golfo Aranci.
Hotel Gabbiano Azzurro – Breezy Views and a Private Beach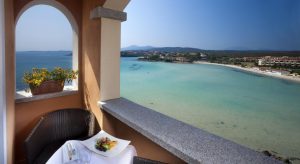 Another fine family-owned hotel can be found on Via Dei Gabbiani. Here you'll find Hotel Gabbiano Azzurro, set on a unique seafront location just steps away from Terza Spiaggia. Also known as The B&B Gabbiano Azzurro, the four-star hotel features two swimming pools and a terrace that overlooks the Tyrrhenian Sea. Rooms are spacious, elegantly decorated and feature a Jacuzzi. Most rooms also feature a balcony with views of the sea and Isola Tavolara, rising tall 12 kilometers to the southeast. At the beach grill restaurant, hotel guests can enjoy fresh fish for lunch. For dinner, the hotel's seafront gourmet restaurant serves a wide variety of delicious menus featuring local dishes. The hotel's private beach is available exclusively to guests and has plenty of sun beds and beach umbrellas. These are free of charge in the shoulder season from April to June, and from September to the end of October.
Hotel Castello – a three-star family-friendly Beachfront Hotel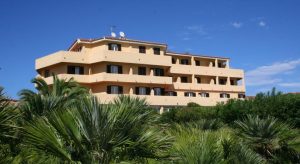 Directly behind the village's third beach, Terza Spiaggia, you'll find the beachfront Hotel Castello. Here, over 40 classically decorated rooms are available. Most offer a private balcony with sweeping views of the sea, the giant Isola Tavolara and Isola Figarolo. Hotel Castello has the largest outdoor pool of Golfo Aranci: it's 24 meters long, located in the hotel's garden (seasonal, open from mid-June until mid-September). The hotel offers a private beach section on Terza Spiaggia, with service on the beach. There's a private parking area on the square in front of the building, large enough for about 15 cars. Children under 2 years old stay free of charge. Hotel Castello's staff is very knowledgeable, you can ask them anything regarding activities in Golfo Aranci such as diving and snorkelling in the protected marine reserve of Tavolara, dolphin watching, and trekking on Capo Figari.
Hotel Baia Aranzos – a four-star Hotel with a Private Beach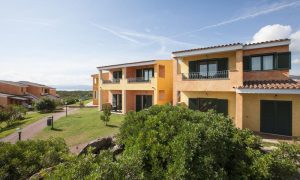 Near Spiaggia di Sos Aranzos, 5 kilometers south of the village you'll find Hotel Baia Aranzos. It is located 400 meters west of the beach. The four-star hotel has its own private beach that can be reached on foot by following a private footpath, or by the hotel's shuttle bus service. The beach features a bar that serves light lunches, showers, beach umbrellas and sun loungers for guests. It also has a diving center where the staff can take you on raft excursions to Capo Figari, Mortorio Island and the Tavolara Marine Protected Area to watch the dolphins.
King's Hotel – a two-star family-run Hotel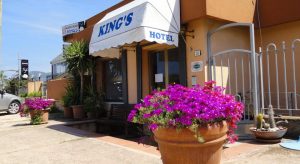 King's Hotel is one of few two-star hotels in Golfo Aranci. The nearest beach is just 270 meters away. It is a small family owned hotel offering modern furnished rooms with TV, air conditioning, mini bar and panoramic views. It may seem largely unassuming at first but at King's Hotel, you can expect a specific focus on the small details which will make a more memorable experience for every visitor. The hotel is suitably located close to idyllic beaches, beautiful nature reserves and other interesting attractions. The hotel is also quiet and secluded which makes it the perfect choice for a weekend getaway or an extended break. Well-equipped and managed with care, this charming hotel in the municipality of Golfo Aranci has ample parking, a fully stocked bar, luscious gardens and the notoriously friendly staff who make every effort to help you experience a genuinely warm atmosphere….it really is a little home away from home.
Hotel Patti – a two-star hotel Near the Port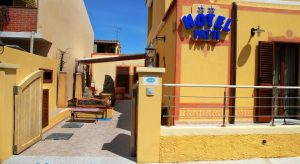 Hotel Patti is also perfectly situated to explore the many beaches and places of interest in Golfo Aranci while still managing to blend seamlessly into a peaceful stretch of Italian coastline. It is located just steps away from the village's first beach. Capo Figari, Cala Greca and Figarolo Island are all within easy reach by car or public transport while the golden sands are just walking distance from the hotel reception. Bright, cheerful and welcoming, this genuinely charming hotel promises remarkable value and friendly staff while the spacious rooms come equipped with many modern facilities including a flat screen TV, air conditioning, free Wi-Fi and complimentary breakfast. When you take time to relax in the leafy gardens of Hotel Patti and experience the warm atmosphere it offers, you will begin to understand why this colourful hotel in Golfo Aranci is consistently chosen by value seeking travellers who return year after year.
Golfo Aranci Apartments
Blue Lagoon Apartments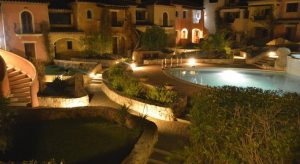 On Via Marconi, right behind Piazza dei Delfini, you'll find The Blue Lagoon apartments. These are built around a garden and a large seasonal outdoor pool. The accommodations are family-friendly, and can accommodate up to 6 persons. The rooms are equipped with a seating area. Some of these apartments come with a nice terrace or a balcony with garden views. They all feature a fully equipped kitchenette. The beach of Golfo Aranci is 400 meters north-west of the apartments. To the south-east you'll find Spiaggia dei Baracconi, Cala Moresca and Cala Greca, a little over 2 kilometers away.
S'Abba e Sa Pedra – Golfo Aranci Apartments with a Seaside Pool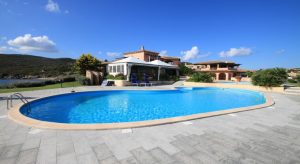 Located in the south of Golfo Aranci, just steps away from Porto di Baia Caddinas and the beach of Baia Caddinas, you'll find the seafront S'Abba e Sa Pedra apartments. All 7 units have been decorated and furnished in a typical Sardinian style, and feature 1 to 3 bedrooms. They can accommodate up to 4 persons. A fully equipped kitchen is available, so self catering is an option (the nearest supermarket is just 1 kilometer to the north-east). The accommodations are built around a large 17 meter seaside pool, just a handful of meters from the sea. From there, you'll certainly enjoy the magnificent views of Capo Figari and the islands of Figarolo and Tavolara.
Appartamenti Perlacea – 5 Apartments near Quinta Spiaggia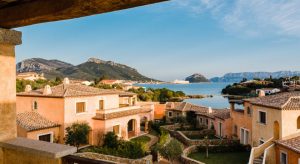 200 meters behind Quinta Spiaggia you'll find the Appartamenti Perlacea. This is a group of 5 apartments that can accommodate up to 5 persons each. They feature either a terrace or patio with stunning views of the sea and the islands. You can choose between 2 and 3 bedroom apartments. All units have a fully equipped kitchenette with fridge. They're a nice choice for those who'd like to cook themselves, the Golfo supermarket is just a few steps behind the apartments on Via Libertà.
Golfo Aranci Events
The Golfo Aranci Music Festival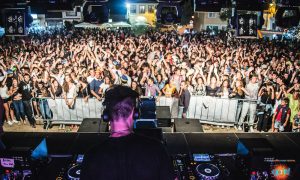 One of the most popular events in Golfo Aranci is the Music Festival. Ever since its introduction in 2014, the Golfo Aranci Music Festival (GAMF) has grown to become a popular summer event in north-east Sardinia. In just a few years, it already has attracted tens of thousands of young visitors. The music festival is usually held on August 10th to the 15th, daily from 22.00 PM to 01.00 AM. The music festival combines music and entertainment, vocalists and performers, special effects and the beautiful scenery of Golfo Aranci. Household names from the international deejay scene such as Robbie Rivera, Benny Benassi, "Little Louie" Vega and Roger Sanchez have already played their tunes on stage at the open-air party.
The Golfo Aranci Fish Festival
One of the most traditional events in Golfo Aranci is the Fish Festival. It is held every year on August 15th and lasts for three days. Traditionally, the event is held to honor the Assumption of the Virgin Mary into Heaven (L'Assunzione Della Maria Vergine al Cielo). Fresh fish caught by local fishermen is fried in the colorful streets. At the end of the Fish Festival, there are a mass and a procession at sea. Local fishermen often provide free boat tours along the harbor and coastline of the seaside village.
The Golfo Aranci Jet Ski Festival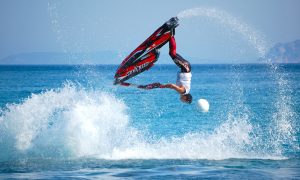 The Golfo Aranci Jet Ski Festival is held every year in June and lasts for three days. It is by far the most spectacular water sports event in Golfo Aranci. The jet ski festival usually takes place in the waters of Prima Spiaggia, Golfo Aranci's 'first beach'. In 2016, the event had its most successful edition ever with over 100 jet ski drivers — attracting a record number of participants from every corner in Italy. Jet ski disciplines are categorized into circuit, offshore, endurance and even radio controlled racing. During the Golfo Aranci Jet Ski Festival, the Paddle Festival takes place as well, a perfect opportunity for excursions to the archipelago and the nearby beaches, either by kayaking or by stand up paddle boarding (SUP).
Things to Do in Golfo Aranci
Go Dolphin Watching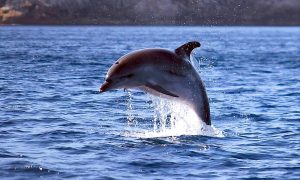 One of the top things to do in Golfo Aranci is to go dolphing watching. The village is one of few places in Sardinia where you can easily do this. Bottlenose dolphins frequently can be found in quite large numbers near the sea bream and sea bass fishing grounds, a few hundred meters off the coast of Figarolo island. To go dolphin watching in Golfo Aranci, you can head over to Spiaggia Baracconi, where you'll likely spot them a few hundred meters off the coast. But you really should go on a boat trip. These are available year-round, weather and sea conditions permitting. You can observe the curious creatures in their natural habitat, boat trips are organized in such fashion that you won't disturb their activities. Swimming with the dolphins is therefore not allowed. Boat trips can be booked at the Centro Immersioni Figarolo, on Via Giovanni da Verrazzano, and at the Alpha Diving Center on Piazzetta dei Pescatori.
Go Scuba Diving
Also popular with visitors are the wide range of water sports, enabling visitors to experience first hand the lovely, warm crystal clear waters of the Golfo Aranci shores. At the Alpha Diving Center there are opportunities to make arrangements for exploring the underwater world of Golfo Aranci. Mare Fun Boat Tours offers various watersport activities to stay active. At this rental agency you can arrange whatever suits you. You do not have to be part of a tour, you can also arrange an activity on your own. At CDS Diving & Marine Services you can arrange all kinds of water sports activities like paddle boarding or canoeing.
Go Mountain Biking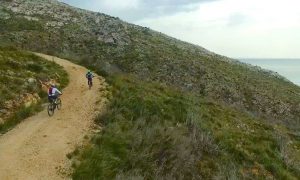 Mountain biking in Golfo Aranci can be done from the village's roundabout. If you head to Cala Sabina, you'll end up on a path that takes you along the coastline from Cala Sabina to the foot of Monte Ruju. Once you're back on the main road, you can choose whether to go back on the asphalt, continue to Monte Ruju or head back to the village. The ride is easy, especially on windless days or with winds coming from the South. The bike ride will take you about 2 hours to complete. The scenery is spectacular! Mountain bikes are available for rent at the Figarolo Diving Center (Centro Immersioni Figarolo) on Via Giovanni da Verrazzano.
Visit Capo Figari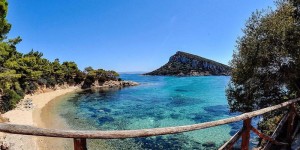 If you'd like to explore the area, one of the things to do in Golfo Aranci is visiting Capo Figari. It has a very nice little beach called Cala Moresca. The surroundings of Capo Figari are great for hiking too, either for the novice or for the experienced. Nature is just beautiful here. If you're up for it, you can climb all the way to the top of the promontory and explore Stazione Radio Guglielmo Marconi, a former naval fortress built in 1890. It is here where Guglielmo Marconi, often credited as the inventor of radio, experimented sending long-distance radio signals in the summer of 1932. It's a 3 kilometer hike. Once you've made it to the 342 meter high summit, the far-reaching views of the islets of Figarolo, Tavolara, and the entire Gulf of Marinella are absolutely priceless. Bring a camera if you can.
Shopping in Golfo Aranci on the New "La Dolce Vita" promenade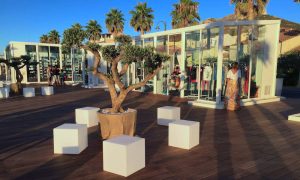 La Dolce Vita is a brand new shopping street that completes the modern and very popular promenade of Golfo Aranci. It was officially opened by Italian topmodel and actress Claudia Galanti in August of 2016. The new promenade remains open until the end of October, daily from 10 AM to 22 PM. The new shopping mall overlooks the sea and features many kiosks where you can buy products from top Italian brands such as La Martina, Kocca, James Goldstein, and Elena and Silvia.
Visit Porto Rotondo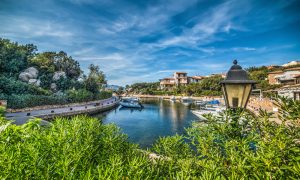 Once you've run out of activities in Golfo Aranci, the village is perfectly located to explore other towns that are scattered along the Emerald Coast. As an example for a short day trip, Porto Rotondo lies just 8 kilometers north-west of the former fishing village. By taking the Strada Provinciale 16/SP16, this shouldn't take you any longer than 20 minutes by car. This tiny port is considered a luxury resort with expensive yachts in the harbor, not to mention the increase in exclusive hotels that crop up in the surrounding area every year. The village is infused with a large number of fine dining restaurants with world class cuisine, charming cafe's serving high quality blends of coffee, a surprisingly vibrant nightlife and prominent historical attractions such as the San Lorenzo Church and a man made amphitheatre.
Hit the Beach!
You'll never run out of things to do in Golf Aranci, as there are 15 beaches to choose from in the direct vicinity of the village. In general, most of these beaches have very similar characteristics: the sand is intensely white and often fine like talcum powder, and they are often accompanied by typical Mediterranean maquis. Several beaches near the town have bars and restaurants nearby. Beach umbrellas, beach chairs and paddle boats are usually available for rent there. Below you'll find an overview of the beaches of the Golfo Aranci area. Don't forget, the names of the first five beaches of Golfo Aranci are very easy to remember – they're named Prima, Secunda, Terza, Quarta and Quinta Spiaggia…
How To Get To Golfo Aranci
The nearest airport to Golfo Aranci is Olbia Costa Smeralda Airport, located about 14 kilometers south-west of the seaside village. To get to your destination via the fastest route by car, first follow the Strada Statale 125 once you've left the airport. After about 7 kilometers, head east on the Strada Provinciale 16. This road will guide you to Baia Caddinas and Golfo Aranci. The total trip shouldn't take you longer than about 25 minutes!
Have you thought about arranging a rental car in Sardinia? For some great deals, check out our Sardinia Car Hire page!
Golfo Aranci Map
Beaches Near Golfo Aranci