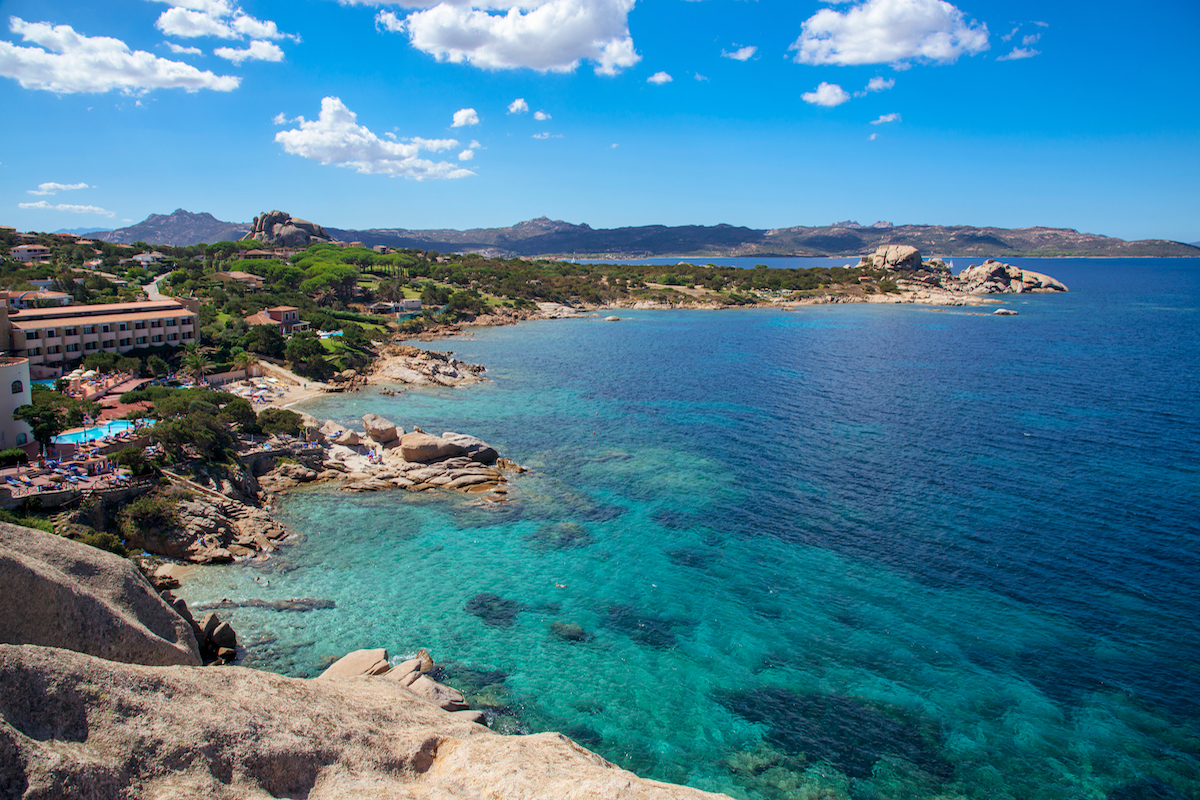 About Baja Sardinia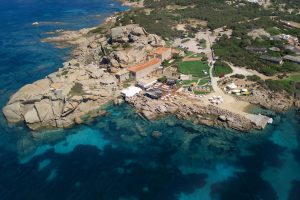 Baja Sardinia is a popular beach resort in the Gulf of Arzachena, located just a few kilometers away from the Costa Smeralda on the north-east coast of Sardinia, Italy. This small resort town is home to mere hundreds of residents. Over the years, the seaside village has grown in popularity, thanks to the development of the Emerald Coast. Baja Sardinia comprises of villa complexes, hotels, and resorts, alongside a handful of restaurants, bars, and boutiques, all arranged in a small square by the beach. The beaches at Baja Sardinia are famous for scuba diving, and thanks to the bay's position, it's a perfect spot for water sports activities such as windsurfing and sailing. There are lots of beautiful beaches near Baja Sardinia, which makes it an ideal beach holiday destination. For instance, Pevero Beach, which is only 6 kilometers away, features a shallow seabed, making it a perfect spot for families with small kids. Another famous beach nearby is Phi beach. Surrounded by bars, clubs, and fancy restaurants, this beach has a lively vibe, ideal for holidaymakers who love to party and socialize while on a beach holiday. Nikki Beach is another nearby beach that's surrounded with outdoor bars and clubs. It's famous for its saltwater swimming pool, and during the day, a crowd of sunbathers can be seen lounging by the picturesque stretch of sand. There are lots of things to see and do in Baja Sardinia. Aside from the scenic beaches, the Costa Smeralda area has a golf club where helicopters and private jet services are on offer for the wealthy holidaymakers. It's also a favorite spot for sailing. In fact, the Sardinia Cup Sailing Regatta is taking place in this area every July. Porto Cervo, which is about 4 kilometers away from Baja Sardinia, is another famous destination in the area. Its central square is lined with shops, restaurants, and luxury hotels. The port of Porto Cervo is one of the best-equipped marinas in the Mediterranean, capable of accommodating up to 700 vessels. Baja Sardinia is also located close to Sardinia's first water park, the Aquadream Water Park. This massive water park is set in a 3-hectare area, featuring plenty of gaming area, water slides, and a spacious relaxation area with plenty of sun loungers. La Maddalena Archipelago National Park is another popular attraction. It's a group of islands that make up a marine-protected park on the northern coast of Sardinia. The area is home a wide array of wildlife species and the park is protected to preserve its creatures and habitats.
Baja Sardinia Map
✔ Use the Google and Booking map below to explore the area.
✔ Fill in your holiday dates to get an accurate view of available accommodations near Baja Sardinia.
Where to Stay in Baja Sardinia - Our Top Picks
Things to Do in Baja Sardinia
Diving in Baja Sardinia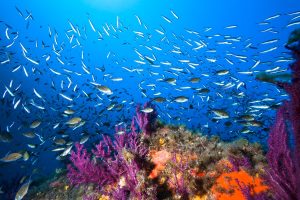 Diving is another one of the more exciting things to do in Baja Sardinia. The Costa Smeralda is famous for having some of the most crystal-clear waters and colorful marine life in the Mediterranean. Featuring two main bases, the Proteus Diving Centre is ideally located on the outskirts of town to service visitors anywhere along the coast, and 4x4 transport is provided for guests who might be staying a little outside of town. The diving itself is the highlight and trips into the Bocche di Bonifacio are popular. In case you might be asking yourself, this refers to a national park next to the La Magdalena Archipelago which is arguably the best dive spot anywhere in Sardinia. As if that's not enough, the Proteus Diving Centre is known for having some of the best boats in the area and facilitates snorkeling and Stand Up Paddle (SUP) trips which are particularly popular with families. It's not uncommon to witness dolphins on these trips, and the Gulf of Arzachena offers stunning sunsets and an opportunity to see a very different and exciting side of Sardinia.
Aquadream Water Park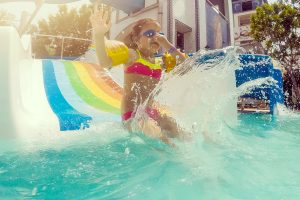 Aquadream really is a dream for families with children and provides the perfect excuse to take time away from the beach. This water park in Baja Sardinia is located close to one of the best beaches of the Emerald Coast which makes it a very convenient option for those who don't want to travel very far. Featuring the Dream Hill, Max 3 and the Kamikaze, Aquadream is equipped with some great slides for young children while the Black Hole and Tricia Twister are the most popular attractions for older children. Although the new Super River slide is also proving a big hit with visitors, the Relax River and Trottola are much more laid-back and can be enjoyed by all ages. Parents and adults will also enjoy this fun-packed day and all considered, this is undoubtedly one the activities in Baja Sardinia for families. When you finish up with the slides, Aquadream also has a mini-golf course and a fantastic snack bar with fast food, sandwiches, and drinks. Although located just outside town, Aquadream consistently receives excellent reviews and is often regarded as one of the best attractions in Baja Sardinia.
More Places to Visit Near Baja Sardinia
Baja Sardinia Restaurants - Where to Eat
Ristorante Corbezzolo (Italian Food)
🏠
Piazzetta della Fontana
,
Baja Sardinia
,
Sardegna
,
07021
,
Italy
.
📱 Telephone:
+39 0789 99893
Corbezzolo is a Michelin-star restaurant in Baja Sardinia known for its excellent service and delicious seafood dishes. The menu of Corbezzolo was explicitly created to satisfy all your senses. The restaurant specializes in Mediterranean cuisine that combines tradition and creativity while working with dedication using fresh local produce. The results are delectable dishes with distinct flavors and fragrances presented with the personal care and touch by Corbezzolo's chef. Located within the property of Hotel Mon Repos, Corbezzolo is set in a splendid villa built during the 1960s and was completely refurbished in 2008. The villa is overlooking the Piazzetta of the Baja Sardinia, just a few steps away from the beach. Diners are served on the terrace that opens to the breathtaking panoramic view of the bay. For those who prefer to dine indoors, there's a newly renovated spacious dining room equipped with an air-conditioning system for your comfort. The dining area is also outfitted with large windows that open to the panoramic views outside. Dedicated to providing guests with a sensory experience, restaurant Corbezzolo is definitely the best place to eat in Baja Sardinia. It is an ideal venue for lunch, dinner, or enjoying cocktails overlooking the magnificent view of the Costa Smeralda bay.
Ristorante La Rocca (Seafood, Traditional Sardinian Food)
🏠
Località Pulicinu
,
Sardegna
,
07021
,
Italy
.
📱 Telephone:
+39 0789 933011
Located at the gates of the Emerald Coast, La Rocca is a top-rated restaurant in Baja Sardinia serving mouth-watering dishes specially created to satisfy your senses. La Rocca's in-house chef Tomaso Fruianu skilfully curated the menu using the best seasonal produce of Sardinia. Relying on the local production of the most excellent quality meat and seafood, dishes are prepared on the spot daily. Lobsters are collected from within the restaurant's own aquarium tanks, and a fresh catch is shown to guests before cooking. You will be serviced by polite staffs who have the utmost dedication in providing excellent service and would be happy to advise you on the best dishes on the menu while guiding you through your choice of local and international wines. You'll be presented with a wide selection of dishes suitable for any diet, such as gluten-free meals, from appetizers to desserts. Some of the dishes on the restaurant's menu are meant for sharing. At Ristorante La Rocca, you will be welcomed into a spacious, elegant, and cozy dining space capable of accommodating a good number of guests. There are also private rooms intended for large banquets with verandas that open to well-manicured Mediterranean gardens. As a family business, La Rocca is committed to providing world-class services to all their guests.
Baja Sardinia Nightlife
Ritual Club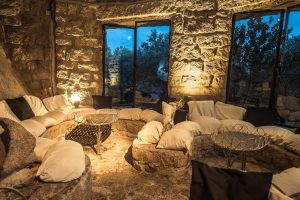 Few nightclubs offer an experience like the Ritual Club which is undoubtedly one of the best things to do in Baja Sardinia after dark. Standing tall on a hilltop next to the town, the sight of this old castle is enough reason to feel excited, and the interior is nothing short of spectacular. The Ritual Club is actually a work of art, and every part of the room is arranged by the stars. While the natural appearance of the architecture is incredibly unique, this interior is indeed the highlight and the reason for the popularity of the club. On the other hand, the Ritual nightclub has been around since the 1970s and has established itself as a cultural attraction in Baja Sardinia. Although somewhat trendy and classy at times, tourists are always quick to have a night out at the club. The club hosts various events throughout the year with many international figures invited to entertain the crowd inside this mysterious and enchanting cave.
How To Get To Baja Sardinia
Have you thought about arranging a rental car in Sardinia?
For some great deals, check out our Sardinia Car Hire page!
The nearest airport is Olbia Costa Smeralda Airport. To get to Baja Sardinia by car, head north on the Strada Statale 125 in the direction of Arzachena. After about 23 kilometers, leave the SS125 and continue on the Strada Provinciale 59bis in the direction of Baja Sardinia and Poltu Quatu. There's also a ferry port in Olbia that connects the ports of Livorno, Genoa, and Civitavecchia on mainland Italy's west coast. If you plan on visiting the nearby areas of Baja Sardinia, it would be best to rent a car so you can conveniently drive to the nearby beaches and attractions.
Beaches Near Baja Sardinia