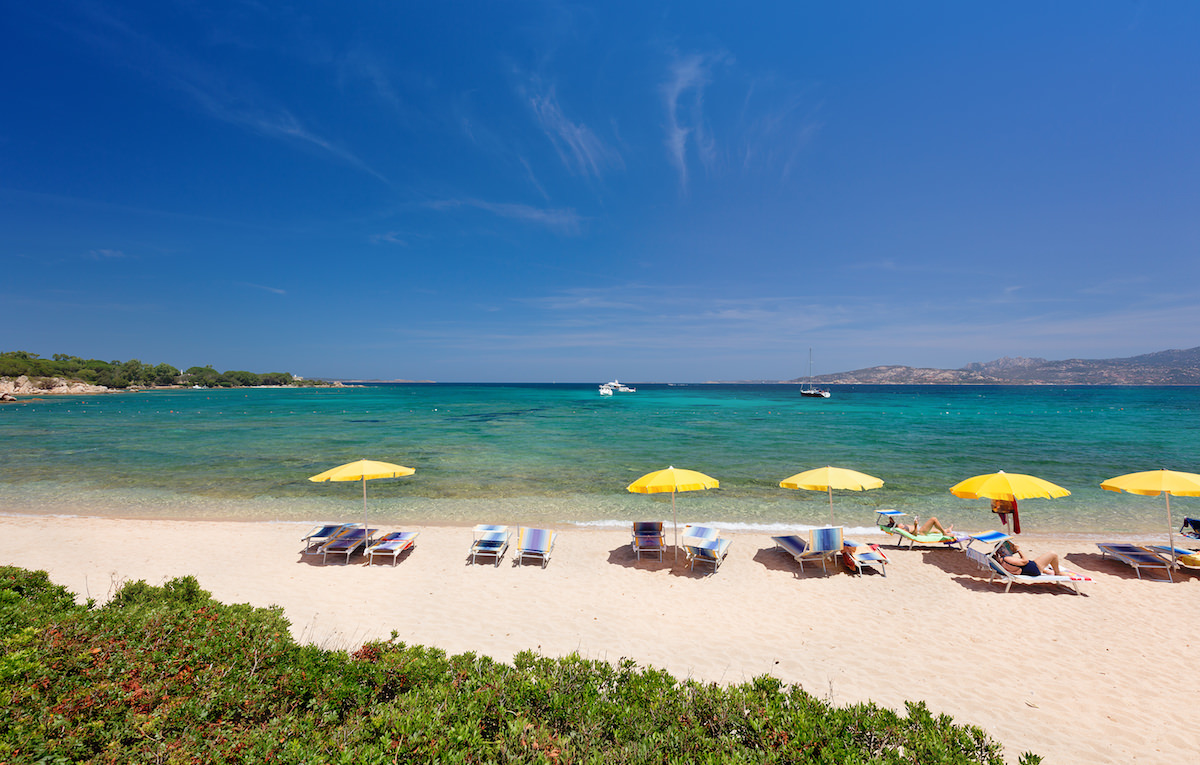 About Spiaggia Mannena
near Cannigione, Province of Olbia-Tempio, North-East Sardinia, Italy.
beach chairs, umbrellas, bar.
snorkelling.
17:50 PM
08:34 AM
300 meters.
suitable for families with children.
You'll find Spiaggia Mannena north of Barca Bruciata. It is located 4.5 kilometers north of the small village of Cannigione, Arzachena. The beach has a length of a few hundred meters and faces south-east, featuring views of Baja Sardinia. Waters are quite shallow here at the beginning, and this beach never gets too crowded. It's usually quieter here than at Tanca Manna. Spiaggia Mannena is a nice beach for those seeking relaxation, its waters are wonderful and crystal clear. There are a few scattered rocks in the water, making this a nice spot for some snorkelling. Sun beds and umbrellas can be rented at reasonable prices. Access to Mannena is easy: there's a car parking area 200 meters west of the beach. There are 2 paths that lead to the beach from the parking area.
Bellissima spiaggia e bellissimo mare!
Places to Stay near Spiaggia Mannena
Hotel Li Finistreddi
A 4 star Boutique Hotel 4 kilometers from Spiaggia Mannena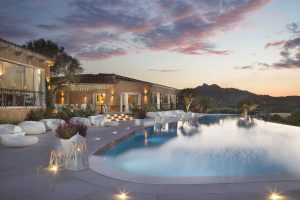 Hotel Li Finistreddi is a charming hotel which features an outdoor pool, which opens up to the breathtaking views of the La Maddalena archipelago. Sitting on top of a hill and just a few kilometers from the beautiful seaside town of Cannigione, as you might expect, the location is often the recipient of excellent feedback. As mentioned above, the spacious pool is sublime and a great alternative to the beach. For it is also here, where you can relax, sunbath or unwind with stunning sunrise views across the Mediterranean coast. For comfort and convenience, the pool is surrounded by sun beds and a lounge area, and there is also a poolside dining option available, a great way to enjoy a sumptuous meal. Meanwhile, to make your stay even more relaxing, the hotel has an in-house spa center, which offers an excellent variety of relaxing massage and body treatments. This treatment center is also equipped with a sauna, shower, and other spa amenities. As for the rooms, the hotel has many options suitable for all types of travelers. There is a Double Room, which has a private entrance coming in from the garden, while the Garden Suite is designed to give guests an added touch of luxury during their stay. Each room features a private patio with outdoor furniture where you can have an al fresco dining experience with an unparalleled view of the sea. And then there is the Deluxe Pool Suite which is a very spacious room with a private plunge pool and garden patio with even more magnificent views. All of these rooms are fully equipped with a flat-screen TV, private bathroom, Wi-Fi and other modern amenities for a more comfortable stay. Lastly, the hotel restaurant, Osteria Gourmet, never fails to impress visitors. In fact, TripAdvisor has awarded this restaurant with a Certificate of Excellence in light of the incredible reviews it receives. The menu comprises of sumptuous local and International dishes made from organic produce and from the freshest ingredients hand-picked from the local growers in the island. Furthermore, for those who want to take part in some outdoor activities, there is a tennis court on the hotel grounds and bike rental facilities to help you explore the local area.
Hotel Stelle Marine
A 4 star Hotel 0.5 kilometers from Spiaggia Mannena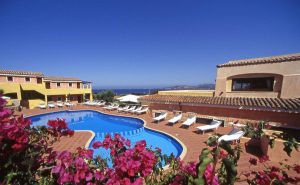 Hotel Stelle Marine is a few minutes walk from the stunning beaches of Cannigione and a short driving distance to Olbia Costa Smeralda Airport. Featuring a Mediterranean style, this beautiful villa complex is also close to the port village of Palau and Tanca Manna, a vibrant beach renowned for being particularly scenic. Interestingly, The spacious swimming pool at Hotel Stelle Marine is set in a beautiful rock landscape and offers various amenities, such as a poolside lounge with umbrellas. As already mentioned, if you prefer an escape to the beach, you can walk to these sandy stretched and take advantage of the sun loungers, which are free of charge to hotel guests. At the same time, the hotel is equally as enjoyable and has an impressive sun terrace which opens up to the magnificent views. Meanwhile, the charming garden features a bar, where guests can enjoy a sumptuous meal, and perhaps a glass of local wine or beer. As with most hotels in Cannigione, the accommodation is equipped with modern amenities and a Wi-Fi connection. For families and group stays, there is a playground and table tennis in the basement for children and also another swimming pool. All in all, the hotel has more than seventy rooms which cater to all circumstances and budget including the Standard, Superior, and Family rooms, as well as Suites. The spacious beach inspired rooms have windows that open up to the breathtaking views of the sea, while others are equipped with a terrace or balcony. Either way, every room has a private en-suite bathrooms, and for your convenience, there are also many free toiletries, fresh towels, and a hairdryer. Finally, you can expect a fully stocked mini refrigerator, telephone, and a flat-screen TV with satellite channels. When morning comes, free breakfasts are served at the panoramic restaurant in Hotel Stelle Marine which serves some of the most mouthwatering Mediterranean dishes along with a full range of variety of International and regional cuisines.
Hotel Relais Villa Del Golfo And Spa
A 4 star Boutique Hotel 3.1 kilometers from Spiaggia Mannena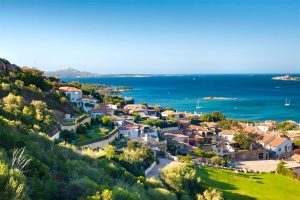 Featuring Mediterranean style architecture with a touch of tradition, Hotel Relais Villa Del Golfo and Spa offers a serene and harmonious environment for a relaxing stay in Cannigione. This boutique hotel is just a three-minute walk from the beach, while Olbia Costa Smeralda Airport is a short and scenic drive away. With a focus on comfort and relaxation, the hotel seeks to impress with a wonderful spa, the Harmony Wellness Center, which offers a wide range of spa treatments. Furthermore, it is here you will find a hot tub and a sauna for all guests to enjoy. As for food, the hotel's restaurant, Miraluna, serves the most delectable dishes made from fresh ingredients which are locally produced on the island. You can also expect a hearty breakfast each morning, and it is possible to have this delivered to the terrace or balcony of your room. Each room in the hotel features modern amenities including a flat-screen TV with satellite channels and a reliable Wi-Fi connection. There is an opportunity to upgrade to a luxury suite which offers a romantic nest equipped with a private garden and pool overlooking fantastic sea views. While staying at this hotel in Cannigione, you are also guaranteed a wide range of things to do. Aside from the fact that the beaches are just five minutes away, there are also entertainment facilities available within the hotel. In this regard, you can play pool, join a day tour and even rent a bike, car or sailing yacht. Providing capacity for up to ten persons, these yachts are skippered and offer a further compliment to staying at this beautiful Cannigione hotel.
Moma Boutique Hotel
A 4 star Boutique Hotel 5.9 kilometers from Spiaggia Mannena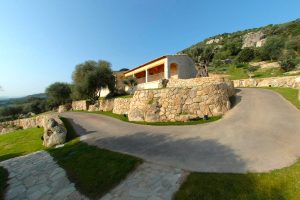 Located in the midst of the Sardinian hills and right next to the stunning beaches of the Costa Smeralda, the four-star Moma Boutique Hotel is one of the most charming small luxury hotels in the area of Cannigione. The location of the hotel is almost symbolic of the experience at Moma, for the quaint rooms and very natural interior are a resemblance of the scenery outside. The small luxury hotel is situated within a few steps of some stunning beaches which make this an ideal location for those who wanted to get out and explore. At the same time, this is the perfect place to enjoy every aspect of a typical Sardinian landscape with the ocean, providing a breathtaking backdrop to the mountains. As for the rooms, each one is accompanied by a slightly different view and every modern convenience you might expect in a hotel of this standard. That is to say; beds are luxurious while the furnishings are quite elegant in spite of their simplistic nature. Featuring beautifully tiled bathrooms and ample space, these rooms are one of the highlights of the hotel, and some of the rooms also feature a balcony with unrivaled views of the Gulf of Arzachena. The Moma boutique hotel is also home to an excellent restaurant which offers a wide range of traditional dishes and Mediterranean cuisine. Pizza is most popular at the Mastro restaurant which also provides a wide range of local wines and liquor. All considered this is a very charming boutique hotel in Cannigione which has a considerable reputation in spite of its small size. In fact, Moma has just ten rooms for visitors but then size is rarely vital in Sardinia!
Sandalia Boutique Hotel - Adults Only
A 4 star Boutique Hotel 4.5 kilometers from Spiaggia Mannena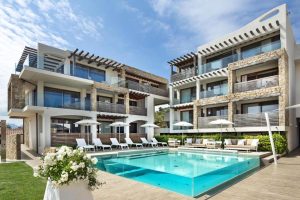 The Sandalia Boutique Hotel is a new adults-only hotel in Cannigione. Located in a stunning natural setting 700 meters from Marina di Cannigione, the hotel is accompanied by nearby golden beaches of the Costa Smeralda, hilltop vineyards, and incredible ocean views. You will find a stylish yet traditional approach in terms of the interior and state-of-the-art facilities, including a gym, a modern outdoor swimming pool, and a spa with a wide range of treatments. In the 27 rooms, the colors are bright, and the decor is luxurious throughout. As mentioned, this interior features a mix of modern and traditional furnishings, emphasizing comfort. Each room has air conditioning, Wi-Fi, a mini-bar and satellite television, and other conveniences. Overall, you couldn't ask for more, as these rooms tick all the boxes with style, comfort, and practicality. Although relatively small, the Sandalia Boutique Hotel, owned by the Blu Hotel brand, has many facilities. The restaurant features a Mediterranean-themed menu with seafood and local Sardinian options. All ingredients are freshly sourced, and the dining area and friendly staff make this a pleasant place to enjoy an evening meal. The gym is also well-equipped, and the Spa treatment center offers guests a full range of therapies and treatments. In short, the adults-only Sandalia Boutique Hotel strikes the perfect balance between comfort, practicality, and value. Pets are not allowed.
How To Get To Spiaggia Mannena
To reach Spiaggia Mannena from Cannigione, just head in a northern direction on the SP13. After only a few kilometers you'll pass Hotel Stelle Marine on the left and Spiaggia Barca Bruciata on your right side. The parking will be on your right.
Map
Use the Google and Booking map below to explore the area.
Fill in your holiday dates to get an accurate view of available accommodations near Spiaggia Mannena.
Beaches Near Spiaggia Mannena