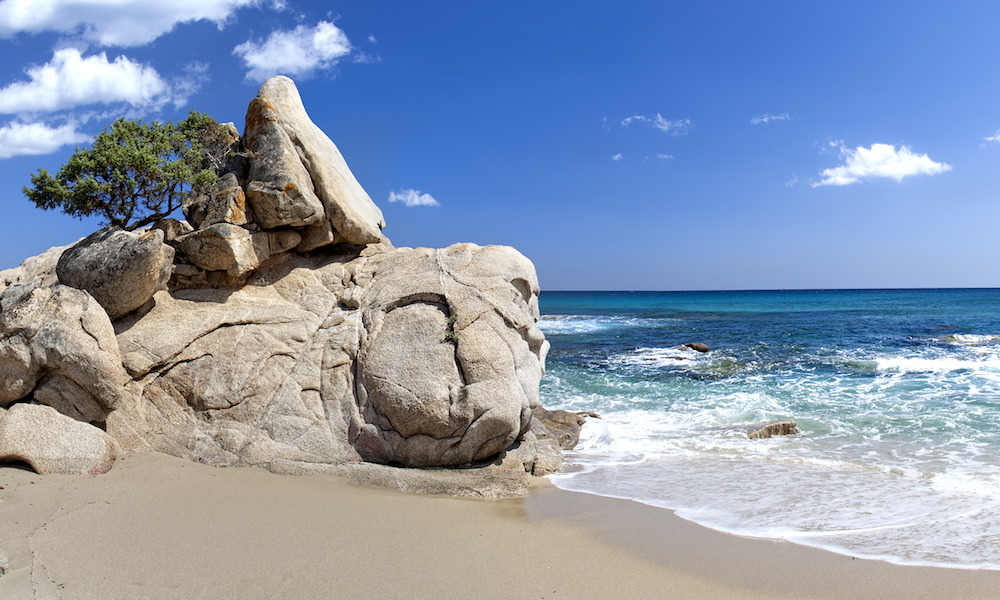 About Spiaggia di Santa Giusta
Drive a few hundred meters north from Sant'Elmo, and you'll discover Santa Giusta beach (Spiaggia di Santa Giusta). It faces east and has a length of about 1100 meters in total. On the north side is where you'll find the famous Scoglio di Peppino (Peppino's Rock), a natural extension of Punta Santa Giusta. This picturesque rock is about 30 meters long, and shaped like a big whale. It can easily be reached from the beach through shallow waters, and it is low and flat enough to walk on. Around the rock you'll spot some natural pools and small inlets.
Spiaggia di Santa Giusta has thin sand, with the presence of small pebbles scattered along its sandy shore. Near the shore, its waters are shallow, making this a nice beach for families with children. It has various facilities such as a large car parking area that's also suitable for campers. In the middle section of the beach, there's a bar/restaurant where lunch can be enjoyed. Sun beds, parasols, and pedal boats are available to rent.
Where to Stay near Spiaggia di Santa Giusta
Hotel Club Santagiusta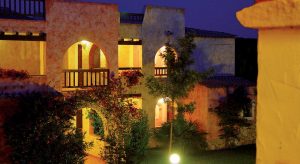 On the north side of Spiaggia di Santa Giusta, just 350 meters behind Scoglio di Peppino, you'll find Hotel Club Santagiusta, a four-star beach resort with typical Mediterranean architecture. This laid-back seaside hotel offers a wide choice of sports and recreational activities, and plenty of things to do for parents, children and teenagers. Activities include horseback riding, canoeing, aqua gym, catamaran sailing, and windsurfing. The resort boasts 6 tennis courts, a volleyball court, and a fresh water swimming pool. Diving excursions in the protected marine area of Capo Carbonara can also be arranged.
Hotel Villas Resort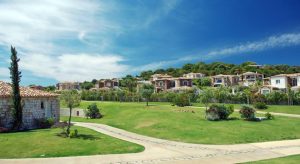 Go a little further inland, and you'll find the four-star Hotel Villas Resort, located 600 meters west of Scoglio di Peppino beach. Nestled in the midst of landscaped gardens, this family-friendly resort offers 73 Mediterranean style rooms, suites, and royal suites, the latter are spacious apartments located in an exclusive and reserved area. The resort features a spa that provides a swimming pool with Jacuzzi, and a Turkish bath. Beauty treatments and massages are provided by a qualified staff. From the June 11th to September 10th, a dedicated area offers an extensive program of cultural and entertaining activities for the younger ones. Adjacent to Scoglio di Peppino beach and reachable on foot, the resort has a private beach exclusively for guests, where a lifeguard is present daily from 8:30 AM till 7:30 PM.
How To Get To Spiaggia di Santa Giusta
From Villasimius, follow the signs to Costa Rei, then take the exit for Castiadas. Continue towards Villa Rei until you'll find a signpost near a curve that will lead you in the direction of Santa Giusta.
Map
Use the Google and Booking map below to explore the area.
Fill in your holiday dates to get an accurate view of available accommodations near Spiaggia di Santa Giusta.
Beaches Near Spiaggia di Santa Giusta