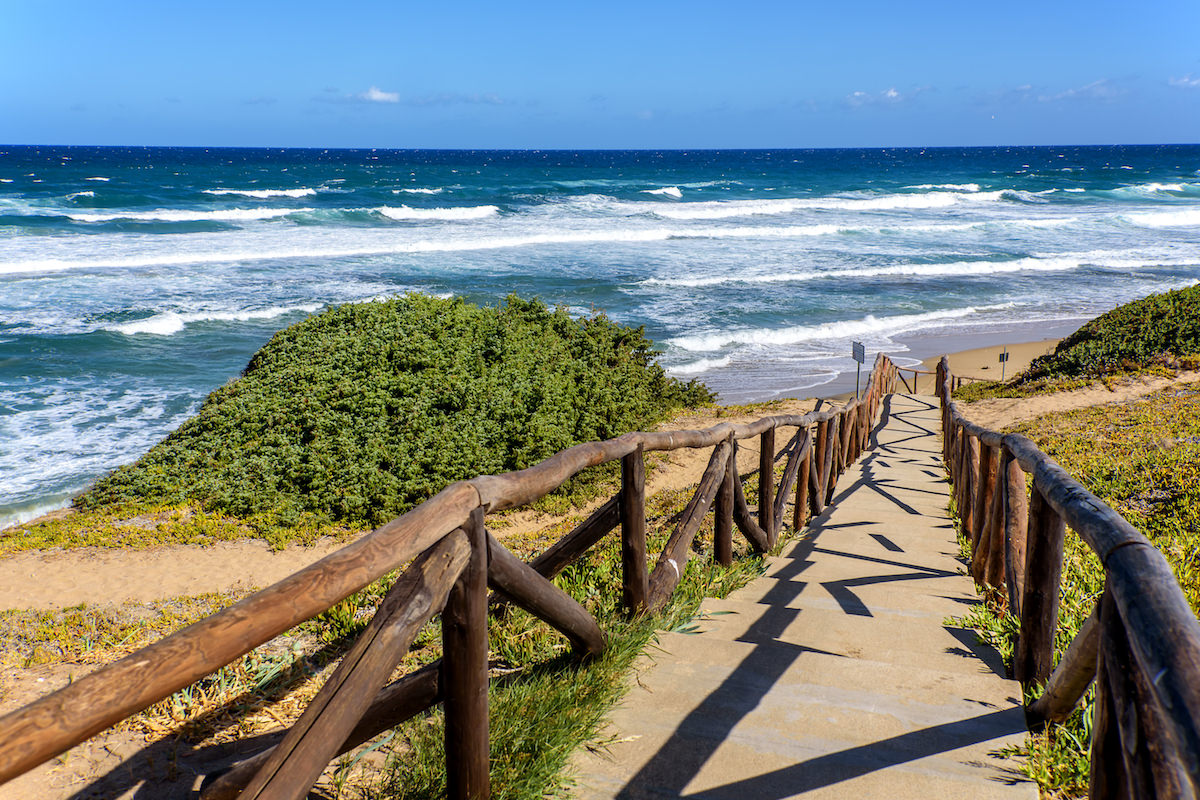 About Spiaggia di Lu Bagnu
near Castelsardo, Province of Sassari, North Sardinia, Italy.
parking, bar, restaurant, wooden pathway.
snorkelling, scuba diving, windsurfing.
17:54 PM
08:36 AM
330 meters.
suitable for families with children.
When it comes to beaches in north Sardinia, there are few stretches as charming as Spiaggia di Lu Bagnu. Located just a short distance south-west of Castelsardo, this idyllic beach may not be the largest in the region with a length of about 330 meters, but visitors seem to prefer the toned down nature and quiet ambiance in the area. At the same time, this is not to say the area is void of activity, for families and young couples are always quick to spend the day here. Featuring ample car parking and easy access, the beach is as popular with locals as it is with tourists. You will find a long paved walkway leading down to the sand and a beautiful headland at one end to accompany the view. In fact, this is often what makes Spiaggia di Lu Bagnu a little different as the view is incredibly beautiful from the shore. Aside from the headland, the bay is quite a calm area with two small landmasses cropping up before the horizon. In this sense, while many visitors love nothing more than to jump in for a swim, just as many enjoy lying back and drinking in the relaxing scenery. Fine sand is also guaranteed, but it must be said that the beach a lot more narrow than most alternatives in the region. You will also find rocks along this stretch, but these are far from the water and have no real impact on the enjoyment of the beach. As for the water, there are many shallow areas which make the conditions suitable for children but either way, these waters are crystal clear and offer a beautiful contrast to the nearby land. Indeed, Spiaggia di Lu Bagnu is easy to reach and more than worth the effort for visitors to this part of Sardinia.
Places to Stay near Spiaggia di Lu Bagnu
Janus Hotel
A 4 star Hotel 1.9 kilometers from Spiaggia di Lu Bagnu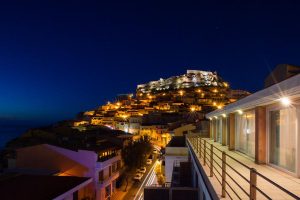 Located in the historic center of Castelsardo, Janus Hotel is a charming 4-star spa hotel that is ideally situated just a few minutes walk from the beach. Some of the town's most famous tourist attractions, such as the Port of Castelsardo, the Sant'Antonio Abate Cathedral, and the Museum of Mediterranean Weaving, are also within walking distance. The hotel has a beautiful outdoor pool and the most magnificent sea views. As a full-service Spa Hotel, you will also find numerous spa amenities which ensure every stay is even more relaxing. Free Wi-Fi is available throughout the property, while the front desk offers bike rental services for guests who prefer to explore the nearby attractions on a bike. Other amenities include private parking, meeting rooms, and an in-house restaurant that serves the most sumptuous meals. With this in mind, the restaurant also features a rooftop terrace perfect for soaking in the beautiful views. As you might expect, breakfast is being served here, although you can also choose to have this brought to your room. As for the sleeping quarters, the rooms at Janus Hotel are spacious and comfortable. There is a total of 26 sound-proofed rooms, with each one equipped with a satellite TV, minibar, and free Wi-Fi. Furthermore, each room is equipped with a private bath, hairdryer, and complimentary toiletries.
Bajaloglia Resort
A 4 star Boutique Hotel 0.8 kilometers from Spiaggia di Lu Bagnu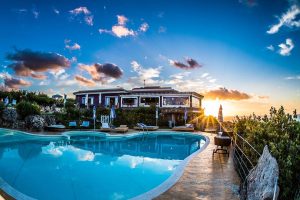 The Bajaloglia Resort is a 4-star boutique hotel next to the beautiful hilltop village. Although the hotel is just a short walk from the nearest beach, there is a free shuttle service to and from Sassari, which makes it very convenient. The Bajaloglia Resort also has a spacious garden where you will find an ample-sized private swimming pool. Surrounded by chairs and sunbeds, this is a great place to take in the spectacular ocean vistas. As for the food, you can avail of Ristorante L'Incantu, the in-house restaurant which receives incredible reviews online. Featuring a wide variety of local and International dishes, the menu is accompanied by a unique wine list that includes some of the finest varieties in the region. You can choose to dine on the open terrace, which opens up to stunning sea views, and interestingly, this area provides unrivaled views of medieval Castelsardo. Every room at the Bajaloglia Resort is nicely infused with a modern design and keen attention to comfort. You can choose from the Classic Room, Superior Room, Junior Suite, Junior Suite Deluxe, and Prime rooms. All rooms are air-conditioned and equipped with a private bathroom and satellite TV, while free Wi-Fi is also available. Some rooms open up to the gorgeous views of the sea, and others have their private terrace or balcony. Either way, this is an exceptional boutique hotel in north Sardinia.
Hotel & Spa Riviera Castelsardo
A 4 star Boutique Hotel 1.8 kilometers from Spiaggia di Lu Bagnu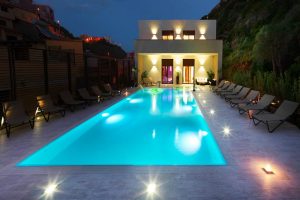 The Hotel & Spa Riviera is a 4-star hotel in Castelsardo situated a short distance from the beautiful Marina Beach. You can reach this stunning stretch of sand through a direct underpass from the hotel. Still, aside from this advantageous location, this hotel's amenities and design are undoubtedly the highlights. Featuring a spacious outdoor pool with stunning outdoor views, the Hotel & Spa Riviera can feel like quite the secret hideaway. In this sense, there is also a private terrace and a sumptuous restaurant on site called the Ristorante Fofò. Although best known for serving a wide range of seafood delicacies such as fresh lobster, you will also find the most mouth-watering Sardinian dishes. As always, you can also have breakfast here in the restaurant or deliver it to the comfort of your room. Every room at the Hotel & SPA Riviera is brightly decorated and equipped with air conditioning and a flat-screen TV with satellite channels. Furthermore, certain rooms are accompanied by magnificent sea views while the private bathrooms are nicely sized and graced with many free toiletries. As mentioned, this is a Spa Hotel, so there are endless options for massage and other unique treatments. In many ways, this is an excellent way to conclude an account of this hotel in Castelsardo; after all, many online reviews suggest that this is one of the most comfortable accommodation options in the area.
Castelsardo Resort Village
A 4 star Resort 4.1 kilometers from Spiaggia di Lu Bagnu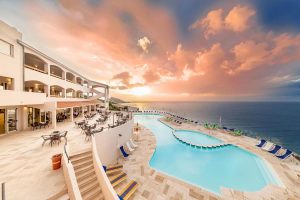 Castelsardo Resort Village is a four-star resort near a stunning beach in north Sardinia. Featuring a bright and spacious design, along with a world-class buffet restaurant, this is also one of the best hotels in Castelsardo. The restaurant features an excellent lineup of traditional dishes, often the subject of online reviews. At the same time, a nearby bar is a perfect place to enjoy a cocktail in the evenings. Regarding facilities, there are plenty of things to do, and the hotel has a swimming pool, tennis court, massage room, and gym. Meanwhile, the rooms are incredibly comfortable and brightly decorated, and modern design never fails to impress. At the same time, the location of Castelsardo Resort Village is arguably the highlight of this hotel, and guests are free to use the sun beds and umbrellas on the private beach nearby. Castelsardo Resort Village is also under new management, and the friendly staff is known for providing the highest level of hospitality and service for their beloved guests.
Map
Use the Google and Booking map below to explore the area.
Fill in your holiday dates to get an accurate view of available accommodations near Spiaggia di Lu Bagnu.
Beaches Near Spiaggia di Lu Bagnu