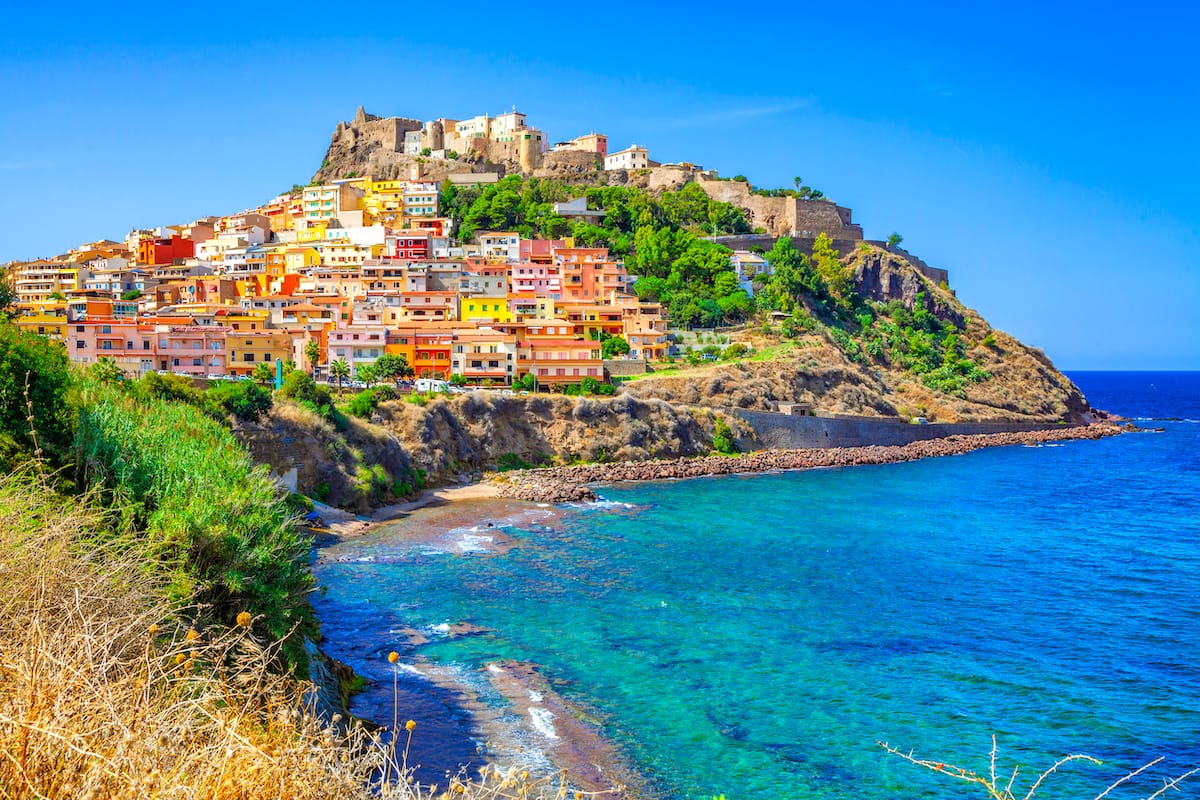 About Castelsardo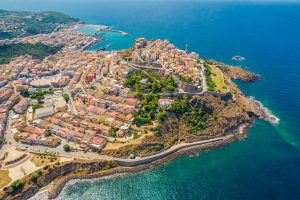 Castelsardo is a picturesque town located just a short distance from Badesi in north Sardinia. This historic town is best known for its ancient castle. Still, there are also beautiful sandy beaches, making this a strategic stopover between west Sardinia and the islands in the east. Two of the best Sardinia boutique hotels can be found right in Castelsardo. Founded by the Genoese Doria family during the 12th century, Castelsardo is quite popular with tourists from around the globe who are always impressed by the magnificent ancient architecture throughout the town. Castles and fortresses were built around the same time as the town's origin, while remnants of several watchtowers add further to the antiquated nature of Castelsardo. This is a wonderful place to explore on foot, featuring many pathways, while the castle, Castello dei Doria, is arguably the main highlight. From this castle, an ancient citadel opens up, and it is here you will find several cafes, restaurants, and charming handicraft shops. Stopping for a coffee in one of the cafés is a nice way to pass the time as elderly women sit in their doorways weaving baskets which will soon join the rather elaborate display of handicrafts in the stores. As you might expect, Castelsardo is considered an important commercial center for craftsmanship and is particularly famed for its basket weaving industry. There is even a museum dedicated to this tradition, the Museo dell'Intreccio Mediterraneo, right at the heart of Castello dei Doria. This is a great place to explore on foot, and the historic lanes are filled with many encounters which offer an insight into how Castelsardo appeared during the 12th century. High up on the periphery of the town, the citadel walls are very impressive, while the nearby citadel is now covered with blocks of colorful houses as the village sprawls into the saddle of land towards the seashore. Another highlight of a visit to this charming town is the local food, for Castelsardo is home to some of the best restaurants which serve a wide variety of local Sardinian cuisine. Some of these also have fascinating locations. For example, if you fancy a trek up the hill, you will find several restaurants open to panoramic views. These fancy restaurants also offer sublime food and a great place to enjoy wine while soaking in the majestic sunset views. As for your accommodation, there is an excellent selection of hotels that can be found next to the sea, and these are ideally located to explore the surrounding area. Aside from the old castles and fortresses, the nearby beaches are worth checking out, such as Lu Bagnu, a lovely small beach within easy reach of most resorts and hotels in Castelsardo. Either way, this is a very charming town in Sardinia and a hidden treasure that offers an ancient and authentic insight into the medieval side of the island.
Castelsardo Map
✔ Use the Google and Booking map below to explore the area.
✔ Fill in your holiday dates to get an accurate view of available accommodations near Castelsardo.
Where to Stay in Castelsardo - Our Top Picks
Things to Do in Castelsardo
More Places to Visit Near Castelsardo
Castelsardo Restaurants - Where to Eat
Il Cormorano (Italian Food, Traditional Sardinian Food)
🏠
7
,
Via Cristoforo Colombo
,
Castelsardo
,
Sardegna
,
07031
,
Italy
.
📱 Telephone:
+39 079 470628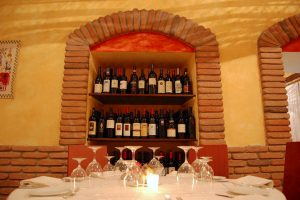 When it comes to heritage and culture, Il Cormorano is one of the most historically significant places to eat in Castelsardo. Featuring a wide range of Italian and Sardinian cuisine, this quaint restaurant is located right next to the main square in Castelsardo. Situated on a rocky outcrop overlooking the sea, the medieval town is typically rustic while this particular restaurant is symbolic of such an authentic appearance. In this regard, you can also expect to enjoy a sumptuous meal with the sound of local chatter passing by the front of the restaurant. Furthermore, the traditional décor in Il Cormorano ensures a warm atmosphere which is often the subject of online reviews. As for the menu, this changes with the season and consists of the finest local produce in every instance. From delicate pesto and pasta to a wide selection of seafood dishes including oysters, sea bass sardines; these excellent arrangements never fail to delight visitors. Lastly, there are also many prestigious Sardinian and Italian wines on offer to accompany this world-class cuisine. While many restaurants in Castelsardo have an impressive reputation, there are few who can claim such a famous chef, for Renato Pinna is one of the most respected on the entire island of Sardinia.
L'Incantu (Seafood)
🏠
Località Bajaloglia
,
Castelsardo
,
Sardegna
,
07031
,
Italy
.
📱 Telephone:
+39 079 474340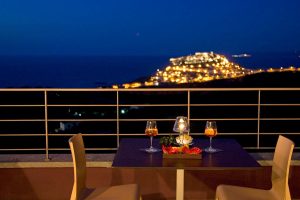 L'Incantu is another of the best places to eat in Castelsardo, and this traditional restaurant is located close to the medieval town. With stunning views and a quiet setting, this is also the perfect place for a romantic meal with excellent wines to add to the occasion. Many visitors are surprised by the interior in L'Incantu with neatly decorated tables featuring sparkling silverware and immense attention to detail. While it may not be the best-known restaurant in Castelsardo, this elegant eatery is the recipient of Michelin awards which is largely due to the excellent menu and talented chefs. As you might expect, the menu consists of many seafood varieties such as oysters, sardines, and salt-crusted sea bass. Furthermore, many customers are impressed with the generous portions of gnocchi, Caprese salad freshly baked bread. Finally, rest assured the extremely friendly staff at L'Incantu makes every effort to provide the most memorable dining experience for every meal. As mentioned, the house wine is popular, and L'Incantu is ideally designed for a romantic meal, but in truth, this stunning restaurant in Castlesardo is suitable for just about any occasion.
Baga Baga (Seafood, Pizza)
🏠
Castelsardo
,
Sardegna
,
07100
,
Italy
.
📱 Telephone:
+39 079 470075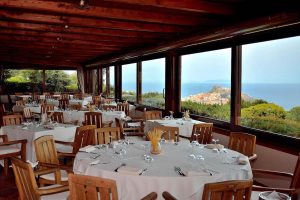 While Hotel Baga Baga is best known for its accommodation, this three-star hotel is also home to one of the most exciting restaurants in Castelsardo. With two separate dining rooms and a particularly impressive veranda, the restaurant features beautiful décor and stunning views. Fresh seafood is common in the town, and Baga Baga restaurant is another excellent example of quality in this regard, for oysters, sea bass, and every other local variety is available. At the same time, there is also a pizzeria at Baga Baga which uses a wood-fired oven to produce incredible results. As you can see, the food is both typically Sardinian and Italian which makes this a popular choice for groups with a preference for seafood alternatives. Located in the center of the medieval town and facing out to the ocean, Baga Baga is renowned for sunset views from the restaurant and hotel rooms. Quality wines, delicious meals, and polite staff are guaranteed at this charming restaurant while the price is also reasonable in comparison with other restaurants in Castelsardo.
How To Get To Castelsardo
Have you thought about arranging a rental car in Sardinia?
For some great deals, check out our Sardinia Car Hire page!
The nearest airport to Castelsardo is Aeroporto di Alghero-Fertilia, at a distance of approximately 65 kilometers. To get to Castelsardo via the fastest route, take the Strada Statale 291 in a north-east direction to Sassari. Once you've reached the area of Sassari, head north on the Strada Provinciale 60 towards Sorso for a few kilometers, then take the Strada Provinciale 48 in the direction of Castelsardo. The trip shouldn't take you longer than one hour.