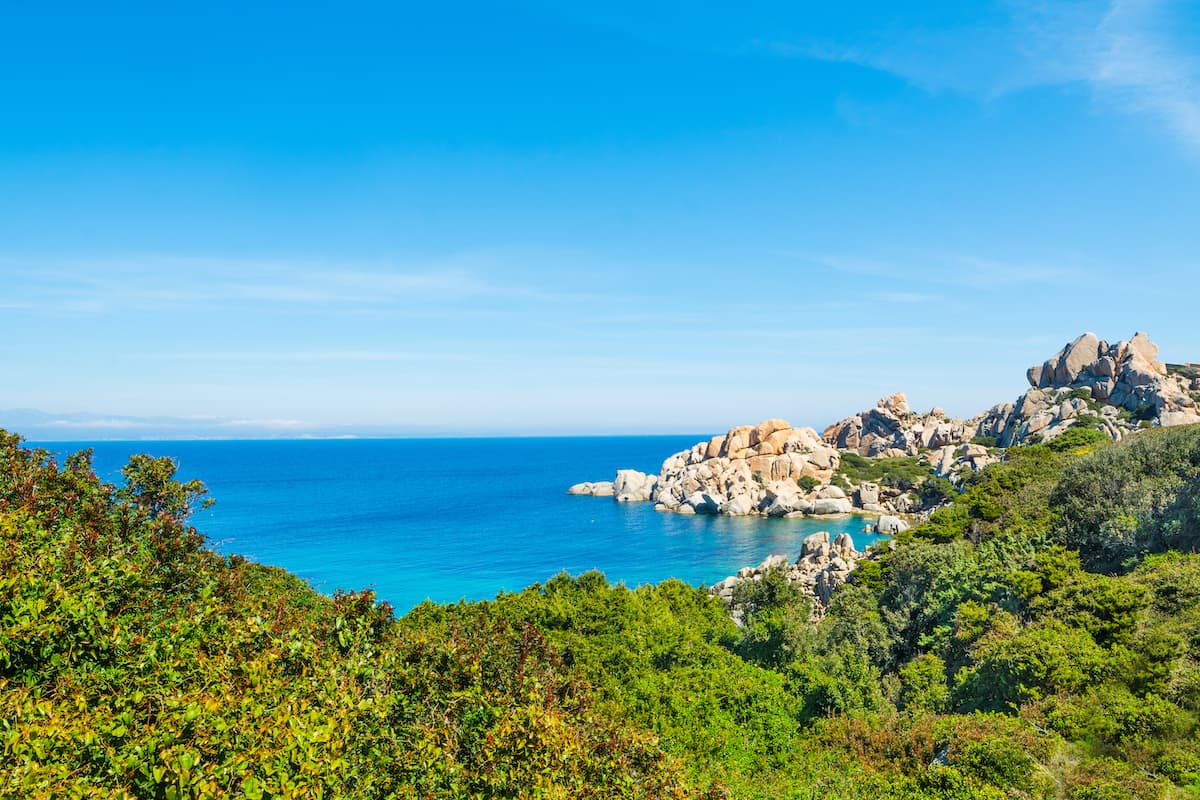 About Capo Testa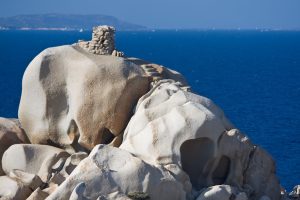 Capo Testa is popular for its breathtaking views and explicit hiking terrain. Atop this glorious holiday destination surrounded by clear and transparent water, Corsica can be recognized with the help of a suitably low shoreline and clear weather. From here, you can also have a clear view of a collection of bizarre rock formations and even the infamous cliffs of Bocche di Bonifacio. It is a beautiful place to walk around, and thankfully, the absolute perfection of the most dramatic scenery of Sardinia remains all the way through spring and even winter time. Although there are few remnants of Roman times, the rugged rock formations and shoreline are a mystifying sight which has firmly placed Capo Testa on the tourist map. Yes, this was once a small mining town where the Romans extracted enormous amounts of granite which would then be used to construct their beloved city of Rome. Interestingly, Capo Testa also served as the main site of an ancient colony of Tibula, and even today, the street guides are still visible on its rocky side. This makes it a wonderful spot for past cultural learning, observation, and appreciation. Located just a few kilometers west of Santa Teresa di Gallura, Capo Testa is the farthest point of Northeastern Sardinia in the province of Olbia- Tempio. Mystifying Capo Testa is surrounded by enchanting coves and thick, low-lying Mediterranean vegetation. However, this spectacular landscape is a highly popular attraction even without its Roman history. With enchanting seascapes, rugged hiking trails and endless natural beauty, Capo Testa is one of the true highlights of a trip to Sardinia which will leave you wanting to explore even more of this stunning island. Below you can read more about some of the highlights, things to do and where to stay.
Capo Testa Map
✔ Use the Google and Booking map below to explore the area.
✔ Fill in your holiday dates to get an accurate view of available accommodations near Capo Testa.
Where to Stay in Capo Testa - Our Top Picks
Things to Do in Capo Testa
Visit Il Faro di Capo Testa Lighthouse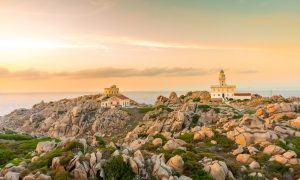 One of the things that make walking around Capo Testa unforgettable, aside from its spectacular nature, is the lighthouse named Il Faro di Capo Testa. The landmark is considered crucial for navigation purpose in North Sardinia and has been active since 1845. Rectangular in shape, the building has two floors and a tower with a glowing lantern above, but it is the antiquated appearance that attracts the attention of tourists and locals alike. Interestingly, it emits three white flashes every twelve seconds and being such an iconic part of the local history; this ancient beauty has proven to be Instagram-worthy in the modern world. Standing tall above the Mediterranean, the beautiful, white facades of the Il Faro di Capo Testa is accompanied by a nearby beach and awe-inspiring views.
Discover the Hidden Secrets of Valle della Luna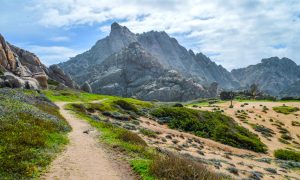 A small yet captivating valley embedded tucked between the rocks of pink and white granite can be found in the western part of the headlands. The entrance is marked by two large stones located near a fresh water spring and to get here, people use a hidden and well-protected road which dates back as far as prehistoric times. Inside the valley are several caves which are the result of erosion over an extended period, while the surrounding valleys are covered in colorful flora including scrub, oak, juniper, arbutus, common myrtle and heather. Although this is a remote region, many people reside in the valley during winter to live in close contact with nature. The natural beauty of Valle Della Luna makes it one of the most popular attractions in the area.
Explore the Grotta La Tana di Lu Maccioni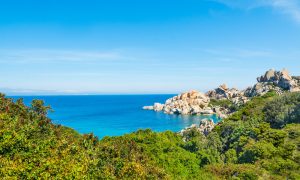 Finding the Grotta La Tana di Lu Maccioni is almost like finding yourself in the deepest and most enthralling part of the world, if not in Sardinia. Located in the municipality of Santa Teresa Gallura, Capo Testa is home to some of the most incredible caves which descend is a directly to the bay of Cala Spinosa. Grotta La Tana di Lu Maccioni Quest has a magical atmosphere, and while the interior is full of intrigue, the surroundings are just as impressive with an almost perfect expanse of luscious greenery which adds to the mystical aura. When you consider the shoreline, beaches, history and iconic landmarks in the region, the caves offer something a little different or more adventurous, for the brave soul arriving in Capo Testa. However, the hidden treasures found in Capo Testa go much further than the above attractions. Find yourself while getting lost in the magic of this undisturbed sanctuary. Enough with just looking at pictures on the internet! See the sights with your very own eyes, because after all, these and the holiday memories you can have while visiting them are definitely for keeps.
More Places to Visit Near Capo Testa
Capo Testa Restaurants - Where to Eat
Ristorante S'Andira (Seafood, Traditional Sardinian Food)
🏠
1
,
Via Orsa Minore
,
Santa Teresa Gallura
,
Sardegna
,
07028
,
Italy
.
📱 Telephone:
+39 0789 754273
Browse the Menu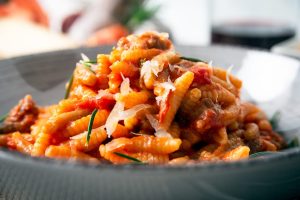 Ristorante S'Andira is overlooking the ocean in one of the most scenic locations in Sardinia, and this is often the first feedback from the many guests who pass through the establishment. That being said, you will find much more in this traditional restaurant than just the view. As you might expect, this charming restaurant in Capo Testa offers many traditional dishes and also a variety of seafood. In fact, the lobster is a particular favorite and often best complimented by a local wine such as the Vermentino di Gallura. Ristorante S'Andira has done an excellent job in this regard with extensive research put into the variety you will now find on the menu which includes a sublime mix of Mediterranean classics infused with local vegetables and herbs. As already mentioned, the beautiful setting of the restaurant is possibly the most striking feature, so while there is indeed friendly staff and a warm atmosphere, you should expect a wonderful encounter for every other reason at Ristorante S'Andira.
Sea Lounge Club Cala Spinosa (Seafood)
🏠
Capo Testa
,
Sardegna
,
07028
,
Italy
.
📱 Telephone:
+39 342 545 0288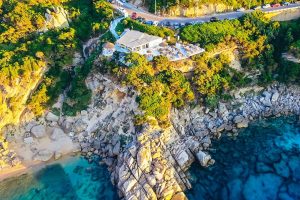 When it comes to online reviews, many guests compliment the wonderful ambiance at Sea Lounge Club Cala Spinosa which is largely attributed to the music and comfortable furnishings in the restaurant. Consisting of an inviting sun terrace and scintillating views, this restaurant in Capo Testa is also the perfect place to enjoy some lunch or even a refreshing drink as the sun goes down. As for the food, a typical Mediterranean style can be found throughout with a wide variety of local dishes and an equally impressive list of wine from which to sample. It is also an excellent place for families and large groups with a menu that feels satisfactory yet not overly sophisticated. From homemade pasta and lobster to fresh salads and exquisite wine, the food is sublime and further enhanced by a rather reasonable price. As mentioned, this is a great place to enjoy lunch on a sunny day or even just a quick drink, but either way, the location of this restaurant at the top of a hill ensures Sea Lounge Club Cala Spinosa is one of the most scenic restaurants on this part of the island.
Ristorante Sporting Santa Reparata (Seafood)
🏠
Santa Reparata
,
Sardegna
,
07028
,
Italy
.
📱 Telephone:
+39 333 793 8114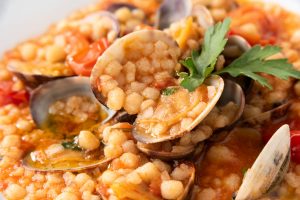 When it comes to seafood, there are few restaurants in Capo Testa which can rival Ristorante Sporting Santa Reparata. While this may be a somewhat lofty claim, it must be known that the restaurant is often the subject of five-star reviews on platforms, such is the incredible assortment of seafood. With this in mind, you can expect an exceptional food experience, and a mouthwatering adventure as the beautiful aromas drift out from the kitchen and across the sun terrace. In this regard, the seafood appetizers are a particular favorite with an excellent selection of linguine with seafood, grilled bream, and delicious soups. And there is indeed no question regarding value, for the menu is very reasonably priced and this is certainly true with the high quality of the food in mind. As with several restaurants in the region, the strategic location ensures that spectacular views are guaranteed with every visit, but overall Ristorante Sporting Santa Reparata is a memorable encounter from start to finish and offers one of the best restaurant experiences in the region.
How To Get To Capo Testa
Have you thought about arranging a rental car in Sardinia?
For some great deals, check out our Sardinia Car Hire page!
To get to the headlands of Capo Testa from Olbia, take the Strada Statale 125 in the direction of Arzachena. Continue in the direction of Palau, then follow the SS133bis to the community of Santa Teresa di Gallura. The drive will take you about one hour and fifteen minutes.