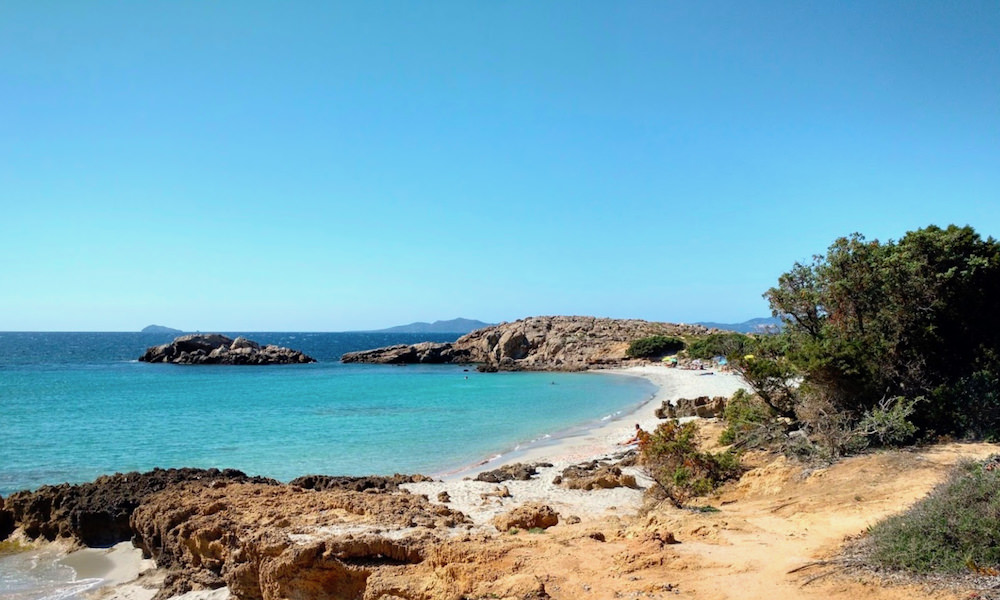 About Spiaggia Portopineddu
Head in a northwesterly direction for about one kilometer from Porto Pino, and you'll discover the cozy beach of Portopineddu (Spiaggia Portopineddu). It has a length of only 125 meters, but don't let its small size fool you; it has a gorgeous lick of white sand and usually remains quiet even during high season. For these reasons, we've added it to our overview of Best Beaches of South Sardinia. Spiaggia Portopineddu faces south, offering blissful views over the sun-streaked waters of Golfo di Palmas and the rugged headlands of Punta Menga. On the right side of the beach, you'll see Punta Sa Bua, a rocky outcrop that provides a nice spot to take some pictures of your holiday in Southern Sardinia. The shallow waters around the rocks offer a few good spots for some light afternoon snorkeling. Spiaggia Portopineddu is backed by a combination of small sand dunes and pine forests, through which a few beachfront villas are scattered. Note that Spiaggia di Porto Pinetto has no facilities, so bring enough snacks and refreshing drinks to get you through the day. You'll also want to bring an umbrella for some shade. Parking areas are scarce; it's best to park your car along the road named Via del Pino d'Aleppo. The beach is easily accessible through a short walk through the pine forest. The sea is deep blue, and the sandy bottom makes the water easily accessible. Spiaggia Portopineddu is suitable for families with children. Highly recommended should you find yourself in the vicinity of Porto Pino and Porto Pinetto!
Places to Stay near Spiaggia Portopineddu
Apartments Casa Vacanze Porto Pino
A 3 star Apartment near Spiaggia Portopineddu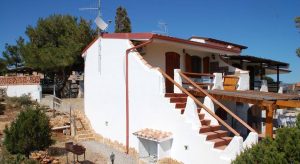 If you'd like to stay near Le Dune beach, there are several accommodations available in the unspoiled fisherman's village of Porto Pino. For example, Apartments Casa Vacanze Porto Pino offers two self-catering apartments with a kitchenette. The garden offers barbecue facilities. The apartments are family-friendly and are air conditioned. A terrace offers great views of sea and is perfect to enjoy your breakfast or dinner. The nearest restaurant and supermarket are less than one kilometers from the premises. The beach of Porto Pino is just a few hundred meters to the south, where you can go swimming, snorkeling and diving.
Villa Casa Dei Lentischi
A 4 star Villa near Spiaggia Portopineddu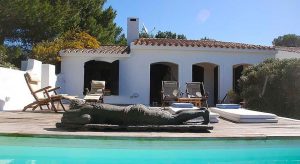 One of the nicest rental villas available in the vicinity of Porto Pino is Villa Casa Dei Lentischi. It is located just 100 meters from Porto Pinetto beach. Surrounded by characteristic Mediterranean Macchia, this family-friendly beachfront villa can accommodate up to ten persons. It features five bedrooms, each with a private bathroom with shower. The villa is perfect for self-catering, the kitchen offers an oven, washing machine, dishwasher and refrigerator. The nearest supermarket can be found in Porto Pino, less than one kilometer south of the villa. The garden offers sea views and has an outdoor pool with sundeck. WiFi and parking are free.
How To Get To Spiaggia Portopineddu
The fastest way to reach Portopineddu Beach by car is by taking the via Strada Statale 293 di Giba from Cagliari. It will be an 82 kilometer drive, which will take about one hour and thirty minutes. Once you have reached the area of Portopineddu, you can park your car near the roads named Via del Pino d'Aleppo. From there, you can walk to the beach for about 120 meters, through the pine forest.
Map
Use the Google and Booking map below to explore the area.
Fill in your holiday dates to get an accurate view of available accommodations near Spiaggia Portopineddu.
Beaches Near Spiaggia Portopineddu