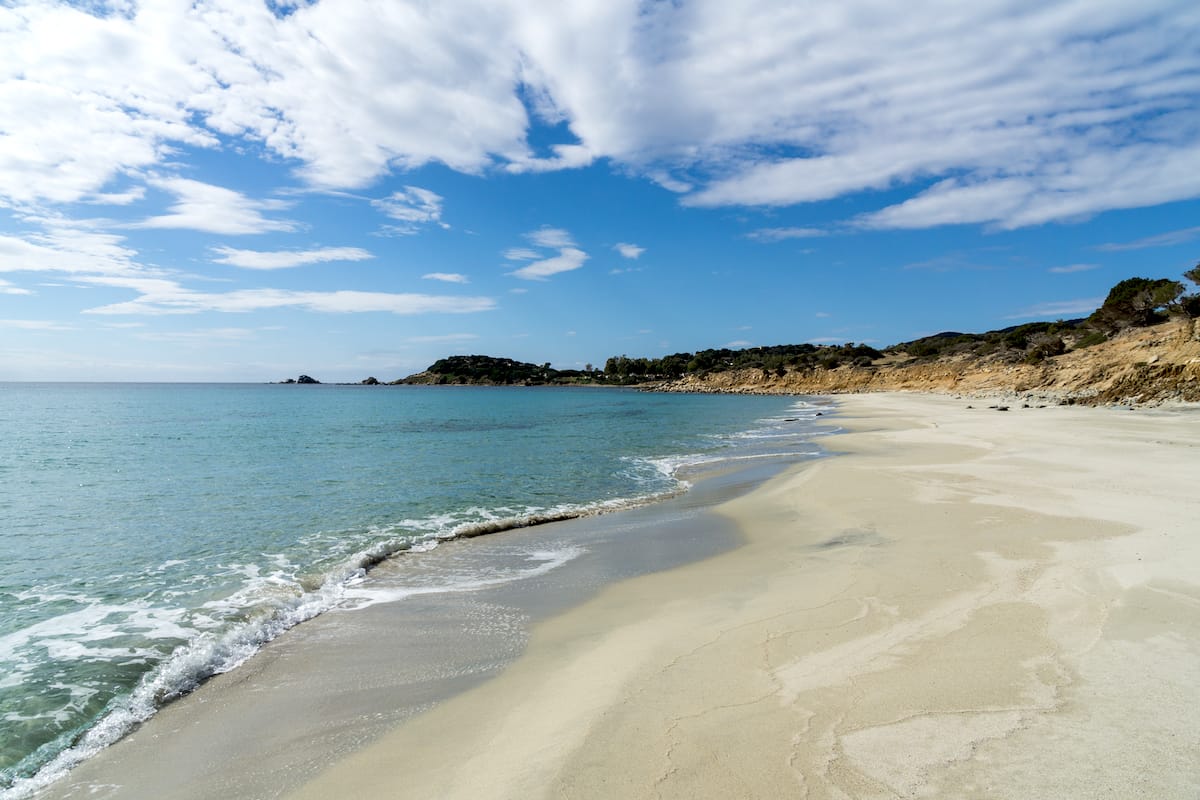 About Spiaggia Is Piscadeddus
near Villasimius, Province of Cagliari, South-East Sardinia, Italy.
parking.
snorkelling.
18:42 PM
08:29 AM
170 meters.
suitable for families with children.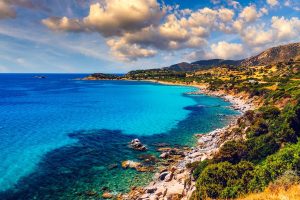 Spiaggia Is Piscadeddus is tucked between the small seaside villages of Porto Sa Ruxi and Villaggio Mandorli, just a few kilometers from Villasimius and Area Naturale Marina Protetta Capo Carbonara. It's easy to reach as it's conveniently located along the Strada Provinciale 17 in the direction of Solanas and Cagliari. At Piscadeddus, Sardinian beach life is good for everyone, including families with kids: a decent length of 170 meters, a mix of rocky and sandy beach, water clear as gin, and a shallow seabed with a gentle slope. During summer, a tiny mobile kiosk usually sells refreshments and sandwiches to get you through the day. Spiaggia Is Piscadeddus is backed by hills covered with Mediterranean maquis and junipers, and the surrounding area is dotted with granite boulders for extra contrast and color. Several species of fish are frequently reported here, so bring snorkeling gear, and you won't be disappointed in the amount of fish that keep you company. As Spiaggia Is Piscadeddus faces south, you'll enjoy spectacular views of the Villasimius headlands and the protected marine area of Capo Carbonara. Note that on the southwest side of the car parking area, there's a footpath leading to Cala Is Piscadeddus, a small rocky cove worth a visit should you feel a bit more adventurous. Wear proper shoes if you're heading in that direction.
As usual, visit this south Sardinian beach early (before 10:30 AM) during the high season to experience some morning solitude.
Places to Stay near Spiaggia Is Piscadeddus
Stella Maris Hotel
A 4 star Hotel near Spiaggia Is Piscadeddus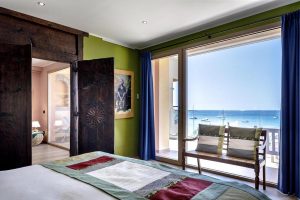 If you'd like to spend a few days at Spiaggia di Campulongu, Spiaggia del Riso and Spiaggia di Santo Stefano, you're in luck! Tucked in the middle of the cooling pine and juniper forest behind Campulongu beach, you'll find Hotel Stella Maris. This highly rated property (four stars) overlooks the Bay of Campulongu, and offers a supervised private beach area in the middle of Campulongu. Beach towels, sun loungers and parasols are free for guests. Furthermore, six showers can be found directly off the beach to rinse off the salty water. At the hotel, 2 beachfront dining rooms serve traditional Sardinian and Italian cuisine à la carte, and there's an extensive local wine list with several surprising Sardinian varieties. An infinity swimming pool for a relaxing morning or evening swim, sounds like a good idea doesn't it? All rooms at Stella Maris, varying from Basic to the Presidential Suite, offer either garden views or sea views. The room interiors are enriched by various works of art and artistic local craftsmanship. Other highlights of this property include a buffet breakfast, transfers to and from the hotel, and a tennis court. As this location is an ideal place for peace and meditation, massages and yoga classes are available as well. At Stella Maris, staff will be delighted to help you rent a car or to organise a guided tour of the other astonishing beaches in the vicinity of Villasimius. Highly recommended!
How To Get To Spiaggia Is Piscadeddus
Spiaggia Is Piscadeddus can be reached from Cagliari via the Strada Statale 125 and taking the coastal road from Solanas shortly after Falkensteiner Resort Capo Boi. Or you can get there by taking the Strada Provinciale 17 from Quartu Sant'Elena traveling towards Villasimius. The parking lot has space for about 25-30 cars.
Map
Use the Google and Booking map below to explore the area.
Fill in your holiday dates to get an accurate view of available accommodations near Spiaggia Is Piscadeddus.
Beaches Near Spiaggia Is Piscadeddus