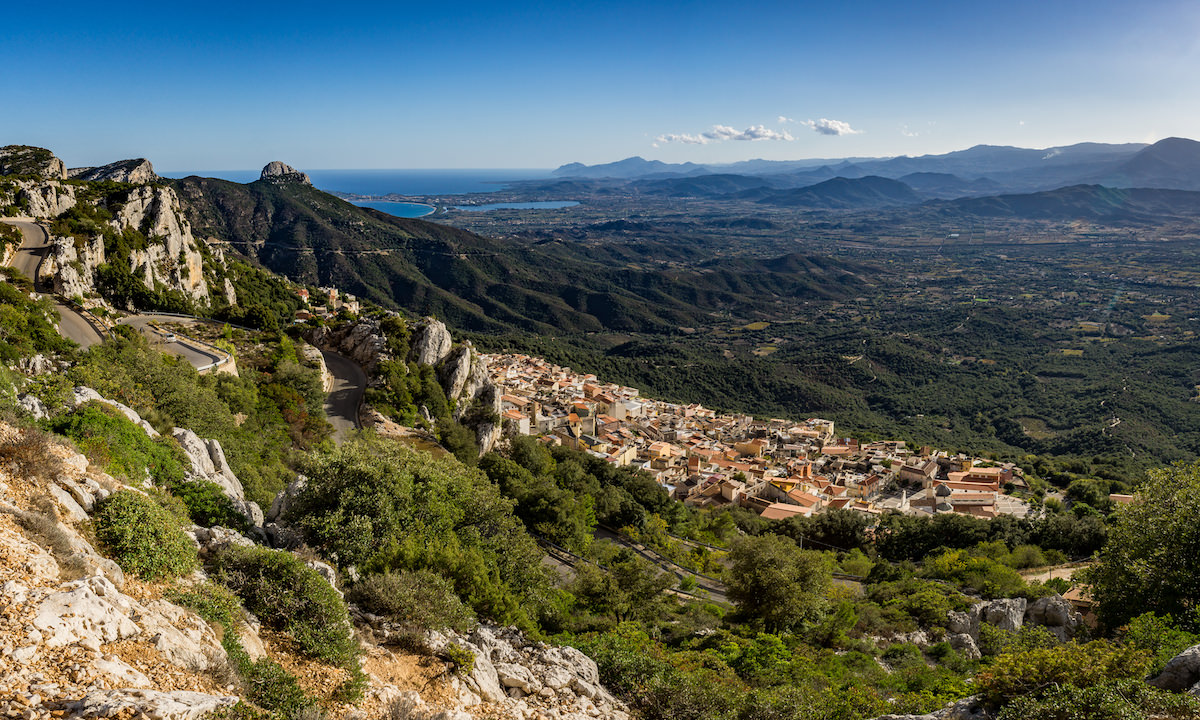 About Tortoli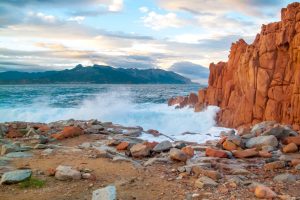 Located on the east coast of Sardinia, 7 kilometers south of Santa Maria Navarrese, Tortoli is a charming town amid a stunning and very rugged coastal landscape. Consisting of beautiful beaches, ample shopping, and comfortable accommodation, Tortoli is also a popular destination for tourists wanting to escape the crowds and get lost in the small town Sardinia. Although the nearby seaside town of Arbatax is better known to tourists, Tortoli is an encounter with a smaller and slightly more authentic experience. There is still an excellent infrastructure within the town, and you will find many shopping options, including a variety of vegetables and fruit at the market. Furthermore, the village is situated right next to the mountains in Parco Nazionale del Golfo di Orosei e del Gennargentu and a genuinely stunning pond – Stagno di Tortoli. Tortoli is very antiquated in appearance, best evidenced in the church of St. Andrew at the very center of town. Consisting of baroque-styled facades, this ancient theme continues throughout the village with many beautiful pieces of art, ensuring the exterior of these buildings is just as interesting. Featuring San Gemiliano Tower and a nuragic village in San Salvatore Park, there seems to be history and culture at every turn. There is also a very enticing range of accommodations, including the luxurious Orri Hotel and Hotel Antica Posada. While Tortoli is the kind of travel destination customers keep coming back to year after year, the luxurious and comfortable nature of these hotels is often the main reason it happens. However, the east coast of Sardinia is renowned for having a rugged appearance, and some of the most idyllic stretches in this regard surround the town of Tortoli. Standing tall next to the crystal blue waters of the Tyrrhenian Sea, the mysterious red cliffs are quite the spectacle. In many instances, these cliffs attract tourists to the region and offer an unforgettable sight during sunset and sunrise. And then there are the many beaches dotted along the coastline next to Tortoli. From Cea, Basaura, and Lido di Orri; there are several of these white sandy beaches which never fail to delight tourists, and these are also somewhat isolated beaches where you can enjoy your small piece of Sardinia in private. Featuring a tiny airstrip, you can also expect a very secluded experience in the town itself, but for a little bit more variety, the above-mentioned town, Arbatax, is just a short distance away. Arbatax is perfect for a day excursion as this will mean taking a ride on the train, which travels through stunning scenery between each port. Despite the small size, it must be noted how Tortoli is an essential hub for Ogliastra – a region in which the tourism and services economy is now even more important than agriculture. For this reason, the tiny airport and harbor still play a very important role.
Tortoli Map
✔ Use the Google and Booking map below to explore the area.
✔ Fill in your holiday dates to get an accurate view of available accommodations near Tortoli.
Where to Stay in Tortoli - Our Top Picks
Orrì Hotel
A 4 star Hotel in Tortoli, 1 kilometers from the center of town (about 0.6 miles.)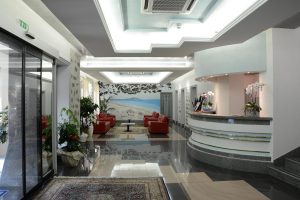 With the location in mind, Orri Hotel is often regarded as one of the best hotels in Tortoli, but the range of facilities in this particular hotel is also staggering. Featuring a nicely sized outdoor pool and a beautiful sun terrace, the hotel is also the perfect place to relax in between activities. In fact, when it comes to things to do in the area, the hotel reception is also known to go out of its way to keep guests updated and entertained. In this regard, you will find a 24-hour front desk which offers a large number of excursions in the local area. In many ways, this is one of the genuine highlights of a stay in this Tortoli hotel as the friendly staff and accommodating nature of the hotel is worth nothing. If you do not avail of these excursions, it should not matter, for white powdered sands are within easy reach of the hotel. Furthermore, the center of Tortoli Village is just a short walking distance from the hotel where you can find ample bars, restaurants, and bars. That being said, the rooms in Orri Hotel are beautifully designed and rather spacious. As you might expect in this part of the world, cleanliness and comfort are always a priority while each room is equipped with minibar, TV, private bathroom and free Wi-Fi. Continental breakfast is served each morning at Orri Hotel, and when you see the relaxing sun terrace, you should also understand why guests love nothing more than to start their morning at this hotel in Tortoli.
Hotel S'Abba e Sa Murta
A 3 star Hotel in Tortoli, 5.8 kilometers from the center of town (about 3.6 miles.)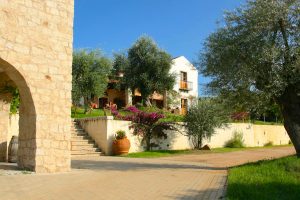 Interestingly, the restaurant at this charming hotel in Tortoli is just as popular as the accommodation. After all, S'Abba e Sa Murta is renowned for serving some of the best traditional cuisines in Sardinia and is opened to the public for lunch and dinner. That being said, you can still expect ultimate privacy in this particular accommodation which is situated in a very secluded setting. Located in the midst of woodlands and luscious vineyards, Hotel S'Abba e Sa Murta is entirely different to other hotels in a sense that it is located outside of Tortoli Village. At the same time, the hotel is still just one kilometer from a white sandy beach and the beautiful coastline for which this part of the world is best known. Consisting of a swimming pool and quaint terrace, the essence of this hotel is quite peaceful, even while particularly busy with guests. This isolated or personal experience is often the subject of 5-Star reviews with many guests also commenting on the friendly staff and homemade wine. As for the sleeping quarters, each room is modern yet antiquated. In some rooms, you can find exposed stonework which adds to a slightly antiquated theme, but then this décor is complemented with bright colors, luxurious furniture, and fabric. Continental breakfast and wonderful solitude await guests on the patio each morning, and for active guests, there are many activities which can be organized with the hotel including sailing, kayaking, and even horse riding.
Hotel Antica Posada
A 4 star Boutique Hotel in Tortoli, 9.9 kilometers from the center of town (about 6.2 miles.)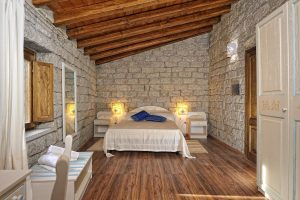 Although located in Loceri which is nine kilometers south-west of Tortoli, Hotel Antica Posada is amidst some truly spectacular scenery and within easy reach of the picturesque town of Tortoli. Furthermore, you will also see that many activities are available in the area and the white powdered sands of Torre di Bari are less than ten kilometers away. That being said, the style and comfort of Hotel Antica Posada is most often the main highlight. Featuring a very spacious design and bright colors, the interior is a sublime mix of old architecture and contemporary design which compliments the overall character of the hotel. As with many other hotels in the direction of Tortoli, the staff is usually the recipients of excellent feedback while the very laid-back atmosphere ensure this is indeed a luxurious home away from home for guests. Consisting of a minibar, TV, and ample space, the rooms in Hotel Antica Posada are another reason why this is one of the most exclusive hotels in the area. With this in mind, it must be noted that Hotel Antica Posada is quite a small eco-friendly hotel with a big reputation and a place which many guests arrive in search of a peaceful stay. While the hotel is not best known for having a range of food options (lunch and dinner), there is also an excellent restaurant just down the road which never fails to delight visitors. For this reason, the isolated location of the hotel ensures this is a great place to enjoy a very authentic experience and explore the local surroundings which are nothing short of breath-taking.
Things to Do in Tortoli
Explore the Nuraghe di S'Ortali 'e Su Monti
Also known as the Nuraghe San Salvatore, the Nuraghe di S'Ortali 'e Su Monti is a popular archaeological site in Sardinia and one of the most interesting things to do in Tortoli. In short, this is an ancient wall featuring a somewhat unique structure, with side towers and a central tower. In 2010, the central tower was excavated, and burials from the Roman era in 1500 BC have been discovered. Outside of the structure, some Nuraghic huts were found, and there is also an area for storing grain. Most of these huts have millstones inside, which signifies that early inhabitants of the village have been cultivating and processing wheat. In the nearby hill, locals have built a tomb which serves as a burial for the dead. There is also a cave tomb of the Neolithic era nearby. Today you can take educational tours of these archaeological heritage sites, and they account for one of the fascinating things to do in Tortoli.
Visit Rocce Rosse in Arbatax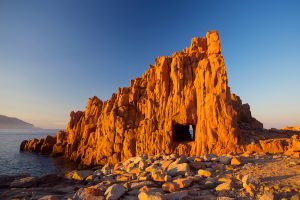 Rocce Rosse is a popular attraction in Arbatax, a neighborhood of Tortoli. Also known as the Red Rocks, this interesting attraction resembles a fairytale castle and appears as one of the more bizarre attractions in east Sardinia. These weather-beaten rock formations surge dramatically from the emerald green water of the sea with the infamous Golfo di Orosei providing a spectacular backdrop. The sight of these cliffs ensures Rocce Rosse is often a priority on the list of things to do in Tortoli for tourists. Rocce Rosse is situated just across the road from the port and right behind the Cala Moresca. This is a small beach with golden sands, granite rocks, and lush vegetation while you will also find some hotels, several restaurants, cafes, and bars in the area. Indeed, there are many more beaches and coves to uncover nearby which make Rocce Rosse the perfect place for a day trip. This stunning rock formation is the real highlight in the area and a truly unique sight along the Sardinian coastline. ​​
Visit Torre di San Gemiliano in Arbatax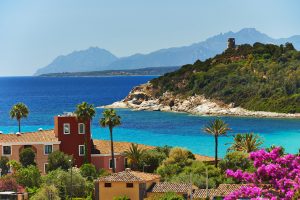 Visiting the Torre di San Gemiliano in Arbatax is another of the more popular things to do in Tortoli. The tower has had many names over the years; the original name of the tower was Taratasciàr, which came from the Arabic translation of "thirteen tower." It is also now known as Punta San Milano tower, Zaccurru tower, and Soccorso tower. Torre di San Gemiliano stands tall in the countryside of Tortoli, which is located near the marina of San Gemiliano. In ancient times, the tower was used to watch over the beaches of Orri and Cea, with direct contact to the towers of Bari, as well as Bellavista tower which no longer exists. One of the biggest draws of Torre di San Gemiliano is its interesting truncated conical shape. In many ways, this makes it a rather iconic and enchanting sight with a stunning backdrop. Interestingly, Torre di San Gemiliano dates back to the first quarter of the 17th century, and initial repair works were carried out in 1798. At the time, this project was initiated by engineer Marciot after lighting struck the tower leading to massive damages. Today, Torre di San Gemiliano is one of the historically significant things to do in Tortoli and an excellent way to uncover some local history in the region.
More Places to Visit Near Tortoli
Tortoli Restaurants - Where to Eat
Restaurant Abba 'e Murta (Traditional Sardinian Food)
🏠
Sardinia
,
08048
,
Italy
.
📱 Telephone:
+39 345 6263242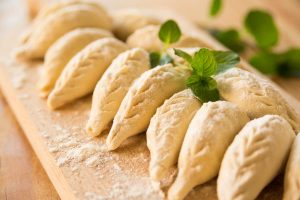 This restaurant is the in-house restaurant of the above-mentioned Hotel S'Abba e Sa Murta. Located in the center of Tortoli, this three-star restaurant is set in a five-hectare park overlooking the ocean. Dining at this restaurant is quite a visual experience in every regard, for this means you get to enjoy meals amidst an idyllic Mediterranean backdrop. As for the food, the restaurant menu consists of international and traditional Sardinian fare that can satisfy even the most refined tastes. Prepared by a local chef, the cuisine also features an authentic touch of Sardinian style that is indeed a delight for the palate. Some of these specialties consist of seafood cuisines prepared and cooked with the freshest local ingredients including mushrooms and asparagus. Fish and seafood also originate in the ocean nearby, while guests can avail of local cheeses served with local wines from the surrounding region. As one of the top-rated restaurants in Tortoli, customers often leave feedback online for the magnificent views at the Restaurant Abba 'e Murta. At the same time, the highlight is usually the food itself, and overall, this is one of the best restaurants in Tortoli.
Ristorante Lucitta (Italian Food, Pizza)
🏠
1
,
Via Monsignor Virgilio
,
Tortolì
,
Sardegna
,
08048
,
Italy
.
📱 Telephone:
+39 347 32 34 082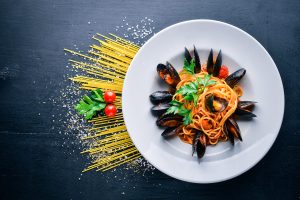 Ristorante Lucitta was established in December 2002, when the owner, Paolo Orrù decided to open a family restaurant overlooking the stunning bay of Porto Frailis. In fact, Lucitta was built on the very land that Paolo Orrù's father cultivated initially, known as the "Sa tanca e Lucitta." As you might expect, this is the reason for the name, and although this was initially a pizzeria, the restaurant has evolved into quite a varied and elegant eatery. Ristorante Lucitta is now one of the most popular restaurants in Tortoli and best known for serving some of the most authentic tasting Italian and Mediterranean cuisines. Furthermore, these meals are made with the freshest local ingredients, from seafood and local meat to cheese and some delightful pasta dishes. Visitors are greeted with a friendly and elegant atmosphere while the interior is carefully designed with bright, vivid colors. With stunning views overlooking the sea, it is unsurprising as to why Ristorante Lucitta is one of the most visited restaurants in Tortoli.
Ristorante La Bitta​ (Traditional Sardinian Food)
🏠
Via Porto Frailis
,
Arbatax, Tortoli'
,
Sardegna
,
08048
,
Italy
.
📱 Telephone:
+39 0782 667080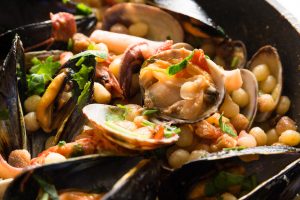 If you yearn for a restaurant in Tortoli with magnificent views of the sea, Ristorante La Bitta is the perfect place for a late lunch or dinner. Dining at the restaurant, you can expect to hear waves in the background, which make for an even more exciting dining experience. Combining the exquisite and extraordinary flavors of Sardinian cuisines made from fresh local ingredients, the menu of Ristorante La Bitta is also exceptional. Breakfasts consist of sweet and savory international and local delicacies served in a buffet style. In terms of the lunch, this consists of simple salads but there is also an option for Sardinian dishes made from seafood and meat. The venue is especially appealing, and meals are often served on a terrace overlooking the sea. Meanwhile, the restaurant also features a cozy room where the carefully designed interior is enhanced by friendly staff. Customers often leave as much feedback online for the staff as they do for the mouth-watering food and all considered, the scintillating view and food experience make this one of the most delightful restaurants in Tortoli.