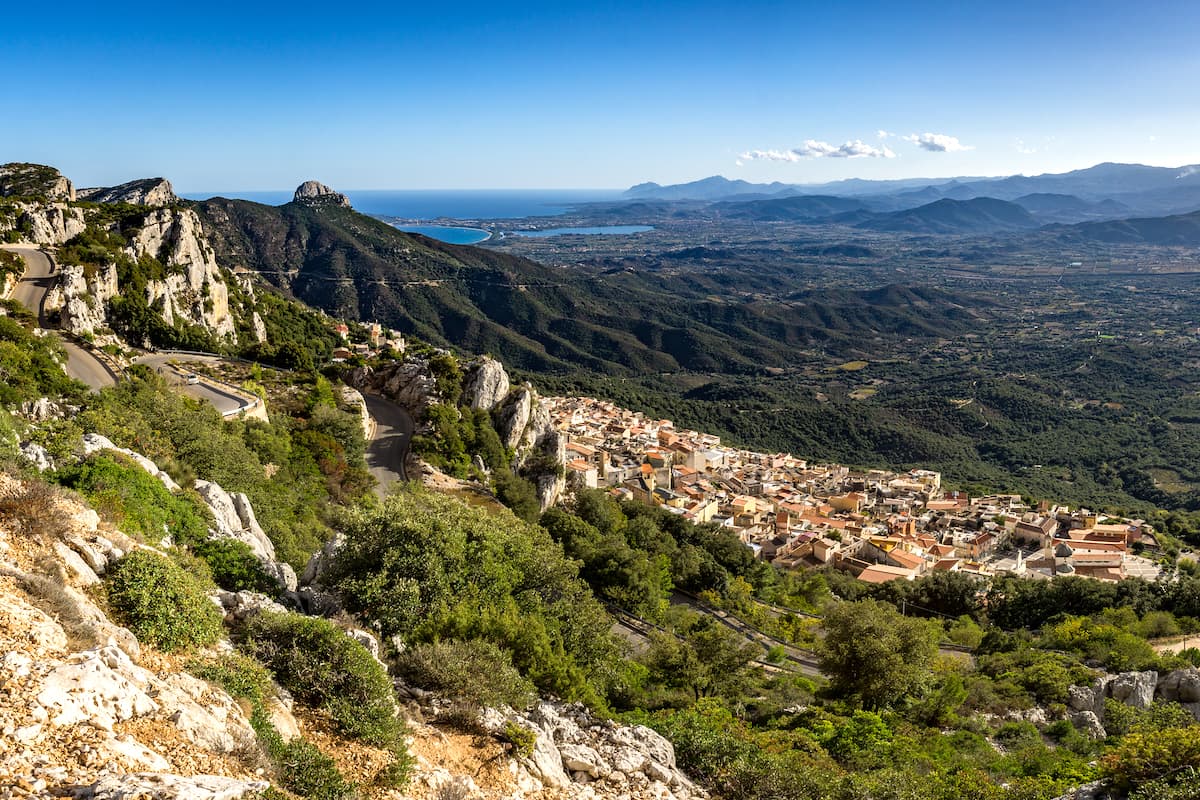 About Baunei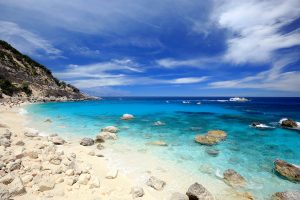 Baunei is a small mountain village in the Province of Ogliastra on the Italian island of Sardinia, Italy. The village finds itself high in the mountains at 480 meters above sea level and faces south-west with a location approximately just north of Cagliari and about 11 kilometers north of Tortoli. Home to the popular seaside resort Santa Maria Navarrese, Baunei borders Dorgali, Lotzorai, Talana, Triei and Urzulei municipalities while the town itself has all the necessary facilities including shops, restaurants, banks, and pharmacies. Tortoli is also close by where you can find a much larger shopping center. When driving through the town, make sure you watch out for the Il Golgo sign as this is the road that leads you high up into the mountains and to get truly great views. There are many places to eat real traditional Sardinian foods in the uplands of the Golgo. Other interesting places include the Grotta de Su Meraculu caves where you will find information about the guided tours available in town. The oldest evidence of human presence in this territory date back to the Neolithic and have been traced in the cave Cala Elune. According to the records, the first time the name Baunei appeared was documented back to 1313. Its name apparently derives from "Baun" which was the name of the castle that was built by the Dorias back in the sixth century. Later on, Baunei again reappears in 1358. This document registers a weak economy in a modest demographic reality. The town grew with the incorporation of the territories of the villages of Osono and Eltili. The county passed to be the Marquis in 1603 (Centelles family and then Osorio). In 1806 it was incorporated into the province of Baunei. It was then suppressed in 1857 when Environment Lanusei was created until 1927. That year it was established the province of di Nuoro. Baunei was part of the establishment of the Province of Ogliastra. It has been operational since 2005. It was then abolished in 2016 and merged again in the province of Nuoro. Among its cultural traditions, Baunei numbers the pletare a ritual that takes place on the night before a wedding. Here, the procession goes from the groom's house to the future bride's house carrying a stick and holding a lighted candle.
Baunei Map
✔ Use the Google and Booking map below to explore the area.
✔ Fill in your holiday dates to get an accurate view of available accommodations near Baunei.
Where to Stay in Baunei - Our Top Picks
Hotel Bia Maore 
A 3 star Hotel in Baunei, 0.6 kilometers from the center of town (about 0.3 miles.)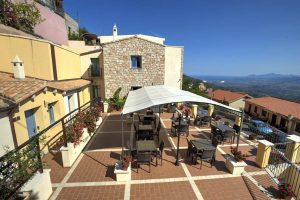 Hotel Bia Maore is a charming three-star hotel at the heart of the Gennargentu National Park, near the main square of Baunei. It is the ideal starting point for a vacation in east Sardinia and the perfect base from which to explore the famous beaches and coves on the Gulf of Orosei. Decorated with vibrant furnishings in a true Sardinian style, the rooms at Hotel Bia Maore are cozy and comfortable. There are eleven rooms; each one is decorated with elegant handmade furniture. Some rooms come with a small balcony and a panoramic terrace that opens up to the majestic views of either the Ogliastra Mountains or the Arbatax Bay. Furnished with modern amenities, the rooms at Hotel Bia Maore are further equipped with a private bathroom with shower, air conditioning and heating system, minibar, safe, and a free Wi-Fi. As for the food, every morning, a breakfast buffet is served for guests to enjoy and this consists of a wide assortment of local and international dishes, including delicious croissants and cappuccino. For guests traveling by car, private parking is available at no extra charge, and the hotel offers valet service for guests. Regarding activities in Baunei, the nearest beach is just a 10-minute drive away from the hotel, and there are outdoor activities that guests can take part in nearby, such as trekking, paragliding and mountain biking. The Arbatax harbor, which offers ferry connections to Genova, Fiumicino, and Civitavecchia, is only 22 kilometers away from the property.
Villa Janas
A 3 star Apartment in Baunei, 1.2 kilometers from the center of town (about 0.7 miles.)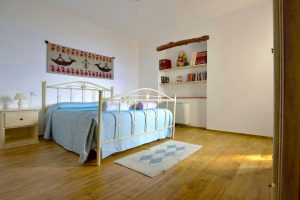 Villa Janas is a three-bedroom apartment ideal for couples and families heading for a vacation in east Sardinia. Recently renovated in a typical Sardinian style, Villa Janas is the perfect base for a relaxing holiday while immersing yourself in the impressive atmosphere of Baunei. Regarding layout, the apartment has two bedrooms. One room has a queen bed and another bed for toddlers, while bedroom 2 has three single beds. These rooms are cleaned and sanitized before and after each stay to make your stay even more comfortable; the apartment is fitted with modern amenities, such as air conditioning and heating system, fan, dryer, hot water, iron, washer and Wi-Fi access. Each apartment is also equipped with a kitchenette and cooking facilities. Finally, there is also a veranda that opens to the beautiful views, and a perfect place to enjoy breakfast with the family. Meanwhile, for those who need to work while on holiday, there's a laptop-friendly workspace available within the apartment. The apartments are set within the Gennargentu National Park, making it a perfect base for your vacation in Baunei. It's only a 10-min drive from the nearest beach, and there's also a path that leads to beautiful Cala Goloritze Beach. The property is also just a few steps away from some of the most beautiful tourist sites in east Sardinia. Several shops and restaurants are only about 300 meters away from the apartment. 
More Places to Visit Near Baunei
Baunei Restaurants - Where to Eat
Trattoria Pedra Longa (Seafood, Pizza)
🏠
Pedra Longa
,
Sardegna
,
08040
,
Italy
.
📱 Telephone:
+39 347 126 9818
Located just a short distance from town, this restaurant in Baunei is an excellent example of an eatery which makes the most of both local specialties and seafood delicacies. You will find an excellent selection of wines, attentive staff and a truly relaxing atmosphere to enjoy either lunch or dinner. The sublime view is the stand out feature of Trattoria Pedra Longa where ocean vistas are accompanied by friendly staff and excellent cuisine. The surrounding mountains are just as striking, and guests are most often left in awe of the location alone. As for the immediate surroundings, the luscious confines makes for a relaxing experience and the perfect oasis for hungry hikers who choose to explore the nearby hiking trails. Regarding cost, this may not be the cheapest of restaurants in Sardinia, but it is by no means ultra expensive and a genuine reflection of the overall experience. Whether you opt for the grilled fish, calamari fritti or mussels, the result is most often an experience with fresh ingredients and wholesome food. With this in mind, Trattoria Pedra Longa has a reputation for being one of the most impressive restaurants in Baunei.
Punto di Ristoro Uttolo (Traditional Sardinian Food)
🏠
Sardinia
,
08040
,
Italy
.
📱 Telephone:
+39 327 5941464
Many guests refer to Punto di Ristoro Uttolo as a very authentic restaurant in Baunei with a particular focus on local meats and produce. Whether you decide to sample the goat's cheese or honey sebadas, the menu seems to cater to all tastes with clams, mussels, and several fish-based items also accounting for an impressive selection of seafood. Featuring a large outdoor terrace, this is indeed a restaurant which knows how to please guests as this welcoming and spacious ambiance is typical of the setting which the locals seem to enjoy. Although the restaurant is also popular with group celebrations and banquets, this is a rather quiet environment for the most part, and the staff is always welcoming in spite of the lack of English you might find. In the case that you might be passing through Baunei, Punto di Ristoro Uttolo is still a safe bet for sampling some local delicacies, and with fair prices and so much space to drink in the surroundings, you can understand why tourists are always quick to leave glowing online feedback and reviews. When it comes to authenticity, price, and taste, Punto di Ristoro Uttolo lives up to expectations at every turn and leaves a feeling you will not be forgetting anytime soon.
How To Get To Baunei
Have you thought about arranging a rental car in Sardinia?
For some great deals, check out our Sardinia Car Hire page!
The nearest airport to Baunei is Olbia Costa Smeralda Airport, located about 106 kilometers south of the village. To get to Baunei via the fastest route by car, just head south on the Strada Statale 131 and Strada Statale 125 after you've exited the airport area. You'll pass the larger villages of San Teodoro and Budoni. Once you're near Siniscola, keep following the scenic road along the mountains. After 68 kilometers, take the Strada Provinciale 38, then continue on the SS 125 near Dorgali, which will guide you all the way to Baunei. With the usual traffic, the drive shouldn't be longer than two hours.