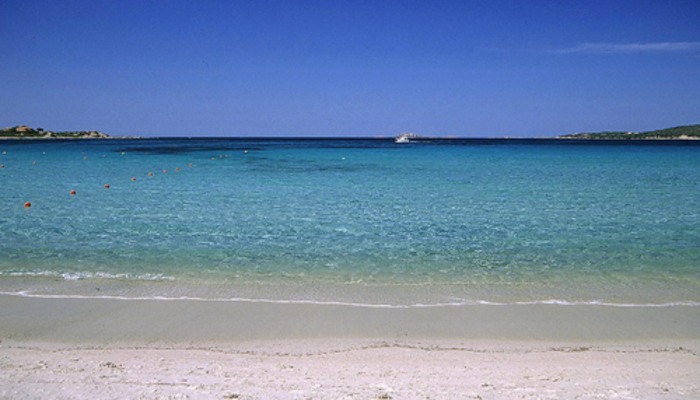 About Spiaggia di Marinella
near Marinella, Province of Olbia-Tempio, North-East Sardinia, Italy.
parking, beach chairs, umbrellas, restaurant, camping.
snorkelling, windsurfing.
19:35 PM
07:20 AM
800 meters.
suitable for families with children.
La Marinella beach (Spiaggia di Marinella), is situated in between Porto Rotondo and Golfo Aranci, near Marinella village in Golfo di Marinella. With a length of about 800 meters, it's the largest beach you'll find in this pocket of the Emerald Coast. It is just 3 kilometers away from Ira beach.
Facing north-east, you can see the islands of Soffi and Mortorio 8 kilometers off the coast. Although there are several beach hotels spread around the area, La Marinella beach itself is backed by Mediterranean vegetation, with several trails leading to the beach. Marinella village has its own harbour and yacht club. It's about a 12 minute walk to the train station. Spiaggia di Marinella is suitable for families with children, and protected from the wind.
Places to Stay near Spiaggia di Marinella
Hotel Abi D'Oru
A 5 star Hotel near Spiaggia di Marinella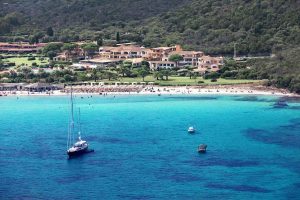 Located at the heart of the Emerald Coast in north-east Sardinia, Hotel Abi D'Oru is a newly renovated hotel in Marinella with a relaxing atmosphere, impressive rooms, and a stunning beach. What's more, you will find a fantastic breakfast, friendly staff and more than enough reasons to see that this hotel lives up to expectations. The rooms are bright, elegant and luxurious, and feature a mix of contemporary and old-fashioned furnishings. The attention to detail is most apparent in the overall design. You will also find various options for couples, families, and groups with the Junior Suites, Classic Suites and Deluxe Suites offering a slightly different size and style for every occasion. There are no less than four restaurants at this hotel in Marinella and a fantastic menu at each one. Whether you want seafood or traditional fare, the standard is world-class, and the setting in these restaurants is bright, fresh and modern. Meanwhile, three bars can also be found on location, and each bar has a full range of beers, cocktails and non-alcoholic drinks. Abi Spa is also on location so whether you need a massage or the sauna or even just an hour in the hot tub, this is a great place to relax and unwind. The beach location of this resort is one of the main reasons why visitors choose this Costa Smeralda hotel and with white powdered sands and near-perfect conditions for swimming, there are few hotels to compare with this fantastic five-star hotel in Marinella.
Hotel Marana
A 4 star Hotel near Spiaggia di Marinella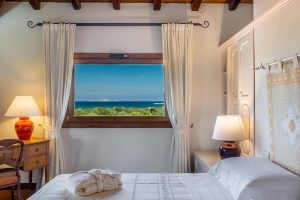 Hotel Marana is an impressive four-star hotel in Marinella with a stunning interior and some of the most luscious surroundings in all of Sardinia. The extensive gardens and beautiful pool are not only spacious but also immaculate and relaxing in every way. When it comes to choosing a hotel in Marinella, you will be hard pushed to find a better place to stay in north-east Sardinia. As you might expect for a four-star hotel, the rooms are equipped with all the modern conveniences, and the comfortable furnishings are further enhanced by a beautiful outdoor terrace. This terrace features relaxing sun-beds and lovely garden views. It is the perfect private hideaway or alternative to spending time in the garden. The surrounding gardens are often the highlight for many guests, and a vast pool never fails to disappoint. Meanwhile, you will find some of the best beaches in northeast Sardinia just 500 meters from the hotel which makes the location of this Costa Smeralda extremely favorable. As for the food, Hotel Marana provides a fantastic buffet breakfast, and a world-class restaurant offers the perfect setting for lunch or dinner with an excellent range of local and Mediterranean dishes. All considered, this is a beautiful hotel in Marinella with stunning gardens, excellent food and one of the best beach locations of any Costa Smeralda hotel in Sardinia.
How To Get To Spiaggia di Marinella
From Olbia, take the SS 125 to the Costa Smeralda. Near Santa Lucia, exit for the SP 16 towards Porto Rotondo. Near Marinella, head left on to Via Capri. Turn right, then turn left at the next roundabout. The first road to the right leads to the la Marinella beach car parking.
Map
Use the Google and Booking map below to explore the area.
Fill in your holiday dates to get an accurate view of available accommodations near Spiaggia di Marinella.
Beaches Near Spiaggia di Marinella
No posts found.