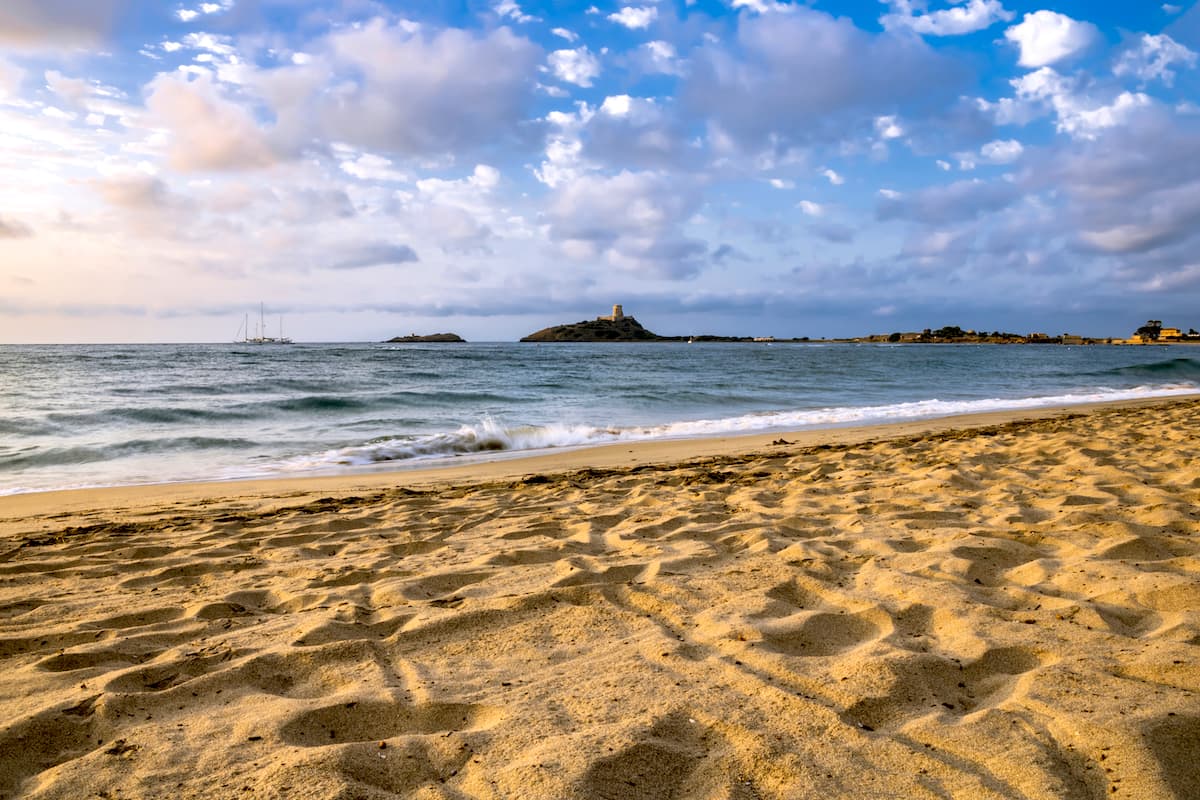 About Spiaggia di Nora
Nora beach (Spiaggia di Nora) can be found 2.5 kilometers south-east of the village of Pula, in the province of Cagliari in south Sardinia. This beach has a length of 500 meters and is 30 meters wide on average. The beach faces due east, offering splendid views of Torre del Coltellazzo di Nora to the south. Nora beach is located north of the archaeological site of Nora, an ancient Phoenician city founded in the ninth and eighth centuries BC, one of the oldest in Sardinia. The archaeological site is located at the foot of the promontory of Capo di Pula. Nora beach is sheltered from the strong onshore breezes, its sands are white and clean. The main beach is unspoiled, family-friendly and an excellent spot for a dip in the clear blue waters of the Mediterranean, especially after visiting the Nora ruins.
Nora Beach Hotels
Located conveniently close to the beach, you'll find the four-star Hotel Baia Di Nora. Overlooking Nora's white sandy beaches, the hotel offers an outdoor pool, a Sardinian restaurant and free private beach including a daily change of beach towels, a free sun umbrella and a deckchair per room. Rooms are air-conditioned, and feature a furnished balcony or patio. Go 500 meters further north towards Su Guventeddu, and you'll find the two-star Hotel Su Gunventeddu, just 100 meters from the beach. This hotel offers 9 classic-style rooms with air conditioning and a private bathroom. Hotel guests can enjoy breakfast and Sardinian cuisine at the restaurant. Go 1 kilometer inland towards the village of Pula, and you'll find the four-star Nora Club Hotel. Surrounded by a lush garden with olive trees and flowers, the Nora Club Hotel provides elegantly furnished rooms with private bathrooms. The hotel features an outdoor pool, a spa center, and a relaxation and massage area overlooking the garden. For a complete overview of available hotels, apartments, villas and bed & breakfasts in Pula, click here.
How To Get To Spiaggia di Nora
Nora beach can be reached by taking the Strada Statale 195 in the direction of Pula. Once you've reached Pula, follow the signs that will lead you to the beach.
Map
Use the Google and Booking map below to explore the area.
Fill in your holiday dates to get an accurate view of available accommodations near Spiaggia di Nora.
Beaches Near Spiaggia di Nora