About Spiaggia di Maria Pia
near Alghero, Province of Sassari, North-West Sardinia, Italy.
parking, beach chairs, umbrellas, bar, restaurant, camping, wooden pathway.
walking, jogging.
19:03 PM
07:28 AM
1200 meters.
suitable for families with children.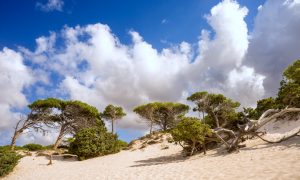 Head north-west from the center of Alghero for just a few kilometers, and you'll discover Maria Pia beach (Spiaggia di Maria Pia). Together with Spiaggia delle Bombarde, this beach is one of the best beaches near Alghero. The beach is 1200 meters long and faces southwest, featuring excellent views of the small settlement of Fertilia, the Alghero Bay, and the tiny island named Isola della Maddalenetta, situated 1.5 kilometers off the coast. Spiaggia di Maria Pia is backed by beautiful dunes and a cooling pine forest that can provide some shade during the hottest hours of the day. Interestingly, a lagoon behind the beach named Stagno di Calich is an essential stopover for migratory birds. This adds another layer of intrigue to this area's appeal. The water at Maria Pia is beautiful and clear, and the sand is clean and white, without too many rocks. If you're an early riser, Maria Pia is an excellent spot for a morning walk or jog along the shore. The waters at Maria Pia are shallow at first and get deeper gradually, so it's a good beach for families with children. Plenty of sun loungers are available for rent, and several snack bars dotted along the beach sell drinks and ice cream. The beach is also easily accessible with wheelchairs, it has a wooden pathway.
The parking space is just behind the beach, along the Viale I Maggio road.
Don't miss this one when you're staying near Alghero!
Places to Stay near Spiaggia di Maria Pia
Hotel Oasis
A 4 star Hotel 0.9 kilometers from Spiaggia di Maria Pia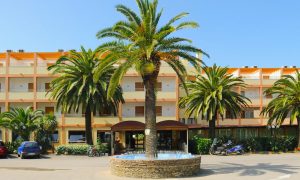 Hotel Oasis, conveniently situated near the beach in Alghero and Fertilia, offers a delightful retreat for vacationers. Positioned across from a serene pine forest that provides direct access to Maria Pia Beach, the hotel is particularly suited for families with young children. The little ones will enjoy the two play areas and a refreshing pool, ensuring their entertainment throughout the stay. Start your day with a buffet breakfast served at the hotel's restaurant, where you can also indulge in delectable Italian and Sardinian cuisine and various other dishes. Each room at Hotel Oasis features a balcony, air conditioning, and complimentary WiFi, ensuring guests a comfortable and connected experience. The rooms, designed in a simple yet elegant style, offer a choice between standard and economy options. Standard rooms provide views of the swimming pool or other hotel rooms, depending on your preference. Economy rooms on the first floor overlook a rooftop adorned with charming flower boxes and vases, adding a special touch to the ambiance. After strolling along the nearby beach or enjoying the pristine waters of the deep blue sea, guests can retreat to the hotel by traversing the tranquil pine forest. Hotel Oasis exudes an overall sense of elegance throughout its rooms, the pool, and the surrounding area. Whether you're a family seeking a memorable getaway or a couple desiring a touch of luxury, Hotel Oasis offers an idyllic haven to appreciate the finer things in life.
Residence Oasis
A 3 star Apartment 0.9 kilometers from Spiaggia di Maria Pia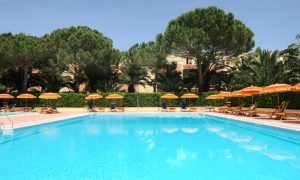 Various types of en suite apartments for families and groups can be found at Residence Oasis. Their three-room apartments can accommodate up to 6 persons. All self-catering apartments here have their own balcony, TV, air conditioning and a fully equipped kitchen. The lush garden surrounding the Oasis Hotel & Residence features two large swimming pools. Each adult pool also has a children's pool next to it.
How To Get To Spiaggia di Maria Pia
Spiaggia di Maria Pia can easily be reached from the historical center of Alghero. Just head north-west and follow directions for the Lido, then carry on toward Fertilia along Viale Primo Maggio. Just so you know, to reach the beach, you must walk through the pine forest.
Map
Use the Google and Booking map below to explore the area.
Fill in your holiday dates to get an accurate view of available accommodations near Spiaggia di Maria Pia.
Beaches Near Spiaggia di Maria Pia