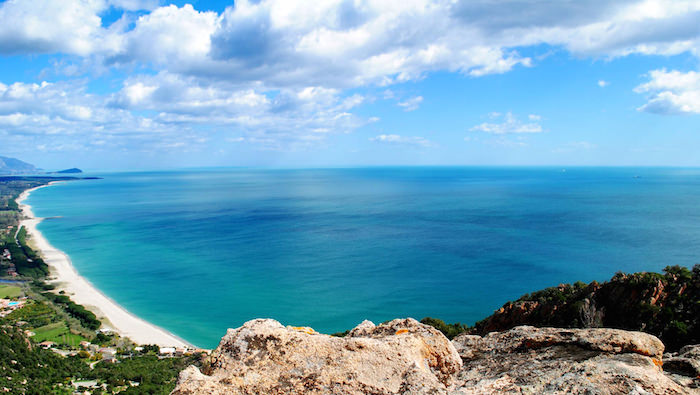 About Spiaggia della Marina di Cardedu
The beach of Cardedu (Spiaggia della Marina di Cardedu) is conveniently located near the village of Cardedu, just a few kilometers south of Bari Sardo. Partly backed by mountains covered in lush greens, Cardedu beach is over 50 meters wide in most places, and has a total length of a little over 2 kilometers. Combined with Bari Sardo, the beach has a length of over 8 kilometers, making it the perfect beach for long walks, jogging or running while enjoying sunrise in the early hours of the day.
Cardedu has several hotels and a resort in the area, with the Perdepera Resort being closest to the beach and the mountains. This beach has many facilities: wheelchair access, and there is a small car parking. Note that Marina di Cardedu has deep waters, small children playing in the water will need to be watched over. Given its potential windy conditions, Cardedu is a popular destination for surfers, it is also a favorite spot for scuba fishers. If you find yourself in the area of between Tertenia and Tortoli, pay this beach a visit and enjoy its fine sands and crystal clear waters. This beach is mostly quiet, even in high season.
How To Get To Spiaggia Cardedu
Marina di Cardedu can easily be reached from the village of Bari Sardo, along the scenic highway SS125. After reaching the town of Bari Sardo, look for the church of Our Lady of Buoncammino, then drive over the bridge and head east at the crossroads in the direction of the beach.
Map
Use the Google and Booking map below to explore the area.
Fill in your holiday dates to get an accurate view of available accommodations near Spiaggia Cardedu.
Beaches Near Spiaggia Cardedu