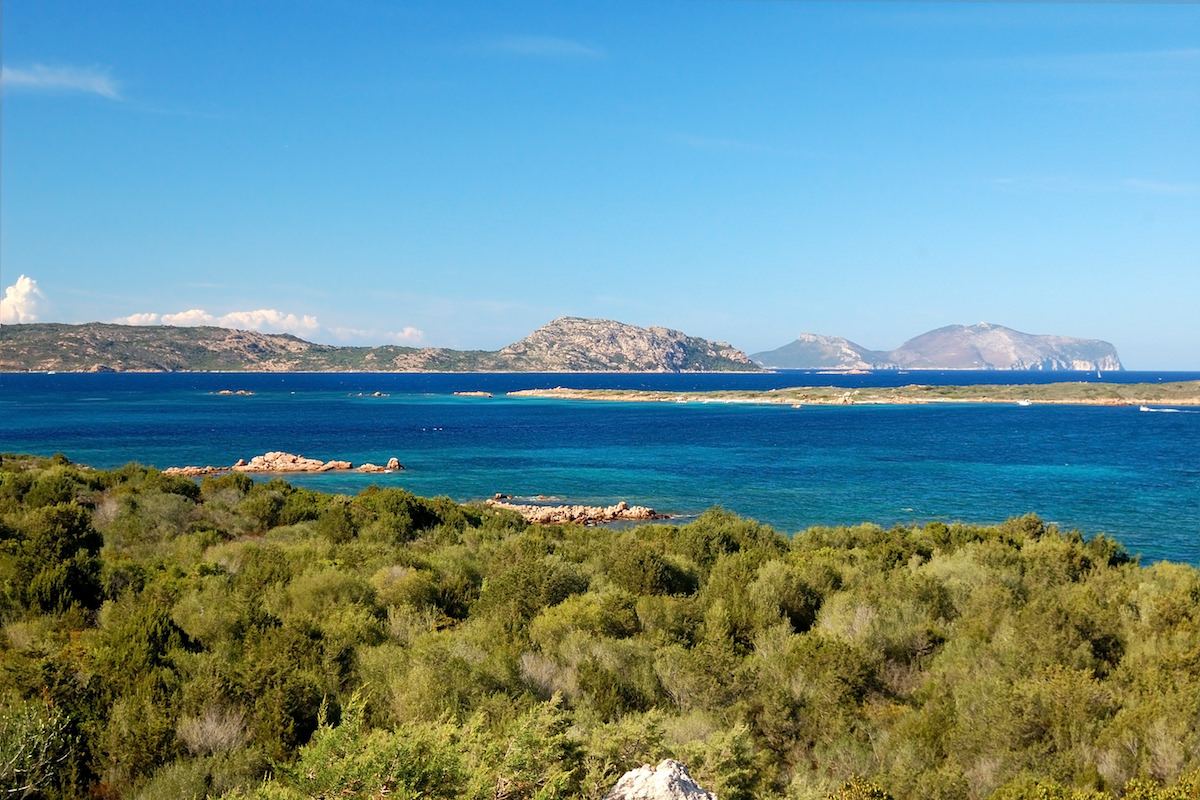 About Porto San Paolo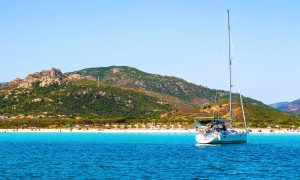 Located amidst the beautiful coastline of northeast Sardinia, and a short distance southeast of Olbia, you will find the charming seaside village called Porto San Paolo. Before the beginning of 20th century, the coast of Gallura was a strong-hold for smugglers, yet nowadays, this idyllic town is a very popular destination for holidays in Sardinia. The strategic location of Porto San Paolo allows for easy access to spectacular nature and rolling landscapes which are highly popular with tourists and locals alike while the beaches of Porto Istana and Spiaggia Porto Taverna are also right on the doorstep of the village itself. Surrounded by enticingly crystal clear water and fine, white sands, the region is set up nicely for tourism as evidenced in the many inflatable boats, sun loungers, and umbrellas available for rent. Yes, Porto San Paolo is ideally situated to explore the rest of this part of Sardinia and graced with a spectacular wilderness with an endless variety of activities including horseback riding, mountain biking, and even golf. Peaceful and charming, the village is home to notoriously friendly locals, and it is also situated close to the magnificent islands named Isola Tavolara, Isola Molara, and Isola Piana. As part of the Area Marina Protetta di Tavolara – Punta Coda Cavallo, this is, in fact, a protected marine park and the thriving diversity of flora and fauna is a testament to this endeavor and the general success of tourism in this part of Sardinia.
Porto San Paolo Map
✔ Use the Google and Booking map below to explore the area.
✔ Fill in your holiday dates to get an accurate view of available accommodations near Porto San Paolo.
Where to Stay in Porto San Paolo - Our Top Picks
Hotel Ollastu
A 4 star Hotel in Porto San Paolo, 1.1 kilometers from the center of town (about 0.7 miles.)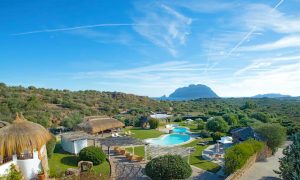 Hotel Ollastu is located on four hectares in the midst of some stunning scenery and landscapes next to the promontory of Costa Corallina. One of the highlights of the hotel is the architecture and earth-like elements, which blend seamlessly amongst the natural attractions. In this sense, a sublime mix of light colors also adorns the interior of the hotel while the old culture of Gallura can still be seen in the megalithic pillars and wooden arches outside. Featuring a modern artistic style, pure comfort, and warm ambiance, Hotel Ollastu is known for its contemporary style but just as famous for the old-fashioned feel which is most often complimented by impressed visitors. Add all of this together, and you are guaranteed a memorable experience in the charming village of Porto San Paolo. Hotel Ollastu features restaurants, bars, a parking area, a lounge with television, and free Wi-Fi, the hotel is more than equipped to satisfy even the highest expectations. The central common area is followed by a reception hall, breakfast room, TV room, indoor bar, outdoor bar, two dining rooms, conference room, and two fantastic swimming pools with Jacuzzi. And then there are the majestic and panoramic garden, gazebos, solarium, and outdoor areas which can be used for entertaining activities. The rooms are also distinct from each other, and the style of the building itself is very typical of the Gallura, but it also offers the most modern comfort. Even the cuisine is top of the line, and from the hotel, it is also possible to explore the neighboring islands.
Villa Bianca
A 4 star Villa in Porto San Paolo, 1 kilometers from the center of town (about 0.6 miles.)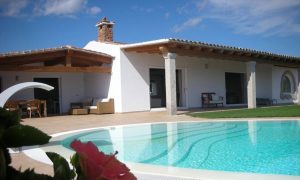 Villa Bianca is renowned for both of its location and spectacular design. Located just 700 meters from Porto San Paolo, this is a perfect accommodation for those yearning for freedom and fresh air. The villa exudes luxury and privacy while the five bedrooms ensure there is ample space for guests to enjoy. Villa Bianca is also very close to the Porto Istana, Isola di Tavolara, Cala Brandinchi Beach, and the Isola Bianca Harbor. On the other hand, Olbia Costa Smeralda Airport is also just nine kilometers from the villa while numerous markets and restaurants are located close to the villa, including a true local favorite, the Veliero. Villa Bianca consists of bedrooms with large double beds, which are both spacious and comfortable. The ceilings feature wood beams, and the living room opens out into a beautiful garden with fantastic views. There is also a huge infinity pool with whirlpools, and a hydrotherapy garden, as well as unrivaled views of the pristine Sardinian sea. The kitchen is surprisingly modern and offers convenience for intimate dining while the main veranda is also ideal for eating outdoors. Satellite television, dishwasher, washing machine, espresso coffee machine, and Wi-Fi internet connection are available and just to round off the experience, the bathrooms are exceptionally luxurious. Featuring a fitness center and many family amenities, the villa is well equipped for groups and families while there are also many activities to enjoy nearby such as snorkeling, horse riding, diving, and hiking. Amazingly, Villa Bianca welcomes guests of various languages including Russian, Italian, French, Spanish, and English. The villa's proximity to Porto San Paolo also makes it very easy for guests to enjoy the beautiful region nearby.
Hotel Residence Porto San Paolo
A 3 star Hotel in Porto San Paolo, 0 kilometers from the center of town (about 0 miles.)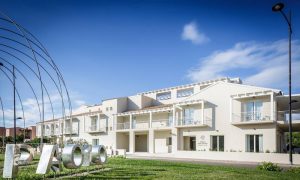 The Residence Hotel is located in the peaceful village of Porto San Paolo which is just a few minutes away from Porto Taverna Beach and Porto Istana Beach. Interestingly, it is also very close to the National Archaeological Museum of Olbia, and Basilica of San Simplicio. In fact, this proximity to local attractions ensures the Residence Hotel is ideally located for things to do, just as much as panoramic views. Featuring a charming terrace with swimming pool and majestic views over the Mediterranean Sea, the Residence Hotel is the perfect haven for either a holiday or a quiet business trip in Sardinia. The apartments in the Residence Hotel are home to a bright and elegant design which blends seamlessly with the local area. The rooms also have either terraces or gardens, which allow guests to enjoy the summer breeze and warm sun, while Wi-Fi and cable internet are also on site should you feel isolated in this heavenly escape. Each room features air conditioning units, hair dryers, free toiletries, and infant beds while there is also a particularly luxurious bathroom with shower. Providing a smoke-free environment, the Residence Hotel Porto San Paolo is the epitome of cleanliness and friendliness, which is evident throughout the hotel. Guests receive access to Automated Teller Machines and other banking services which emphasize the convenience of a stay in this part of Sardinia and day tours are also easily organized in the reception. Aside from the multilingual staff, the front desk is available for 24 hours but make no mistake, this is truly a world class hotel with spectacular views, in one of the most idyllic destinations on the island of Sardinia.
Things to Do in Porto San Paolo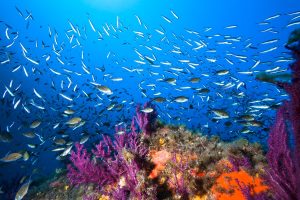 Diving is one of the most popular things to do in Porto San Paolo, and Tavolara Diving strikes the perfect balance between skills, experience, professionalism, and fun. You might expect this kind of service from a company which has operated here for more than thirty years. Located at the very center of the Tavolara and Punta Coda Cavallo Marine Park, this center is also a dive school which means the instructors are exceptionally friendly and experienced. They have also established their operation as the most prestigious in town, and most accommodation options along the coast are quick to recommend Tavolara Diving. As for the experience, this beautiful pocket of the Mediterranean is as colorful as they come and the waters are just as clear as the unobstructed ocean views. Needless to say, the region is famous for every marine species you might expect to find around Sardinia and overall, this is a fantastic way to see a very alternative side of island life in this part of the world.
When it comes to panoramic views, the top of Mount Ruju is such a fantastic place to see the island. The hiking trail is just as memorable and travels through a small local community in the Tiriddò area which also makes this quite a cultural encounter. What's more, the beautiful trees and luscious surroundings make this the perfect excuse to get outdoors and one of the best outdoor activities in Porto San Paolo. Many viewpoints accompany the trail all the way to the top of Mount Ruju with stunning panoramas of Isola Tavolara and the surrounding Marine Park. There is also the opportunity to visit a local house in the area called 'Stazzo Gallurese' which offers Sardinian food cooking classes. In fact, this cooking workshop is now a reason why visitors come to hike Mount Ruju in the first place.
Boat Trip to Tavolara Island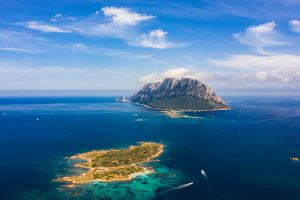 Taking a boat trip to Tavolara Island is one of the most popular things to do in Porto San Paolo for a good reason. Featuring two beautiful boats and plenty of space on board, the journey is a very comfortable one, while the open top and multiple viewpoints really add to the overall experience. As for Tavolara itself, there is a fascinating history behind this landmass, and even Queen Victoria of England arrived here on a ship back in the 1800s. In fact, this was also the home of Kings but needless to say, Tavolara is now a destination for tourists rather than royalty. There is a sublime restaurant on the island which offers a full range of typical Sardinian dishes. Featuring unique views and some of the best local wines, this is arguably the most impressive place to take in the sights with the infamous taste of Sardinia at the same time. Regarding scenery, you will also find beautiful white powdered sands on the island, and pristine blue waters in every direction and overall this wonderful boat trip is often the highlight of a trip to Porto San Paolo.
More Places to Visit Near Porto San Paolo
Porto San Paolo Restaurants - Where to Eat
Il Portolano (Seafood, Traditional Sardinian Food)
🏠
11
,
Via Molara
,
Porto San Paolo
,
Sardegna
,
07020
,
Italy
.
📱 Telephone:
+39 0789 40670
Browse the Menu
Il Portolano is an excellent example of the restaurants in Porto San Paulo which offer exceptional food in the most alluring setting. At the same time, there is also a unique twist to this eatery in a sense that the owners are Swiss and the theme of the restaurant is quite cosmopolitan. Featuring a wide range of seafood delicacy, the restaurant holds true to the local traditions, but they bring a vast amount of experience into the experience. In fact, the owners of the restaurant have worked in various hotels and restaurants throughout Europe which is arguably the reason they seem to have mastered the dining experience in Sardinia. As for the menu, you will find succulent steak and tuna fish along with a host of other seafood. Although the owners are not from town, the rest of the staff is local, and this is somewhat obvious when it comes to the style of the food itself. The presentation is immaculate, but the infusion of locally produced herbs and vegetables is also evident in the freshness of the ingredients. And then there is the ambiance and setting, for Il Portolano features a truly magnificent outdoor terrace and all-around comfort. Furthermore, the panoramic views of the ocean and Tavolara Island are like the icing on the cake in this delightful eatery. Indeed, there are many excellent restaurants in Porto San Paula, but it would appear that this charming Swiss couple has captured a beautiful mix of local culture and impressively authentic cuisine.
S'Ollastu (Hotel Ollastu) (Seafood, Italian Food)
🏠
Olbia
,
Sardegna
,
07026
,
Italy
.
📱 Telephone:
+39 0789 36744
The presentation is one of the stand-out features in S'Ollastu, a beautiful restaurant attached to the famous hotel of the same name. The taste of this presentation is a lot more memorable and something which guests are quick to compliment when it comes to online reviews. The restaurants in Porto San Paulo are renowned for their local touch and sense of authenticity. S'Ollastu is certainly no different, and the menu is overflowing with a wide range of regional produce and flavors. In many cases, these dishes will have quite an imaginative twist, but you should still find variety at every turn. That is to say, from spaghetti and risotto to sorbet and exquisite seafood, S'Ollastu has a reputation for delivering and mastering a long line of dishes. At the same time, with such a high standard of food and presentation, S'Ollastu is known to match this reputation with the price. For this reason, this is not the most inexpensive restaurant in Porto San Paulo, and rates are significantly higher than elsewhere. However, if the above leaves any doubt in the mind of a diner, online reviews should ease these concerns. After all, most guests acknowledge these prices and then go on to compliment the experience of living up to high expectations. Regarding the setting, the hotel is beautifully maintained and consists of an imposing outdoor terrace. As far as ambiance, atmosphere or décor is concerned; both the hotel and restaurant are up there with the most attractive in the region. Moral of the story; S'Ollastu many not be an inexpensive restaurant in Porto San Paolo but it certainly has a reputation for being worthy of the price tag.
Agriturismo Gli Oleandri (Traditional Sardinian Food)
🏠
Località La Sarra
,
Sarra
,
Sardegna
,
07020
,
Italy
.
📱 Telephone:
+39 0789 41264
Many visitors are put off by the remote location, but the truth is, this restaurant in Porto San Paolo is quite easy to reach from Olbia in particular. Situated on top of a hill and in the midst of the countryside, Agriturismo Gli Oleandri is a small family run eatery with magnificent views. In this sense, the drive is also worth the effort and the modest nature of this restaurant make for a very authentic encounter. Featuring a small outdoor terrace and a romantic setting, this is also an ideal place to escape the busier places to eat in the region and unwind in a more private setting. Furthermore, this is also a way in which the local surroundings bring further authenticity to the food and dining experience. As for the food, this is undoubtedly the highlight, for even the appetizers go some way to explaining the variety. From fried meats with ravioli and Gallura soup to caggiu firriatu, a sublime cheese without any salt; there are many specialties on offer. However, the main course is just as impressive, for suckling pig and a range of other meats are usually served up with local herbs and vegetables. As you might expect, the isolated nature of this restaurant in Porto San Paulo is part of the appeal and with scintillating views, friendly staff and excellent online reviews; this is one eatery you will not want to miss in Sardinia.
How To Get To Porto San Paolo
Have you thought about arranging a rental car in Sardinia?
For some great deals, check out our Sardinia Car Hire page!
To get to Porto San Paolo from Olbia Costa Smeralda Airport, head southeast on the via Strada Statale 125 Orientale Sarda. It will be a 15 kilometer drive, which shouldn't take longer than 20 minutes.
Beaches Near Porto San Paolo