About Tertenia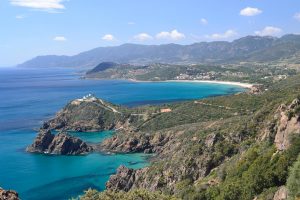 Tertenia is a small hill town in Sardinia, set between the mountains and the sea along the south-eastern coast of the island. This charming town is known for its delightful setting, from the stunning beaches to some fascinating archaeological sites. The original settlement during the prehistoric times was built at sea, although the inhabitants have later on moved uphill to escape dangerous raids. Evidence of these early inhabitants can still be found within the town's archaeological remains today, which include the enchanting nuraghe structures. Tertenia is located in a high valley at the base of Mt. Arbu and Mt. Ferru, along the Rio Quirra River known for its beautiful surrounding landscapes that consist of green covered mountains surrounded by azure seas. There are also vast vineyards intersecting with the fields and woods. Go on a hike to enjoy the stunning views or take up horseback riding. Check out the Marina di Tertenia, a 12-km coastline consisting of white sandy beaches punctuated with coves tucked within boulders. The long stretch of coast is well protected by promontories, which makes for a more pleasant experience at the beach. Tertenia is known for its vibrant and colorful history, which explains the many exciting sites and attractions in town. The Civic Museum of Modern Art is the best place to visit for the lover of arts. It's dedicated to a famous local-born sculptor, Albino Manca who made a name locally and internationally. At the shore, you'll find the 16th-century Spanish watchtower. This cylindrical stone tower used to be part of Tertenia's defensive system during the early times. For a glimpse of Tertenia's local culture and history, take time to walk through the trails towards Nuraghe Nastasi and Nuraghe Aleri. There are also some religious buildings that are worth visiting in town. Among them is the church of Santa Teresa d'Avila, which was built in the 17th century and the church of Beata Vergine Assunta. Tertenia is also known to host some festivals. At the beginning of September, the town throws in a big party to honor Santa Sofia. Another major festival known as the feast of San Sebastiano takes place every 20th of January. There's also a costume parade honoring San Pietro Apostolo while in August, the town celebrates a feast of some local produce, where visitors can enjoy a sumptuous meal of roasted and boiled sheep, along with local cheeses, and wine.
Tertenia Map
✔ Use the Google and Booking map below to explore the area.
✔ Fill in your holiday dates to get an accurate view of available accommodations near Tertenia.
Where to Stay in Tertenia - Our Top Picks
Sa Iba Resort
A 3 star Apartment in Tertenia, 5.4 kilometers from the center of town (about 3.3 miles.)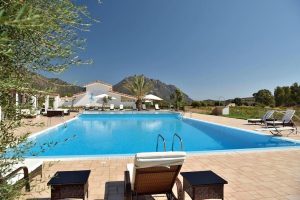 When taking a holiday in south Sardinia, there are many options regarding destinations and accommodations. Sa Iba Resort is a hotel in Tertenia that never fails to impress. You will find the highest standard of comfort and design while the level of service is right up there with the very best hotels in this part of the island. Located just a ten-minute walk from the beach, the Sa Iba Resort offers the perfect spot for visitors who might want to swim or go sunbathing. A stunning outdoor pool is one of the main highlights of the property, and there is rarely any other reason to leave the Sa Iba. The resort also has a fantastic bar and a restaurant with a reputation for producing some genuinely mouth-watering food. Featuring cable television, air conditioning, and a small kitchenette; the rooms are nicely designed and spacious. Many guests attest these rooms to being the best part of staying at the hotel, and it would be hard to disagree – the rooms even open out onto the main terrace. These rooms also have a sofa, tiles floors, beautiful bathrooms and plenty of natural sunlight. The hotel's restaurant is a memorable place to enjoy meals at any time of the day. With friendly staff and a bright interior, the atmosphere is near perfect, but then the range of local and international cuisine is just as impressive. You can enjoy a drink at the bar afterward or not, either way, the resort leaves no stone unturned when it comes to entertaining guests.
Hotel Janas
A 3 star Hotel in Tertenia, 5.5 kilometers from the center of town (about 3.4 miles.)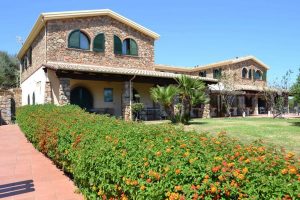 Hotel Janas is a beautifully maintained three-star hotel in Tertenia with an antiquated exterior, luscious gardens, and comfortable rooms. Located just a stone's throw from the coastline, the hotel is also ideally situated for nature lovers and for those looking for an escape on their holiday in south Sardinia. While the swimming pool is seasonal, it must be said that the pool is nicely enclosed for those yearning for some privacy. Furthermore, the gardens mentioned above offer a lot of space to guests and bring a certain sense of calm to the property. Outside, there are tables, chairs and sun loungers, and all considered, the setting is perfect for a quiet holiday in south Sardinia. Meanwhile, there are several types of rooms to choose from in Hotel Janas including a double room, a triple room, and a junior suite. Each of these has more than enough space and quite a charming style concerning design and furnishings. After all, this is supposed to be more of a home-style experience than it is a modern hotel and the owners appear to have got this side of the appeal right. Regarding conveniences, the rooms also have air conditioning, a large bathroom, free WiFi and excellent views from the balcony. Finally, the accommodation is also home to Restaurant Janas, and this pizzeria has an excellent reputation with past guests. You will have breakfast in the same dining room each morning, but in truth, you will likely choose this restaurant for every other meal. Overall, Hotel Janas is a beautifully quaint hotel in Tertenia with enough charm and features to live up to even the highest expectations.
Hotel Corte Bianca
A 4 star Hotel in Tertenia, 13.7 kilometers from the center of town (about 8.5 miles.)
As you might expect for a hotel in Tertenia, this accommodation is located close to the coastline. However, Hotel Corte Bianca takes things to another level with a private beach – Marina di Cardedu. Impressively, the hotel also features two separate swimming pools, some relaxation areas, and even a tennis court. Indeed, the hotel has very luscious surroundings and a particularly lovely swimming pool. When it comes to relaxation, you would be hard to find a more relaxing hotel in south Sardinia. You will also see that the rooms at this hotel in Tertenia are especially enticing. Every room features ample space, spotless bathrooms, and a very relaxing shade of beige throughout. The furnishings are also modern and comfortable while the convenient include everything you could want including air conditioning, a minibar, and quite a large balcony. Finally, Hotel Corte Bianca has an excellent restaurant which features both local and international cuisine. As a guest, you do not need to make reservations but either way, this sublime food feels like the icing on the cake for what is an excellent hotel in Tertenia.
Things to Do in Tertenia
Visit the Museo Albino Manca
Paying a visit to this fascinating museum is one of the most cultural things to do in Tertenia. The Museo Albino Manca is a tribute to a famous artist by the name of the same name – Albino Manca. Located near the town centre, the museum features many portraits of famous people and just as many sculptures, something for which he was best known. Of course, Albino Manca was born in Tertenia and volunteered in the Great War before going off to study in the Academy of Arts, Rome. It was during this time that most of his work was created including a particularly impressive portrait of the famous Mussolini. Manca was quite different from many other sculptors at the time, and this could be seen in his work. He famously made four giant bronze statues for the Legion of Carabinieri and eventually emigrated to New York. Also, there is a giant bronze eagle in Battery Park, New York which was made by Manca and this brought him worldwide recognition. Although Albino Manca is now buried in Tertenia, the Museo Albino Manca is a wonderful tribute and a great insight into his work. Indeed, the museum is one of the most interesting things to do in Tertenia.
The Lara Brewery is one of the activities in Tertenia that seems to tick all the boxes. After all, the samples of beer are fantastic, but then the story behind the brewery is also quite an interesting one. Aside from the local appeal, the actual product is incredibly popular. Affummiàda, Piculìna, and Sennòra are three of the main varieties while "Moretta" is undoubtedly the most controversial. Indeed, as with many family breweries, Lara is a micro-brewery with a macro reputation. That is to say, the brewery was famously brought to court by Heineken some years ago when the giant beer company decided that Birra Moretta was too similar to one of their own brands - Birra Moretti. That being said, this excellent micro-brewery is a fine example of how locals have harnessed the benefits of Sardinian landscapes. In this sense, the production process sources fresh ingredients from local regions and uses these to produce excellent artisanal beers. Best of all: tourists and locals can now visit the brewery to take a tour. While alcohol may not be for everyone, this is nevertheless a fantastic way to taste another side of the artistic qualities of Sardinia.
Visit the Museo La Stazione dell'Arte
Located approximately 13 kilometers from Tertenia, Museo La Stazione dell'Arte has the biggest collection of contemporary artists. These pieces of work were constructed with different techniques which makes this the ideal museum for art lovers with any preference. As mentioned, the extent of variety on display also makes this one of the best things to do in Tertenia. From terracotta and canvas to ceramics and sewn books, the range of materials is impressive. Also, the Station of the Art, as it's called in English, has been around for more than thirty years that brings a deep sense of culture to every visit. Interestingly, the museum is located on the edge of town and inside an old train station. You will find specific sections dedicated to particular disciplines and a lot of educational material to learn more about the artists or work on display. Needless to say, you don't need to be an artist to enjoy what this fantastic museum has to offer. Featuring bright colors, interesting art, beautiful modern furnishings, and a comfortable space; this is certainly one of the most exciting things to do in Tertenia.
More Places to Visit Near Tertenia
Tertenia Restaurants - Where to Eat
Hotel Janas Ristorante (Seafood)
🏠
Via Sarrala
,
Tertenia
,
Sardegna
,
08047
,
Italy
.
📱 Telephone:
+39 0782 909005
Hotel Janas Ristorante is an excellent restaurant in Tertenia and features a nice blend of old and new. That is to say; the hotel is beautifully furnished with modern furniture but then focuses on provided an experience, which is congruent with the local history. Regarding location, the restaurant is located in the hotel of the same name, Janas, and is one of the most popular restaurants in Tertenia. With this in mind, you can expect a welcoming ambiance and plenty of space, for the restaurant is much bigger than most. The restaurant staff is particularly professional here, and you will find them impeccably dressed and courteous at all times. However, this is merely keeping up with the reputation of the food that never fails to impress. From seafood platters and octopus to pizza and pasta, the menu is varied and often the subject of excellent reviews. Overall, Hotel Janas Ristorante is a reliable restaurant in Tertenia and a safe choice for a group of any size who might want a little more space and variety on the menu.
Agriturismo Donnolu (Traditional Sardinian Food)
🏠
Strada Statale 125 km 99,200
,
Tertenia
,
Sardegna
,
08047
,
Italy
.
📱 Telephone:
+39 347 885 7926
Agriturismo Donnulo is a family-run restaurant in Tertenia with a reputation for providing local experiences and excellent food. In fact, reservations are a good idea with this eatery, for it is often full and this is especially true on weekends. Located inside a small family home, the restaurant is nicely decorated in such a way that it feels warm the moment you enter. That being said, the staff also do everything to make guests comfortable, and this staff is usually the family themselves. As for the food, you will find the most wonderful range of dishes on the menu. Just as importantly, the ingredients are incredibly fresh, and the restaurant is known for serving up sublime samples of sausage, cheeses and other appetizers. From roasted pork and potatoes to gnocchi and other pasta, the ingredients of these meals are mostly used to create traditional Sardinian dishes. Indeed, Agriturismo Donnulo is a restaurant in Tertenia with a difference and everything a visitor might need to sample a local meal in a very local pocket of Sardinia.
Agriturismo Cirra (Traditional Sardinian Food)
🏠
Tertenia
,
Sardegna
,
08047
,
Italy
.
Agriturismo Cirra comes highly recommended in reviews and is often referred to as being excellent value for money. At the same time, the quality of food and service in this Tertenia restaurant ensure that the cost is far from being the highlight of the menu. Located in the midst of beautiful peach and pomegranate trees, the restaurant can feel like an escape from the busy world. Meanwhile, things are kept simple inside with wooden decor and occasional rustic furnishings. All considered, this is very much an insight into authentic Sardinia and a great choice to experience life as a local. As for the food, the antipasti and pasta are usually the perfect introductions to an exceptional meal. All ingredients on the menu are locally made, and the menu is filled with local Sardinian dishes. Even the wine is produced at the agriturismo, and for alcohol-free options, there is always coffee. Needless to say, Agriturismo Cirra is hugely popular with tourists, and there are so many reasons as for why this is also one of the most popular restaurants in Tertenia.