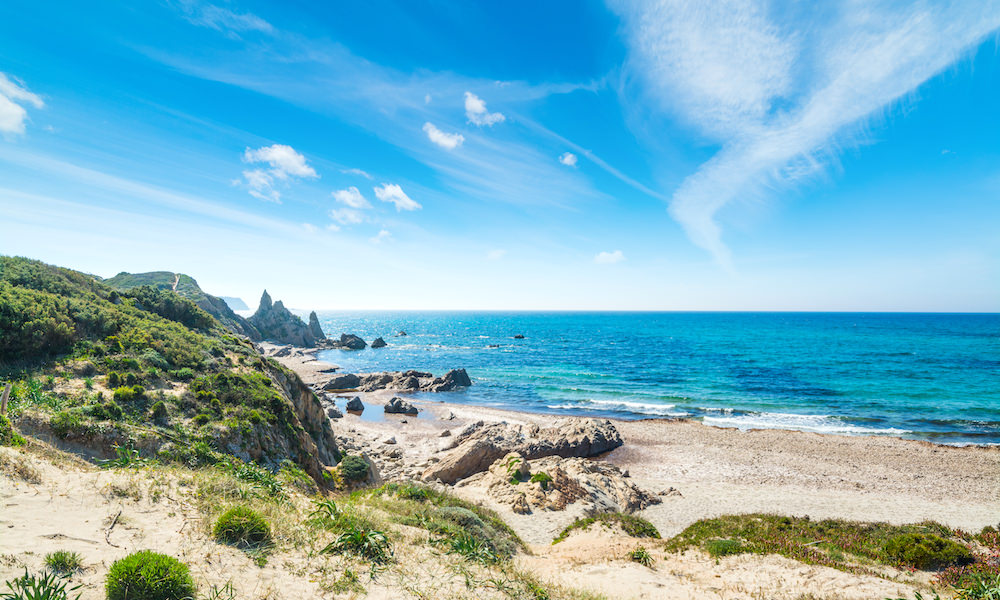 About Rena Majore
near Rena Majore, Province of Olbia-Tempio, North Sardinia, Italy.
parking, bar.
scuba diving, windsurfing, surfing, kitesurfing.
18:39 PM
08:34 AM
2000 meters.
suitable for families with children.
About 9 kilometers south-west of Santa Teresa Gallura, one of Sardinia's northernmost villages, lies Rena Majore beach (Spiaggia Rena Majore), named after the village nearby. Located at the mouth of the Rio Cantaru river, the beach mostly faces west, with a view of Monti Russu to the far left. Rena Majore has golden sands, occasionally separated by rocky patches, and blue waters with stray rocks reaching above the surface. The beach is suitable for families with children, since its waters aren't very deep. Rena Majore has a total length of 2 kilometers, and is divided by a rocky section about two-thirds down, that is best crossed via a footpath that runs over it. Rena Majore beach is easily accessible by car, the beach has several parking areas. Rena Majore village offers shops, supermarkets, medical services, and several bars and restaurants.
How To Get To Rena Majore Beach
From Arzachena, head onto the Strada Statale 125 to Palau. Near Palau, turn left onto the Strada Statale 133 to Santa Teresa. After 9 kilometers, turn left onto the Strada Provinciale 70. After 1.5 kilometers, turn right onto the Strada Provinciale 71 to Rena Majore.
Map
Use the Google and Booking map below to explore the area.
Fill in your holiday dates to get an accurate view of available accommodations near Rena Majore Beach.
Beaches Near Rena Majore Beach