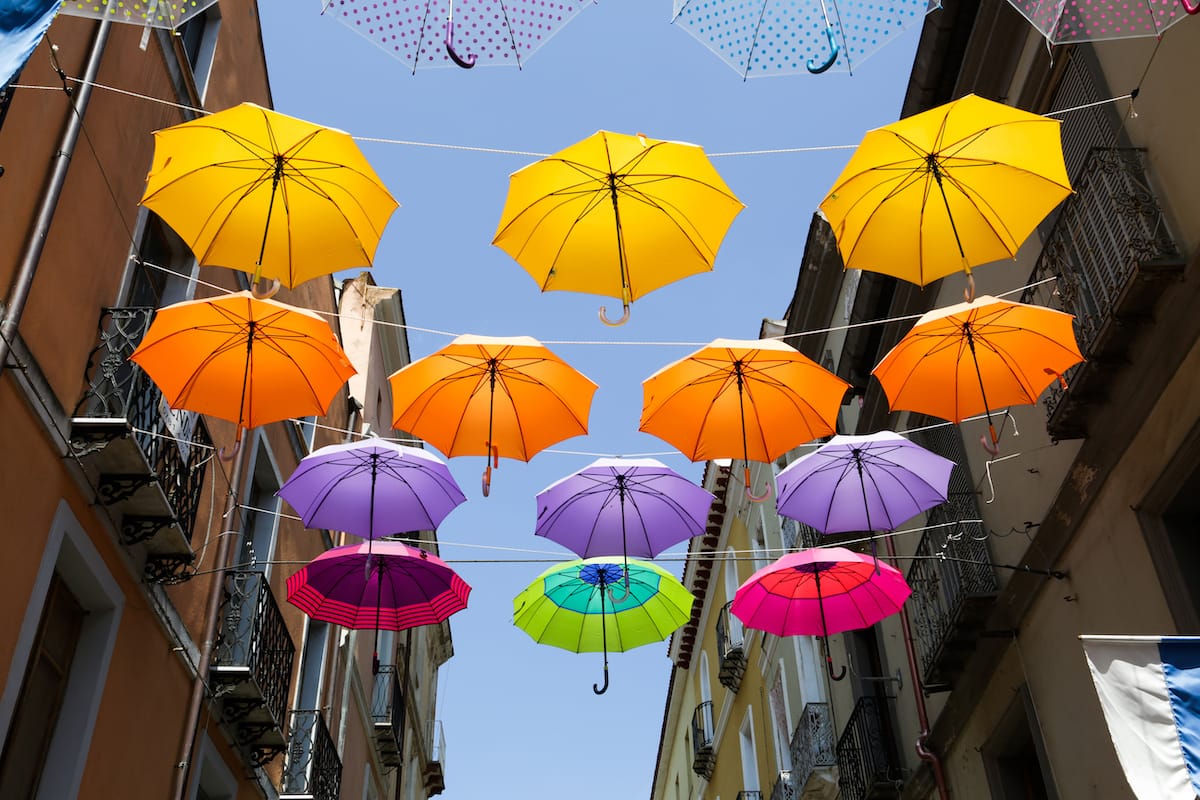 About Iglesias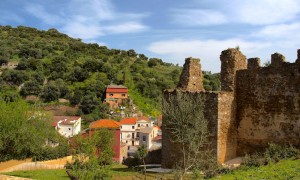 At one time the town of Iglesias was at the heart of the mining community but all that has changed now. This is a beautiful historic destination in south-west Sardinia with a rich Spanish culture that buzzes with energy in the summer months. Even in winter it retains its charm and is a quieter place to relax. For visitors to Sardinia some time spent in Iglesias is a wonderful way to experience local culture and hospitality. In Iglesias you're never far from a piece of history and there are reminders all over town of when the Spanish ruled this part of Sardinia. At some times it may feel as though you are in Spain with the elegant piazzas, Aragonese balconies, and distinctive architecture. Iglesias is home to some beautiful buildings which are a joy to discover on holiday. The famous castle, Il Castello Salvaterra, dates from 1258 and is one of the more prominent buildings in the town. You'll also see the cathedral which is beautiful to visit. Cattedrale di Santa Chiara also dates from the 13th century and has many different architectural styles. Iglesias has many more churches including San Francesco with its 16th century monastery. Walk around town and you'll soon find the ancient fortified walls which run along to the castle. This really is a charming town to explore with a lot of history within a short space. Another important aspect is the mining heritage and visitors can take guided tours of the area including the mines at Masua and Monteponi. There is also an interesting mining museum in the town which has many fascinating displays about the industry and its links to Iglesias. And the Machinery Museum is another attraction in Iglesias, reflecting its rich industrial past. Iglesias lies at the foot of the Marganai Mountains where the scenery is magnificent. This is where the State Forest of Marganai is also located with some beautiful flora and good walking and mountain biking trails. Monte Linas is another popular walking area and where wildlife such as marten, weasels, hawks, hares and more can often be seen. There are spectacular caves here too with some amazing scenery. One of the best is Su Mannau, near Fluminimaggiore. These can be visited on a guided tour and are breath-taking. Another nearby cave is at San Giovanni which has some historic walls and stalagmite displays. Iglesias is an excellent base to stay and then explore the surrounding countryside which is easy to reach by car or taxi. Iglesias is close to some great beaches which are perfect on a hot day. Porto Flavia is a rocky beach near the municipal area of the village. It is renowned for its snorkelling and scuba diving and is also popular for those who enjoy fishing. Nearby is a beautiful pine forest which gives off a lovely scent as you walk to the beach. Buggeru is another beach in south-west Sardinia and is a sandy coastline. It is also popular with surfers. Cala Domestica is an interesting beach in the area which is located amongst old mine workings. It is popular with divers and fishing enthusiasts. The town of Iglesias has lots of good places to stay from guest houses to hotels and villas. You'll find some great places to eat in and around town too where you can taste Sardinian specialties. The seafood is particularly good. Many of the restaurants are decorated in Sardinian style too and are a delight to visit. You'll find the Piazza Quintina Sella in the centre of town a great place for relaxing with a drink to watch the world go by. Iglesias also has a colourful food market which is ideal for tasting local specialties and stocking up on ingredients if you are self-catering or planning a picnic. Iglesias is a very interesting town with a lot to see and do, particularly if you like the outdoors and history. It is easy to get to and you'll be surprised at the amount of activities and attractions in and around the town. Take a closer look at Iglesias when you book your next vacation.
Iglesias Map
✔ Use the Google and Booking map below to explore the area.
✔ Fill in your holiday dates to get an accurate view of available accommodations near Iglesias.
Where to Stay in Iglesias - Our Top Picks
Hotel Sport Village
A 3 star Hotel in Iglesias, 2.4 kilometers from the center of town (about 1.5 miles.)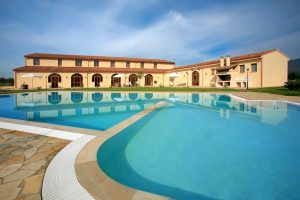 Hotel Sport Village is a charming 3-star hotel in Iglesias, in the South Western part of Sardinia, one kilometer from the city center. Many of the most famous attractions in town are also nearby, such as the 13th-century Gothic style church of San Francesco. As for the beautiful beaches, these are all within driving distance, while the Cagliari - Elmas airport is minutes meaning there is very little travel time involved. Set in a supremely quiet location and surrounded with magnificent views of the countryside, Sport Village ensures a relaxing stay for guests at this hotel in Iglesias. Upon arriving at the property, you will find a spacious outdoor pool which offers a splendid view of the island. Furthermore, part of this pool is reserved for kids while many sunbeds offer the perfect way for parents to unwind. With this in mind, there are many other great amenities at the Hotel Sports Village including a football field and tennis court, ideal for children and active adults. As for the food, there is also a restaurant and pizzeria which serves delicious wood-fired Italian style pizza. The restaurant menu features a wide variety of Sardinian cuisines prepared by a local chef and guests have the option of dining indoors or at a large terrace beside the pool. Outdoor barbecues can also be arranged, where you can enjoy mouth-watering roasts and grill-based meat or seafood. Aside from the restaurant and pizzeria, there is also a bar on the property which offers a full range of alcoholic and non-alcoholic drinks. The Hotel Sport Village has a total of twenty seven tastefully decorated rooms equipped with all the modern comforts and amenities you might expect. In this regard, each room is fitted with an air conditioning system, flat screen TV, telephone, and fridge. Of course, there is also a private bathroom with toiletries while it should be noted how this particular property is well equipped with facilities for disabled guests.
Euro Hotel Iglesias
A 4 star Hotel in Iglesias, 0.4 kilometers from the center of town (about 0.3 miles.)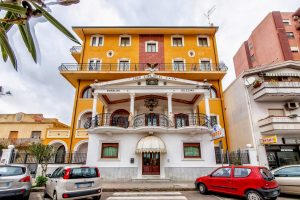 Euro Hotel Iglesias is a 4-star hotel which is located in the city center. In fact, the historical center is just a five-minute walk from the hotel, and the nearest beach is only a fifteen-minute drive away. Featuring a medieval style facade, the hotel has undergone a major renovation in recent years. In this respect, it now consists of beautiful interiors in the Rococo style which extends to the lounge and the lobby in which guests first arrive. As for facilities, the Euro Hotel Iglesias is equipped with everything you could expect to ensure an enjoyable and convenient stay including free Wi-Fi. For business customers, there is also the option of booking the hotel for conferences, meetings, and other events. Consisting of twenty-five well-appointed suites, each room at the Euro Hotel is spacious, comfortable, soundproofed and elegantly furnished. Furthermore, every room has a private bathroom, air conditioning system, flat screen TV, and ample seating area. In fact, some rooms even have a balcony that opens up to beautiful outdoor views, which provide the great place to start or finish your day. In the morning, breakfast is served in the hotel dining area and consists of different Italian and International delicacies in a buffet setting. Upon request, this breakfast can also be served in the comfort of your room. Regarding lunch or dinner, the nearest restaurant is just a walking distance from the property and specializes in Sardinian dishes and local delicacies.
Hotel Giardino Corte Rubja
A 3 star Hotel in Iglesias, 2.4 kilometers from the center of town (about 1.5 miles.)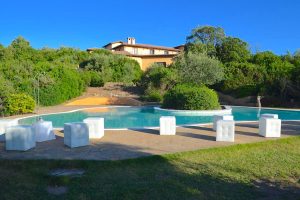 Hotel Giardino Corte Rubja is a 3-star hotel located just over two kilometers from the historic town center of Iglesias. Several beaches are easily accessible from the property including the Plagemesu, a popular sandy beach in Iglesias. Nestled beautifully on top of a hill, the Hotel Giardino Corte Rubja is a more secluded hotel in Iglesias. However, the conference rooms and ample parking areas mean this could also be an ideal spot for business meetings. Furthermore, it offers a wide variety of facilities, not to mention the outdoor pool and Jacuzzi. Surrounded by greenery on top of a hill, this outdoor pool is accompanied by beautiful views of natural landscapes. At the poolside, there are also beds which guests can use for sunbathing, reading a book, or simply soaking in the majestic views. During summer, dinner and lunch are also served at the poolside. There's also a bar where you can order a refreshing drink after a whole day of exploring the town. Corte Rubja restaurant is the in-house restaurant in Hotel Giardino Corte Rubja. Serving an excellent range of delicate Italian cuisines, the restaurant is often the subject of 5-star reviews from customers and features a long list of excellent wines from the local area. Also, the hotel has its very own pizzeria, Pizzeria Corte Rubja, which is said to have some of the most mouth-watering pizzas on the entire island. All rooms at the Hotel Giardino Corte Rubja are well furnished and fitted with essential amenities, such as a Wi-Fi, flat screen TV, air conditioning and heating system, safety deposit box and facilities are also available for disabled guests. Featuring wooden beamed ceilings and handcrafted furniture, the rooms evoke a relaxing, warm and cozy atmosphere. In fact, this is a sign of things to come, for this is indeed one of the most impressive hotels in Iglesias.
Things to Do in Iglesias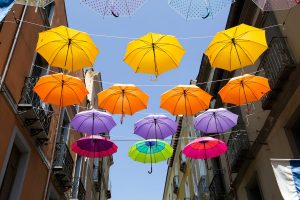 Iglesias is filled with historical landmarks, medieval churches, and ancient walls. You could easily travel by yourself and visit the main attractions, but a guided city tour can help you capture the true essence of this magical city. After all, how can you understand places like the Ciusa War Memorial or the majestic medieval walls and towers without the knowledge of a local tour guide? This is also a walking tour which is the best way to see any city, and most points of interest are close to one another. From Salvaterra Castle and Santa Chiara cathedral to Maimoni Fountain and the monument of Quintino Sella; the walking tour takes in a variety of interesting landmarks. Your guide will explain each of the landmarks and the history that connects Iglesias to Italy and the Mediterranean Sea. This guided walking tour lasts approximately 1 hour and 30 minutes and is suitable for families and people of pretty much any fitness level.
Iglesiente Mines, Nebida, and Masua Private Tour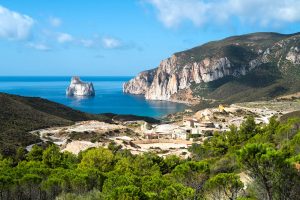 Southern Sardinia is blessed with a stunning natural landscape and many historical points of interest in between. This walking tour takes in the Iglesiente Mines and the mining village of Nebida before a trip to the ancient pier at Mass beach. The local mines offer a fascinating insight into old ways and traditions, and your tour guide helps bring these locations to life with in-depth knowledge of the area. The scale of this operation is immense, and the mine, which began in 1880, runs from Fontanamare Beach to Monteponi Mine. The natural surroundings add to the experience, and the remains at Nebida village attest to the amount of history in the area. You will also visit a small seaside town called Laveria La Marmora, where the locals washed and cleaned the zinc and lead. The is also a "colosseum of mining art." to explore before the tour moves on to the Belvedere of Nebida. This is a stunning viewpoint from which you can witness the iconic five stacks along the coastline. Another highlight is a spectacular 100-meter rock formation called Faraglione di Pan di Zucchero, and the guide will once again explain everything about the geological features. Finally, you will venture down to the pier at Masua beach and the mining port at Porto Flavia, where the history and natural scenery come together to showcase the genuinely magical side of Sardinia that you really ought to uncover!

Museo dell'Arte Mineraria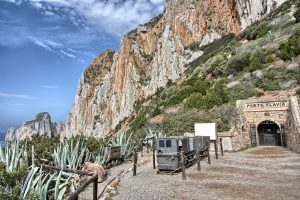 Iglesiente is arguably the most iconic mining area in Sardinia, especially for silver, zinc, and lead. Mining began in the mid-1800s and led to the foundation of a mining school in the region. This qualified personnel even excavated tunnels beneath the school to help recreate the mining environment. The Museum of Mining Art has tried to recreate these environments for you to explore and filled them with tools from the old days of mining. There are exhibitions with photographs, relics, and everything you want to know about the mines. However, the expert guides are probably the best thing about a visit to this museum because they convey many nuances and social aspects of the mines that would otherwise be left unknown. The silence in these buildings and tunnels is also noticeable, making this an atmospheric experience. Visitors will also learn how mining works and the evolution of equipment or techniques that made this one of the most famous mining areas in Italy. Overall, this fun and affordable tour is a great way to see some natural beauty in Sardinia while learning about an ancient way of life that made this region what it is today.
More Places to Visit Near Iglesias