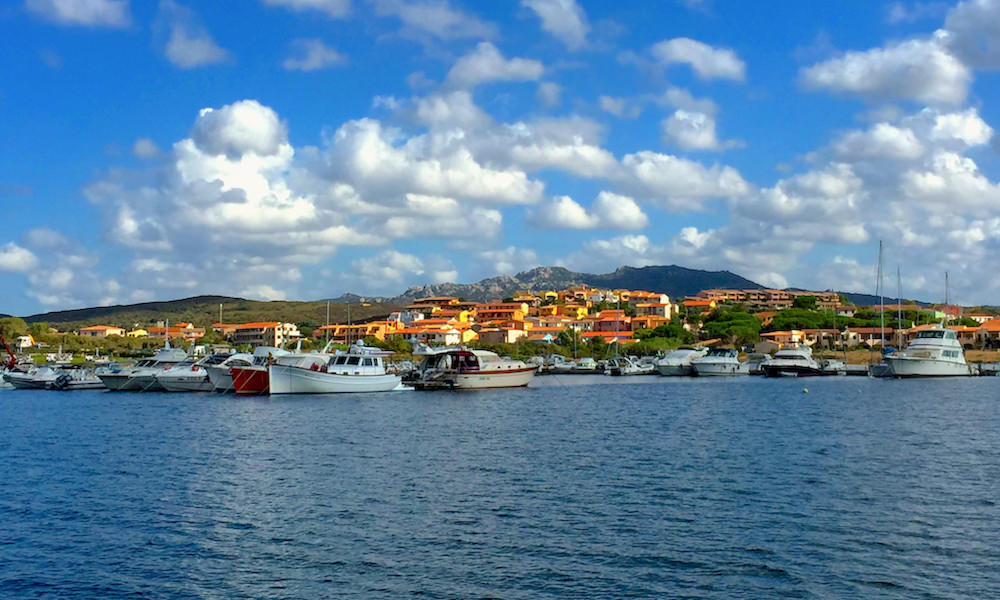 About Porto Pozzo
Drive 35 kilometers north-west from Olbia and you'll reach Porto Pozzo (Lu Puzzu), a small seaside village in Olbia-Tempio, north Sardinia. Situated near the mouth of the river Riu Val di Mela, Porto Pozzo has its own little port, where rubber boats can be rented to explore the bays and coves in the area. The ancient fishing village has a few shops, a fresh ice cream shop (Gilaterla Dolci Sardi), a supermarket, a tourist information center, a pharmacy, and several pizzerias. At the restaurant L'Osteria di Porto Pozzo, local seafood dishes and classic recipes can be enjoyed, all based on fresh fish that arrives here from the Gallura coast.
Porto Pozzo Map
✔ Use the Google and Booking map below to explore the area.
✔ Fill in your holiday dates to get an accurate view of available accommodations near Porto Pozzo.
Where to Stay in Porto Pozzo - Our Top Picks
Hotel Frassetto
A 3 star Hotel in Porto Pozzo, 0.2 kilometers from the center of town (about 0.1 miles.)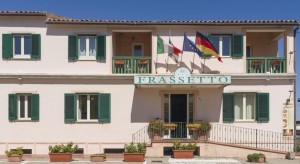 Hotel Frassetto is a three-star hotel in Porto Pozzo that is ideal for couples looking for a romantic hideaway for a holiday in north Sardinia. Regarding location, this small family-run hotel is eleven kilometers away from Santa Teresa and Palau. Built in 1964 in a small fishing village, Hotel Frassetto is also just a two-minute walk away from the beach and some truly spectacular scenery. With a pleasant atmosphere and personalized services from the friendly staff, Hotel Frassetto is like a home away from home. The rooms are very comfortable and furnished with modern amenities, such as satellite TV and an air conditioning system. Other facilities in the rooms are a fridge, safe, telephone, and hairdryer. All rooms have private bathrooms with shower featuring beautiful parquet floors. Some rooms also come with their own balcony that opens to the magnificent views of the sea. Delicious breakfast meals are served at the hotel's spacious outdoor terrace, allowing guests to enjoy sumptuous breakfast surrounded by the gorgeous nature views. Right across the hotel is the Sea Ray Coffee, which is also run by the owners of the hotel. The cafe serves a wide variety of lunch specialties, including salads and sandwiches. They also sell homemade desserts, such as apple pies, muffins, and chocolate, depending on the availability of local ingredients. Their bread is freshly baked from the nearby San Pasquale bakery. You can have your food delivered at your hotel room or enjoy it within the comfort of the cafe's cozy atmosphere.
Villa Nicoletta
A 3 star Bed and Breakfast in Porto Pozzo, 1.4 kilometers from the center of town (about 0.9 miles.)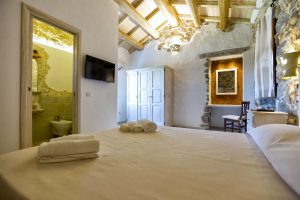 Villa Nicoletta is a nicely decorated B&B and an ideal small hotel for couples in Porto Pozzo. This B&B was a renovated structure from a building that dates back to 1800. Located in the municipality of Santa Teresa di Gallura in Porto Pozzo, this building is set in a four-hectare private property. Boasting a spacious veranda where guests can have breakfast every morning, Villa Nicoletta is indeed a relaxing place to stay for your holiday in north Sardinia. You can enjoy a cup of tea at the veranda while gazing out to the sea. The rooms are all fitted with a private bathroom and shower, and furnished with modern amenities, such as Wi-Fi, an air conditioning system, minibar, safe and satellite TV. Free toiletries are also provided. Decorated in a true Sardinian style, some rooms open up to a beautiful view of the garden and the sea. With its strategic location, Villa Nicoletta is just a few minutes away from the beautiful beaches of Porto Pozzo. It's located in a village that's surrounded by natural fjords, numerous restaurants, local markets, and a marina. In fact, the beautiful marine park of La Maddalena can be easily accessed from this place by boat. The port town of Porto-Vecchio is only 45 km away from the hotel and Olbia is 50 km away. If you're arriving at the Olbia Costa Smeralda Airport, the hotel is only less than an hour drive away. For those who are taking their rental car, they can take advantage of the free parking within the property.
Things to Do in Porto Pozzo
Wine Tasting at Capichera
The Gallura region is famous for its exotic and flavorful wine grapes. Vermentino is one of the most popular native varieties of grapes in Sardinia. So that you know, these are the light-skinned wine grapes that give a distinct fruity aroma and an exotic taste to the Italian wine. What's more, the Capichera Winery specializes in making pure Vermentino wine with perfection. In the late 1970s, the Ragnedda family decided to get the best out of Vermentino and took the initiative of sowing the nearby vineyards. Now, the winery has mastered the art of producing pure Vermentino wine with a more refined aging process, and the wine stays in wooden barrels until it is permanently fermented. With this in mind, visiting the Capichera winery is one of the best things to do in Porto Pozzo and a wine tasting experience that you won't forget any time soon.
Visit Tomb of Giants Li Lolghi
If exploring the Tomb of Giants Li Lolghi is not included on your list of things to do in Porto Pozzo, you might want to reconsider. This granite built tomb is a testament of the ancient Nuragic civilization dating back to the Bronze age somewhere between 1600-1800 BC. It is one of the most prominent tombs in Sardinia, and the local people named it the tomb of giants due to its gigantic size. The tomb of Giants was a graveyard in ancient times, and a place where the Nuragic people used to gather for the funeral rites of their loved ones. The tomb was constructed in two phases: In the first phase, the 4m high central dolmen was erected, and then a passage was added later on. Today, the fourteen vertical slabs have become the landmark we now know as the Tomb of Giants. While there are a total of 800 tombs in Sardinia, the Tomb of Giants Li Lolghi is undoubtedly one of the most spectacular.
Horseback Riding at Centro Equestre La Prugnola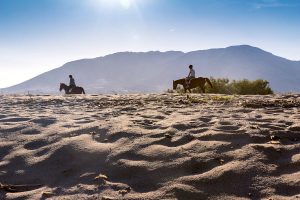 Many visitors to Sardinia come back to Centro Equestre La Prugnola year after year to enjoy this enjoyable experience. Located amidst the beautiful countryside in Gallura, horse trekking is one of the most enjoyable things to do in Porto Pozzo. There's no better way to see the landscapes of Sardinia, and the ranch itself is an incredible place. That is to say, Centro Equestre La Prugnola is a haven for horse riding enthusiasts, and the horses are exceptionally well maintained. Whether you meet Cecilia or Guiseppe on arrival, the guides are warm and friendly, not to mention highly experienced when it comes to horseback riding. And then there's the experience of witnessing these lush surroundings from the saddle; Porto Pozzo is indeed a beautiful region, but it's always better to share experiences - especially with a horse.
More Places to Visit Near Porto Pozzo
Porto Pozzo Restaurants - Where to Eat
L'Osteria Di Porto Pozzo (Seafood)
🏠
31
,
Viale Aldo Moro
,
Porto Pozzo
,
Sardegna
,
07028
,
Italy
.
📱 Telephone:
+39 338 233 6695
L'Osteria Di Porto Pozzo is known for serving the juiciest seafood dishes prepared from the freshest catch that arrives daily from the coast of Gallura. Located in one of the oldest streets in Sardinia, the Road to Santa Teresa di Gallura, it's one of the most popular restaurants in Porto Pozzo, especially among seafood lovers. Upon arriving at the restaurant, an exhibitor will warmly welcome you at the entrance offering the freshest catch of the day. You will then be guided into choosing the fish that you wanted to be cooked into a classic Sardinian recipe of your choice, whether it's grilled, salted, or baked. The appetizers continuously vary with new proposals from the chef day by day. Some of the most popular seafood dishes on the menu are Carpaccio and Sea Bass Tartare, Scampi of Sardinia, Ricciola (amberjack), red tuna, red prawns, and Cannolicchi pasta with truffles and mussels. Among the first courses is homemade Tagliolini with seafood, Spaghetti with sea urchins, Fregola, and Tortelli di Mare. Second courses are a choice between fish soup, shellfish, and grilled fish. Of course, the desserts are also worth mentioning, especially the sweet cheese ravioli with honey and coffee-flavored mascarpone dessert. Aside from serving the most delectable dishes in Porto Pozzo, the L'Osteria Di Porto Pozzo is also famous for its relaxing ambiance, especially the outdoor setting. For those who want to enjoy their meal with a breath of fresh air, there are outdoor tables arranged in the restaurant's gorgeous lawn.
Ristorante Sintonia (Seafood, Pizza)
🏠
Piazzale Porto Turistico
,
Porto Pozzo
,
Sardegna
,
07028
,
Italy
.
📱 Telephone:
+39 327 311 2514
Ristorante Sintonia is one of the most excellent restaurants in Porto Pozzo, and that is for a good reason. This charming restaurant is situated near the shores of the town's Marina. Beautiful white seats are arranged on the restaurant's front terrace facing the sea and contrast beautifully with the crystal clear blue waters. Aside from the beautiful coastal view, customers are also treated to a wide selection of local seafood cuisines. From the menu, customers can choose from the different pasta dishes traditionally prepared by the skillful hands of the local chefs. There are also grilled fishes cooked in different ways, and accompanied by a selection of desserts and side dishes. The restaurant also serves a good variety of wood-fired Italian pizzas. There's a wine menu where customers can choose from a wide selection of local and international wines to complement the main dishes. The best way to enjoy the specialties of Ristorante Sintonia is by sitting at the side of the restaurant's terrace, which is surrounded by a long stretch of green lawn leading into the sea. There are also outdoor sofas and tables arranged beautifully on the green grass. It's a great place to unwind in the evening with a glass of wine or cocktails in hand. For those who are sailing to Porto Pozzo, they can choose to access the restaurant from the sea. Ristorante Sintonia has a berth reserved exclusively for their customers.
How To Get To Porto Pozzo
Have you thought about arranging a rental car in Sardinia?
For some great deals, check out our Sardinia Car Hire page!
The nearest airport to Porto Pozzo is Olbia Costa Smeralda Airport, located about 41 kilometers south-east of the seaside village. To get to Porto Pozzo via the fastest route by car, just follow the Strada Statale 125 once you've left the airport. This road will practically lead you all the way to Palau. Note that once you're near Arzachena, you can either choose to go through the village by staying on the SS 125, or go around it by taking the Strada Provinciale 14 for a few kilometers. The SP 14 will lead you back on the SS 125 eventually. Once you've reached the area of Palau, head west on the Strada Statale 133 and 133bis. These will guide you to Porto Pozzo. The total trip shouldn't be longer than about one hour.