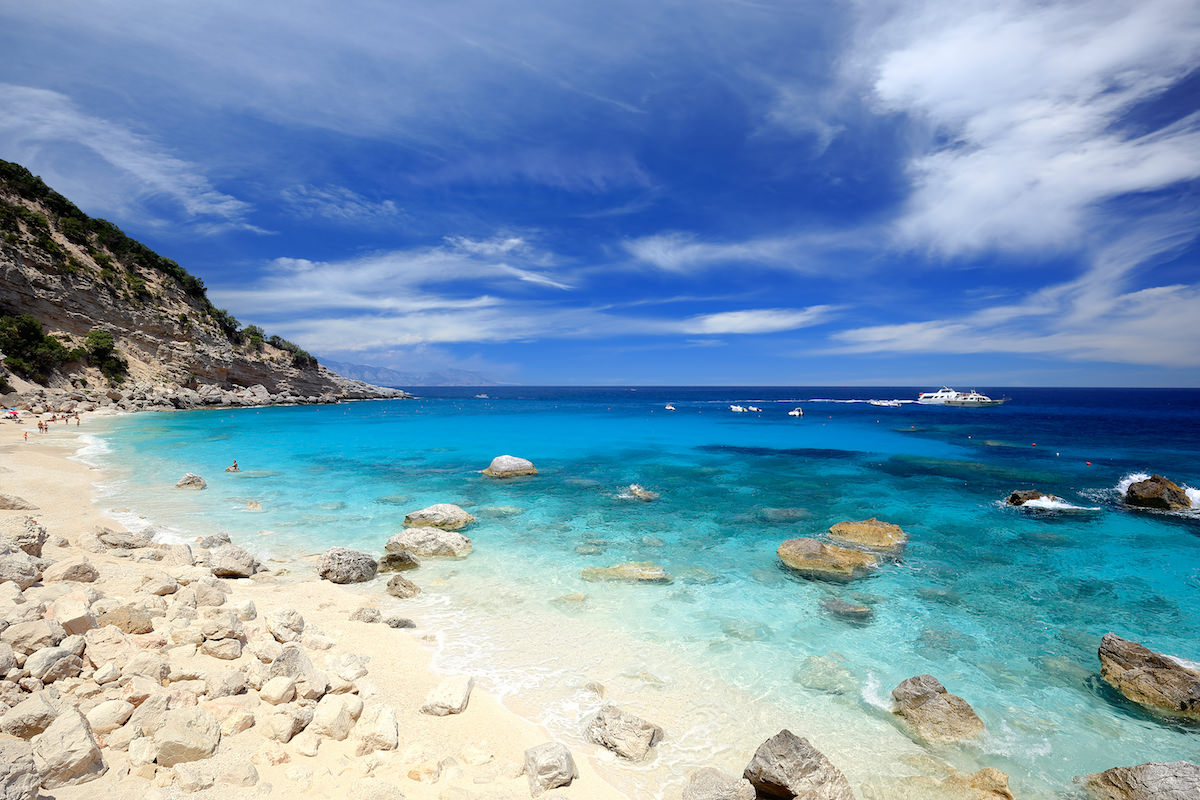 About Cala dei Gabbiani
Cala dei Gabbiani (Seagull Cove) is a marvelous cove located in east Sardinia, about 18 kilometers south-east of Cala Gonone, and 12 kilometers north-east of Baunei. Together with Cala Luna, Cala Sisine, Cala Goloritzè and Cala Fuili, it's in the top of the list of must-see paradise beaches in east Sardinia. Many tourists from all over the world travel to east Sardinia every year to explore these true works of art. Gabbiani beach has a length of over 230 meters, and near the northern section it can get up to 50 meters wide. Compared to most coves on the jagged Ogliastra coast, that's an unusually large stretch of sand. The beach mostly consists of pebbles in various sizes, so bring proper footwear if you'd like to visit this place. Cala dei Gabbiani faces north-east, featuring stunning views over the deep blue Tyrrhenian Sea which stretches out for 350 kilometers all the way to the west coast of Italy. The fabulous scenery is enhanced by Punta Ispuligi, a rocky outcrop on the north side of the beach which separates the beach from Cala Mariolu. The back of the beach is closed off by towering limestone cliffs. As the sun sets in the west, these will cast a cooling shade over the cove at the end of the afternoon. Its Caribbean-quality waters are unbelievably crystal-clear, with a light-blue colour, and usually tranquil. It's a great spot to go snorkeling, or just chill on the beach. Children will love it here too! You'll find a good snorkeling spot on the south side of the beach (on your right, if you look out over the water), where you'll see a few underwater rocks. You'll likely spot a few colourful fish there. Unfortunately, you cannot get to this cove on foot, unless you're an experienced hiker or climber with proper gear and stamina. It's better to visit the beach by boat. You can arrange boat trips to Cala dei Gabbiani in the seaside villages of Cala Gonone, Santa Maria Navarrese, and Arbatax. To avoid the crowds during high season, visit the cove before 12 PM if you'd like to spend some time in the sun, or after 4 PM if you prefer some shade. Bring some drinks and snacks to get you through the day; you won't find any restaurants or bars here.
Highly recommended!
Places to Stay near Cala dei Gabbiani
Map
Use the Google and Booking map below to explore the area.
Fill in your holiday dates to get an accurate view of available accommodations near Cala dei Gabbiani.
Beaches Near Cala dei Gabbiani