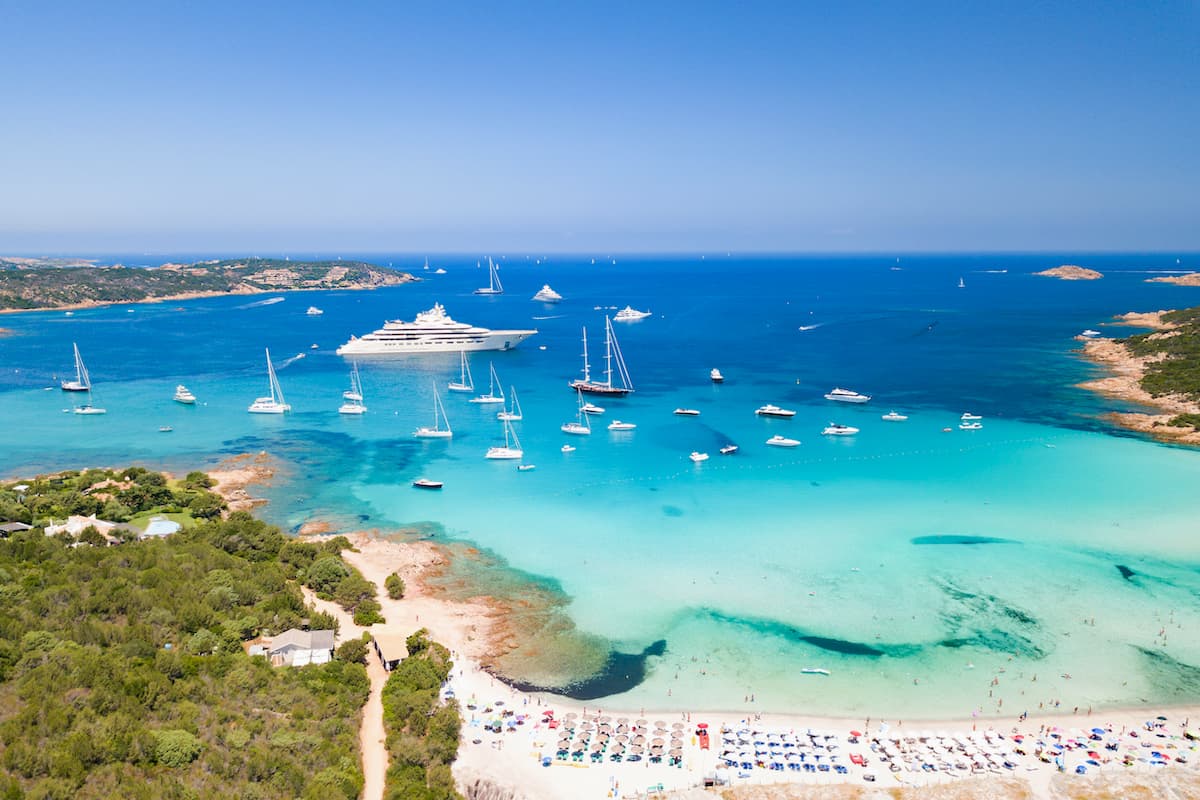 About Pevero
near Porto Cervo, Province of Olbia-Tempio, North-East Sardinia, Italy.
parking, beach chairs, umbrellas, bar.
snorkelling.
20:54 PM
05:54 AM
300 meters.
suitable for families with children.
Pevero beach, the most famous of all Porto Cervo beaches, actually consists of two beaches: Piccolo Pevero beach (Spiaggia del Piccolo Pevero) and Grande Pevero beach (Spiaggia del Grande Pevero). Both beaches are located just 3 kilometers south of Porto Cervo, and 2.5 kilometers north-west of Romazzino beach – in what may very well be one of the most stunning areas of the Costa Smeralda.
Grande Pevero
Backed by a pond and small dunes, Grande Pevero beach spans about 300 meters and faces north, often offering views of many a yacht resting in the Pevero Gulf in summer.
Piccolo Pevero
Piccolo Pevero, in the small village of Golfo Pevero, is only 120 meters long – hence its name – and faces north-east offering views of Isole di Li Nibani in the distance.
Both beaches have shallow waters, making them suitable for children. Walking from Piccolo Pevero to Grande Pevero is possible, the beaches are roughly 600 meters separated from each other. Perhaps this is not an activity that springs to mind during high season, but the surroundings are exceptional, the villas and private gardens straight from a dream, and the colours of the Sardinian Sea are extraordinary. The Pevero beach area offers plenty of bars, hotels, restaurants, shops and services.
Pevero Beach Hotels
Just 100 metres from Piccolo Pevero beach, you'll find Hotel Piccolo Pevero, a 3-star hotel with terrace and garden, where rooms have air conditioning, most rooms have a balcony overlooking the garden or sea. A little further north you'll find Hotel Le Ginestre, a 4-star hotel surrounded by a Mediterranean park, with swimming pool, a private beach, and a restaurant that serves local and international cuisine. Near the small village of Cala di Volpe, just 600 meters south of Grande Pevero beach, is where you'll find Hotel Cala di Volpe, a 5-star hotel with rooms featuring private balconies overlooking Cala di Volpe Bay. This hotel has a wellness centre and a private beach. It is located nearby the Pevero Golf Club that offers an 18-hole golf course that is considered to be one of the most beautiful golf courses in the world. 5 kilometers from the golf club, apartments are available for rent at Residenza Chrysalis Bay, just 50 metres from the beach of Piccolo Pevero. The apartments have modern furnishings, and feature a sea-view terrace. The on-site Il Pulcino Restaurant serves Italian cuisine and pizza.
How To Get To Pevero Beach
Coming from Arzachena, take the SP59 heading north-east to Porto Cervo. It will be about a 13 kilometer drive before you'll reach Golfo Pevero.
Map
Use the Google and Booking map below to explore the area.
Fill in your holiday dates to get an accurate view of available accommodations near Pevero Beach.
Beaches Near Pevero Beach