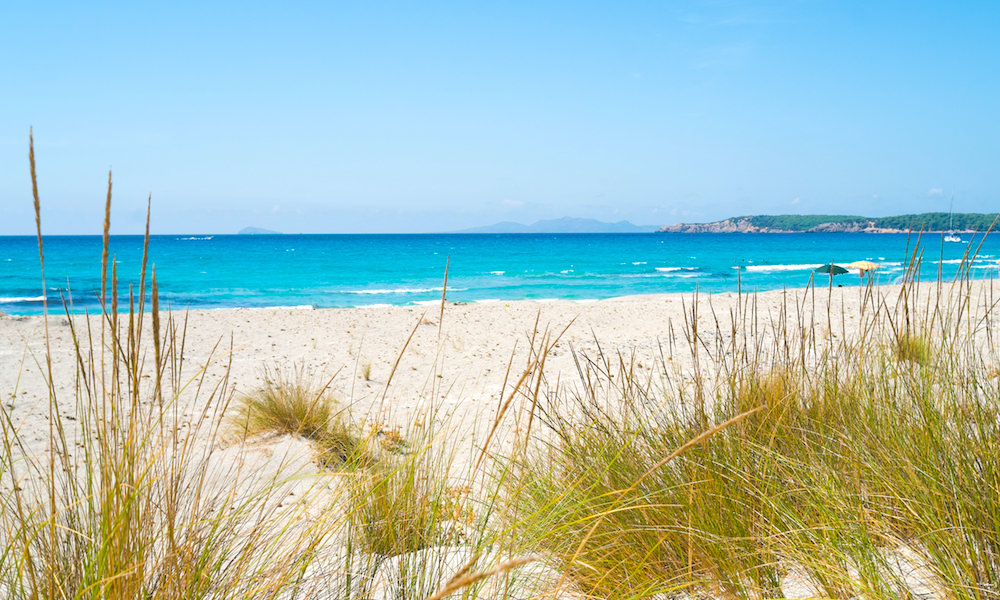 About Spiaggia delle Dune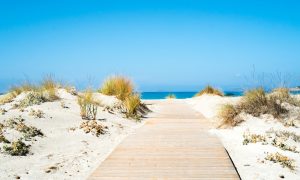 Le Dune beach (Spiaggia delle Dune) in the locality of Porto Pino is a gorgeous lick of silky white sand with a length of nearly two kilometers. It is located right on the border between the provinces of Cagliari and Carbonia-Iglesias, south-east of the small coastal villages of Porto Pino and Porto Pinetto. Le Dune faces south-west, offering views of the Punta Tonnara and Punta Menga headlands in the north. Also known as White Sands, this masterpiece of nature is backed by Stagno del Corvo and Stagno de Foxi, two lagoons where migratory birds including flamingos come to spend their summer days. Le Dune beach can get up to 300 meters wide and is one of the widest beaches in South Sardinia. You'll be mesmerized by the majestic rolling dunes behind Spiaggia delle Dune. These can rise to 30 meters. Juniper trees and other Mediterranean greenery cover the inland dunes to complete the beautiful scenery. The contrast between the white dunes and the astonishingly blue waters will literally take your breath away! Beach umbrellas, deck chairs and pedal boats are available for rent. You'll also find a few beach bars and eateries. The seabed of Le Dune beach has a gradual slope; it is suitable for families with children. Beach activities include underwater fishing and snorkeling. Long walks, or an early morning run along the shoreline spring to mind as well, as Spiaggia delle Dune connects to Porto Pino Beach to the north. In total, this pristine arc of white sand is nearly 4 kilometers long. Should you decide to pay Le Dune beach a visit, be sure to bring a camera because this is as scenic as the beaches of South Sardinia can get!
Places to Stay near Spiaggia delle Dune
Apartments Casa Vacanze Porto Pino
A 3 star Apartment near Spiaggia delle Dune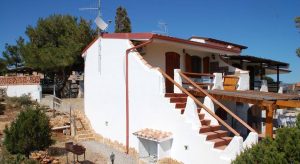 If you'd like to stay near Le Dune beach, there are several accommodations available in the unspoiled fisherman's village of Porto Pino. For example, Apartments Casa Vacanze Porto Pino offers two self-catering apartments with a kitchenette. The garden offers barbecue facilities. The apartments are family-friendly and are air conditioned. A terrace offers great views of sea and is perfect to enjoy your breakfast or dinner. The nearest restaurant and supermarket are less than one kilometers from the premises. The beach of Porto Pino is just a few hundred meters to the south, where you can go swimming, snorkeling and diving.
Villa Casa Dei Lentischi
A 4 star Villa near Spiaggia delle Dune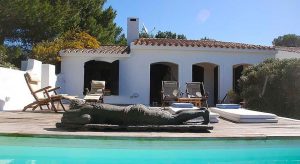 One of the nicest rental villas available in the vicinity of Porto Pino is Villa Casa Dei Lentischi. It is located just 100 meters from Porto Pinetto beach. Surrounded by characteristic Mediterranean Macchia, this family-friendly beachfront villa can accommodate up to ten persons. It features five bedrooms, each with a private bathroom with shower. The villa is perfect for self-catering, the kitchen offers an oven, washing machine, dishwasher and refrigerator. The nearest supermarket can be found in Porto Pino, less than one kilometer south of the villa. The garden offers sea views and has an outdoor pool with sundeck. WiFi and parking are free.
How To Get To Spiaggia delle Dune
It's easy to reach Le Dune beach from the villages of Teulada, Sa Portedda, and Sant'Anna Arresi. From Teulada, head west on the Strada Statale 195 Sulcitana toward Via Enrico Addis. After 13 kilometers, turn left onto Via Porto Pino and continue on the Strada Provinciale 73. After 2 kilometers, turn left onto Via Risorgimento. Keep heading south and go around Stagno de Foxi. You'll eventually reach Le Dune Posteggio, a large parking lot just behind the lagoon. The walk from the parking lot to the dunes behind the beach will be about 300 meters. A wooden path will lead you to the beach.
Map
Use the Google and Booking map below to explore the area.
Fill in your holiday dates to get an accurate view of available accommodations near Spiaggia delle Dune.
Beaches Near Spiaggia delle Dune