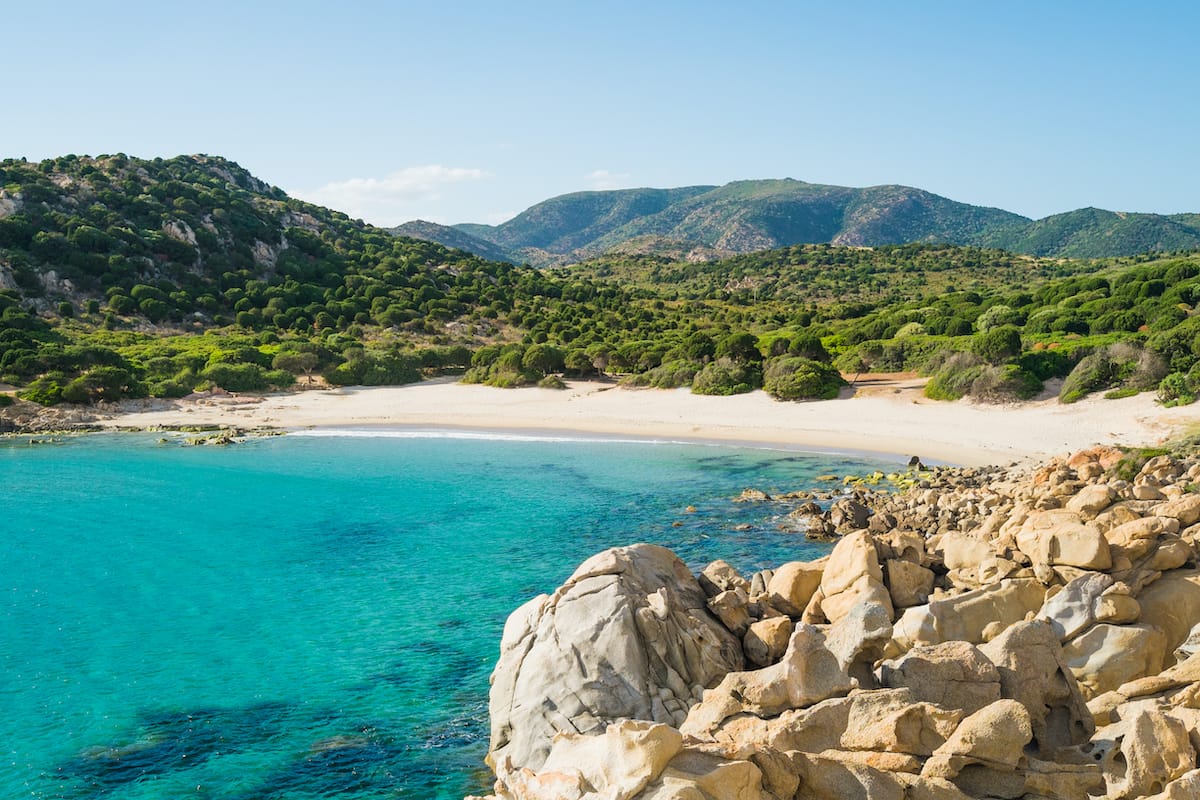 About Cala Cipolla
near Domus de Maria, Province of Cagliari, South Sardinia, Italy.
parking, beach chairs, umbrellas, bar.
snorkelling, hiking.
17:59 PM
08:30 AM
150 meters.
suitable for families with children.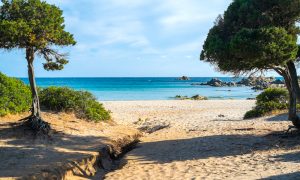 Cala Cipolla (Spiaggia di Cala Cipolla) is one of the pearls that the Chia Bay is famous for, and is another favorite spot among off-season surfers. The beach is tucked away in a narrow bay and only spans 150 meters, with sands white and fine, backed by dense Mediterranean Maquis. There are pine and juniper trees right by the beach where you can find some shade during the hot hours of the day.
The cove faces south, with marvelous views of the deep blue sea and Isolotto Cala Cipolla, a tiny island located 400 meters off the coast. On the west side, you'll admire the views of the lighthouse on the headlands of Capo Spartivento located 800 meters away. The working lighthouse, which can be reached by a trail, is a unique location in Chia, as it serves as a hotel with six rooms.
The beach of Su Giudeu, a flamingo breeding ground, is located just north-east of Cala Cipolla and offers a car parking. Since this beach belongs to one of the best snorkeling beaches of South Sardinia, make sure to bring some snorkeling gear! You'll also want to make sure you bring something for shade.
Near the beach you'll find a small kiosk named "I Love Cala Cipolla" where you can rent parasols and sunbeds. But the bar is perhaps best known for the hospitality of the owners. They offer fair prices for sandwiches and drinks, and have amazing recommendations for sightseeing and restaurants in the area. So make sure you have a little chat with them while you're there.
This small dreamy cove can get quite crowded; it's best to go early in the morning during the high season. On Sundays, the beach is a favourite among the locals. After visiting Cala Cipolla, you'll understand that this is one of the best beaches of South Sardinia!
Places to Stay near Cala Cipolla
Hotel Faro Capo Spartivento
A 4 star Hotel 0.7 kilometers from Cala Cipolla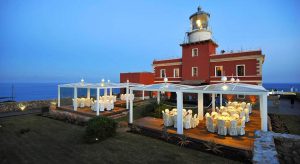 The lighthouse as mentioned earlier was built in 1854 by the Italian Navy. It was fully restored in 2006 over a period of 8 years. Faro Capo Spartivento features an outdoor pool, a restaurant and spacious guest accommodations with parquet floors. Double Rooms, a Junior Suite, and a Superior One-Bedroom Suite are available in Residenza Semaforisti, a separate building which opened its doors to hotel guests in 2016. Next to the building, an infinity swimming pool offers marvelous views of the wild and unspoiled nature of Capo Spartivento and the mountains along the coast. Although it's not the largest infinity pool on Sardinia, the views from the pool are the reason why the lighthouse hotel is a top feature in our list of Best Sardinia Hotels with Infinity Pool. Faro Capo Spartivento offers a unique atmosphere in a charming location, a must stay when in southern Sardinia!
Hotel Aquadulci
A 4 star Hotel 1.1 kilometers from Cala Cipolla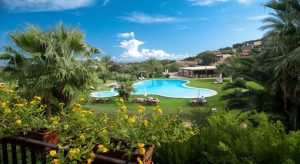 Set in a tranquil location in Spartivento, just a stone's throw from the beach of Su Giudeu, the four-star Hotel Aquadulci offers 41 air conditioned rooms and suites decorated in a refined yet simple style. A lush garden with palm trees and a swimming pool surround the family-friendly hotel. The restaurant overlooking the garden serves breakfast, lunch, and dinner based on local ingredients. The hotel staff can arrange watercraft and bike rental, or excursions and boat trips. Other activities in the area include horseback riding, windsurfing, and kitesurfing. The 18-hole Chia Golf Club is located 500 meters from the hotel.
How To Get To Cala Cipolla
You can reach Cala Cipolla from Cagliari. It will be about a one hour drive. Take the Strada Statale 195 Sulcitana in the direction of Teulada. Once you've passed Santa Margherita di Pula after about 31 kilometers, take the Viale Chia/SP71 to Viale Spartivento. After about 6 kilometers, you will reach the parking area on your right. You'll have to continue on foot for about 100 meters to reach the cove.
Map
Use the Google and Booking map below to explore the area.
Fill in your holiday dates to get an accurate view of available accommodations near Cala Cipolla.
Beaches Near Cala Cipolla